Saturday of competitions at work - Red Team
---
Greetings to all! It is a pleasure to make our first post in this community. We have been watching what users share here and we find it very interesting, our weekends are usually quite active so there is a lot of content that we could share through this medium. We believe that weekends are essential for relaxation and rest of the mind, even more if you work in a Call Center as we do, we assure you that it can be quite stressful at times.
Last Saturday an activity was developed in the company in which we work, we thought it was a good gesture taking into account that they do not usually perform such events, perhaps they did it for the workers day, but that was not precisely the slogan of the activity, it was called "Gymkhana of integration 2023".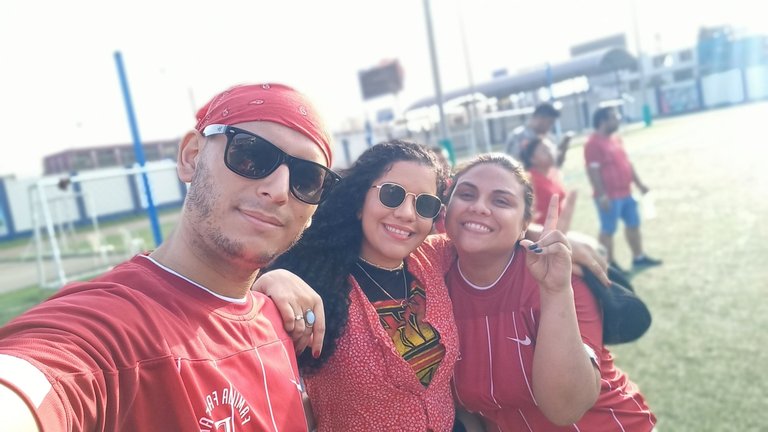 This Gymkhana consisted in performing different competitions or tests, mostly of physical skills, three teams were created, the green, the blue and the red, which was the one in which Dina and I were integrated. We must confess that at first we were reluctant to participate, but the music and the good mood of our colleagues ended up infecting us so we integrated with the best possible attitude.
The place was a modest soccer stadium with artificial grass which has a small grandstand for visitors and companions. The organization had several audio monitors for the music and animation of the event which we must say was very good, they knew how to entertain us with the best musical hits of the moment.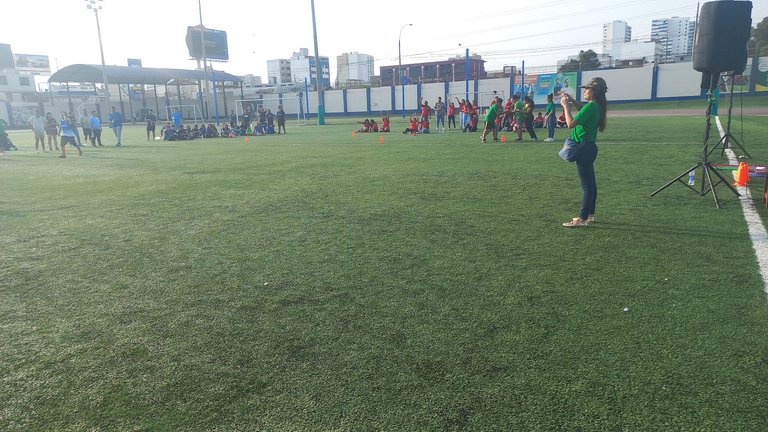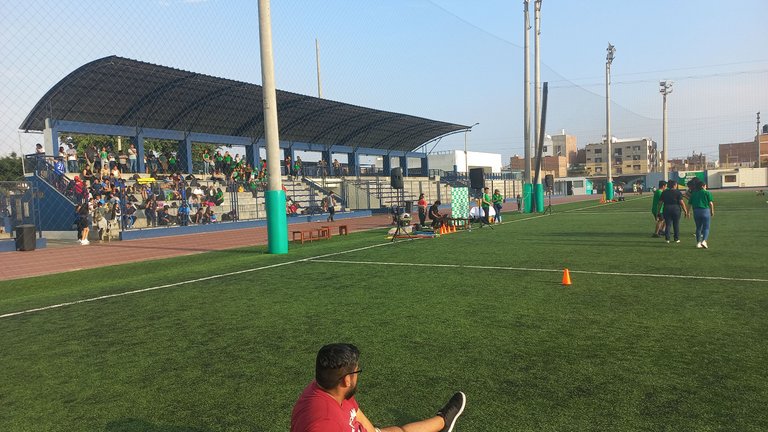 Next, you will see the photos of the different activities we did; the first one is called "The centipede" and consists of four people who must synchronize on two wooden boards holding ropes and walk without falling, they had to walk a quite far distance but we did it, this competition was won by the red team.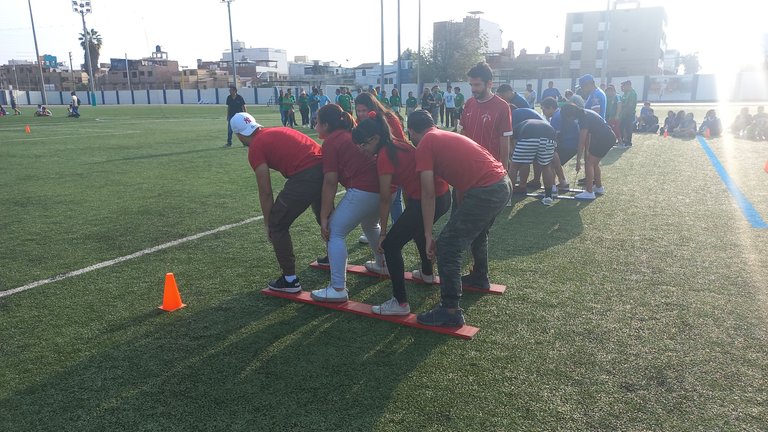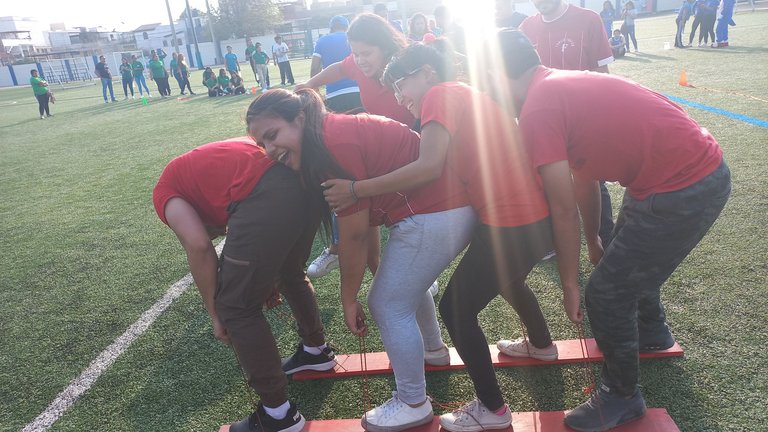 The second activity consisted of ten people holding hands and moving a hula hoop through their bodies without letting go of each other's hands and without helping each other with their fingers. Once the hula hoop reached the end of the chain, the last person had to run to the moderator and answer a general culture question. This was one of the activities in which I actively participated and we ended up winning.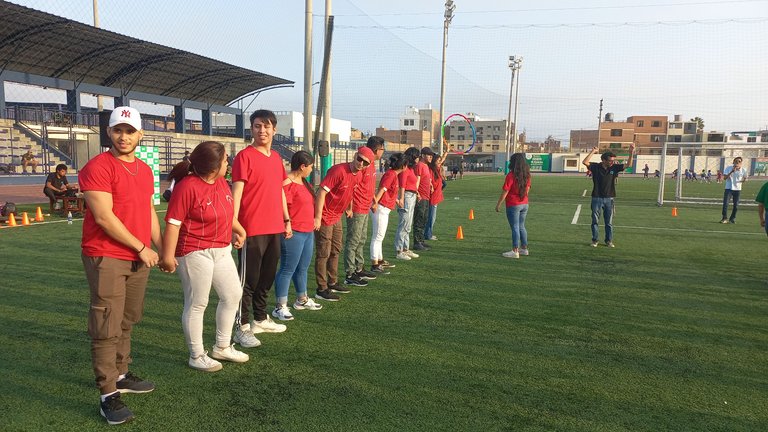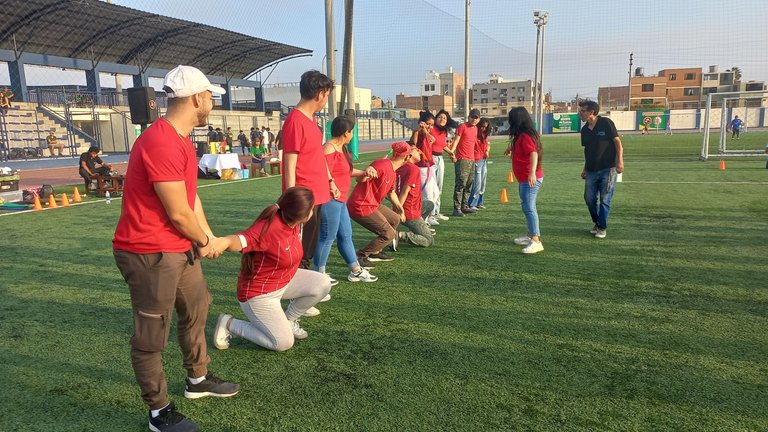 The third activity was perhaps the most complicated, five people had to enter a kind of plastic sleeve or wheel and walk in a synchronized way without stepping outside because they could be disqualified; they had to make a route similar to the centipede competition and this time we could not win, the truth was quite complicated and at the same time very funny.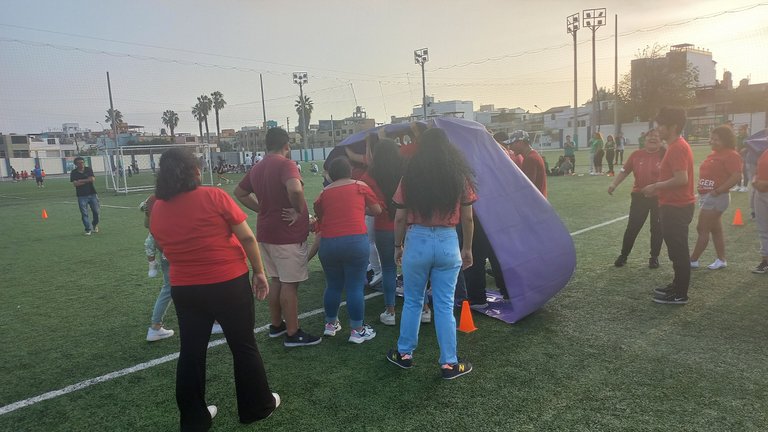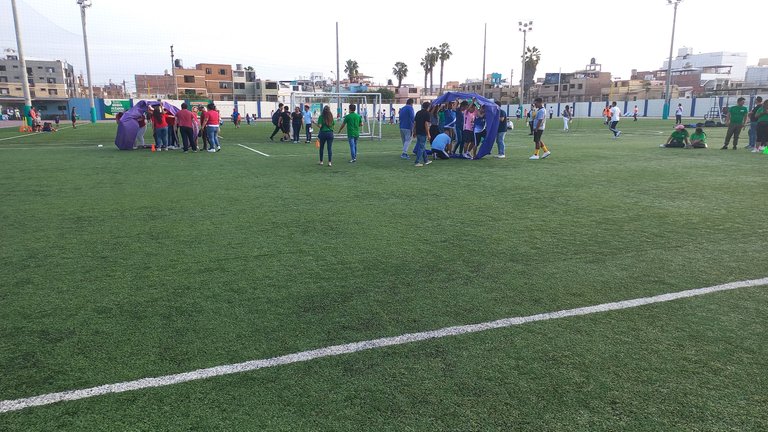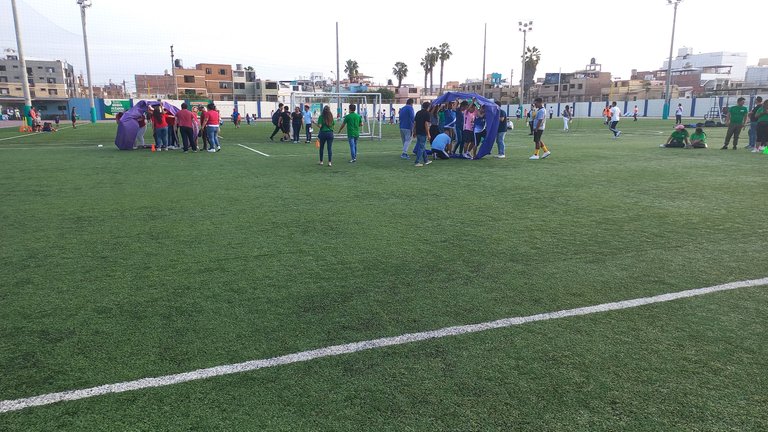 The last thing was a dance competition which you can see in the video, it was quite fun, but we could not win it, the blue team was quite strong.
It was about three hours where we had fun and shared with our co-workers in a different way since we normally only talk about work. At the end we took a group photo and said goodbye. We invite you to watch the video to see more details of this fun activity. Thanks for making it this far, see you later!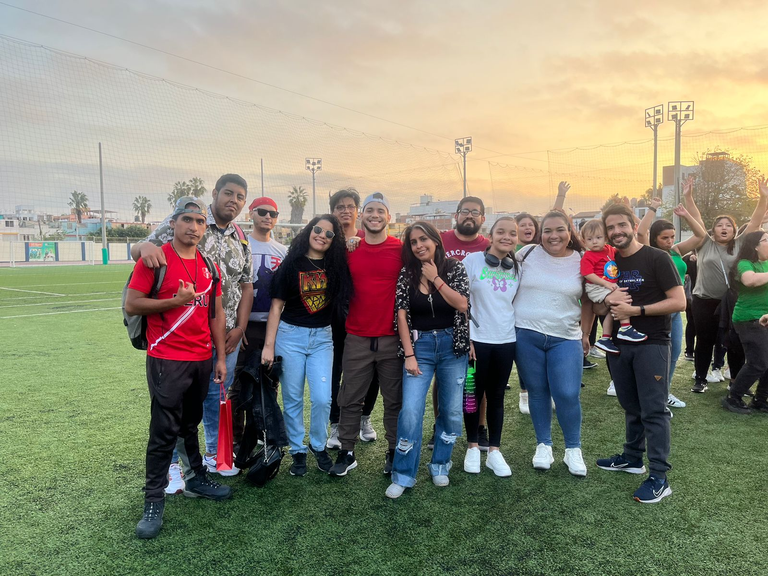 -Used tools:
- Photos and Videos taken with: Samsung Galaxy A32
- Video edited with: VEGAS Pro 17.0
- Translator: DeepL Translate

---
▶️ 3Speak
---
---