All about myself

Hi everyone. First and foremost I would like to introduce myself. Im Jenessa Gula,25 years old. I was born and raised in the province of Leyte, Philippines.I and my two brothers are the offspring of our dear parents. As the eldest and only daughter my parents had I have the responsibility of taking care of my siblings,guiding them into the right path.
My Upbringing.
I grown up as a God fearing and well mannered person. Regardless of our hard living condition Im able to finish my college degree in Bachelor of Science in Business Administration major in Financial Management with the support of my parents and of course my perseverance to succeed. When I was in college,financial problem really a great challenge specifically for a student came from a poor family like me.As a way of helping my parents in educating my self every weekend i go to work as a sales lady. Also,I was selling biscuits inside the school campus.I graduated on March 2018 and on the same year I've got a Job as a Cashier/Bookkeeper in Vismotor Corporation until I resigned from my position on March 22,2022.
Im a mother.
The best feeling I've ever experience is being a mother.I have a 5 months old daughter and I called her Sai-sai.My everything,she fills me up the lacking space of my heart. She brighten up my darkest days and because of her I become brave and more lively to face challenges in life. Nothing compares the joy I felt because of her. I love her so much!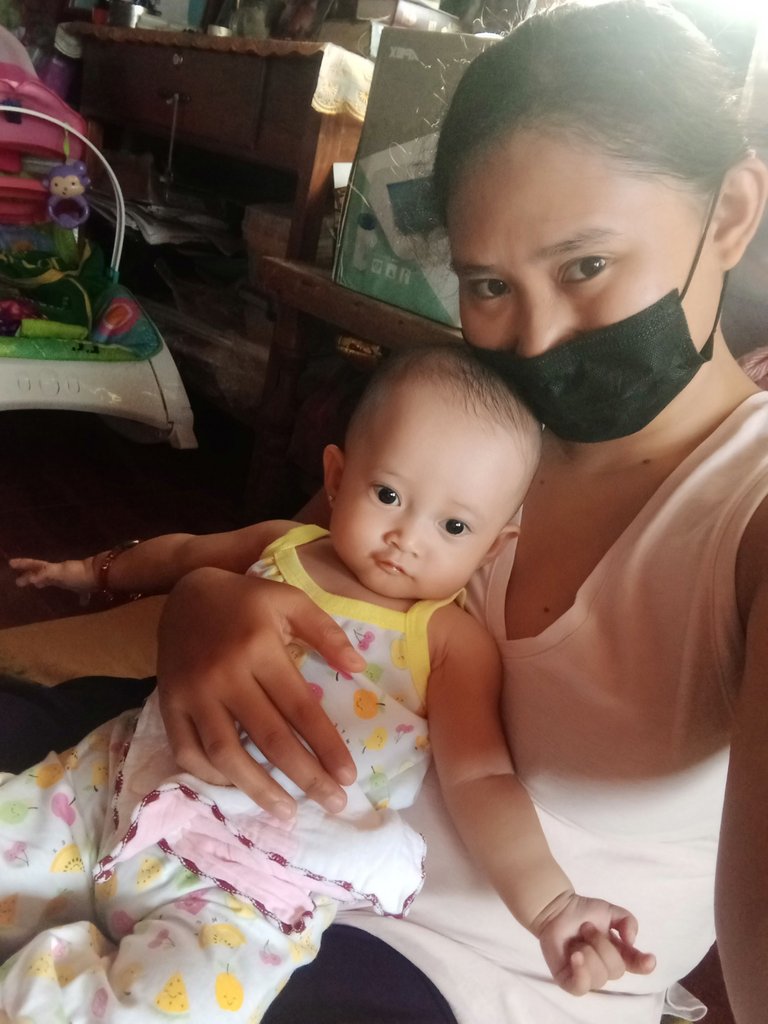 I love Singing.
My voice is not that good to hear but it never stop me to sing. This is my way of expressing my feelings and emotions. A kind of stress reliever,it help myself to calm whenever I am worried, tired,and sad. Three years ago,I was assigned at Catarman, Northern Samar that was the time we had a long distance relationship with my partner. Day and night were always fighting through text and calls. Im so devastated and wanted to forget the sorrows and pain I felt. I made myself busy to other things then I started to compose a song. But sadly, I didnt made it. Until we overcome the trial of our relationship and that was the time Im able to compose a song. Here's the simple lyrics that came from my heart.
"Its Right"
I.
When I first look at you
I saw you smile and you look at me too
The spark in your eyes I turn my back to break the awkwardness I felt
Hiding my feelings,Its uncomforting
It made me feel like crazy
My heart is beating
Unusual feeling
Maybe you can sense for more
Hoping you feel the same
Chorus:
Cause its right,its right
To fall in love with you...ohh
Cause its right,its right
To dream of you..ohhh
Only you who made me feel completely
And its right to fall inlove with you
III.
I wish someday and I pray
You and me will together stay
A love never fail and last forever
Cause Jesus is in our center
In every trials we encounter
We must face and hold each other
With a powerful king who guides us
All is well and He will blessed us
a bountiful lives
REPEAT CHORUS
That was my first composition and until now theres no guitar chords for my lyrics.I wish someone can make guitar chords for my song.
How do I discover hive?
There was a friendly woman I met when Im about to give birth with my daughter last December 2021 at Leyte Baptist Hospital. Were admitted in the same room ,both goes through C-section and thanks God we're safe with a healthy baby. I gave birth to my daughter on December 22,2021 and two days after (December 24,2021) she also delivered her baby girl.That was the beginning of our friendship. Thanks @labanez for introducing hive to me and you also taught me how to start by creating an account and explain how hive works.I find it interesting and decided to give a try. So here I am now start sharing my life to you my dear hivers.
---
---