Playing Rising Star Game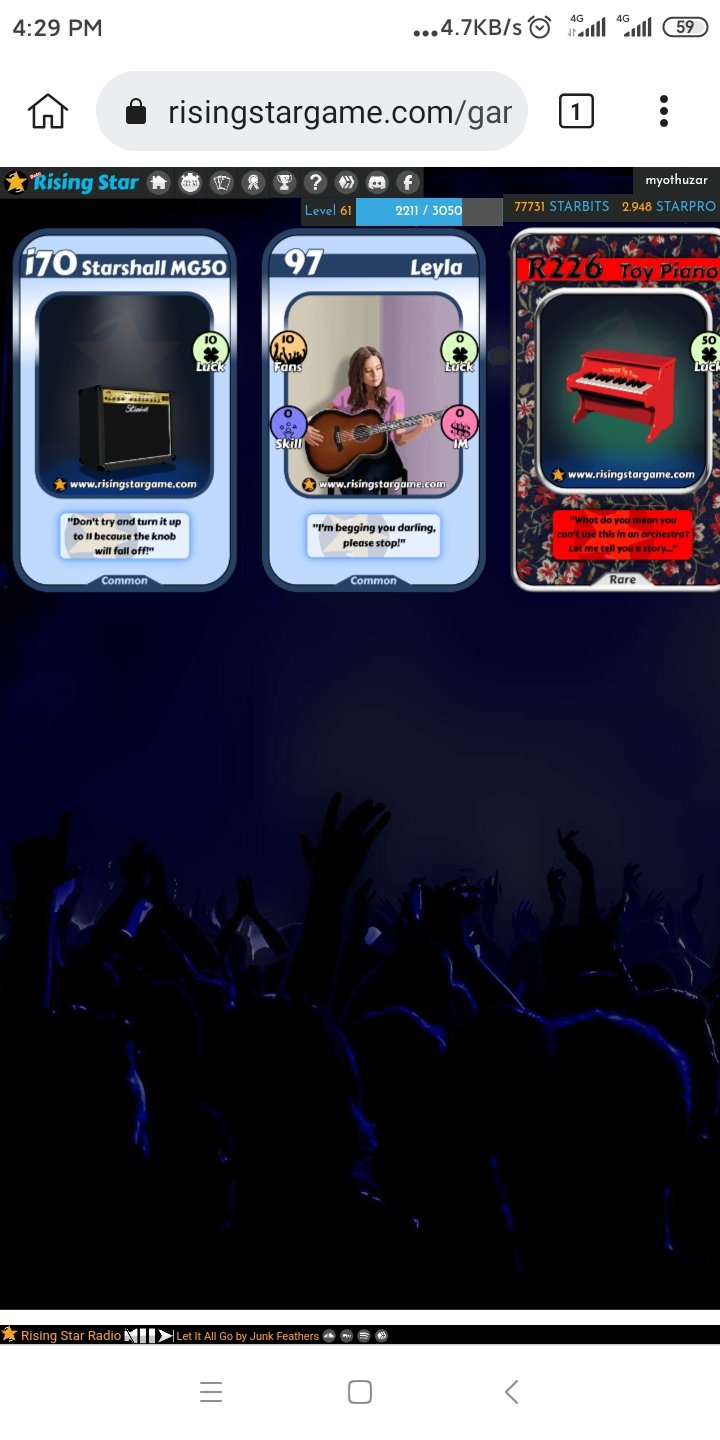 I played rising star game every day.I enjoyed playing rising star game. I have been playing this game for 99 days.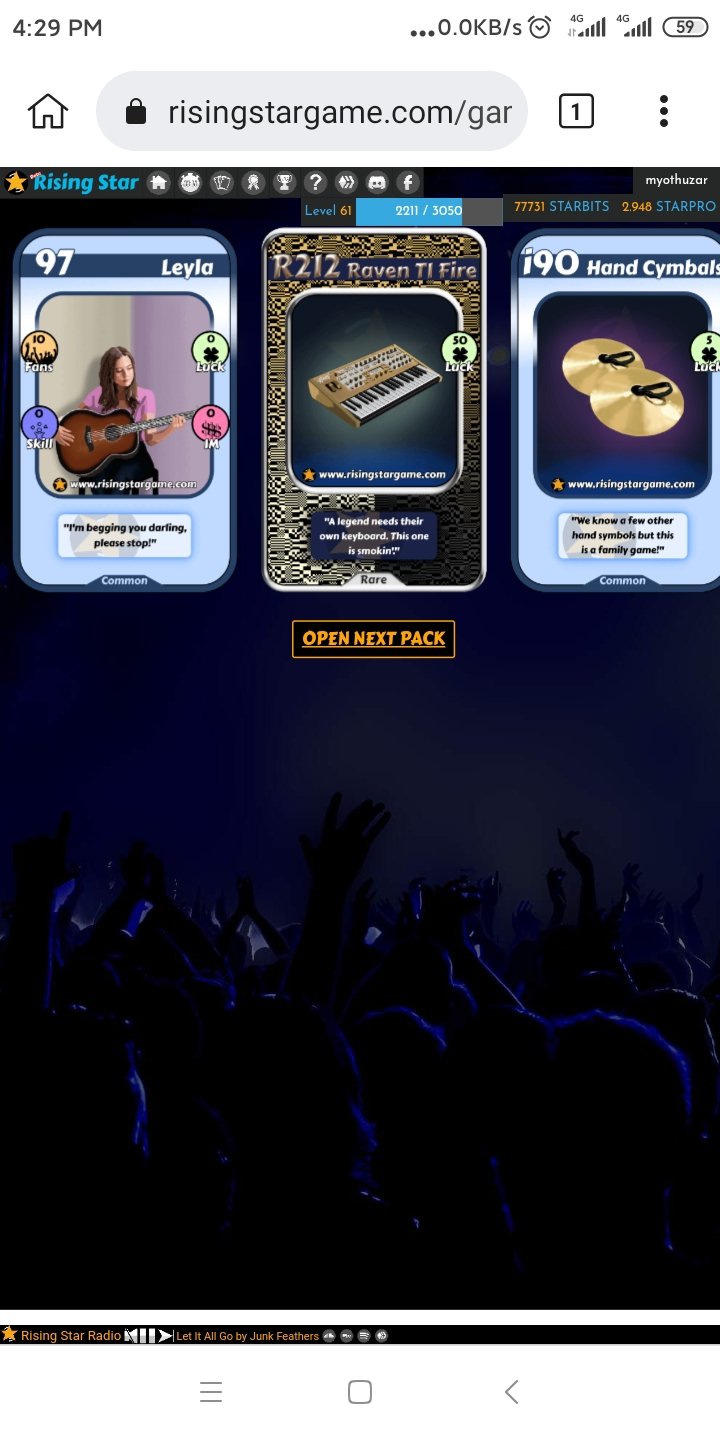 Today, I am still in level 61. Today, I bought three packs. Actually, I only thought to buy a pack.But when I refresh the page and look for the open button to open a pack. But, I didn't saw at that time. Then, I bought another pack. This times, I didn't saw the open button. So, I end up buying three packs. From first pack, I got i88 Blood Red Bass, 97 Leyla and R223 Mint kit. I got 10 fans and 51 luck from these three cards. From second pack, I got 97 Leyla, R212 Raven Tl Fire and i90 Hand Cymbals. I got 10 fans and 55 luck from second pack. In the third pack, I found i70 Starshall MG50, 97 Leyla and R226 Toy Puano. I got 10 fans and 60 luck from the third pack. I did some missions today and ego remains at 0%.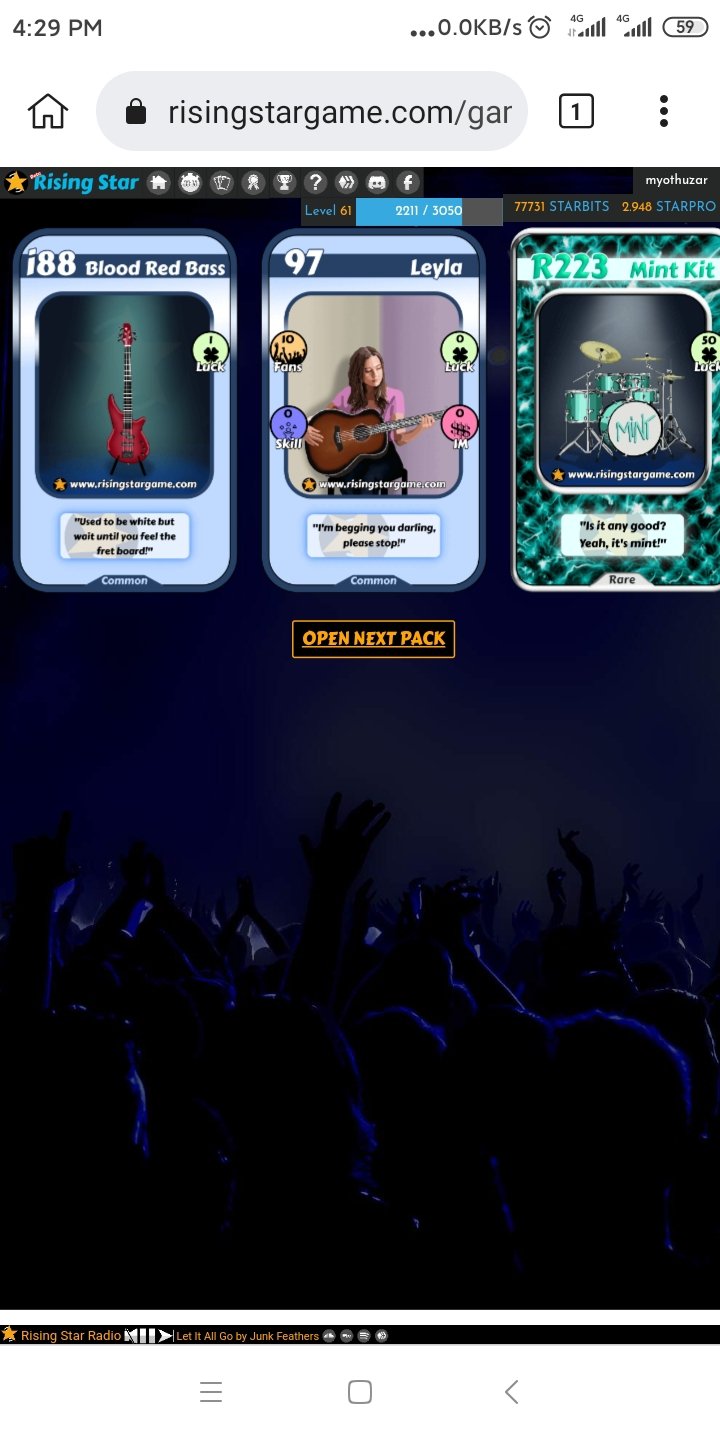 Now, I have 126 cards , 67915 starbits and 2.924 starpro. I have 5022 fans , 1268 luck , 8326 skill and 90 im .
I finished 1762 total missions in rising star game. I completed 325 Illegal busking missions, 347 open mic night missions, 227 mid week support slot missions, 53 busking with a license missions, 56 midweek headline slot missions, 28 Saturday support missions, 49 saturday headline missions, 79 radio interview missions, 14 radio studio session missions, 17 shopping mall missions , 11 record a demo mission , 31 acoustic tent missions , 32 local mini tour support mission, 161 basic singing lessons, 58 guitar lessons, 15 production lessons , 70 piano lessons , 142 promote fan club mission , 3 record signing and 31 starbits millionaire mission .
I will try to increase my level in the future. I am still trying, and playing rising star game.
---
---