Myria's Layer 2 launch has arrived, How to Guide & Opportunity

Opportunity or Not?
Myria NFTs minted today and due to them being free they have hit the market and even rare are going for a few dollars in ETH. The Myria NFT provide airdrops from future games launching on their blockchain. This alone had me purchase 3 more rare NFTs and plans of scraping more from the floor while people realize what they are giving away.
This is not financial advice just sharing my experience @dynamicrypto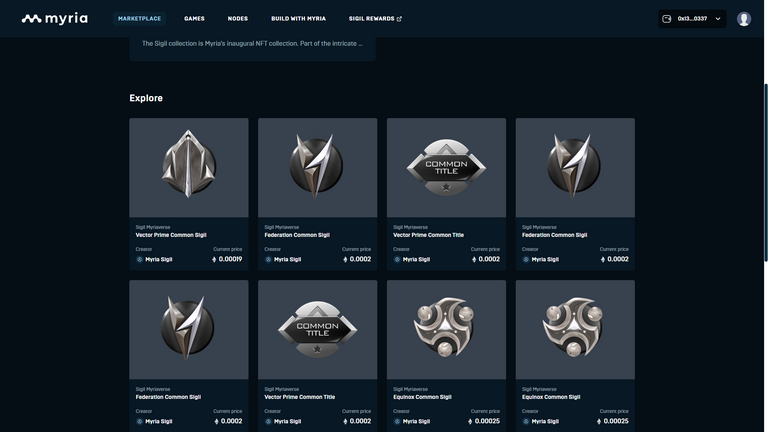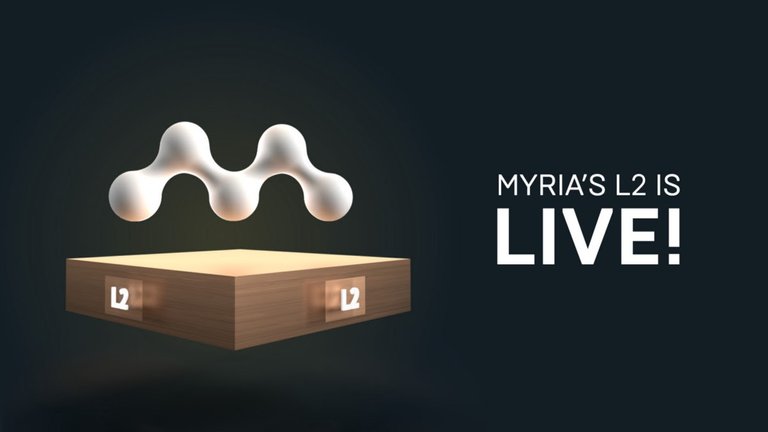 Myria's highly anticipated Ethereum Layer 2 (L2) scaling solution is here, alongside our Myria Wallet, NFT Marketplace, and Developer SDK Toolkit. For gaming studios and developers, this presents new and exciting opportunities to create and build; while gamers and traders can now benefit from 0 gas fee, carbon neutral, lightning-fast transactions.
Myria Layer 2
Myria chose to develop an Ethereum-based L2 protocol due to the underlying network's unsurpassed number of users and unparalleled security and decentralization, benefitting both developer and gaming communities.
By using zero-knowledge proofs, or more specifically, ZK-STARKs technology, Myria's L2 can achieve up to 9000 transactions per second. This impressive computational throughput is achieved by processing transactions away from the Ethereum main chain, aggregating them, and submitting them to Ethereum as a single transaction for verification. The net effect of which is to dramatically speed up transaction finality while simultaneously reducing the cost of completion to zero.
For end users, Myria's L2 results in 0 gas minting and trading of NFTs and near-instant transactions. Combined, these factors will enable the next wave of development and innovation in blockchain gaming.
Myria NFT Marketplace & Wallet
The Myria Marketplace is not only an intuitive and user-centric platform for traders to easily buy and sell NFTs but in the future, will also provide a gateway for our community to discover the wide array of NFTs in our ecosystem. This encompasses those released by Myria Studios, including the Alliance Sigil collection, and our many exciting partner projects including Moonville Farms launching next month.
All token and NFT trades on the platform can be seamlessly transacted through our custom-built Myria L2 wallet. The Myria Wallet is non-custodial, meaning users have complete control of their NFTs and cryptocurrency at all times. And because it runs on our L2 infrastructure, users benefit from instant transactions with $0 gas fees.
Users can create their Myria L2 wallet with just a few clicks. By clicking on the "Connect Wallet" button in the Marketplace header, the MetaMask Wallet connection flow is triggered to create and link a STARK Key and Myria L2 wallet — smooth, seamless, and secure.
Myria's Developer SDKs
Launched at the same time is the Myria Developer Toolkit, which allows the frictionless execution of complex blockchain functions, such as minting of NFTs.
Myria's API-first approach abstracts away notoriously complex coding languages such as Solidity or Cairo and allows developers to simply connect to Myria's SDK and deploy their NFT projects in a matter of minutes. This means that brands, game developers, and creators will be able to easily build and release blockchain-powered products.
Myria provides developers with everything they need to start building fast, including two initial software development kits (SDKs): the Core SDK and the Wallet SDK. The former provides everything needed to mint NFT collections, while the latter has the tools required for creating and connecting with users' non-custodial Web3 wallets via smart contracts, and is currently available by application only.
Several other API and SDK tools, including gaming-specific development capabilities, are also in the pipeline following the L2 launch. Myria's engineers will be adding a host of indispensable new features and tools for developers in the months ahead.
Sigil Minting is now live
If you were one of almost a million fans to sign up for Myria's Sigil claim, the L2 launch will have added significance for you. You are now able to mint your Alliance Sigils as ERC-721 NFTs onto the Myria L2. Once minted, you'll be able to trade your NFTs on Myria's NFT Marketplace — but remember, these NFTs grant their holders ongoing utility in the Myria ecosystem… so you might want to hold onto them.
Getting started
Myria's comprehensive one-stop L2 solution empowers creators and communities — from easy NFT creation and management to facilitating fast and free trading via state-of-the-art platforms.
My Experience Signing up for MYRIA L2 Wallet
Super easy, 3 simple steps and I will share the screen shots proving to you how simple this is.
Step 1 Connect Wallet top right 1st click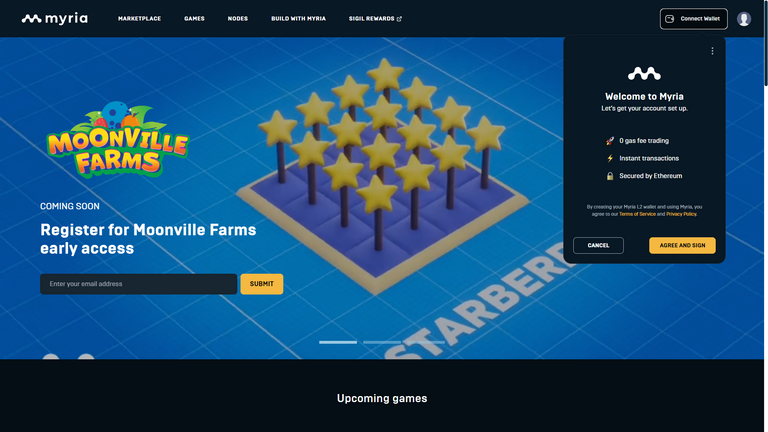 Step 2 sign transaction 2nd click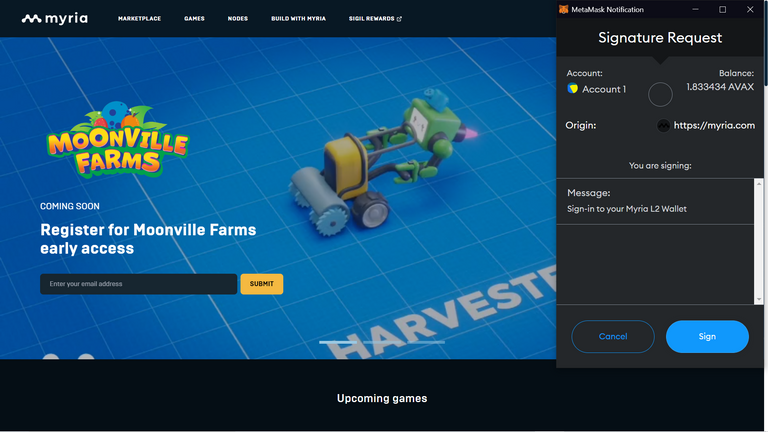 Step 3 click ok 3rd click you are done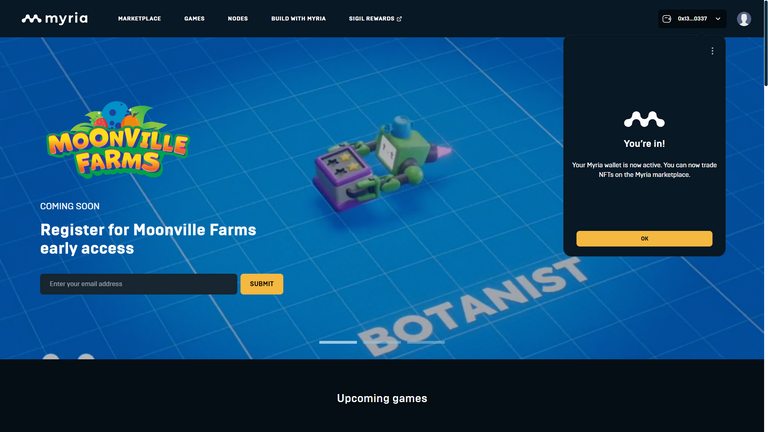 Step 4 you can do later or now, time to go mint some NFTs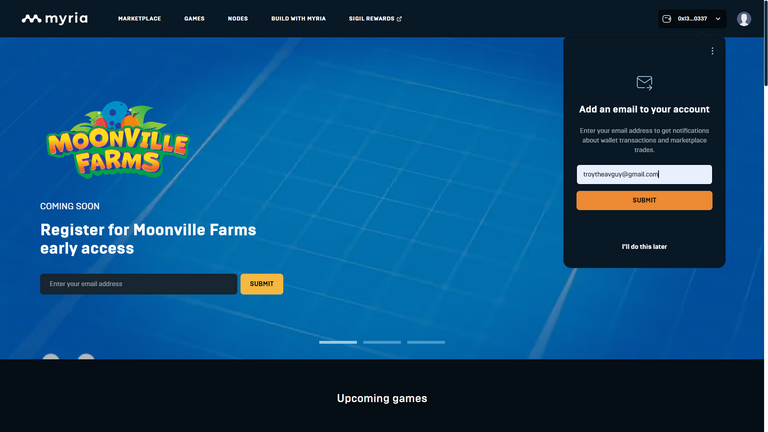 3 More clicks to mint some NFTs
Step 1 click Mint My Rewards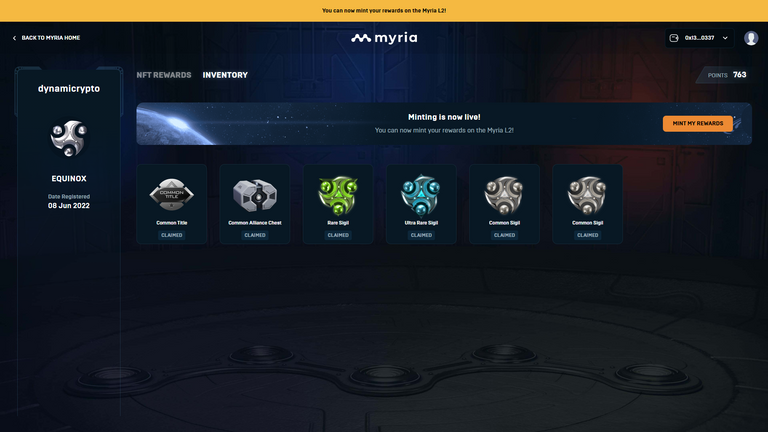 Step 2 click Mint Now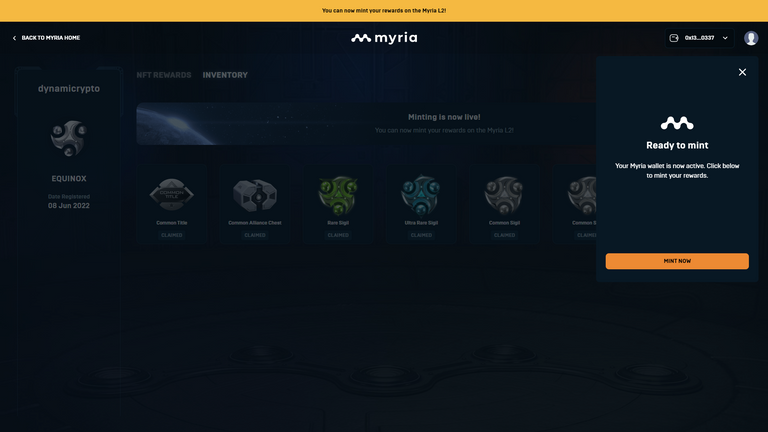 Step 3 click Continue & you're done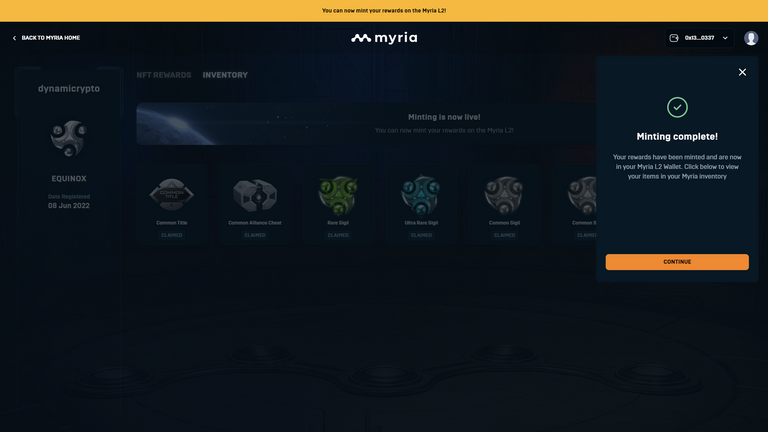 Step 4 enjoy looking at your NFTs or list one by clicking the one you want to sell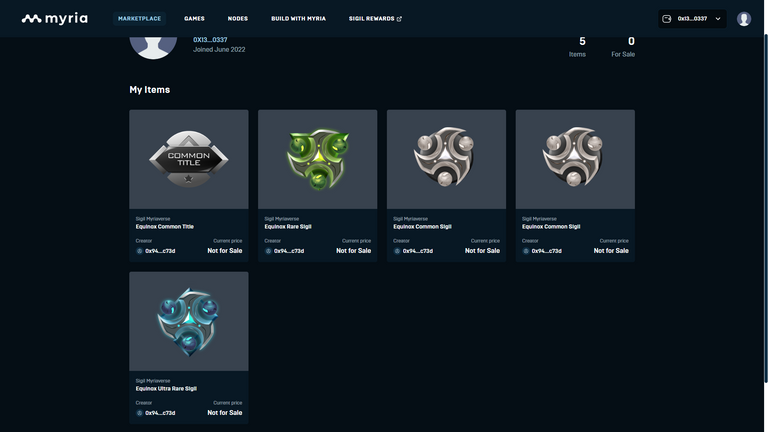 List an NFT? simple lets do more clicking, click List Item For Sale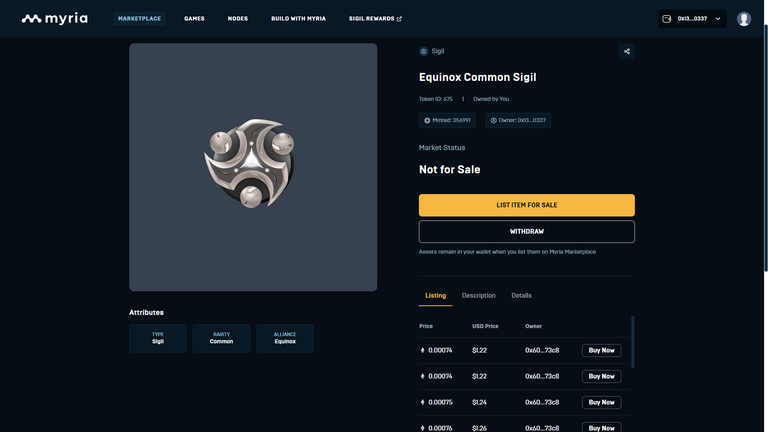 Add your price and click Confirm Listing, click sign & done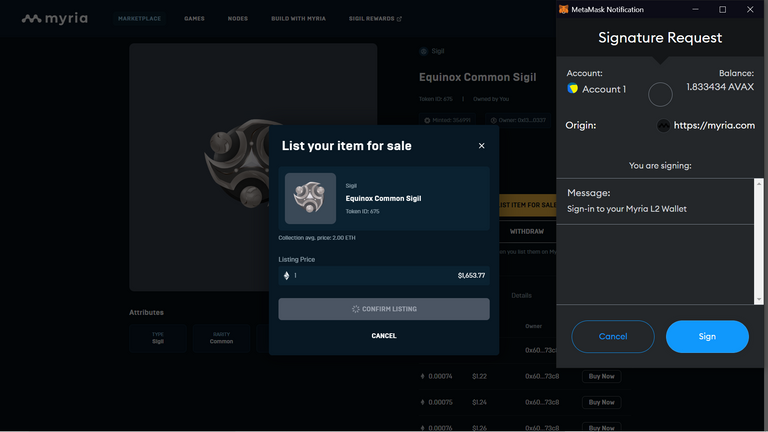 ---
---