[ENG-ESP] Review Movies: Ticket to Paradise 🏞️♥️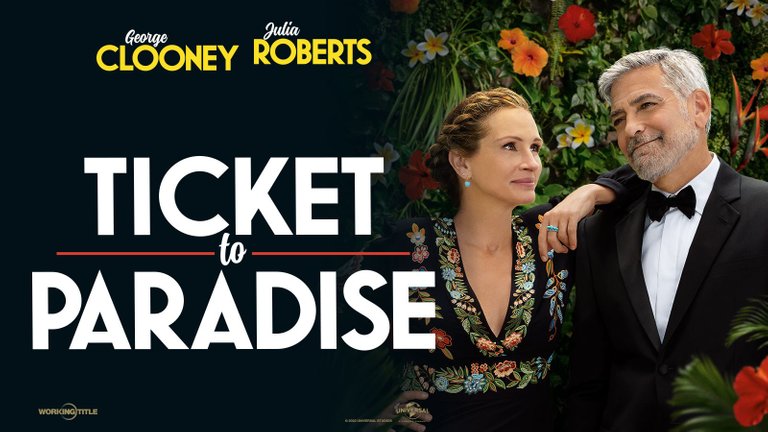 source fuente
Hello dear Movies & TV community yesterday I came across a movie that I thought it would be very bad but the truth is I found myself enjoying it from beginning to end, maybe I liked it a lot because the stars of this story that came out in 2022 are none other than George Clooney and Julia Roberts, it is a comedy and romance genre movie and if you have not seen it, I will leave you my review here of this movie called Ticket to Paradise.
Hola querida comunidad de Movies & TV el día de ayer me encontré con una película que pensé que sería muy mala pero la verdad me encontré disfrutandola de principio a fin, tal vez me gustó mucho porqué los que protagonizan esta historia que salió en el 2022 son nada más y nada menos que George Clooney y Julia Roberts, es una película de género comedia y romance y si no la han visto, les dejaré mi review aquí de esta película llamada Ticket to Paradise.
source fuente
Georgia (Julia Roberts) and David Cotton (George Clooney) divorced several years ago and from their marriage, it seems, only a huge dislike remains that translates into several jokes that feel like a skillful game of ping pong from the start. After their daughter Lily (Katlyn Dever) graduates from college, they will have to join forces to prevent her from making a rash decision to marry Gede (Maxime Bouttier), a young man she instantly fell in love with during her summer vacation in the paradisiacal destination of Bali.
Georgia (Julia Roberts) y David Cotton (George Clooney) se divorciaron hace varios años y de su matrimonio, al parecer, solo queda una enorme aversión que se traduce en varios chistes que se sienten como un hábil juego de ping pong desde el inicio. Luego de la graduación universitaria de su hija Lily (Katlyn Dever), tendrán que unir fuerzas para impedir que tome una decisión precipitada al casarse con Gede (Maxime Bouttier), un joven de quien se enamoró al instante durante sus vacaciones de verano en el paradisíaco destino de Bali.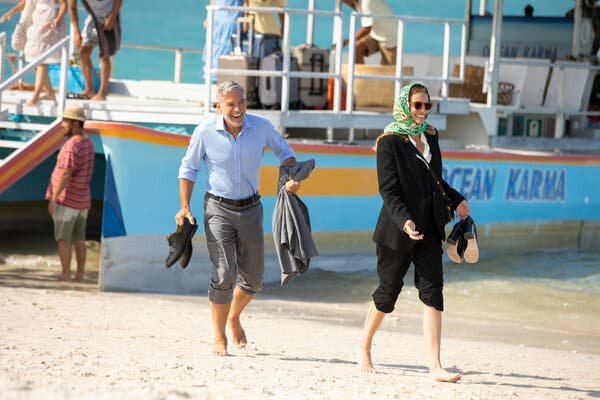 source fuente
Julia Roberts and George Clooney play the typical divorced couple that although the years have passed, they maintain a bad relationship, the only thing that has united them for 25 years is their daughter Lily, who is a young woman who has always been dedicated to finish her college career and do the right things. Until she meets Gede in a funny moment, meeting him makes her perspective of the life she has led change and she wants something different.
Julia Roberts y George Clooney hacen a la típica pareja divorciada que aunque han pasado los años mantienen una mala relación, lo único que los ha unido por 25 años es su una hija Lily, la cual es una joven que siempre se ha dedicado a terminar su carrera universitaria y hacer las cosas correctas. Hasta que conoce a Gede en un momento algo divertido, conocerlo hace que su perspectiva de la vida que ha llevado cambie y quiera algo diferente.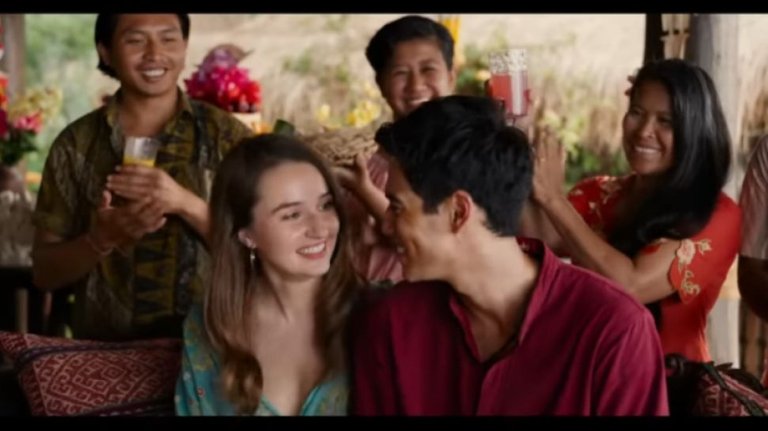 source fuente
Lily and Gede begin a romance in Bali, an island paradise with incredible landscapes. Lily quickly adjusts to Gede's way of life since he is from a different culture and religion. Things progress and both make the decision that they want to get married but for that they must have the approval of Lily's parents and go through some rituals of the region that are customary when you are going to marry someone.
Lily y Gede comienzan un romance en Bali, en una isla paradisíaca con paisajes increíbles. Lily se acopla rápidamente a la forma de vivir de Gede ya que el es de otra cultura y religión. Las cosas avanzan y ambos toman la decisión de que quieren casarse pero para eso deben tener la aprobación de los padres de Lily y pasar por algunos rituales de la región que son habituales cuando te vas a casar con alguien.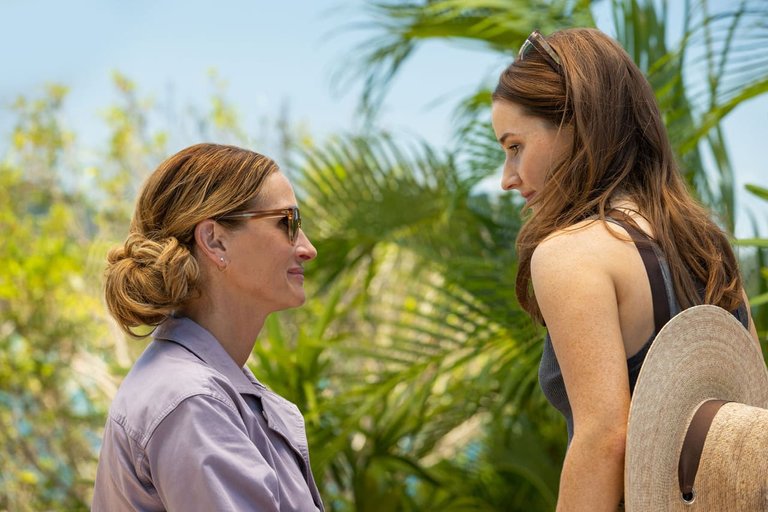 source fuente
Georgia and David receive an email from their daughter Lily to travel to Bali because she is getting married, which for both of them is crazy because they believe that marriage is something that is destined to fail as it happened in their own relationship. Both decide to travel and unite only with the intention that Lily does not marry Gede.
Georgia y David reciben un correo de su hija Lily para que viajen a Bali porque se va a casar, lo que para ambos es una locura porque creen que el matrimonio es algo que está destinado a fracasar cómo paso en la relación de ellos mismos. Ambos deciden viajar y unirse solo con la intención de que Lily no se case con Gede.
In addition to the story about the marriage, this film shows us very beautiful scenery of Bali although it seemed to me that it was edited and not recorded there, even so it looks quite real. It also highlights the way of showing another culture like the one of Bali and the way in which the people of there live and relate to each other. It is interesting that theme of marrying someone of a different religion, although it can be difficult, in this film love is greater and both Lily and Gede accept each other.
Además de la historia sobre el matrimonio, esta pelicula nos muestra escenarios muy hermosos de Bali aunque me pareció que fue editado y no grabado allá, aún así se ve bastante real. También destaca la forma de mostrar otra cultura como la de Bali y la manera en que las personas de allí viven y se relacionan. Está interesante ese tema de casarse con alguien de una religión diferente, aunque puede llegar a ser difícil, en esta película el amor es mayor y tanto Lily como Gede se aceptan mutuamente.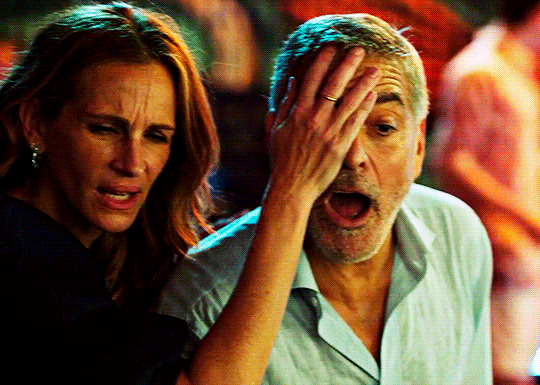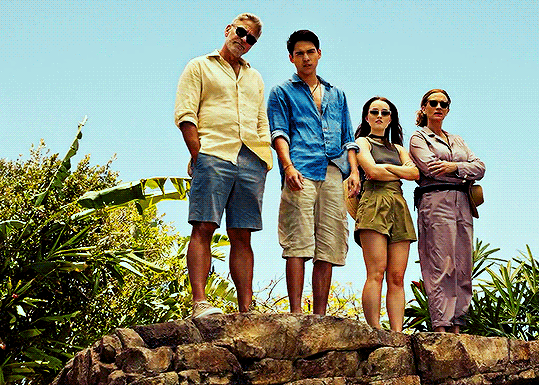 source fuente
In this journey Georgia and David will hate each other, they will fight, they will make us laugh, with their witticisms and comments about each other. They will also show us how having a child can make you have to have a better relationship with your ex-partner for Lily's sake. The most remarkable updates are those of George and Julia, because they are both great actors recognized by many famous movies and this time even though the theme of the movie is quite common and is about romance and comedy still, both actors make the movie quite fun to enjoy and I think it will be saved in my head as one of my favorite comfort movies.
En este viaje Georgia y David se odiaran, pelearán, nos harán reír, con sus ocurrencias y comentarios sobre el otro. También nos mostrarán cómo el tener un hijo puede hacer que tengas que llevar una mejor relación con tu ex pareja por el bienestar de Lily. Las actualizaciones más destacables son las de George y Julia, porque ambos son grandes actores reconocidos por muchas películas famosas y en esta ocasión aunque el tema de la película es bastante común y es sobre romance y comedia aún así, ambos actores hacen que la película sea bastante divertida de disfrutar y creo que quedará guardada en mi cabeza como una de mis películas de confort favoritas.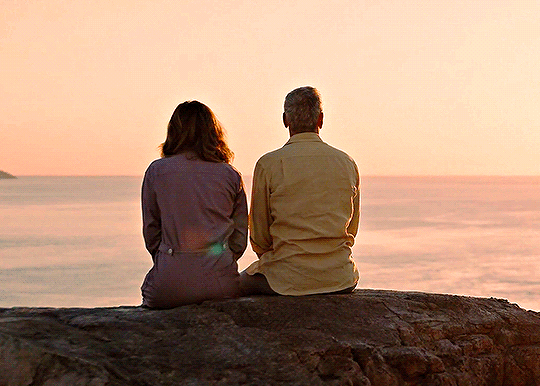 source fuente
It may be more of a romance movie with a happy ending, but I thought it was very good to watch and had its moments of fun and thoughtfulness. I loved seeing George with Julia, both of them despite the passing of the years look great and although I had never seen a movie with the two of them, now I would like to see more of the two of them together in other productions because they have a pretty nice chemistry.
Puede ser una película más de romance con final feliz, pero creo que fue muy buena de ver y tuvo sus momentos de diversión y de reflexión. Me encantó ver a George con Julia, ambos a pesar del pasar de los años lucen muy bien y aunque nunca había visto una película con ellos dos, ahora me gustaría ver más de ambos juntos en otras producciones porque tienen una química bastante linda.
I hope you can take a moment and watch it, it may not be the best in cinema but it is nice to watch with a partner, with friends or even alone. You can find it on Prime Video, Apple TV and other online movie streaming sites.
Thank you so much for always reading and supporting me ☺️, see you in a next post.
Pd: Tell me in the comments, have you seen this movie? Would you like to see it?
Espero puedan tomarse un momento y verla, tal vez no sea lo mejor del cine pero es agradable para verla en pareja, con amigos o incluso solo. La pueden encontrar en Prime Video, Apple TV y otras páginas de streaming de películas por internet.
Muchas gracias por leerme y apoyarme siempre ☺️, nos vemos en un próximo post.
Pd: ¿Cuéntame en los comentarios, ya viste está película? ¿Te gustaría verla?
---
Trailer
(Unsupported https://youtu.be/hkP4tVTdsz8)
---
Traducción | Translate: deepl
---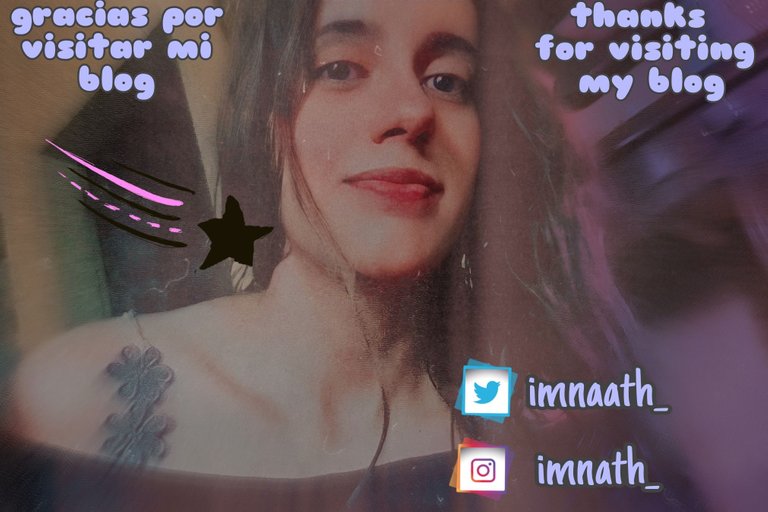 Banner hecho en PicsArt | Banner made with PicsArt
---
---