My first skatehive post and I wanna explain a joke: The Bread Skateboard joke / La Pantineta

I wanna explain a jokeThe Bread Skateboard joke / La Pantineta
This is my official first skatehive post!
Greetings my pukufriends! I want to share with you an image, a meme picture that I saw on the internet, so that this is a first post quite enjoyable and funny, it is the following image:
Saludos mis pukuamigos! en esta ocasión les quiero compartir una imagen, una fotografía tipo meme que vi en internet, para que este sea un primer post bastante ameno y gracioso, se trata de la siguiente imagen:
The Bread Skateboard / La Pantineta: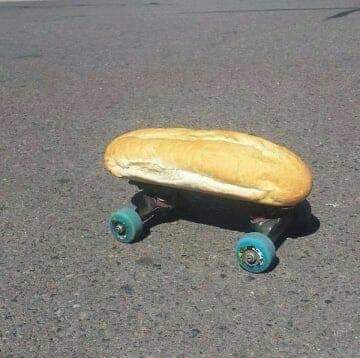 Source
El asunto es este, si ustedes ven la imágen que ya de por si es graciosa, en ingles se dice de un modo que puede resultar jocosa, pero en español tiene otro significado aún mas graciosa y divertida, en español nosotros a las skateboards les decimos: patinetas (proviene de la palabra patin - patinar - patinaje) pero al ver la imágen automáticamente viene el juego de palabras: PANTINETA - porque en español el bread es pan. asi que da, a mi parecer mucha mas risa leer su nombre en español, y por eso quería compartir con ustedes amigos que no hablan español, esta pequeña broma como introducción a esta comunidad!
If you see the image that is already funny, in English it is said in a way that can be funny, but in Spanish it has another meaning even funnier, in Spanish we say to the skateboards: patinetas (comes from the word patin - patinar - patinaje) but when you see the image automatically comes the word game: PANTINETA - because in Spanish bread is: PAN. So a patineta becomes Pantineta lol -

In my opinion much more laughter to read your name in Spanish, and so I wanted to share with you friends who do not speak Spanish, this little joke as an introduction to this community!


Take care my Pukufriends lml @Nahupuku from Caracas, Venezuela, SouthAmerica

If you want support me in Patreon / Apoyame en Patreon:

https://www.patreon.com/nahupuku

O en Paypal para que continúe creando contenido

https://www.paypal.me/nahupadilla

PukuNetworks:

https://www.instagram.com/nahupuku/

https://m.facebook.com/nahupadillapuku

Bendiciones y gracias por ver mi post

Blessings and thanks for watching my post



---
---