🙌🏽🌻Sublime Sunday🙌🏽💖 by @c0ff33a - Weekend Leisure times
Over the weekend my cousins came over from Dubai and we wanted to take them out somewhere, I decided to take them to one of my favorite places; at the Yacht club. Dubai people do not fancy Oman at all, because in front of Dubai this place looks very dull. we have no sky scrappers, no fancy buildings, no theme parks, all we have is nature all around us and they do enjoy that. Dubai is one extravagant place and Oman in comparison is very sober. Everything is limited here, people have a laid back life. There are certain things that Dubai people do enjoy here, which is doing the water sports. They are not very fancy ones like Dubai, but there are few and in comparison they are very cheap. In Dubai no amount of money you can say is enough. There is so much over there that you will easily get lured.
A Dubai person always finds Oman cheap. We have no tolls, very few places have parking charges, most of them are free. Dining out, Hotel stays are much cheaper. Whatever few attractions we have, the ticket prices are reasonable. And the best of all there are no hidden charges. In Dubai wherever we would go, we would always end up paying more then what we had estimated. While here in Oman that's not the case, it's simple and clear.
They were here for 2 days. I took them around the city. One morning they did snorkeling and dolphin watching, which was the best they enjoyed. I did not accompany them as it's too hot and it makes me go sick if I am out for too long. Temperature is 41 to 43 degrees during the day time. Also in the last few months I have made several visits for Dolphin watching, as this season I had many guests, so I took a skip here. They were 5 of them, the couple, their parents and their 2 years old boy. It was also our little one's 2nd birthday. We decided to cut a cake for him at the Yacht club.
This time at the Yacht club they had a very fancy lighting. This type of lighting is called a Gobo lighting where an object is placed inside or in front of a led light source and that shows the picture on the ground or blank wall, wherever it is reflected. I did not know this term Gobo, I checked online and get to know about it.
I liked this particular one very much where the light reflects the image of a tree and it is placed near a tree to make it look like a reflection of the tree.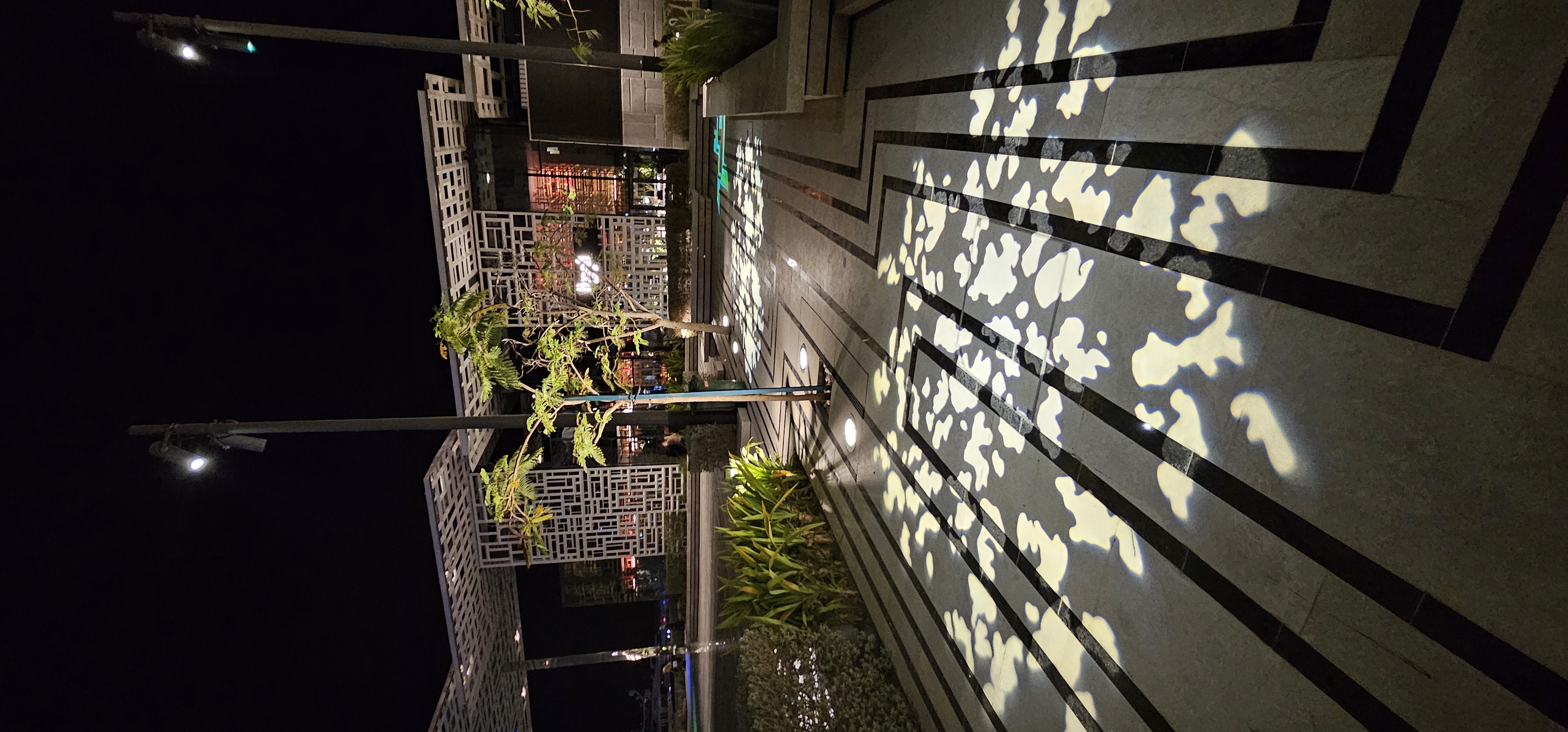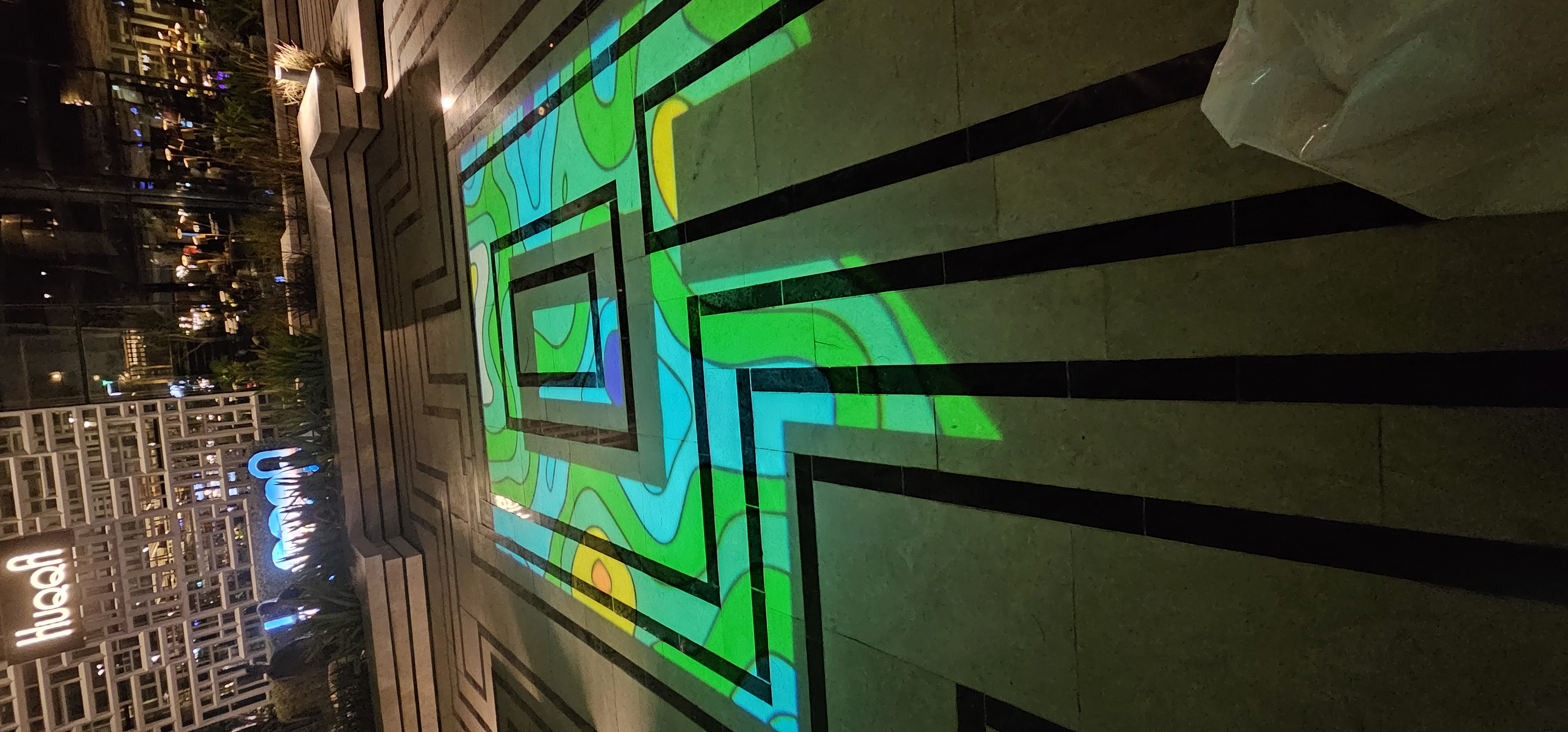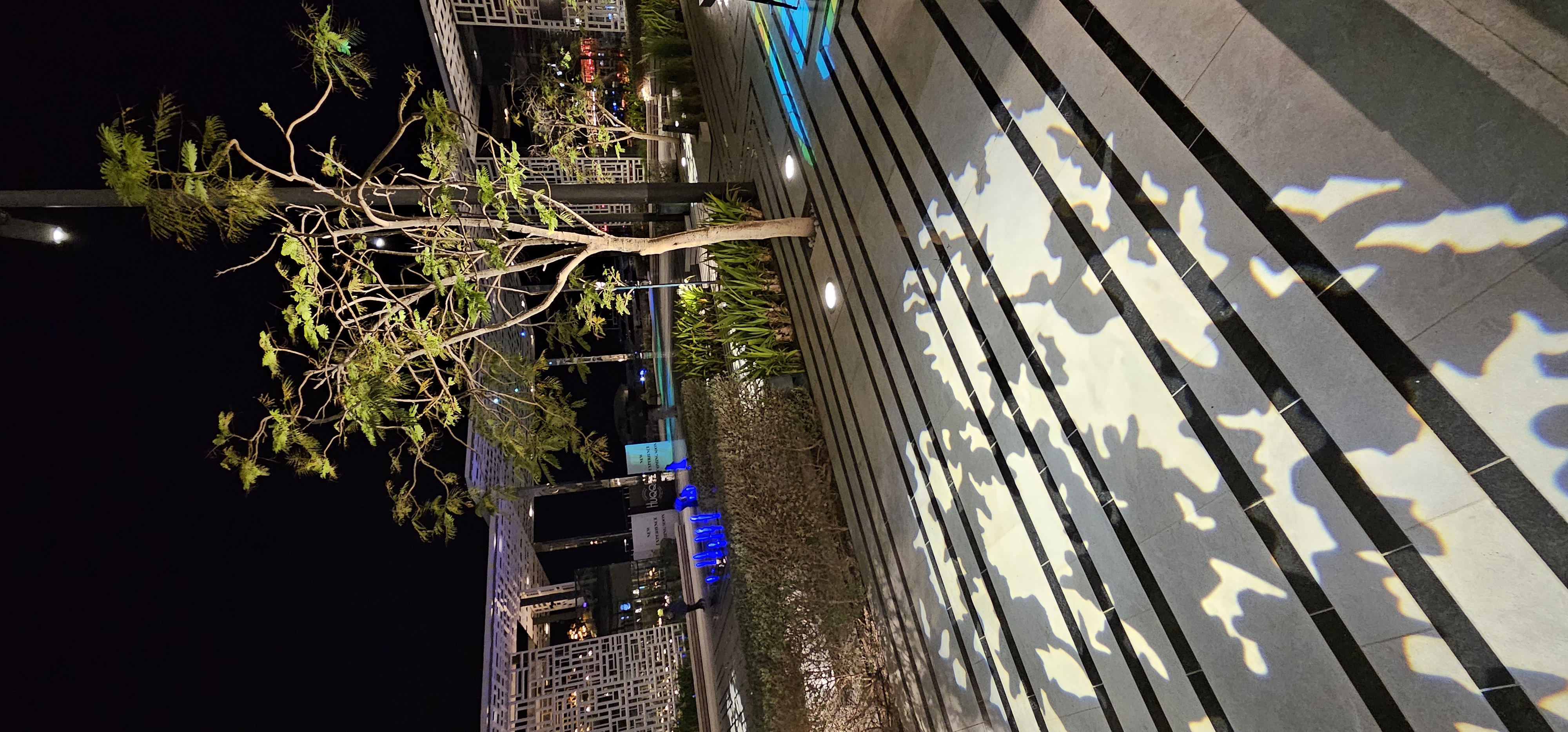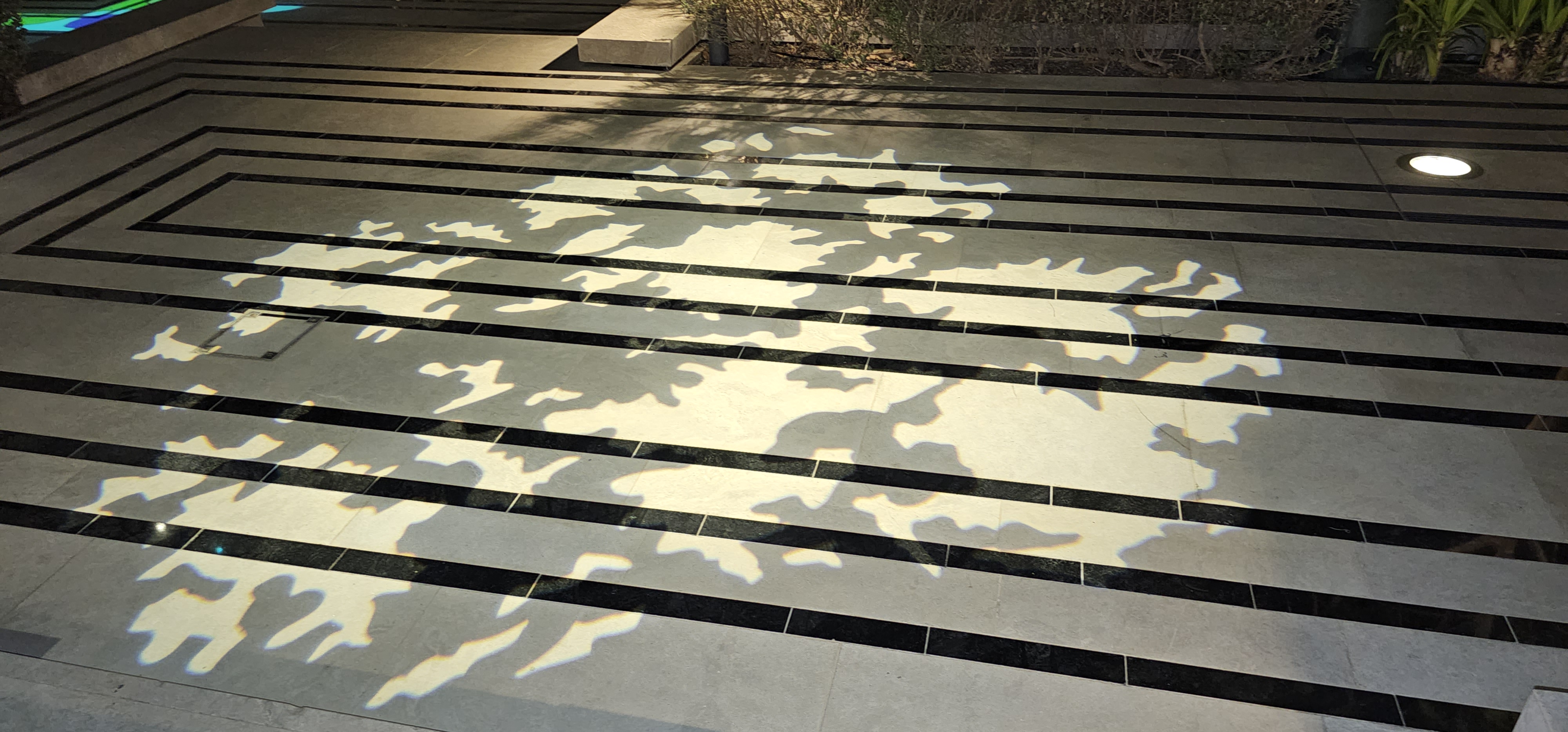 Our little boy cut the cake with his parents and we celebrated his 2nd birthday. We had ordered for an Ice-cream cake as the little one is very fond of Ice-cream.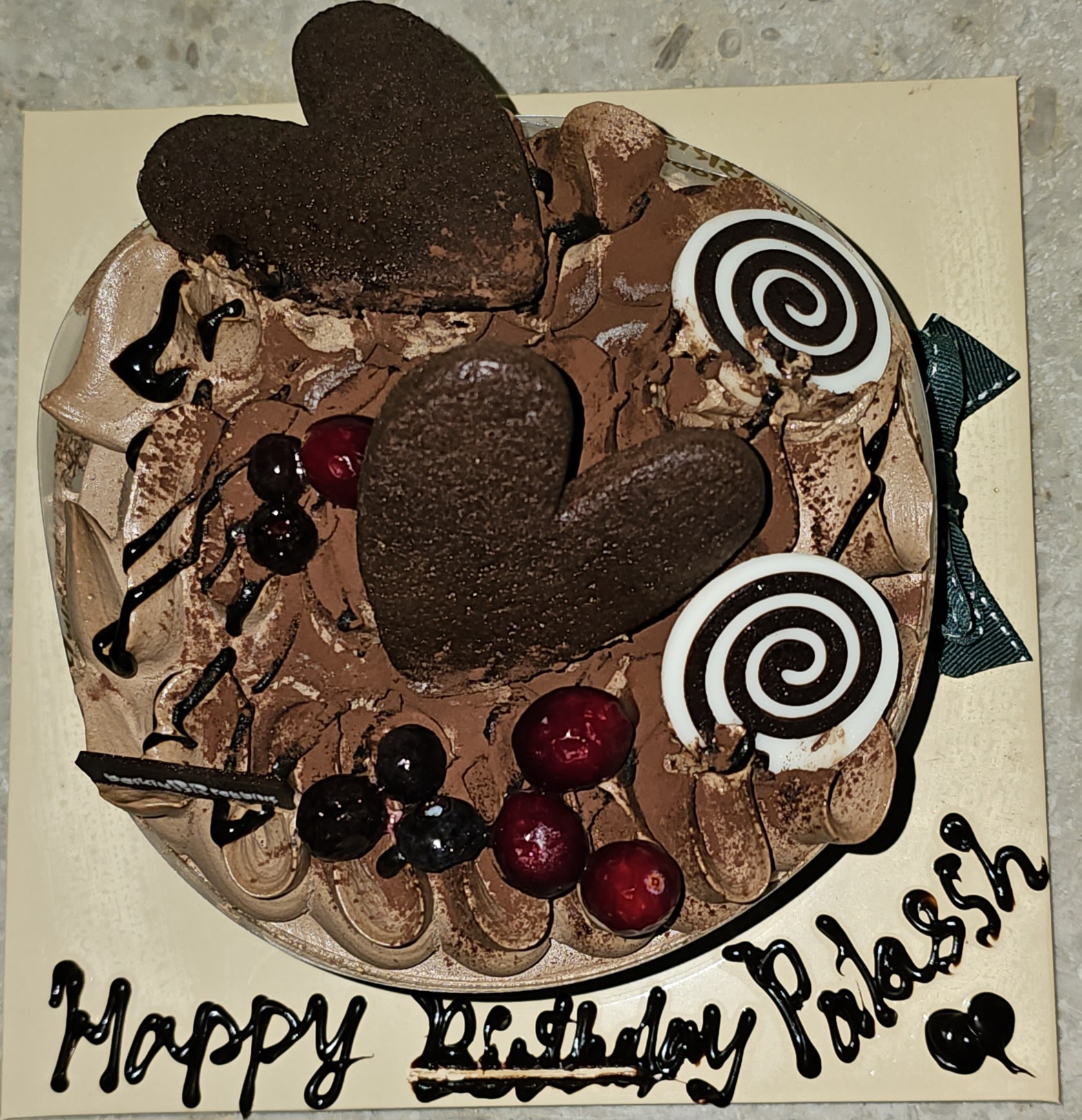 It was a nice family reunion away from home. Times like these make me miss home a lot.
Thank you for visiting my blog. 👼🏻👼🏻💖💖🌹🌺🌸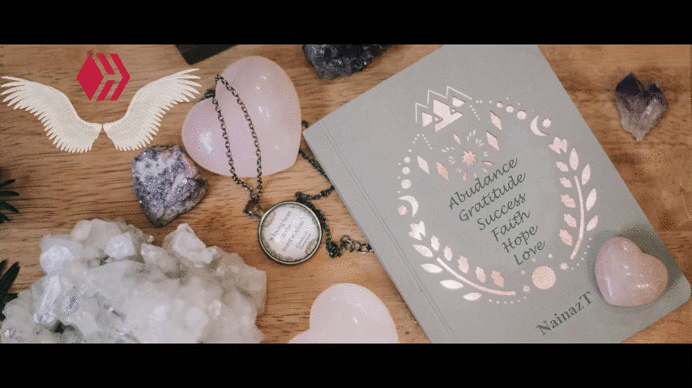 "Unlimited Abundance, Blissful Happiness and Unconditional Love"
Member of
---
---
---