A very cute beetle - Cycloneda sanguinea [Eng/Esp]
In one of these adventures that I usually have when I go out to the backyard of my house to take pictures I usually find small insects quite curious and this occasion was no exception. I was really a bit distracted because I was checking my phone at that moment, but luckily something caught my attention and I saw this little friend, whose scientific name is Cycloneda sanguinea and belongs to the Coccinellidae family and they have a very interesting color, besides it is difficult not to see them when they are in plants, but this time this one was in the ground.
En una de estas aventuras que suelo tener cuando salgo al patio de mi casa para tomar fotografías me suelo encontrar con pequeños insectos bastante curiosos y esta ocasión no fue la excepción. Realmente me encontraba un tanto distraído porque me encontraba revisando el teléfono en ese momento, pero por suerte algo llamó mi atención y vi a este pequeño amigo, quien tiene por nombre científico Cycloneda sanguínea y pertenece a la familia de los Coccinellidae y tienen un color bastante interesante, además que es difícil no verlos cuando están en plantas, pero en esta ocasión este se encontraba en la tierra.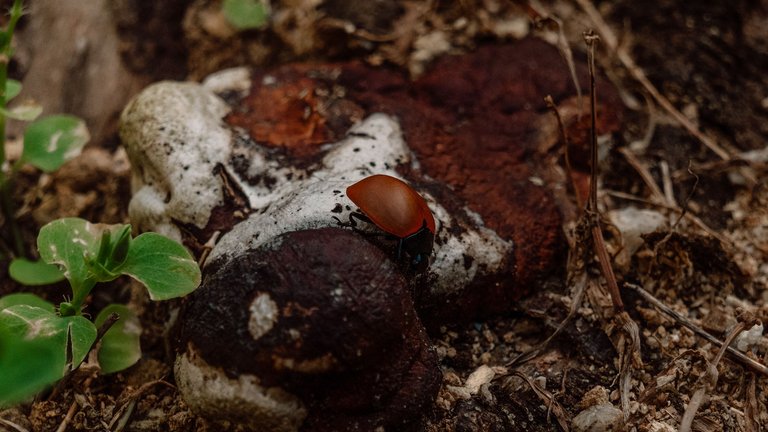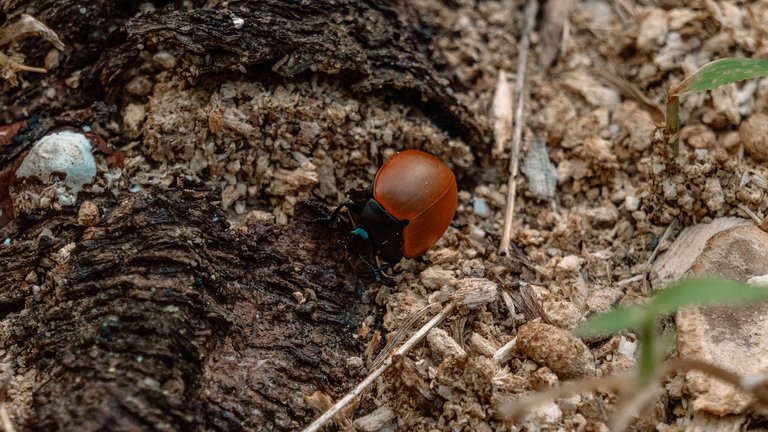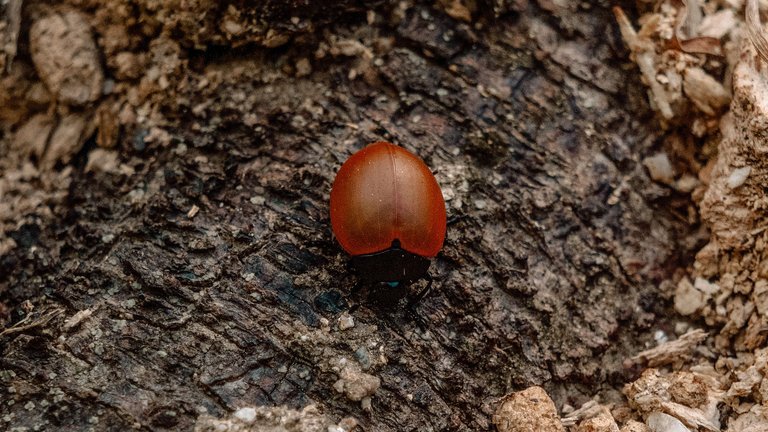 I always try to keep a considerable distance so I don't interfere with whatever they are doing and they don't feel intimidated and decide to leave, so I did the same this time and I really wanted to take a lot of pictures of him because I thought it was so cute to see him pose and stay still for a few seconds, although I must say it was a bit complicated to make the right focus, because just when I felt I was with the right conditions, the little beetle started to move again and I had to focus again, but still with all that cumbersome work I feel very satisfied.
Siempre intento mantener una distancia considerable para no interferir en lo que sea que se encuentren haciendo y que no se sientan intimidados y decidan irse, por lo que hice lo mismo en esta oportunidad y realmente quise hacerle muchas fotografías porque me parecía muy lindo verle posar y quedarse quieto por algunos segundos, aunque debo decir que fue un tanto complicado el hacer el enfoque adecuado, porque justo cuando sentía que estaba con las condiciones adecuadas, el pequeño escarabajo se empezaba a mover nuevamente y debía volver a enfocar, pero aún así con todo ese engorroso trabajo me siento muy satisfecho.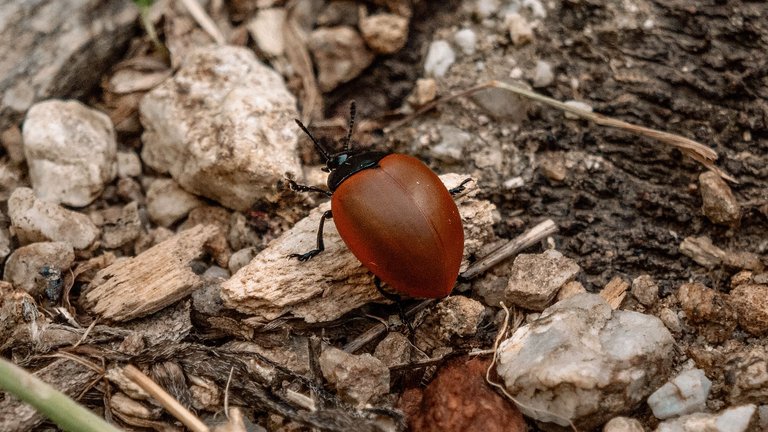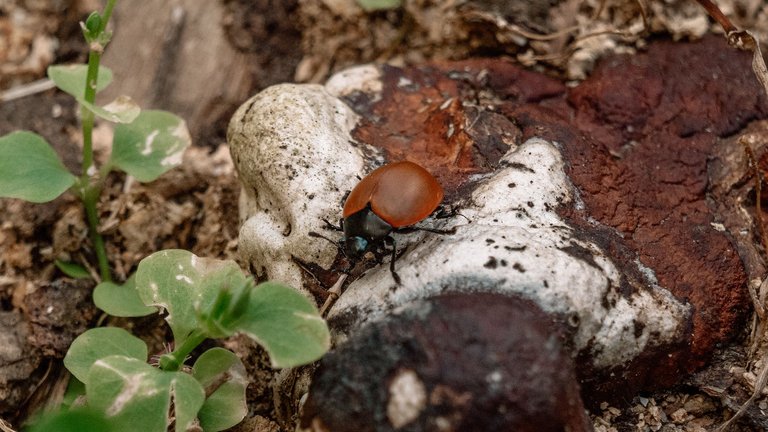 The truth is that I had some time wanting to take pictures of a beetle of this type, I don't know why, but whenever I saw some pictures with one, they caught my attention and this only made my desire to photograph one increase and luckily that day came and as I mentioned above, I am very happy with the result, even though the lens I use is not the best for this type of photography, so I hope in the future to acquire one to make more interesting macro photographs, but for the moment, I am not in a hurry, I still enjoy the way I take pictures.
La verdad es que tenía algo de tiempo queriendo hacerle fotografías a un escarabajo de este tipo, no sé por qué, pero siempre que veía algunas fotografías con alguno me llamaban la atención y esto sólo hacía que mis ganas de fotografía uno aumentaran y por suerte ése día llegó y como bien mencionaba arriba, estoy muy contento con el resultado, aún cuando el lente que utilizo no es el mejor para este tipo de fotografías, por lo que espero en un futuro adquirir uno para hacer unas fotografías macro más interesantes, pero por el momento, no tengo apuro, sigo disfrutando de la manera en que hago fotografías.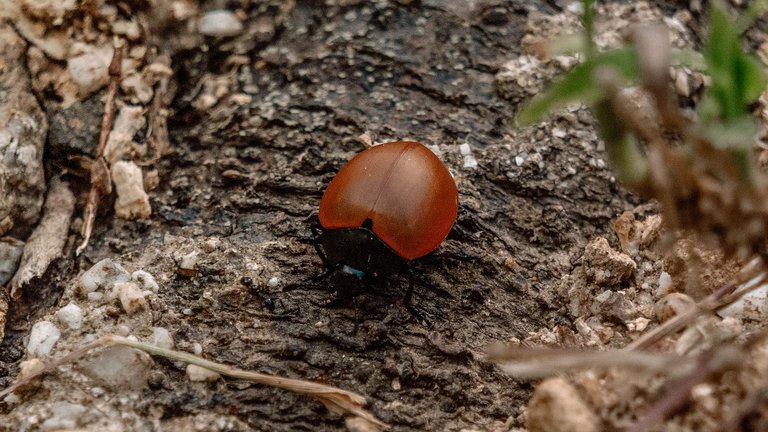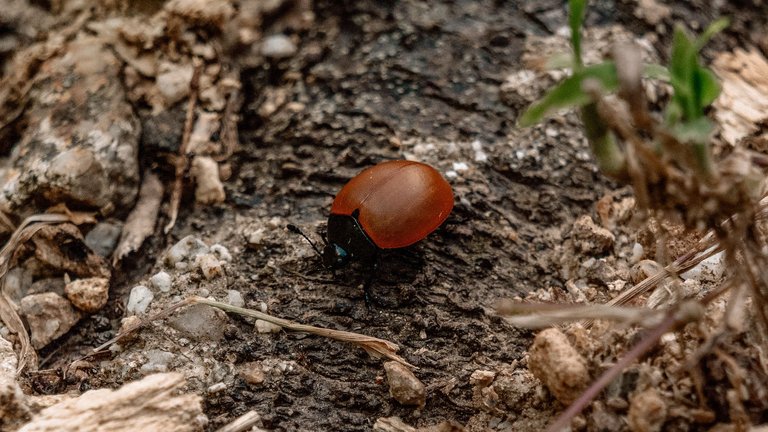 I hope you like the pictures as much as I do, I will continue on the hunt for these little insects to photograph them and bring you several more species. I appreciate the constant support and that you take some of your time to look at my publications, Happy day dear friends of the community!
Espero que las fotografías les gusten tanto como a mí, seguiré en la caza de estos pequeños insectos para fotografiarlos y traerles diversas especies más. Agradezco el constante apoyo y que tomen parte de su tiempo para mirar mis publicaciones. ¡Feliz día queridos amigos de la comunidad!



Todos los derechos reservados / All rights reserved by @Naitreart.
Cámara utilizada: Sony Alpha 3000
Objetivo Sony: 18-55mm

Camera used: Sony Alpha 3000
Sony Lens: 18-55mm

---
---