CineTV Contest: Beverly Hills Cop [ENG|ESP]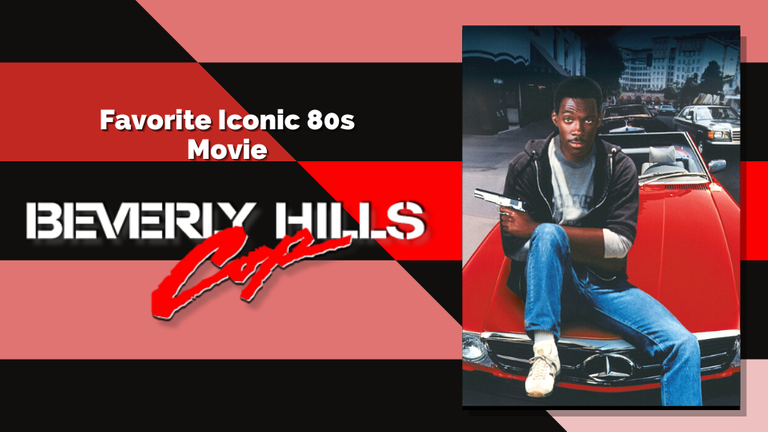 The CineTV community reaches its fiftieth edition of its contest where depending on a different weekly theme we must make reviews of movies or TV series; this time is one that motivated me again to participate, since it is about a great era for cinema and it is in that decade where I had the opportunity to see a large number of films; the theme for the contest is "Favorite Iconic 80s Movie " and as you can see, this means a world of opportunities to participate where you only have to follow the rules that I share in the following [Link](https: //peakd. com/hive-121744/@cinetv/cinetv/contest-50-favorite-iconic-80s-movie).


La comunidad de CineTV llega a su quincuagésima edición de su concurso en dónde dependiendo de una diferente temática semanal debemos realizar reseñas sean de películas o series de TV; en esta oportunidad es una que me motivo nuevamente a participar, ya que es referente a una época genial para el cine y es en esa década en dónde tuve la oportunidad de ver un gran número de films; el tema para el concurso es "Favorite Iconic 80s Movie" y como podrán ver, esto significa un mundo de oportunidades para participar en dónde solo deberán seguir las reglas que les comparto en el siguiente Link.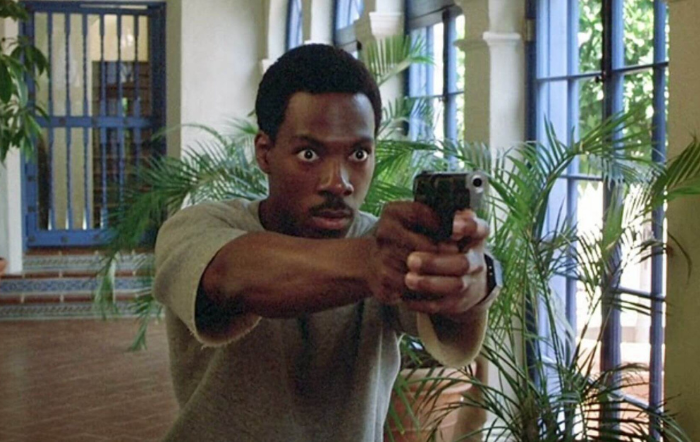 Fuente / Source

In the 80's, without knowing the past (referring to the acting career) of Eddie Murphy, by the time "Beverly Hills Cop" was released, he had already seen two previous films, one is the action-comedy known as "48 Hrs" which starred with Nick Nolte and the excellent comedy "Trading Places", where he worked with Dan Aykroyd and Jamie Lee Curtis; now in "Beverly Hills Cop" was the first time he would be the main protagonist and where he would give life to "Axel Foley", a detective from Detroit, who after the murder of a great friend must move to Beverly Hills, California to investigate and discover who ordered the murder of his friend; this will make him have many problems, but in a place very different from what he knows as home, he will have the opportunity to make friends who will help him to do justice.


En la decada de los 80', sin saber el pasado (refiriéndome a la carrera de actor) de Eddie Murphy, ya para el momento de estrenarse "Beverly Hills Cop", había visto dos anteriores films, uno es el de acción y comedia conocido como "48 Hrs" la cual protagonizó con Nick Nolte y la excelente comedia "Trading Places", en dónde trabajó con Dan Aykroyd y Jamie Lee Curtis; ahora en "Beverly Hills Cop" era la primera vez que sería el protagonista principal y en dónde daría vida a "Axel Foley", un detective de Detroit, el cual después del asesinato de un gran amigo deberá trasladarse a Beverly Hills, California para investigar y descubrir quién mando a asesinar a su amigo; esto lo hará tener muchos problemas, pero en un lugar muy diferente al que él conoce como hogar, tendrá la oportunidad de hacer amigos que le ayudaran a hacer justicia.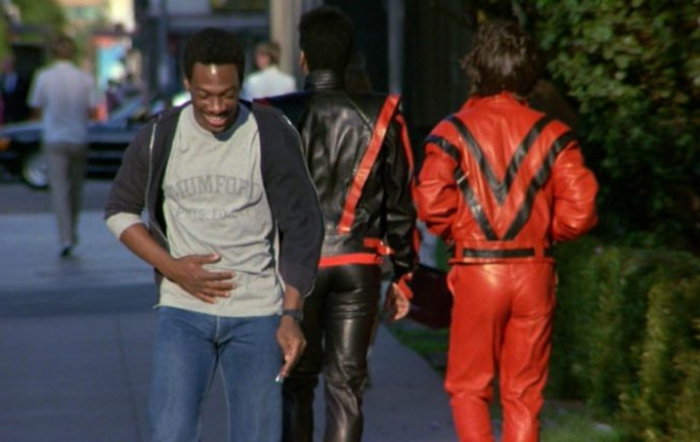 Fuente / Source

Personally, I decided to take this film to participate because it was always one of the regular films I watched on weekends at home; the national channels in Venezuela did not miss the opportunity to broadcast every few months not only this film, but also the sequel that was released in 1987. "Beverly Hills Cop" is a film that I would sit and watch with my father and this was the kind of movie we liked to watch, a simple police story, with action, good and iconic music, a funny protagonist and other secondary characters that in one way or another become favorites.
I hadn't seen this film for a long time and for the contest I decided to see it to see if I had made a good decision or not and I think I did. This story focuses on showing us two different worlds or two different points of view despite the similarities of several characters, for example the story begins in Detroit, a place very economically hit and that seems stopped in time, a place with a high rate of crime and that makes it look extremely dangerous, but after different events happen, the story moves to Beverly Hills, a place where everything is expensive, a place for wealthy people and where no excess is hidden and precisely at that time, this film becomes very eighties because it shows the excesses of that time, fashion and something that became iconic for this film as is the main theme song that accompanies "Alex Foley".


Personalmente, decidí tomar este film para participar porque siempre fue uno de los habituales que veía los fines de semana en mi casa; los canales nacionales en Venezuela no perdieron oportunidad para cada ciertos meses transmitir no solo este film, sino también la secuela que se estrenó en 1987. "Beverly Hills Cop" es un film el cual me sentaba a ver con mi padre y es que este era el tipo de películas que nos gustaban ver, una simple historia policial, con acción, buena e icónica música, un divertido protagonista y otros personajes secundarios que de una manera u otra se convierten en los favoritos.
Tenía mucho tiempo que no veía este film y para el concurso decidí verla y así saber si había tomado o no una buena decisión y pienso que si lo hice. Está historia se enfoca en mostrarnos dos mundos diferentes o dos puntos de vista diferente a pesar de las similitudes de varios personajes, por ejemplo la historia comienza en Detroit, un lugar muy golpeado económicamente y que parece detenido en el tiempo, un lugar con una alta taza de delincuencia y eso lo hace ver sumamente peligroso, pero después que suceden diferentes acontecimientos, la historia se traslada a Beverly Hills, lugar referente para que todo sea caro, lugar para personas adineradas y en dónde no se esconde ningún exceso y justamente en ese momento, este film se hace muy de los ochenta porque muestra los excesos de esa época, la moda y algo que se volvió icónico para este film como es el tema musical principal que acompaña a "Alex Foley".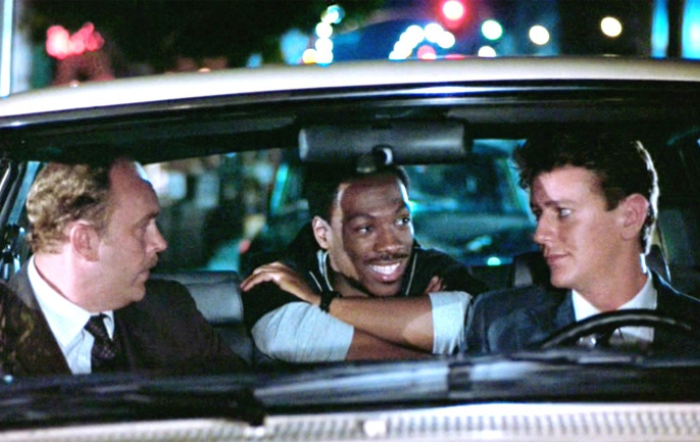 Fuente / Source

The genre, the story and different aspects of the film make it a typical 80's production; the action is something that I always find perfect, it starts with the typical chase that can't be missing in this kind of movies and then goes to more comic moments to leave an extensive action sequence to close the story and just in that closing of the third act is a reference to the way of making this kind of films at that time; This film had a small budget and the villain to be caught was not considered a cartel boss or someone extremely powerful but if wealthy that could cost a number of "bodyguards", enough to confront the protagonists but with the characteristic of having bad aim, it was expected that it would not be an imposition; see again that caused me a lot of laughter because it is a clear cliché in this style of films that no matter who stars, there will always be bad guys who never hit the target.


El género, la historia y diferentes aspectos del film lo convierte en la típica producción de los 80'; la acción es algo que siempre encuentro perfecta, comienza con la típica persecución que no puede faltar en este tipo de películas y después pasa a momentos más cómicos para así dejar una extensa secuencia de acción para cerrar la historia y justamente en ese cierre del tercer acto es referente a la manera de hacer este tipo de films en esa época; está película tuvo un pequeño presupuesto y el villano a atrapar no era considerado como un jefe de cartel o alguien sumamente poderoso aunque si adinerado que podía costar una serie de "guardaespaldas", lo suficiente para enfrentar a los protagonistas aunque con la característica de tener mala puntería, era de esperar que no sería una imposición; ver nuevamente eso me causo mucha risa porque es un claro cliché en este estilo de películas que sin importar quién las protagonice, siempre habrá malos tipos que nunca den en el blanco.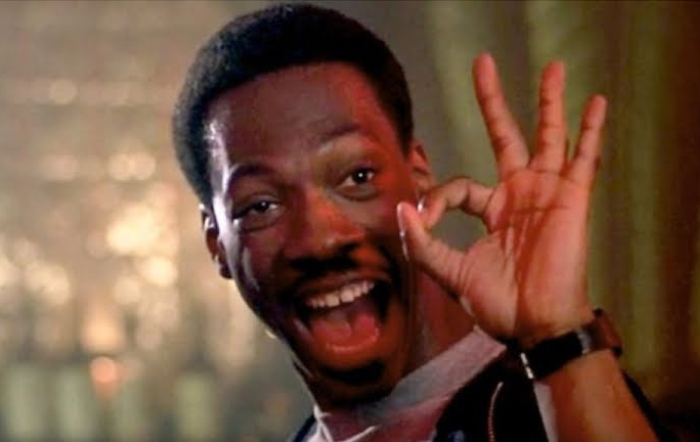 Fuente / Source

Eddie Murphy is perfect for the role of "Axel Foley" and that's why I always liked to watch this movie and its sequel and that's why Beverly Hills Cop is a good film, entertaining, with good characters and a simple direction, nothing spectacular, my new or revolutionary because as it happens now, if a formula works, then there is no need to change it and that made this kind of movies known as "Budy Cop Movies" had a great success and that's why there are many in the 80's'. This style of films are the ones I used to watch with my father on Sunday afternoons when we were together in front of the TV spending a quiet day watching whatever movie we were interested in. It was nostalgic to see this movie again as well as others that I hadn't seen for a long time and I like that no matter how many times I have seen them, they still make me laugh (for better or worse), but the best thing is that they still entertain me.


Eddie Murphy es perfecto para el rol de "Axel Foley" y por eso tanto esta película como su secuela siempre me gustaba verlas y es que Beverly Hills Cop es un buen film, entretenido, con buenos personajes y una dirección simple, nada espectacular, mi nuevo o revolucionario porque así como sucede ahora, si una fórmula sirve, entonces no hay necesidad de cambiarla y eso hizo que este tipo de películas conocidas como "Budy Cop Movies" tuvieran un gran éxito y por eso existen muchas en la década de los 80'. Este estilo de films son las que veía con mi padre en las tardes de los domingos cuando estábamos juntos al frente de la TV pasando un día tranquilo viendo cualquier película que nos causaba interés. Fue nostálgico ver nuevamente esta película así como otras que tenía mucho tiempo que no veía y me gusta que sin importar cuántas veces las he visto, de una manera me causa risa (para bien o para mal), pero lo mejor es que me siguen entreteniendo.

Beverly Hills Cop| Official Trailer

Cover image edited in canva; the image was taken from the following source


---
---