Primal Fear - CineTV Contest [ESP/ENG]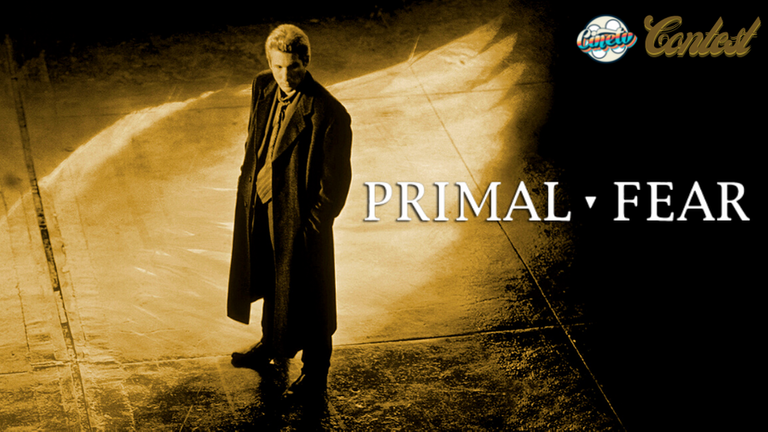 ESPAÑOL
Nuevo concurso dentro de la comunidad de CineTV; en esta oportunidad quien quiera participar debe escribir una publicación sobre una o varias películas basadas en historias se llevan a cabo en una sala de justicia o un juicio; primeramente, tuve la noción de haber visto muy de este género, pero al revisar algunas listas recordé un buen film el cual es un thriller legal con muy buenas actuaciones.
ENGLISH
New contest in the CineTV community; this time whoever wants to participate must write a post about one or several movies based on stories that take place in a courtroom or a trial; first, I had the notion of having seen a lot of this genre, but when reviewing some lists I remembered a good film which is a legal thriller with very good performances.

"La Raíz del Miedo"
Recuerdo que después de ver "El Silencio de los Inocentes" empecé a ver muchas películas pertenecientes al género del thriller, una en dónde el suspenso y intriga siempre están presentes en este tipo de historias y justamente es eso lo que me hizo ver "Primal Fear", que en Venezuela se conoció como "La Raíz del Miedo", porque creí que mostraba algo diferente de lo visto en otras películas en dónde su historia principal ocurre en un juicio y eso que consideré diferente fue algo excelente por la investigación sobre un horrendo crimen, por la defensa de la inocencia de un joven hombre y por supuesto por la necesidad de encontrar la verdad; no había duda que está película existía un completo balance entre ser un film llamado "legal" y a la vez un emocionante thriller con uno de los mejores desenlaces que he visto.
I remember that after watching "The Silence of the Lambs" I started to watch many movies belonging to the thriller genre, one where suspense and intrigue are always present in this kind of stories and that's exactly what made me watch "Primal Fear", which in Venezuela was known as "La Raíz del Miedo" (The Root of Fear), because I thought it showed something different from what we have seen in other movies where the main story takes place in a trial and what I considered different was something excellent for the investigation of a horrendous crime, for the defense of the innocence of a young man and of course for the need to find the truth; there was no doubt that this film was a complete balance between being a so-called "legal" film and at the same time an exciting thriller with one of the best endings I have ever seen.

Está película estuvo liderada por un gran actor cómo es Richard Gere, pero el joven actor (en ese momento) que lo acompañó fue lo que genero más impacto y ese es Edward Norton, creo que esa fue la primera vez en un largometraje y por supuesto era la primera vez que lo veía actuar; los personajes que interpretan ambos actores fue algo que considero completamente perfecto, Gere y Norton desarrollan sus personajes de un momento que pareciera ser dos vías contrarias en un mismo camino, ya que al comienzo uno es arrogante y con nada de humildad mientras el otro tiene miedo y no sabe que está ocurriendo en su alrededor, eso es a primer momento lo que me gusta de esta historia y es que la interpretación de cada uno de estos personajes hace que este film resalte y sea porque no considerado como uno de los mejores dentro de este género.
This film was led by a great actor like Richard Gere, but the young actor (at that time) who accompanied him was what generated more impact and that is Edward Norton, I think that was the first time in a feature film and of course it was the first time I saw him act; The characters played by both actors was something that I consider completely perfect, Gere and Norton develop their characters in a moment that seems to be two opposite ways in the same path, since at the beginning one is arrogant and with no humility while the other is afraid and does not know what is happening around him, that is at first what I like about this story and is that the interpretation of each of these characters makes this film stand out and is why not considered as one of the best in this genre.

No puedo decir que el director Gregory Hoblit mostró algo diferente en el momento de las muchas escenas del juicio, todo está en el momento crucial cuando el abogado defensor sube al estrado a su cliente y es ahí donde la película y el trabajo de este director es influyente; cuando es la interacción entre los dos personajes principales es cuando Hoblit debe trabajar mucho mejor, sus tomas con hacia los rostros tanto de Gere como de Norton dan la intensidad para demostrar el porqué de la inocencia de uno gracias al gran trabajo del otro, eso no hace creer que estamos descubriendo una verdad o no está preparando para revelar un grave secreto. Aparte de estas escenas creo que las que comparten en la prisión son también muy importantes porque evada diálogo es perfecto para el desarrollo de estos personajes y más que nada para ver esa lucha por el control de la narrativa porque de verdad que es muy bueno el ver como uno puede usar otro para crear un convincente relato y obtener la libertad; en lo antes dicho veremos cómo este director que antes de este film estaba enfocado en la dirección de series de TV, puede sacar lo mejor de un experimentado actor y otro que comenzaba su carrera.


I can't say that director Gregory Hoblit showed anything different in the timing of the many trial scenes, it's all in the crucial moment when the defense attorney puts his client on the stand and that's where the film and this director's work is influential; when it is the interaction between the two main characters is when Hoblit should work much better, his shots with towards the faces of both Gere and Norton give the intensity to show why the innocence of one thanks to the great work of the other, that does not make us believe that we are discovering a truth or is not preparing to reveal a serious secret. Apart from these scenes I think the ones they share in prison are also very important because each dialogue is perfect for the development of these characters and more than anything to see that struggle for control of the narrative because it is really very good to see how one can use another to create a compelling story and get freedom; in the above said we will see how this director who before this film was focused on directing TV series, can get the best out of an experienced actor and another who was starting his career.

Primal Fear es una gran película sobre cómo con nuestras actuaciones podemos manejar la verdad; sé que en esta historia existe la mentira y que tiene un gran peso en todo lo que sucede, pero como en un juicio no se puede enfocar algo malo a la persona que se está juzgando, entonces es mejor hablar sobre la verdad y está historia vemos cómo esa verdad nos puede afectar a todos, la palabra de un joven con apariencia Inocente frente a un crimen horrendo que afecta a la sociedad; el otro tema es sobre la arrogancia, fama y la falta de humildad y es que nunca se está preparado completamente para resolver cualquier situación en dónde cada uno pueda desempeñar, nadie es completamente perfecto, uno como ser humano ni mucho menos un sistema que es creado por nosotros y que a pesar de saber las imperfecciones que existen y creer que podemos manejarlo, siempre habrá algo o alguien que pueda sacar ventaja y hacernos quedar en completamente ridículo viendo que hemos hecho un gran mal; está última característica que resaltó en esta historia al final es lo que muchos films dentro de este género representan, todo es una gran lucha contra un sistema lleno de leyes que puede ser interpretado en conveniencia por muchos, pero en dónde la verdad puede superar un mal uso de las leyes y por fin tener justicia, el asunto en este film es que el sistema, las leyes y la verdad fueron burladas y por eso es que me gusta está historia la cual considero una de las mejores dentro de este género y que recomiendo por si no la han visto.


Primal Fear is a great movie about how with our performances we can handle the truth; I know that in this story there is a lie and that it has a great weight in everything that happens, but as in a trial you can not focus something bad to the person who is being judged, then it is better to talk about the truth and this story we see how that truth can affect us all, the word of a young man with innocent appearance in front of a horrendous crime that affects society; the other theme is about arrogance, fame and lack of humility and is that we are never fully prepared to solve any situation where each one can play, no one is completely perfect, one as a human being and much less a system that is created by us and that despite knowing the imperfections that exist and believe that we can handle it, there will always be something or someone who can take advantage and make us look completely ridiculous seeing that we have done a great evil; this last characteristic that stood out in this story at the end is what many films within this genre represent, everything is a great fight against a system full of laws that can be interpreted in convenience by many, but where the truth can overcome a misuse of the laws and finally have justice, the issue in this film is that the system, the laws and the truth were mocked and that is why I like this story which I consider one of the best in this genre and I recommend it in case you have not seen it.

Cover image edited in canva; the image was taken from the following source .


---
---