Frustración | Frustration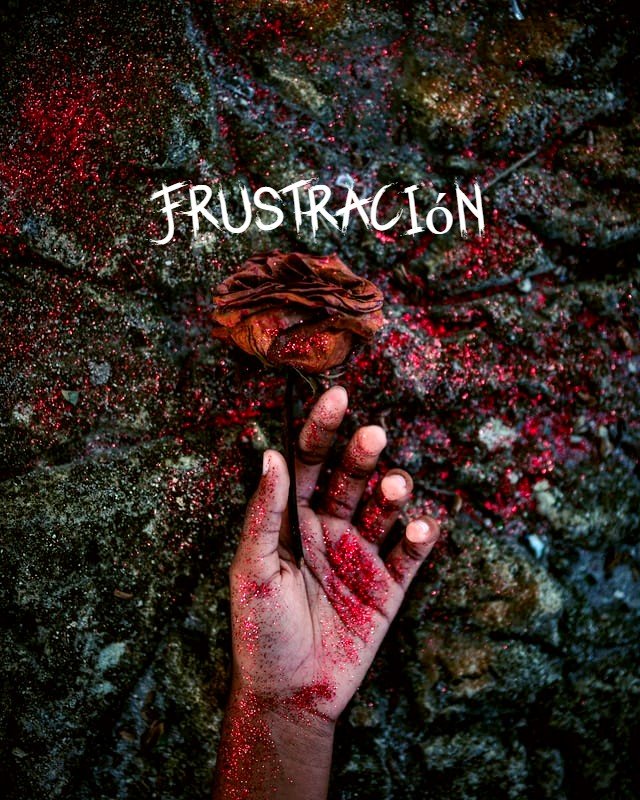 Photo by Javardh on Unsplash | Edited with (Editado con) Pixlr X

Hola, gente de Hive. Hoy es un día un poco (bastante) triste. Ya tengo varios días con un bajón emocional y por eso no me he sentido con ánimos y tampoco he tenido ideas sobre qué escribir; esta vez, será un poco distinto. Un buen amigo me aconsejó drenar este sentimiento escribiendo, y bueno, aquí estoy.

Hello, Hive people. Today is a bit (quite) sad. I've been in an emotional slump for several days now, so I haven't been feeling up to it and haven't had any ideas on what to write about; this time, it will be a little different. A good friend advised me to drain this feeling by writing, and well, here I am.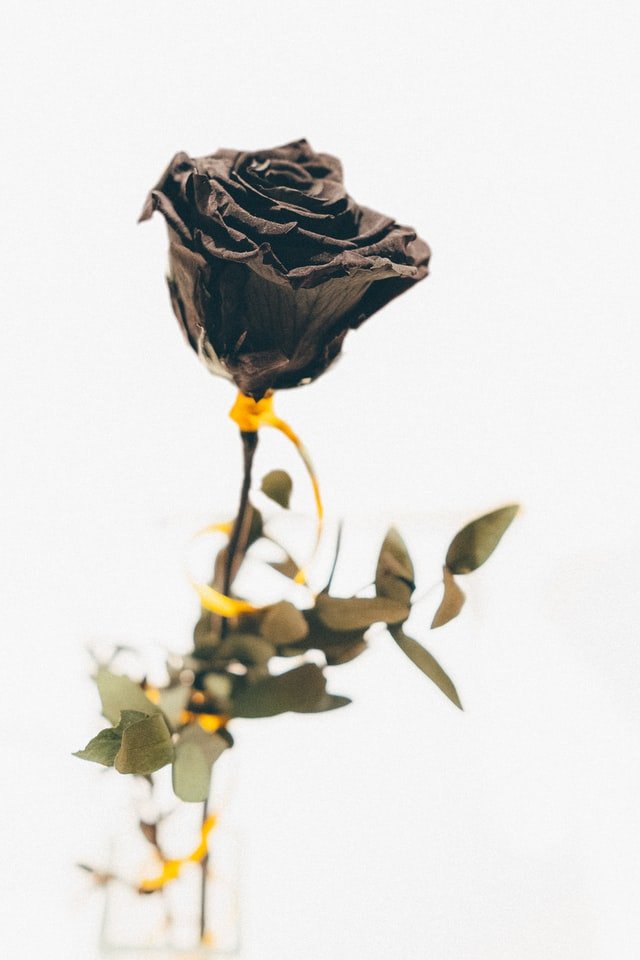 Photo by David Vázquez on Unsplash

Para que entren un poco en contexto, les voy a contar algo muy íntimo (me apoyaré un poco en el "anonimato" que permite la plataforma), algo que contadas personas a mi alrededor saben, y es que desde hace ya un tiempo (mucho tiempo) mi esposo y yo hemos estado intentando tener un bebé pero yo tenía (hoy confirmé que aún persiste) antecedentes de quistes en los ovarios. Hace tiempo había estado en tratamiento para eliminarlos, y funcionó así que nos pusimos en la "tarea". Mes tras mes, un pedazo de mí se iba al vacío, al punto que caí en una fuerte depresión y algunos ataques de ansiedad. Muchas veces me lo tragaba sola para no preocupar a mi esposo, quizás por la idea machista de que "es mi culpa" que no lograra quedar embarazada. Luego me hice a la idea de que tendría que pasar cuando tuviese que pasar, y me relajé un poco (aunque todos los meses seguía sintiendo ese frío cuando llegaba el momento). Todo cambió cuando de repente en diciembre tuve un retraso (soy muy puntual) y empezaba a sentir cambios en mí, me emocioné tanto, era un mes muy importante porque también me tocaba fecha de graduación, se concretaban algunos proyectos, las cosas estaban saliendo bien y tener este retraso era lo mejor que me podía pasar en ese momento. Al cabo de unas semanas todo se vino abajo, llegó "el día menos esperado" para quien no está esperando. Me puse muy mal, pero busqué apoyarme en las demás cosas buenas que estaban sucediendo a mi alrededor.

To give you a little context, I am going to tell you something very intimate (I will rely a little on the "anonymity" that the platform allows), something that few people around me know, and that is that for some time now (a long time) my husband and I have been trying to have a baby but I had (today I confirmed that it still persists) a history of ovarian cysts. I had long ago been on treatment to remove them, and it worked so we set about the "task". Month after month, a piece of me was going into the void, to the point that I fell into a severe depression and some anxiety attacks. Many times I would swallow it alone so as not to worry my husband, perhaps because of the macho idea that "it's my fault" that I didn't manage to get pregnant. Then I got used to the idea that it would have to happen when it had to happen, and I relaxed a little (although every month I still felt that cold chill when the time came). Everything changed when suddenly in December I had a delay (I am very punctual) and I started to feel changes in me, I got so excited, it was a very important month because I also had a graduation date, some projects were being finalized, things were going well and having this delay was the best thing that could happen to me at that moment. After a few weeks everything fell apart, "the least expected day" arrived for those who are not expecting. I was very upset, but I looked for support in the other good things that were happening around me.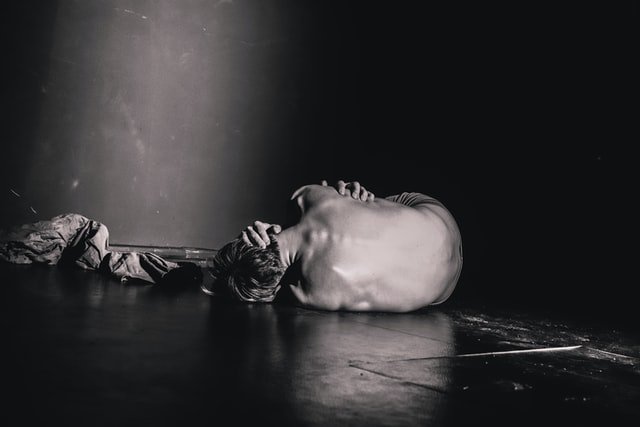 Photo by Žygimantas Dukauskas on Unsplash

Este mes, pasó igual, otro retraso. Me puse frenética, ya no era normal dos retrasos seguidos y además los síntomas eran más fuertes, pensaba que era sí o sí. Otra vez, llegó el "frabuyoso día"🎈. Ciertamente, no era normal y ya me estaba preocupando, trataba de tranquilizarme buscando en páginas de internet donde salía que eran cambios hormonales y que era completamente normal, por primera vez buscaba algo en Google que no me arrojaba directo a un cáncer. Igual, por fin decidí hacer cita con la ginecóloga, busqué y busqué opciones que se adaptaran a lo que requería (distancia, porque por la pandemia no me gusta tomar bus y pensar en un taxi es impagable, costo y asequibilidad), total que conseguimos el sitio con muy buenas referencias, y entre lo que cabe, era cerca de casa. Me dieron cita súper rápido, literal apenas anoche pedí información y ya me la habían agendado para hoy en la tarde. Total de caso que al entrar al consultorio, me invadieron más los nervios, no sabía qué decir, ni si acostarme de una vez en la camilla o qué coño, menos mal la doctora que me tocó es un amor y me atendió excelente. Le expliqué mi situación y casi que en pleno cuento se me salían las lágrimas, pasa a revisarme y cuando está haciendo el eco y veo a la pantalla, veo ese bulto y mi corazón brincaba a mil por hora (¿por fin?), "ah, aquí está el problemita", "coño, cáncer" pensé. Empezó a explicarme con la paciencia que muchas maestras no le tienen a una niña, que se trataba de un mioma uterino (una masa de carne y fibras), todo lo que causaba (entre eso, la imposibilidad de quedar en estado), pero yo solo veía la pantalla, es enorme, cubre casi por completo mi útero. Continúa chequeando y ve que mis ovarios tampoco están muy bien que digamos, "tienes ovarios poliquísticos". Yo solo estaba ahí, tiesa, fría, pensando mil y un cosas. Cuando por fin terminó, pasamos a charlar sobre las medidas a tomar, pero al decirme que había que operar yo quedé más tiesa de lo que ya estaba. Solo pensaba que a mis 28 años y me tengan que hacer una histerectomía, era horrible, pero así habrá sido mi cara que ella me trató de calmar y me dijo que me quedara tranquila, que era un proceso rápido en el que sacaban el tumor junto con los quistes y listo, aplicar tratamiento por un mes y tendría a mi bebé pronto. Pero yo solo escuchaba y pensaba "tumor, infertilidad, desangrado…"

This month, the same thing happened, another delay. I became frantic, it was no longer normal to have two delays in a row and also the symptoms were stronger, I thought it was a yes or yes. Once again, the "frabuyoso day"🎈 arrived. Certainly, it was not normal and it was already worrying me, I tried to reassure myself by looking on internet pages where it appeared that it was hormonal changes and that it was completely normal, for the first time I was looking for something on Google that did not throw me straight to cancer. Anyway, I finally decided to make an appointment with the gynecologist, I searched and searched for options that adapted to what I required (distance, because due to the pandemic I do not like to take a bus and the thought of a cab is unaffordable, cost and affordability), total we got the site with very good references, and among all, it was close to home. They gave me an appointment super fast, literally just last night I asked for information and they had already scheduled it for today in the afternoon. I didn't know what to say, I didn't even know if I should lie down on the stretcher or what the hell, thank goodness the doctor that I had was a sweetheart and she treated me excellently. I explained my situation and almost in the middle of my story I was in tears, she went to check me and when she was doing the echo and I looked at the screen, I saw that lump and my heart jumped a thousand per hour (finally?), "ah, here is the little problem", "hell, cancer" I thought. She began to explain to me with the patience that many teachers do not have with a girl, that it was a uterine myoma (a mass of flesh and fibers), all that it caused (among that, the impossibility of getting pregnant), but I only saw the screen, it is huge, it covers almost completely my uterus. He keeps checking and sees that my ovaries are not so good either, "you have polycystic ovaries". I just stood there, stiff, cold, thinking a thousand and one things. When he finally finished, we went on to talk about the measures to be taken, but when he told me that I had to have surgery, I was even stiffer than I already was. I just thought that at 28 years old and I had to have a hysterectomy, it was horrible, but that must have been my face that she tried to calm me down and told me to stay calm, that it was a quick process in which the tumor was removed along with the cysts and ready, apply treatment for a month and I would have my baby soon. But I just listened and thought "tumor, infertility, exsanguination...".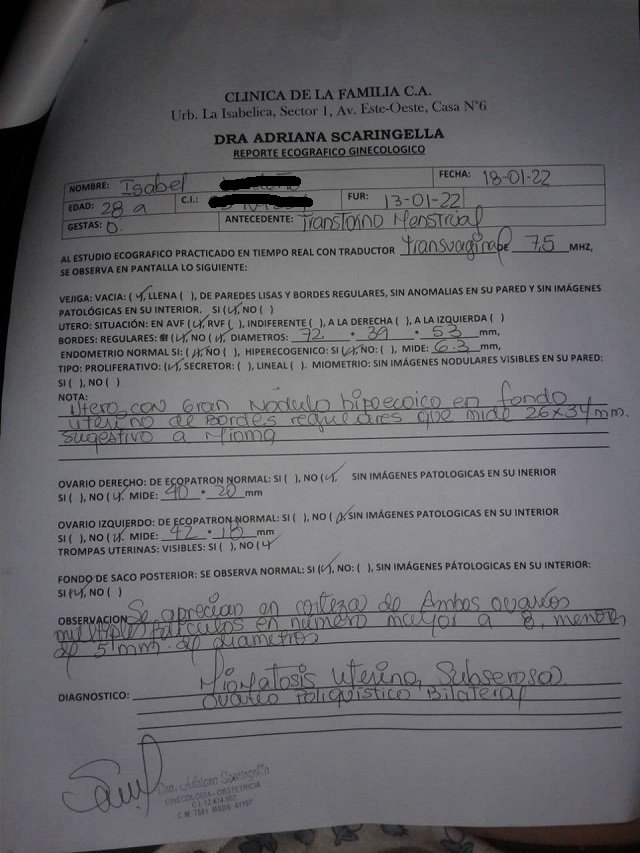 Informe medico tomado con mi Samsung J3 | Medical report taken with my Samsung J3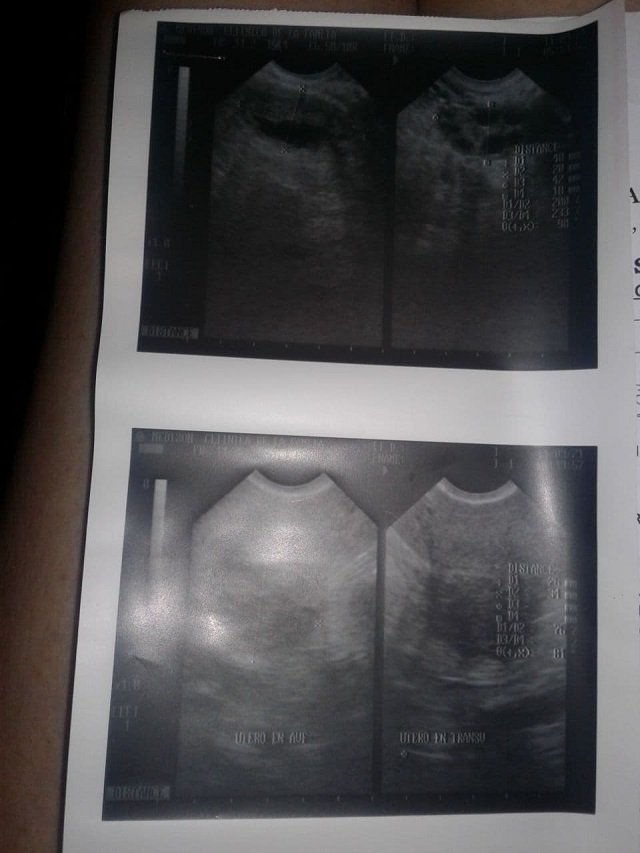 Ecos tomados con mi Samsung J3. En la parte superior se muestran ambos ovarios con los quistes, en la inferior se muestra el útero con el mioma. | Echoes taken with my Samsung J3. Top shows both ovaries with cysts, bottom shows uterus with myoma.

A pesar de que al menos ya sé qué es lo que tengo, salí con más dudas y miedo de los que ya tenía antes de entrar. Me siento tan frustrada, dolida, que no sé cómo explicarlo, es más se los estoy escribiendo y siento que es una de las historia que me invento para otra comunidad. No me lo quiero creer pero lo estoy sintiendo y duele mucho. Trato de hacerme la fuerte, no quisiera caer en otro episodio depresivo porque me costó muchísimo salir de él, pero veo tantos obstáculos en todas partes que no sé qué hacer. Aunque la doctora me dice que son patologías completamente comunes en mujeres en edad fértil, no me deja de rondar por la cabeza "¿por qué a mí?" Mi historial médico no es muy sencillo que digamos (lo cual hace que la operación sea un poco complicada) y ahora esto. Me siento devastada, perdida, pensé que escribiendo me sentiría más aliviada pero la verdad es que no siento mucha la diferencia, pero al menos, siento un poco menos de peso. Espero saber qué hacer pronto y que logre sanarme… y que este post solo quede como recordatorio una victoria ante la lucha.

Even though at least I now know what I have, I came out with more doubts and fear than I already had before I went in. I feel so frustrated, hurt, I don't know how to explain it, in fact I'm writing it down and I feel like it's one of the stories I'm making up for another community. I don't want to believe it but I am feeling it and it hurts a lot. I try to act strong, I don't want to fall into another depressive episode because it was very hard for me to get out of it, but I see so many obstacles everywhere that I don't know what to do. Although the doctor tells me that these pathologies are completely common in women of childbearing age, I keep thinking "why me?" My medical history is not very simple to say the least (which makes the operation a bit complicated) and now this. I feel devastated, lost, I thought writing would make me feel more relieved but the truth is I don't feel much difference, but at least I feel a little less weight. I hope I know what to do soon and that I manage to heal... and that this post only remains as a reminder of a victory in the face of the struggle.
---
---