✏️Letters dance | Stars on Earth.✨ (🎬REVIEW🎬)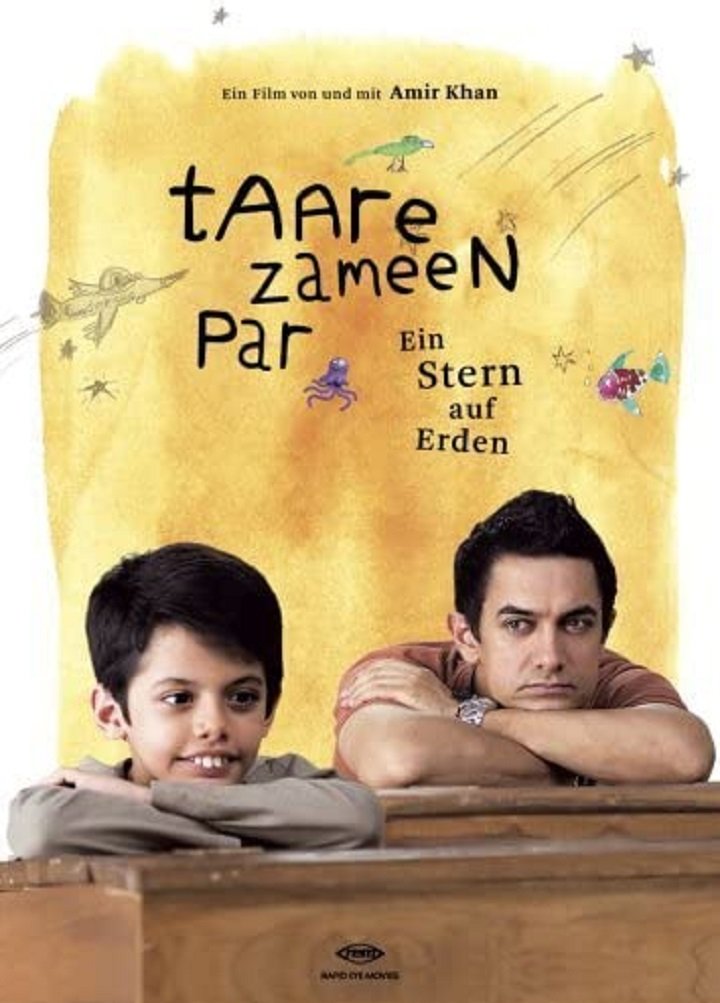 A few weeks ago my mother was telling me about a movie she saw. It sounded good and really caught my attention, she managed to convey the emotions it made her feel but as soon as she told me it was Hindi, it took all that away from me. Honestly, I have never been a fan of Bolywood shows, although I also confess that if I have seen a few, the theme of dances and songs suddenly... is not my thing (the ones I saw, did not have showers of these shows). I'm not saying that I think they are bad or anything like that, on the contrary, the songs are good and the choreographies are not far behind, but that's all; for my conception, a show in the middle of the plot cuts me off. That's why I've let prejudice dominate me many times and I pass on seeing what might be a good movie with a spectacular story. But yesterday, taking advantage of the fact that it was World Mental Health Day, I decided to give my arm and let myself see this film, I couldn't have made a better decision.
Hace unas semanas atrás mi madre mes estaba contando una película que vio. La verdad se escuchaba buena y me llamó muchísimo la atención, logro transmitirme las emociones que le hizo sentir pero apenas me dijo que era Hindi, se me quitó todo eso. Sinceramente, nunca he sido fan de las muestras de Bolywood, aunque también confieso que si he visto unas pocas, el tema de bailes y cantos de repente… no es lo mío (las que vi, no tenían lluvias de estos espectáculos). Ojo: con esto no digo que me parezcan malos o algo por el estilo, al contrario, los cantos son buenos y las coreografías no se quedan atrás, pero solo eso; para mi concepción un show a mitad de la trama, me la corta. Por eso he dejado que el prejuicio me domine muchas veces y paso de ver lo que quizás sea una buena película con una historia espectacular. Pero ayer, aprovechando que fue el día mundial de la salud mental, decidí dar mi brazo a torcer y permitirme ver este film, no pude tomar mejor decisión.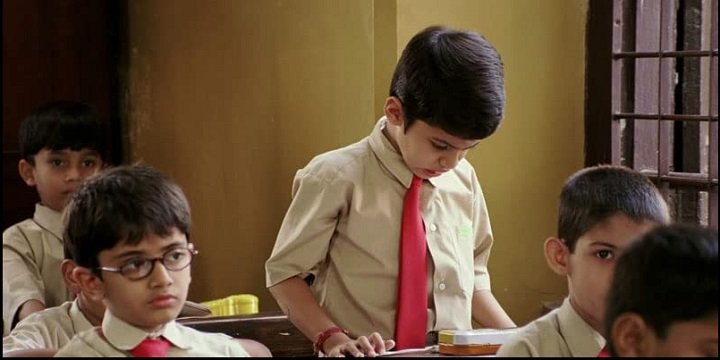 I tell you about Stars on Earth (or Taaren Zameen Par) from 2007, directed by Aamir Khan, who by the way is also an actor, I half saw a movie he starred in and I really liked it, it touched a somewhat controversial subject (religion), maybe another time I will tell you about that one. It is about Ishaan, a boy with many academic problems and such problems also bring him consequences with his family. As Ishaan has been repeating the same grade twice, his father makes the decision to send him to a boarding school so that he really learns. This turned out to be the worst thing that happened to the boy, his teachers scolded, beat, humiliated, etc. in front of the other classmates and he sank so deep that when his parents wanted to approach it was already too late. In the midst of Ishaan's collapsed world, a ray of light finally arrives, they send a substitute teacher for the art class and he had another way of teaching, he opened an infinite world of possibilities for the children to unleash their creativity but our protagonist no longer wants to do anything for fear that they will do something to him. The teacher, Nikumbh, takes an interest in this small and frightened child, he looks for the thousand and one ways to try to understand what is wrong with him and when he does, it breaks his heart. Gradually she manages to gain Ishaan's trust and her change is impressive.
Les comento sobre Estrellas en la Tierra (o Taaren Zameen Par) del año 2007, dirigida por Aamir Khan, que por cierto también es actor, vi a medias una película que protagonizó y de verdad que me gustó, tocó un tema un tanto polémico (religión), quizás en otra oportunidad les cuente sobre esa. Se trata Ishaan, un niño con muchos problemas académicos y tales problemas también le traen consecuencias con su familia. Como Ishaan lleva repitiendo dos veces el mismo curso, su padre toma la decisión de enviarlo a un internado para que aprenda de verdad. Esto resultó ser lo peor que le pasó al niño, sus profesores regañaban, golpeaban, humillaban, etc. delante de los demás compañeros y él se hundió tan profundo que cuando sus padres quisieron acercarse ya era demasiado tarde. En medio de todo el mundo derrumbado de Ishaan, llegan por fin un rayito de luz, envían a un profesor suplente para la clase de arte y este tenía otra forma de enseñanza, abría un mundo infinito de posibilidades para que los niños soltaran su creatividad pero nuestro protagonista ya no quiere hacer nada por miedo a que le hagan algo. El profesor, Nikumbh, se interesa en ese pequeño y asustado niño, busca las mil y una para tratar de entender qué es lo que le pasa y cuando lo hace, le destroza el corazón. Poco a poco logra ganarse la confianza de Ishaan y su cambio es impresionante.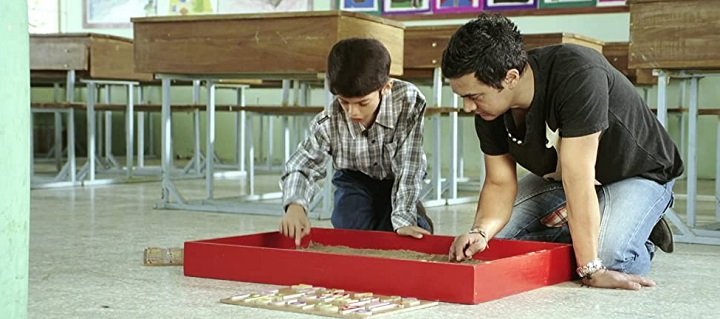 I would love to tell more about her, but I want you to catch your attention, give it a chance and dare to watch it. Despite being the typical story of overcoming, it touches very important points and gives strong and clear messages, plus it personally impacted me a lot and I identified with Ishaan, who like him, I am dyslexic. Seeing the problems he went through, filled me with a lot of nostalgia and I remembered my first years of elementary school but I was lucky to have a spectacular teacher who knew how to help me and guide me in the best way. Now back to the movie, I loved it, I didn't have to fast forward the songs, they tell perfectly what is happening at the moment and leave strong messages; do they dance all the time? No, just once and it was worth it; did the abusers get what they deserved? Yes, and in the best possible way: swallowing their own words. The film is dedicated to raise awareness, that's why those who acted it had to be at such a height, with a simple look you understand perfectly the hell that Ishaan goes through and how much he suffers, honestly everyone acted very well, but the one who takes the baton is our protagonist. So as I always say: If you haven't seen it, see it, and if you have already seen it, see it again, you can't miss it.😉
Me encantaría contar más sobre ella, pero quiero que les llame un poco la atención, le den ujna oportunidad y se atrevan a verla. A pesar de ser la típica historia de superación, toca puntos muy importantes y da mensajes fuerte y claros, además de que personalmente me impactó muchísimo y me identifiqué con Ishaan, que al igual que él, soy disléxica. Ver los problemas que él pasó, me llenó de mucha nostalgia y recordé mis primeros años de primaria pero tuve la suerte de tener una maestra espectacular que supo cómo ayudarme y guiarme de la mejor manera. Ahora volviendo a la película, me encantó, no tuve que adelantar las canciones, cuentan perfectamente lo que está ocurriendo al momento además de dejar mensajes contundentes; ¿bailan a cada rato? No, solo una vez y valió la pena; ¿los maltratadores tuvieron su merecido? Si, y de la mejor manera posible: tragándose sus propias palabras. El film está dedicado a crear conciencia, por eso quienes la actuaron tuvieron que estar a tal altura, con una simple mirada entiendes perfectamente el infierno que pasa Ishaan y cuánto sufre, sinceramente todos actuaron muy bien, pero el que se lleva la batuta es nuestro protagonista. Así que como siempre les digo: Si no la han visto, véanla, y si ya la vieron, vuélvanla a ver, tiene perdida de nada😉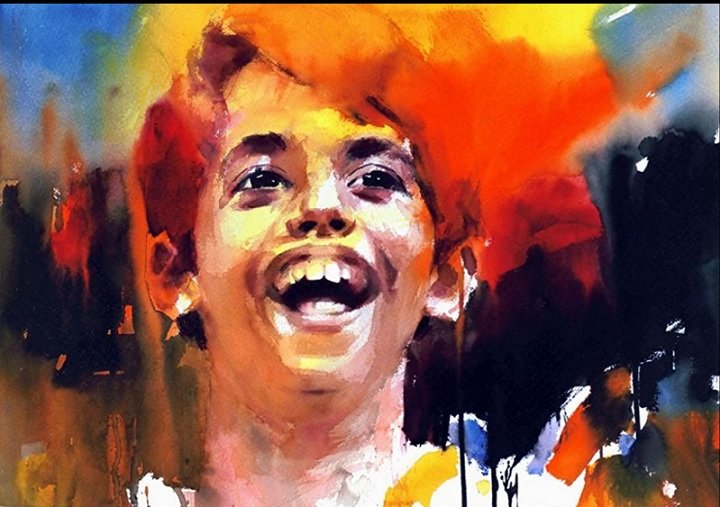 ---
All the imagen taken from IMDb🎬
---
---