🎬My wedding will be better than yours | Bride Wars👰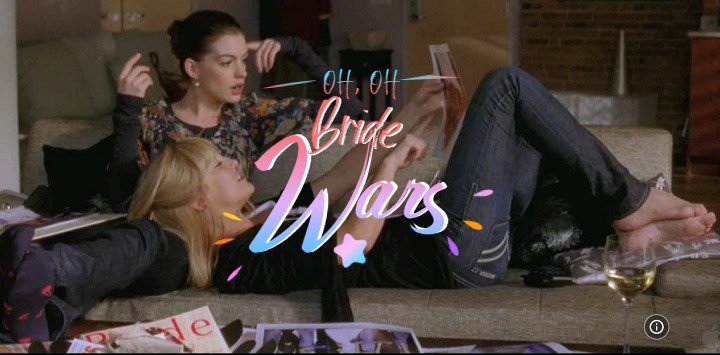 ---
I recently read a post from a friend about a strawberry movie and it reminded me of one of my favorite strawberries, Bride Wars. Two actresses, Anne and Kate who are two of my list of Movie Goddesses, so that gives an extra plus to my love for this movie. Another reason why I love it so much is because I dedicated this film to my best friend (yes, I dedicated it as if it was a song), and I had already seen it about 5 times (yes, I also love to watch movies on repeat) and in one of the many discussions we had, I was watching it and I could not help but relate to it, I was watching it and I couldn't help but relate to Liv and Emma because in a way we are very similar in terms of personality, so between laughs I called her and said "let's fix this by watching a movie" and we ended up laughing our asses off and loving each other again. That's one of the many things I loved doing with her, looking to relate to movies and looking for hidden messages about what might be going on in our lives (crazy stuff).
Hace poco leí un post de un amigo sobre una película fresa y me hizo recordar una de mis fresas favoritas: Guerra de Novias. Dos actrices, Anne y Kate que son dos de mi lista de Diosas del Cine, así que eso le da un plus extra a mi amor por esta película. Otra de las razones por la cual la amo tanto es porque dediqué este film a mi mejor amiga (si, lo dediqué como si fuera una canción), y es que ya la había visto como 5 veces (si, también amo ver películas repetidas) y en una de las tantas discusiones que tuvimos, la estaba viendo y no pude evitar relacionarnos con Liv y Emma porque de cierta forma somos muy parecidas en cuanto a personalidad, así que entre risas la llamé y le dije "vamos a arreglar esto viendo una película" y terminamos muertas de risa y amándonos otra vez. Esa es una de las tantas cosas que me encantaba hacer con ella, buscar relacionarnos con las películas y buscar mensajes ocultos sobre qué nos podría estar pasando en nuestras vidas (cosas de locas).
---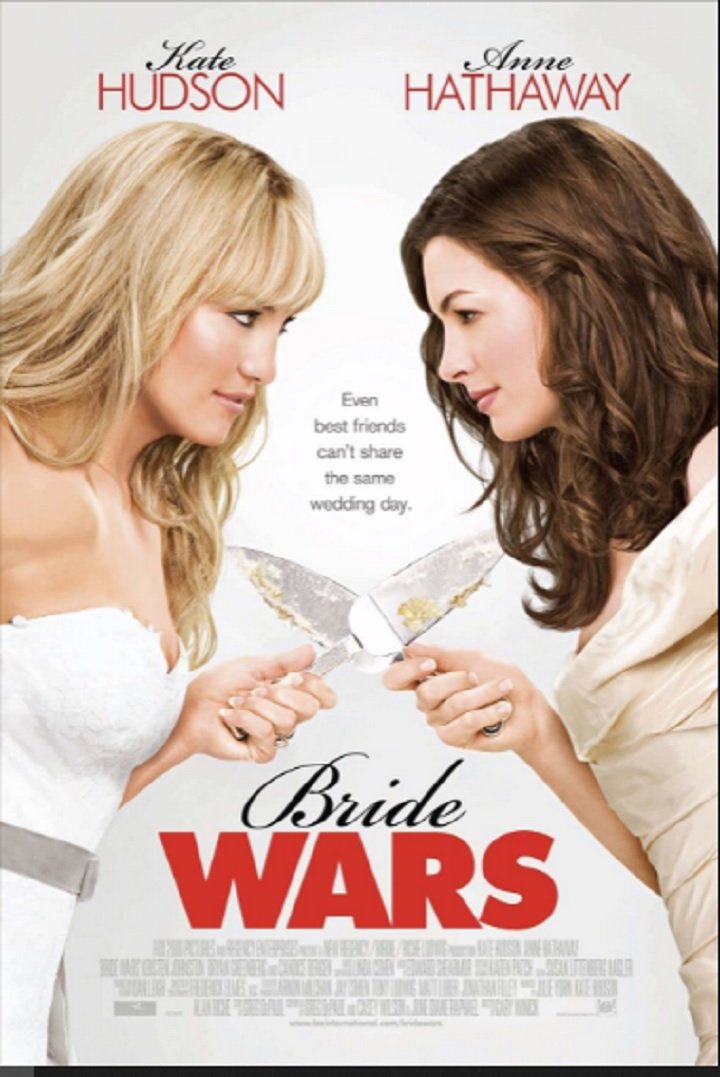 ---
So since this movie is already old (from 2009), I don't think I need to tell you what it's about, but I could tell you that I loved every performance and I felt them as if they were happening to me. That silly but strong war that Emma and Liv had were spectacular, from childish attitudes like hiring the same wedding planner and getting married in the same place, on the same day, to making Emma and Fletcher break up (which by the way, I hated him, I didn't understand Emma and by the way I wasn't in love, just used to her but I guess that's one of the facets that happens during a wedding planning). Seeing Liv's reaction with her blue hair was epic, but seeing her half defeated when she got to work and then with what happened at the rehearsal dinner, realizing she was losing the battle and along with it, her best friend, was devastating.
Así que como esta película ya es viejita (del 2009), creo que no hace falta que cuente de qué va, pero si podría decirles que me encantó cada actuación y las sentí como si me estuviesen sucediendo. Esa guerra tonta pero fuerte que tenían Emma y Liv eran espectaculares, desde actitudes infantiles como contratar a la misma organizadora de boda y casarse en el mismo lugar, el mismo día, hasta hacer que Emma y Fletcher terminaran (que por cierto, a él lo odié, no comprendía a Emma y de paso no estaba enamorado, solo acostumbrado a ella pero supongo que esa es una de las facetas que se pasan durante una planificación de una boda). Ver la reacción de Liv con su cabello azul fue épico, pero verla medio derrotada al llegar al trabajo y luego con lo que sucedió en la cena de ensayo, el darse cuenta que estaba perdiendo la batalla y junto con ella, a su mejor amiga, fue devastador.
---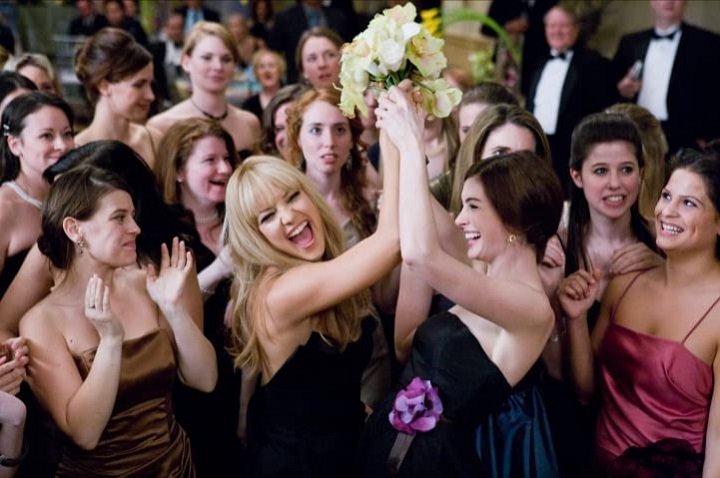 ---
Although it is a typical comedy movie, it shows us a case that can be very real, that is, real friends fight like that and sometimes they go overboard and in the end (although not in all cases) they put everything in balance and see what really matters and continue to support each other, that's the message I saw and I loved it. And even though it didn't get such good reviews either, the general public liked it. So as I always say: If you haven't seen it, see it and if you have seen it, see it again (and if it's with your best friend and a few beers, even better🍻😉).
A pesar de que es una típica película de comedia muy fresa, nos muestra un caso que puede ser muy real, o sea, las amigas de verdad se pelean así de tontas y a veces se pasan de la mano y al final (aunque no en todos los casos) ponen todo en balanza y ven qué es lo que de verdad importa y se siguen apoyando una a la otra, ese es el mensaje que le vi y me encantó. Y aunque tampoco recibió tan buenas críticas, al público en general le gustó. Así que como siempre les digo: Si no la han visto, véanla y si ya la vieron, vuélvanla a ver (y si es con tu mejor amiga y unas cervecitas, mejor🍻😉).
---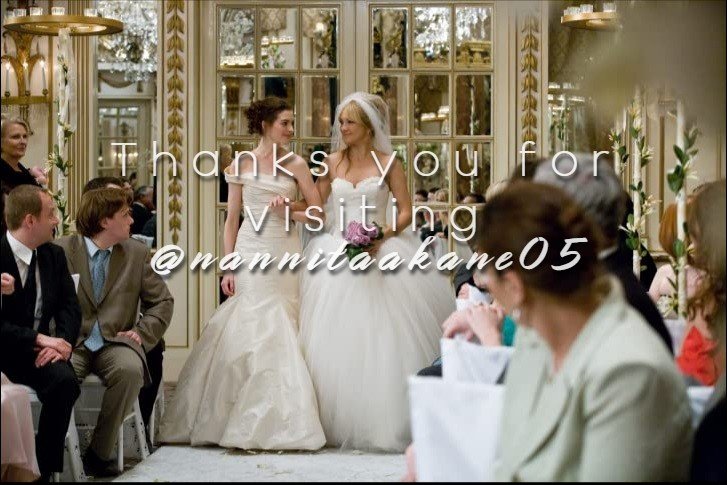 ---
🎬All imagen taken from IMDb 🎬
---
🖍Edited with Pixlr X 🖍
---
---