Vomit of Ideas: Movie 43 (2013)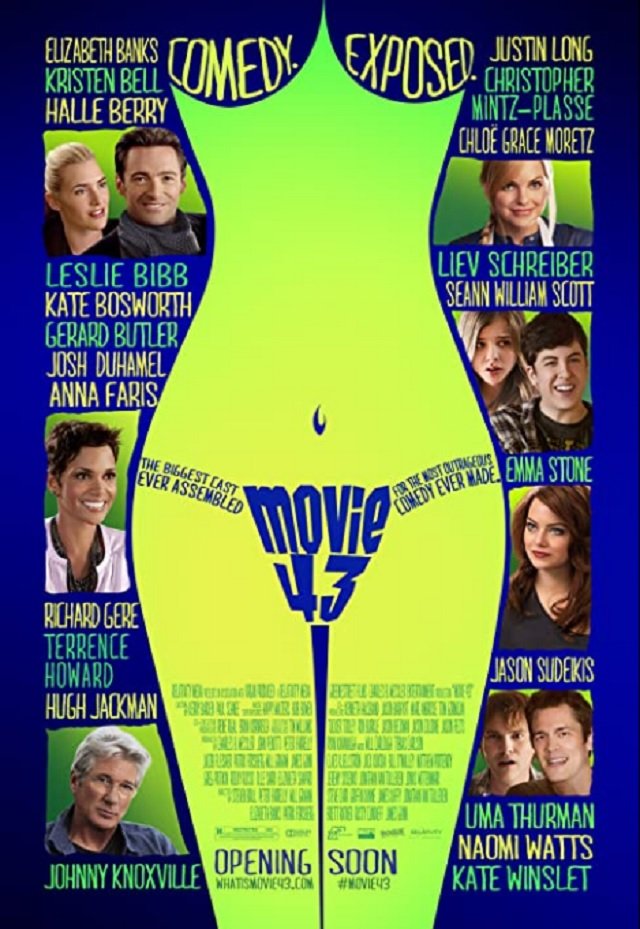 A few days ago I wrote about a Farrelly brothers production, and discovered that they were also behind an abomination: Movie 43 . It certainly wasn't directed entirely by them, it was actually more than a dozen directors that made up this little monster, among them: Brett Ratner (director of An Exploding Couple and several other good action movies), Griffin Dunne (director of the adorable movie My First Kiss), James Gunn (Guardians of the Galaxy), and many more directors that have really stood out for their work.

Hace unos días escribí sobre una producción de los hermanos Farrelly, y descubrí que ellos también estaban detrás de una abominación: Movie 43 (o Proyecto 43, por su traducción al latino). Ciertamente no fue dirigida del todo por ellos, en realidad era más de una decenas de directores que conformaron este pequeño monstruo, entre ellos: Brett Ratner (director de Una Pareja Explosiva y varias otras buenas películas de acción), Griffin Dunne (director de la adorable película Mi Primer Beso), James Gunn (Guardianes de la Galaxia), y muchos otros más directores que de verdad han destacado por su trabajo.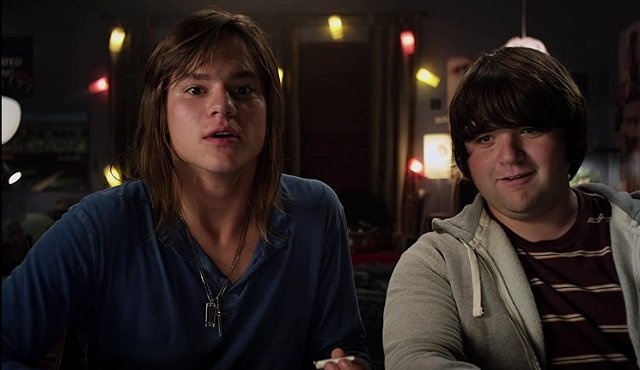 Honestly, I don't know about styles and types of movies; this one in particular is made up of more than 10 nonsense stories. By the way, there are two versions:
The first one I saw (very badly translated, by the way) seemed to me more absurd and without any logic: 3 teenagers who play cyber pranks on each other and end up looking for a movie that could destroy the world (or at least that's what I understood). Between each story, more and more absurd things happen to these kids, until they end up in a war between Chinese gangsters and the military, but "magically" the world ends.

The second one is absurd, but not that absurd: it's a guy trying to convince a producer to buy his stories. But we fall into the same, every story is so aberrant, stupid, disgusting... that they don't want to buy it. The man goes crazy and threatens the producer with a gun, then with a grenade, in short, he does everything until they agree to produce his crazy stories.

Sinceramente, desconozco sobre estilos y tipos de películas; ésta en específico, está compuesta por más de 10 historias sin sentido. De paso, existen dos versiones:
La primera que vi (muy mal traducida, por cierto) me pareció más absurda y sin ninguna lógica: 3 adolescentes que se hacen bromas cibernéticas pesadas y terminan buscando una película que podría destruir al mundo (o al menos eso entendí). Entre cada historia, van sucediendo cada vez más cosas absurdas a estos chicos, hasta que terminan en una guerra de mafiosos chinos y unos militares, pero "mágicamente" se acaba el mundo.

La segunda es absurda, pero no tanto: es un sujeto tratando de convencer a un productor de comprar sus historias. Pero caemos en lo mismo, cada historia es tan aberrada, estúpida, asquerosa… que no se la quieren comprar. El hombre enloquece y amenaza al productor con una pistola, luego con una granada, en fin, hace de todo hasta que aceptan producir sus historias locas.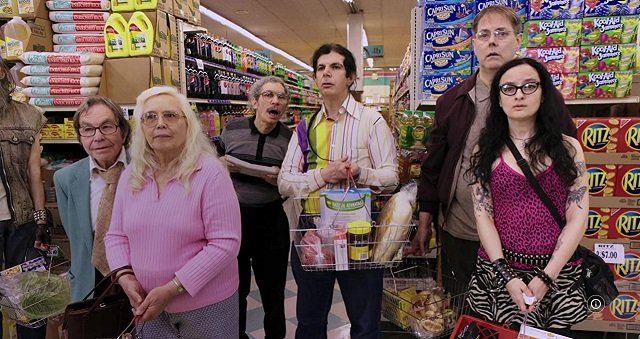 I repeat: I don't know about styles and moves in this world, but was it necessary to spend 6 million to produce garbage? I understand that maybe there are others worse than this one and that they have spent more, but what makes this whole thing outrageous is the cast. Very well known actors hired to do nothing less than make a fool of themselves, and I think they wanted to take advantage of their fame and recognition simply to ensure box office. Maybe many people like this type of humor and the style of having many stories that don't connect in the same film, but no, I don't understand, I don't see any reason for it. Another sad and embarrassing thing is that they really looked for a lot of options until they found someone to finance the production; besides, they almost try to "like" the audience (besides relying on the cast) because they start with the "best sketches", and after the third or fourth one, it's more trash than the previous one. And I'm not just saying it, 4/10 is the highest score it has.
---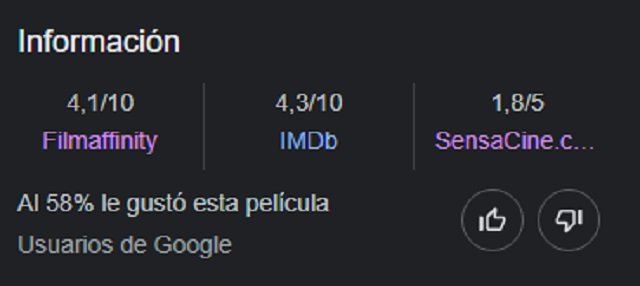 ---

Vuelvo y repito: ignoro sobre estilos y movidas de este mundo, pero ¿era necesario gastar 6 millones para producir basura? Entiendo que a lo mejor haya otras peores que esta y que hayan gastado más, pero lo que indigna de todo esto es el elenco. Reconocidísimos actores contratados para hacer nada menos que el ridículo, y creo que se quisieron aprovechar de la fama y el reconocimiento de ellos simplemente para asegurar taquillas. Quizás a mucha gente le guste este tipo de humor y el estilo de que hayan muchas historias que no se conectan en un mismo film, pero no, no entiendo, no le hayo razón alguna. Otra de las cosas tristes y que hasta vergüenza ajena da, es que realmente buscaron muchísimas opciones hasta que dieron con alguien que les financiara la producción; además, casi que buscan "agradar" al público (aparte de apoyarse en el elenco) porque comienzan con los "mejores sketches", ya después del tercero o cuarto, es más basura que el anterior. Y no lo digo solo yo, 4/10 es la puntuación más alta que tiene.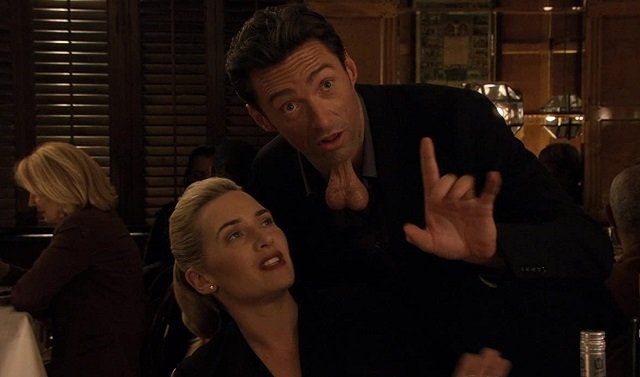 At this point, you must be wondering why so much hate to the movie, how bad can it be? Well, I'll try to sum them up a bit.
Among them we have Kate Winslet and Hugh Jackman on a blind date, he is a tycoon, handsome, loved by all, but he has balls on his neck (yes, testicles, marbles...) and she thinks she is crazy because nobody mentions them anymore; this is one of the best ones because it can bring out a smile or two.

A este punto, deben preguntarse ¿por qué tanto hate a la película?, ¿qué tan mala puede ser? Bueno, trataré de resumirlas un poco.
Entre ellas tenemos a Kate Winslet y a Hugh Jackman en una cita a ciegas, él es un magnate, guapo, querido por todos, pero tiene las bolas en el cuello (sí, bolas, testículos, canicas…) y ella cree que está loca porque más nadie hace mención de ellas; esta es una de las mejorcitas porque puede sacar una que otra sonrisa.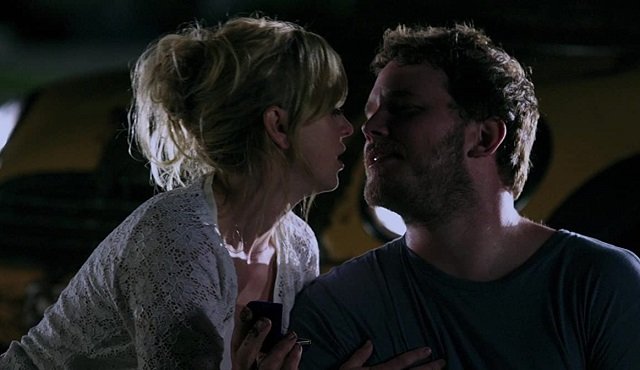 In another story we can see a couple in love (Chris Patt and Anna Farris) about to make him propose to her, but his surprise is that she asks him to defecate on her (apparently, this is an act of deep and genuine love) and he, between bewilderment and disgust, agrees and ends up "exploding" in the street.

En otra historia podemos ver a una pareja de enamorados (Chris Patt y Anna Farris) a punto de que él haga le haga la propuesta a ella, pero su sorpresa es que ella le pide que le defeque encima (al perecer, este es un acto de amor profundo y genuino) y él, entre el desconcierto y el asco, accede y termina "explotando" en la calle.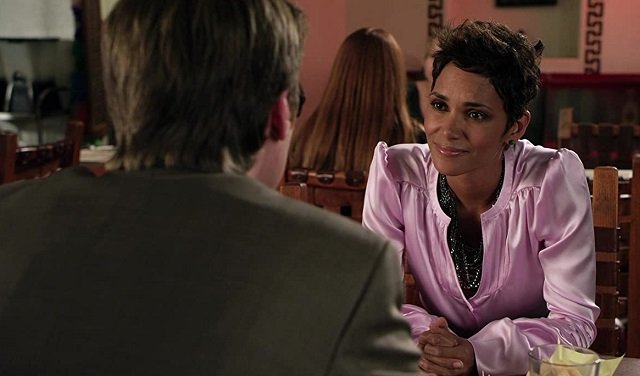 Another absurdity, another couple on a blind date (Stephen Merchant and Halle Berry) where they play "truth or dare" and end up doing anything ridiculous and cruel to each other, even disfiguring each other's bodies, but, hey! They stay together in the end.

Otro absurdo, otra pareja en una cita a ciegas (Stephen Merchant y Halle Berry) donde juegan a "verdad o reto" y terminan haciéndose cualquier cosa ridícula y cruel, hasta desfigurarse el cuerpo de ambos, ¡pero, ey!, se quedan juntos al final.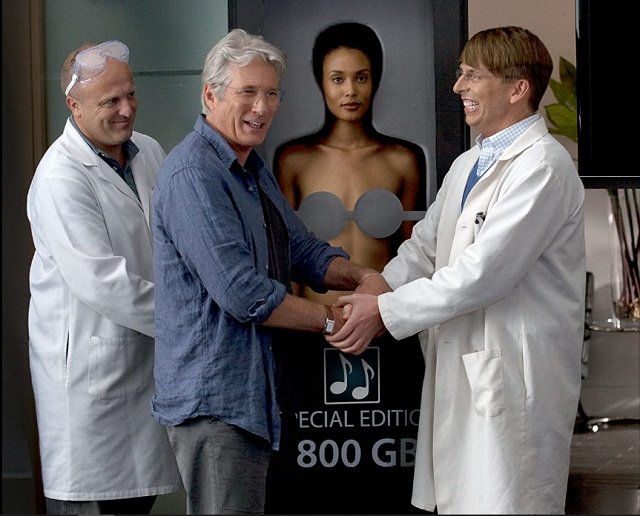 There is one ridiculous thing, it's a music player in the shape of a naked woman, but it has a little mistake: the powerful fan of the processor is in... you know, in her private parts, and this should seem like a problem to Richard Gere (tasty old man), but he doesn't understand it until he sticks his finger in and well, the obvious happens.

Existe una cosa ridícula, se trata de un reproductor de música en forma de una mujer desnuda, pero tiene un pequeño error: el potente ventilador del procesador queda en… ya saben, en sus partes íntimas, y esto debería parecerle un problema a Richard Gere (viejo sabroso), pero él no lo entiende hasta que mete su dedo y pues, pasa lo obvio.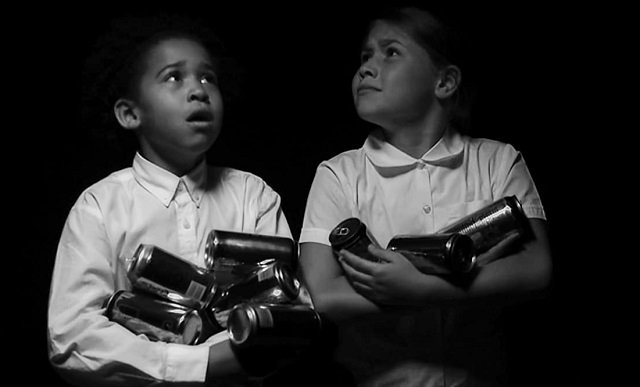 There are also short commercials where they say that inside the machines we use every day (photocopiers, soda dispensers, ATMs), there are children slaves inside, but in these commercials they try to make people aware to treat the machines better because the children feel sad.

También hay cortos comerciales donde dicen que dentro de las máquinas que utilizamos a diario (fotocopiadores, dispensadores de gaseosas, cajeros automáticos), hay niños esclavos dentro, pero en estos comerciales buscan hacer entrar en conciencia a la gente para que trate mejor a las máquinas porque los niños se sienten tristes.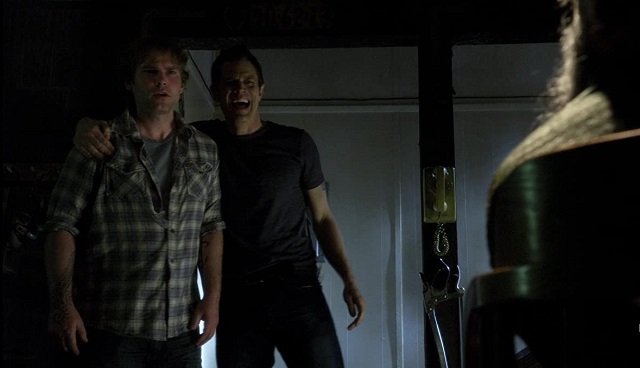 Two best friends arguing (Seann William Scott and Jhonny Knoxville) because Jhonny slept with Seann's girlfriend, so he gives her a fortune leprechaun he kidnapped in the woods, to tell him where the big pot of gold coins is; as fate would have it, they end up fighting two leprechauns and kill them.

Dos mejores amigos discutiendo (Seann William Scott y Jhonny Knoxville) porque Jhonny se acostó con la novia de Seann, así que le regala un duende de la fortuna que secuestró en el bosque, para que le diga dónde está la gran olla de monedas de oro; por asares del destino, terminan peleando con dos duendes y los matan.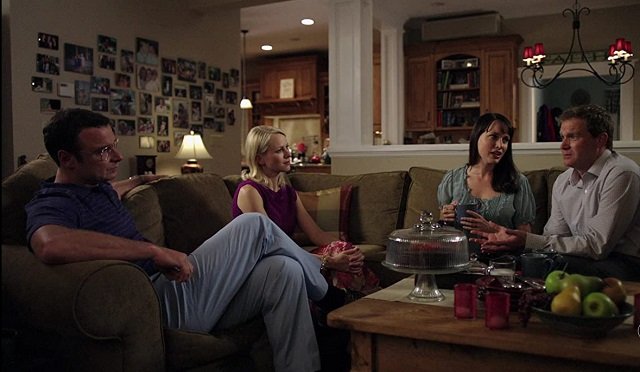 A "perfect" family (Naomi Watts, Liev Schreiber and Jeremy Allen White) who homeschool their son; nothing strange until they tell you practically how they live in abuse and incest that ends up driving their son crazy.

Una familia "perfecta" (Naomi Watts, Liev Schreiber y Jeremy Allen White) que educan a su hijo en casa; nada extraño hasta que te cuentan prácticamente cómo viven en el abuso y en el incesto que acaba por volver loco a su hijo.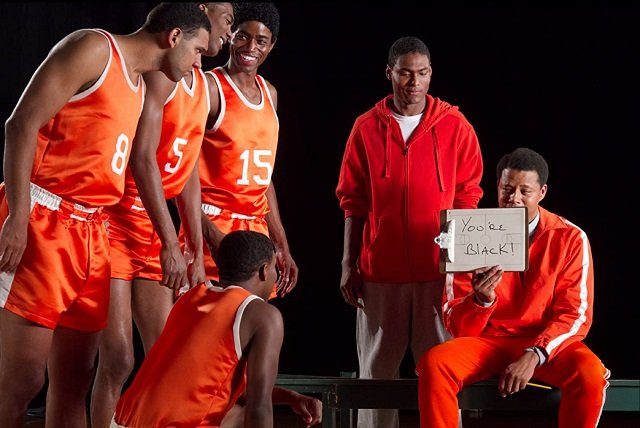 Terrence Howard is a basketball coach to some kids who are nervous about their last championship game. Their coach tries to make them understand that they are going to win because it's a black sports team, the other team are white guys and they are black guys with "huge limbs".

Terrence Howard es un entrenador de básquet de unos chicos que se encuentran nerviosos por su último juego de campeonato. Su entrenador trata de hacerles entender que van a ganar sí o sí porque es un deporte de negros, el otro equipo son unos blanquitos y ellos son negros con "miembros enormes".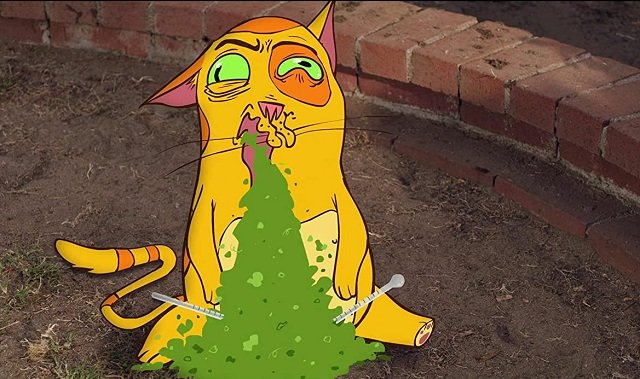 And to close with a ass, sorry, gold. A bad animation of a cat who is sexually obsessed with his owner, but Josh Duhamel wants to move in with his girlfriend Elizabeth Banks, so the aberrated cat will do anything to make her leave and not meddle in their lives.

Y para cerrar con broche de orto, perdón, de oro. Una mala animación de un gato obsesionado sexualmente con su dueño, pero Josh Duhamel quiere mudarse con su novia Elizabeth Banks, así que el aberrado gato hará cualquier cosa para que ella se vaya y no se entrometa en sus vidas.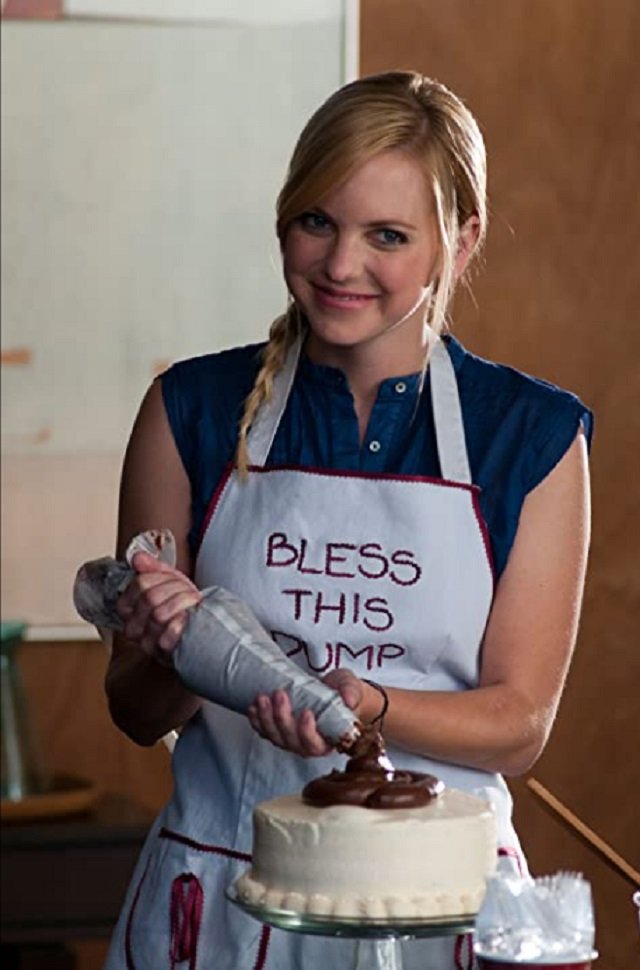 There are more stories, but I wouldn't want your stomach to churn any more. And well, the actors also depend on which version you see. In the version of the guy who wants to sell his stories, there are fewer actors than in the boys' version, although in both there are the same shorts.
Maybe this was a bet on the ridiculous, on black and insane humor, but it only stayed in the latter. It makes me wonder what these directors have in mind? They have so many famous films, recognized and still very much loved by the viewers, but they got their wires crossed and made a short circuit in their brains, and from there all these very bad short stories were born. Several geniuses got together and created this amorphous thing, I can't imagine what the actors thought when they were proposed to do that, did they torture them to accept? Well, as a friend would say: "Who are we to judge?", hahaha. No recommendation this time, unless you watch it at your own risk or, if you like this kind of content, I'll give it to you with a bow.

Hay más historias, pero no quisiera que se les siga revolviendo el estómago. Y bueno, los actores también dependen de cuál versión se vea. En la versión del tipo que busca vender sus historias, salen menos actores que en la de los chicos, aunque en ambas salen los mismos cortos.
Quizás esta fue una apuesta a lo ridículo, al humor negro e insano, pero solo se quedó en lo último. Me hace pensar ¿qué tienen en la mente estos directores? Tienen tantas películas famosas, reconocidas y aún muy queridas por los espectadores, pero se les cruzaron los cables e hicieron un cortocircuito en sus cerebros, y de ahí nacieron todas estas historias cortas muy malas. Se juntaron varios genios y crearon esta cosa amorfa, no me podría imaginar qué pensaron los actores cuando les propusieron hacer eso, ¿los habrán torturado para que aceptaran? Bueno, como diría una amiga: "¿Quiénes somos para juzgar?", jajaja. No hay recomendación esta vez, a menos que la vean bajo tu propio riesgo o, si les gusta este tipo de contenido, se lo regalo con todo y lacito.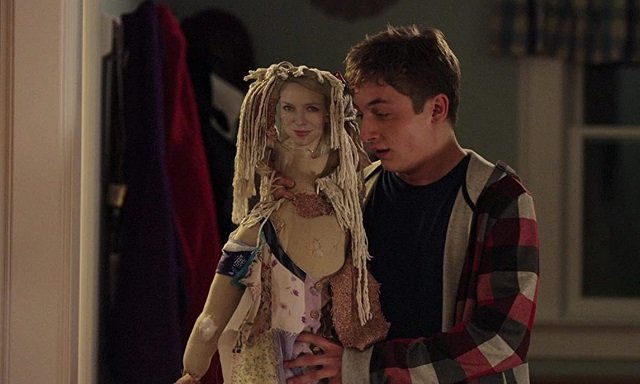 Thank you for coming here and reading me. | Gracias llegar hasta aquí y leerme.
Images taken from (Imágenes tomadas de) IMDb
---
---