Columbus discovers Pinar del Río handicrafts

This morning I had a revelation, the discoverer Christopher Columbus visited me interested in knowing the handicraft market in the town of Pinar del Río, in the west of this beautiful island.
Sometimes I talk to people from the beyond, that's why I feel lucky.
This is a joke, hivers, today's post is not about paranormal events, but we want to relax a bit, don't we?, because as that well-known meme says, today is Friday and the body knows it.
But it's also Market Friday, and I've set out to walk down a very colourful street in this city, where I've been visiting for the last 24 hours.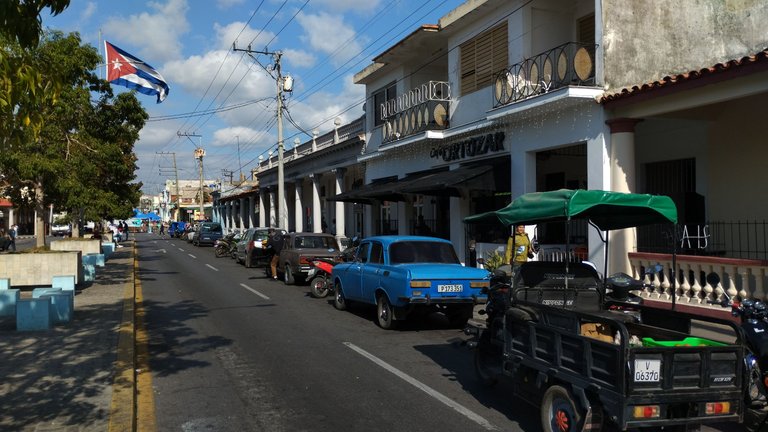 I will explain it better. My route starts from here, following this avenue that is known as Calle Real. Then, past that beautiful flag that I love, on the next block, is Calle Colón, for Spanish speakers. So for English speakers, it's Columbus. The street is named after the discoverer.
To show you an overview of what we will see next, I stood in the middle of the avenue. I looked back and there were the books. Because Pinar del Río is quite a busy city, but even busier now, as it is hosting the International Book Fair, which began in Havana and is now touring the whole country, or at least its provincial capitals.
I did not go in the direction of the books, but against, and there, Colón discovered its wonders.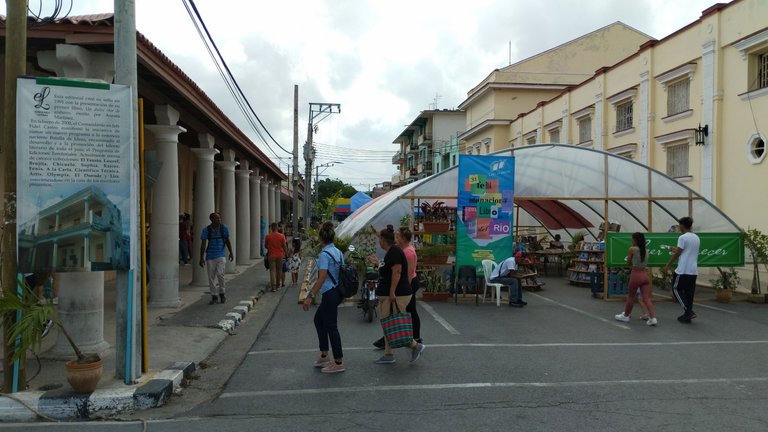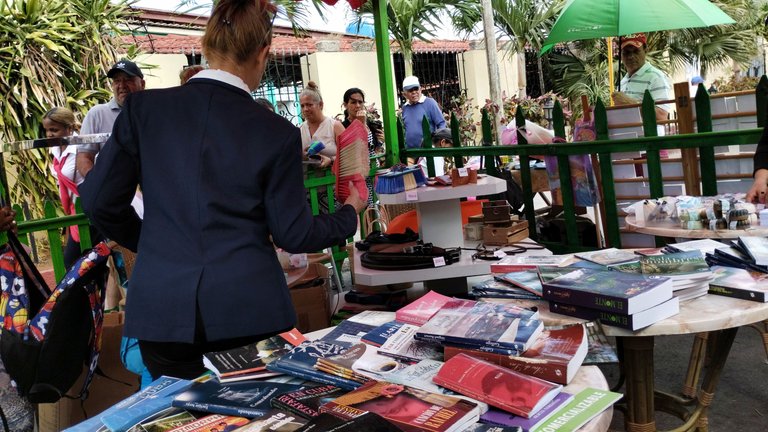 Of course there were also books. But it struck me that they also sell other things that have nothing to do with reading. Although I don't know if I could say that with such certainty, because sometimes at home, I sweep and do housework while listening to audiobooks.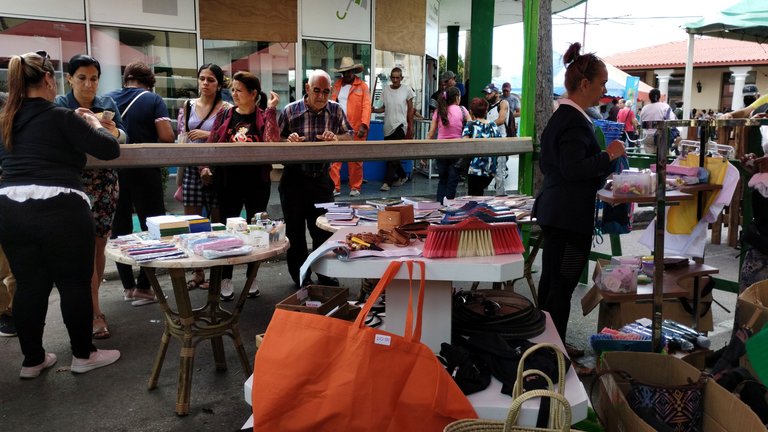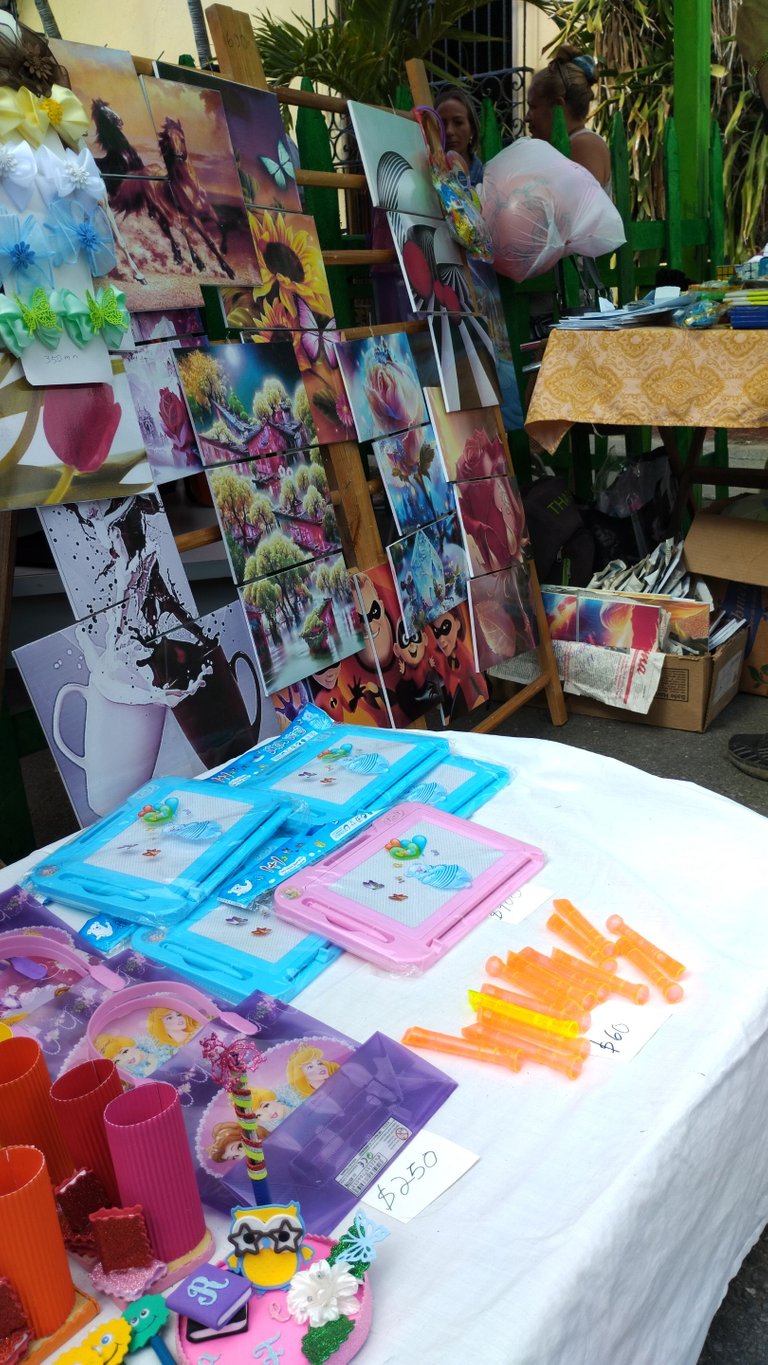 So much mixture and colour! I wonder if you can imagine where my eyes have gone here? I'm an ice cream and milkshake person. But no, if I look at it in detail it looks like black and white paint, it must be a performative representation of something, who knows. And the little orange things, they were a mystery to me until the afternoon, when my friend Li finally explained to me that they were whistles made of plastic. I didn't want to ask silly questions there, the saleswoman was too busy with other customers. I sincerely hate it when children possess these gadgets. I can imagine several of them wanting to be the loudest whistler. Very noisy and I end up upset and with a headache.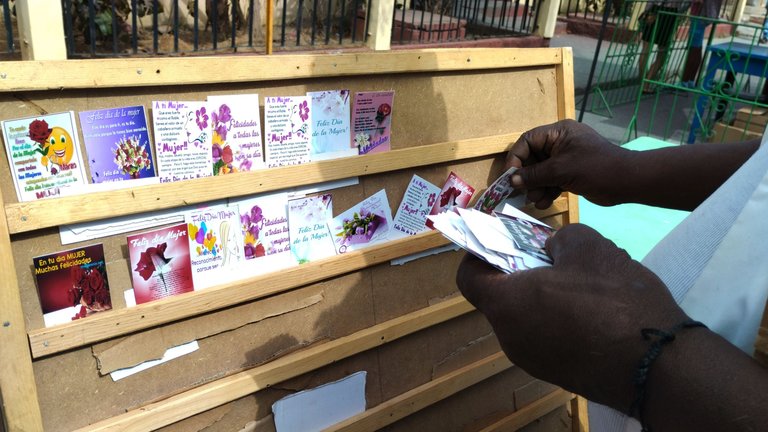 As it was relatively early in the day, this vendor was still in the process of placing his postcards on display.
I wasn't going to wait for him to finish and decided to take a look at the orange whistles to have a closer look at what was on offer.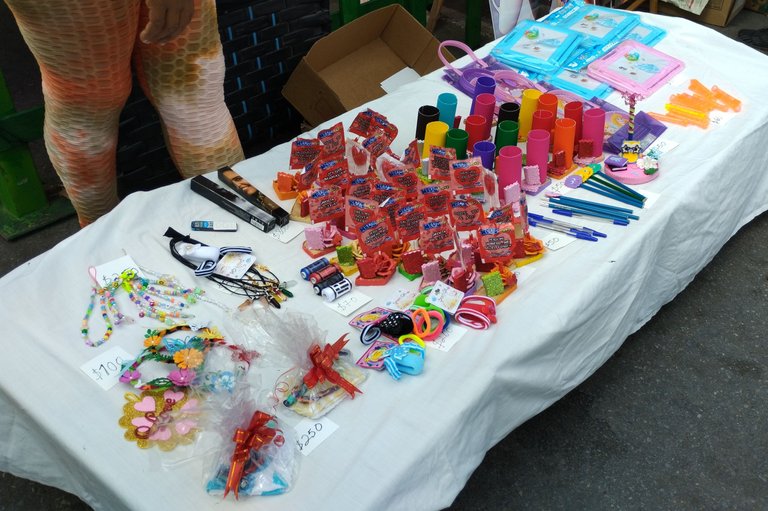 When I saw the spools of thread I thought of several hivers who like to sew and I even remembered my grandmother when she used to ask me to please thread the needle of her old sewing machine. I was very little and sometimes I would say to her: but Tita, you look like the little blind deer, a cartoon I used to watch, eating the toast with oil, garlic and tomato that she used to prepare for me before she started sewing. Why would I say those things to her, today I miss her too much.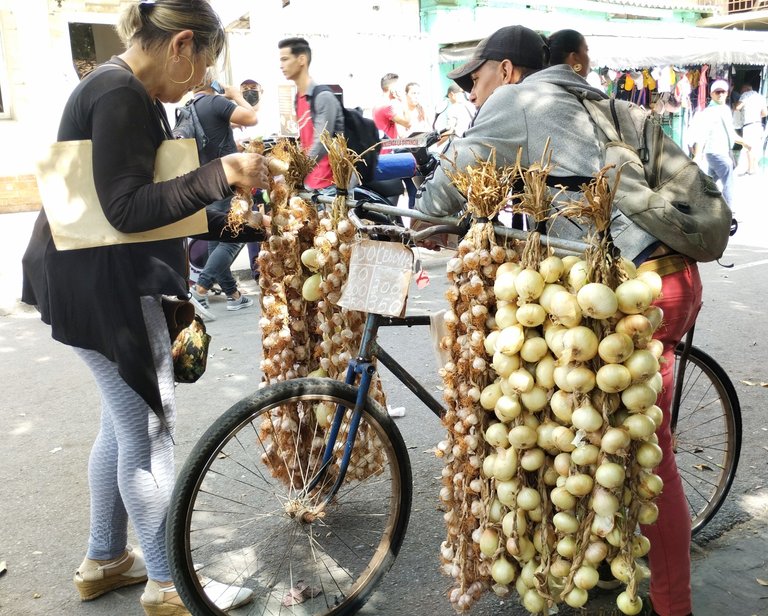 Somehow I was already thinking about food and right in front of me this man stopped with these onions, they look pretty good, don't they?
I prefer purple onions though. I thought maybe she wasn't too convinced with those either, she preferred to buy garlic, and I continued on my way because there was a lot left to look at and like me, a lot of people were looking and not finally deciding what to buy. Maybe the prices were a bit high and they were looking for better deals.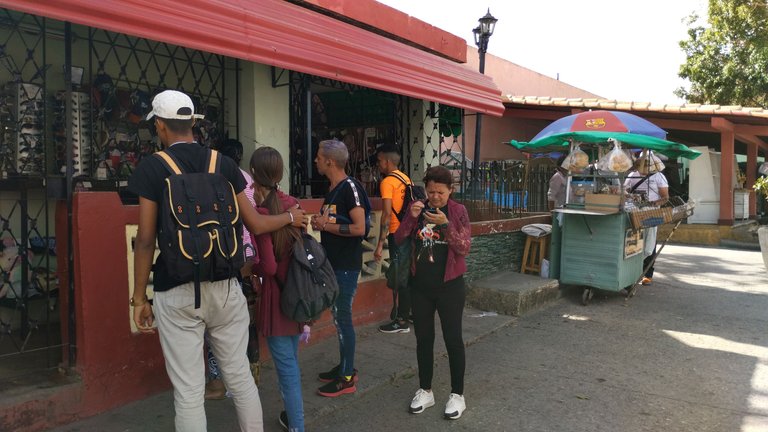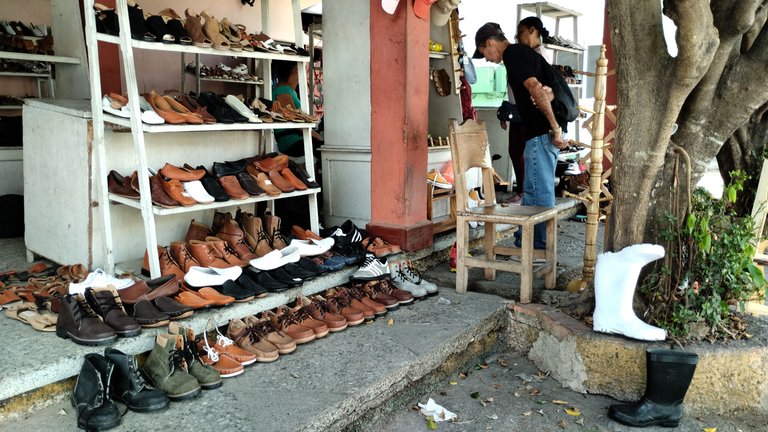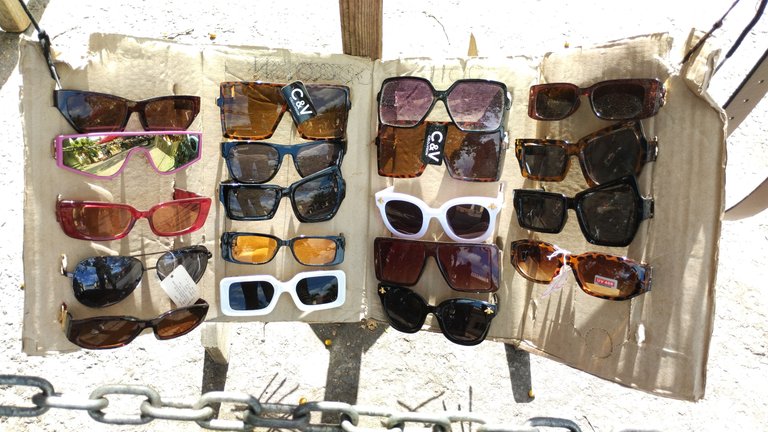 A little further down the street was this place where besides work boots and leather shoes, they sold hats, bags and those glasses. I'm getting old or I'm not that fashionable, because I didn't like any of them, no matter how much I looked at them. Maybe it would be a good idea to buy some to participate in the Hive fashion show, and to be able to walk the red carpet in glamour. Which one do you recommend for me?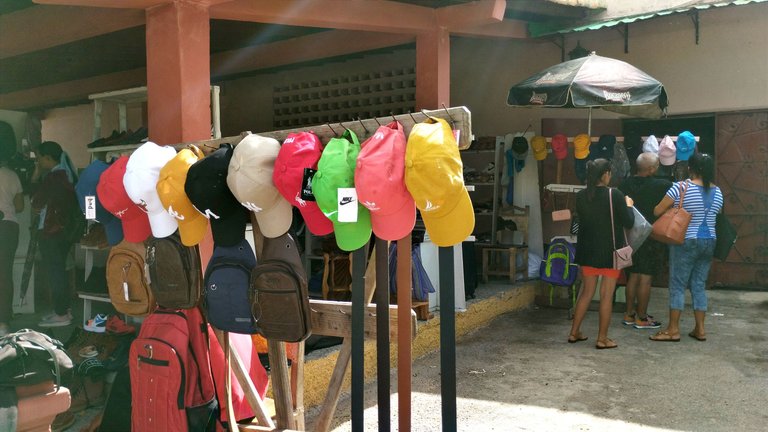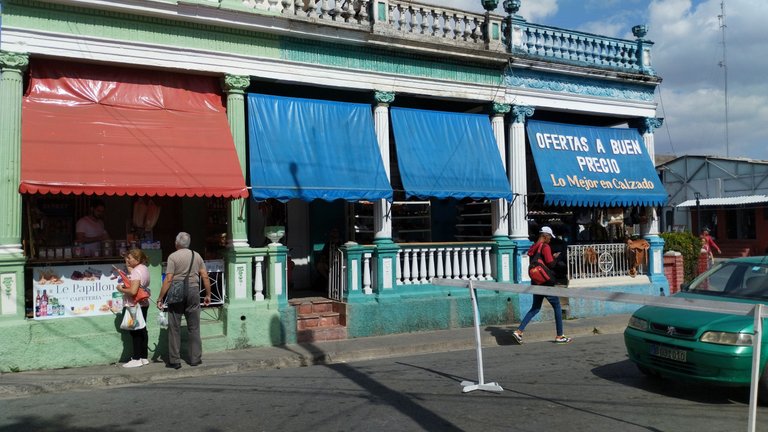 I loved the sky. But also the colors of the houses, where the artisans placed their wares in their doorways, with flashy awnings for customers to fall like flies.
There it says: bargains at good prices. The best of footwear.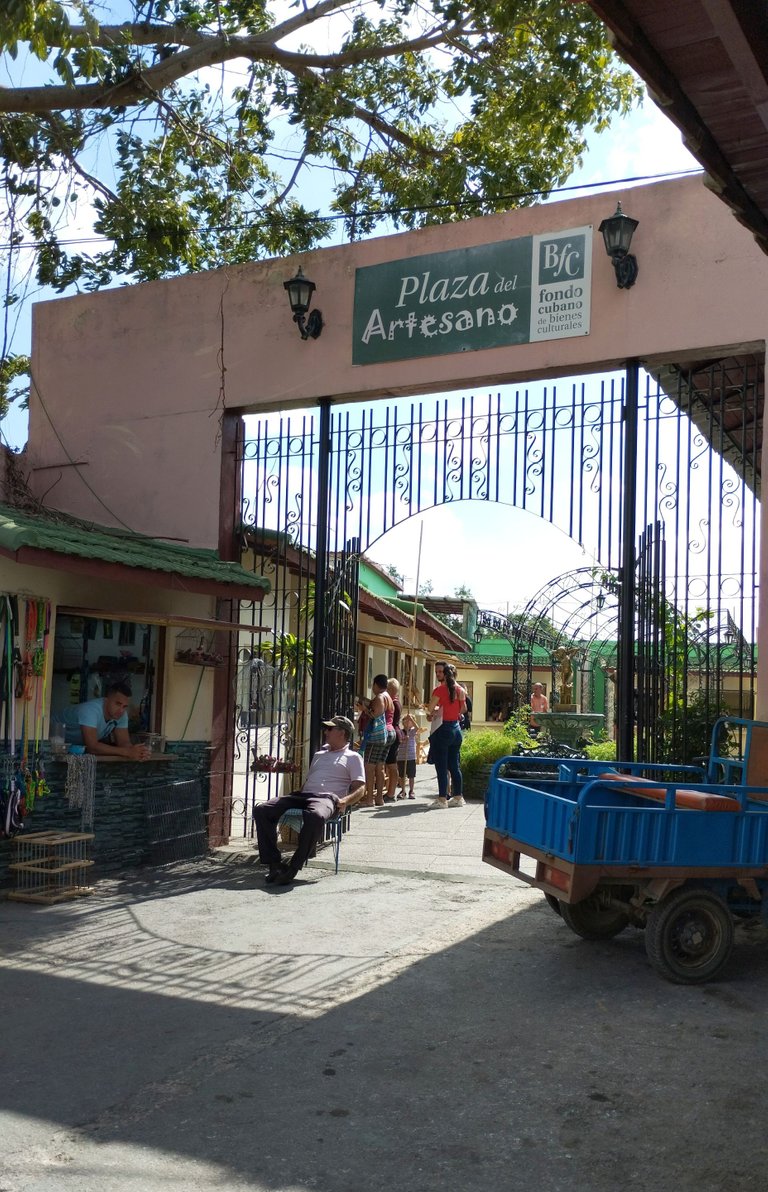 At the entrance to the small boulevard where members of the local Cultural Heritage Fund sell their handicrafts, there was a small shop selling accessories, toys and pet food. I thought about buying something for my dog Chanel, but nothing really caught my attention, least of all the caged birds.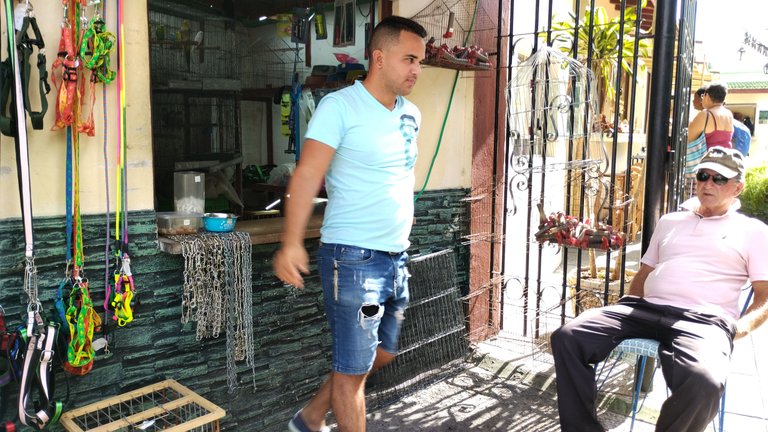 However, I bought a bag of canaryseed and other grains as a gift for my friend's father who raises parakeets.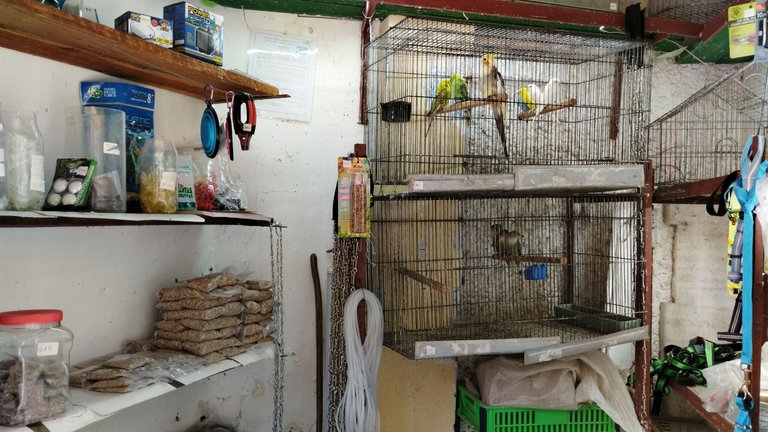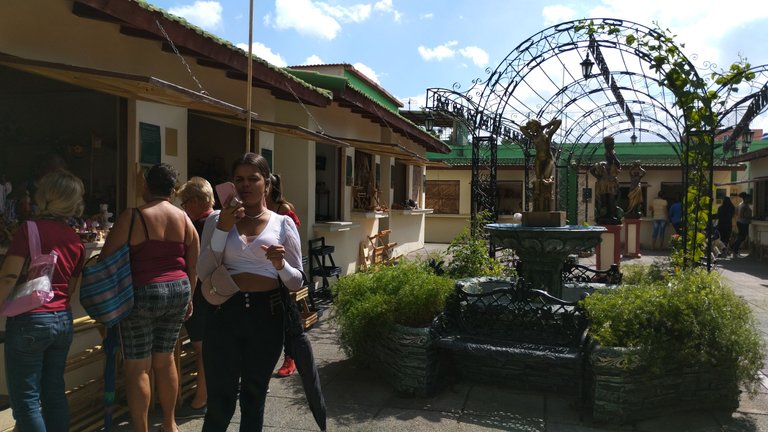 I was hanging around each of those kiosks and also approached the statues that.... Hahahahaha (I laugh out loud) I remembered a post from a user here on Hive, which is very very funny... These sculptures or statuettes were there doing what they know how to do: getting bored. They had no water to irrigate in those basins.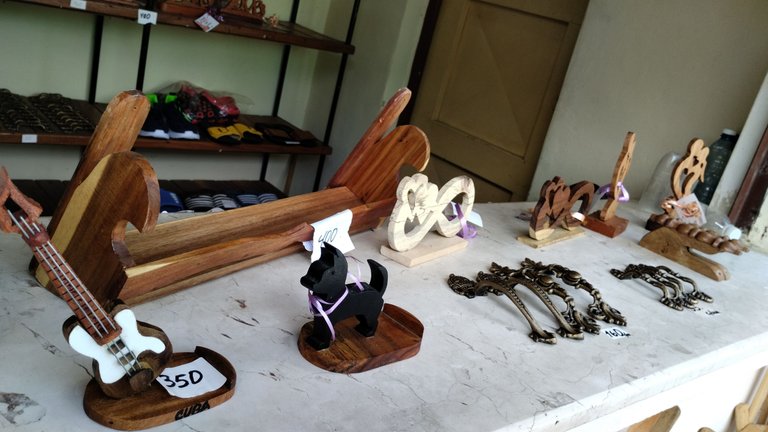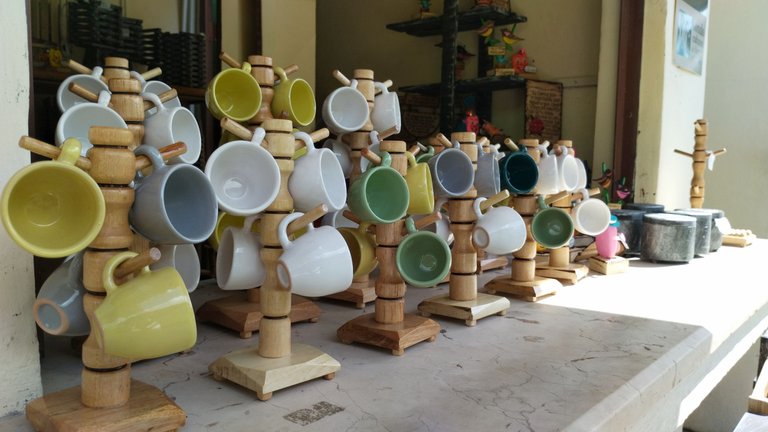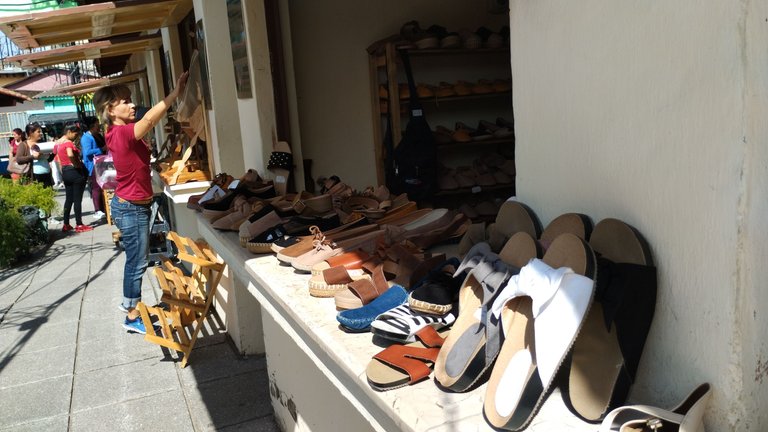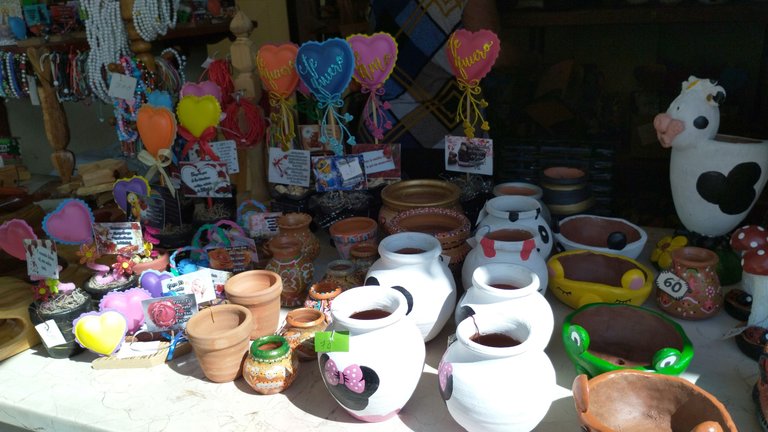 Look plantkillers!!! There is a place for greenery and freshness. The saleswoman kindly chats with her customers and explains in detail about everything that grows in these pots.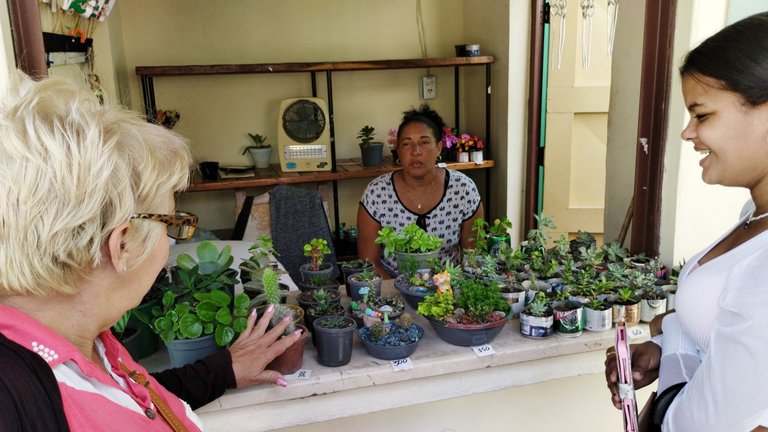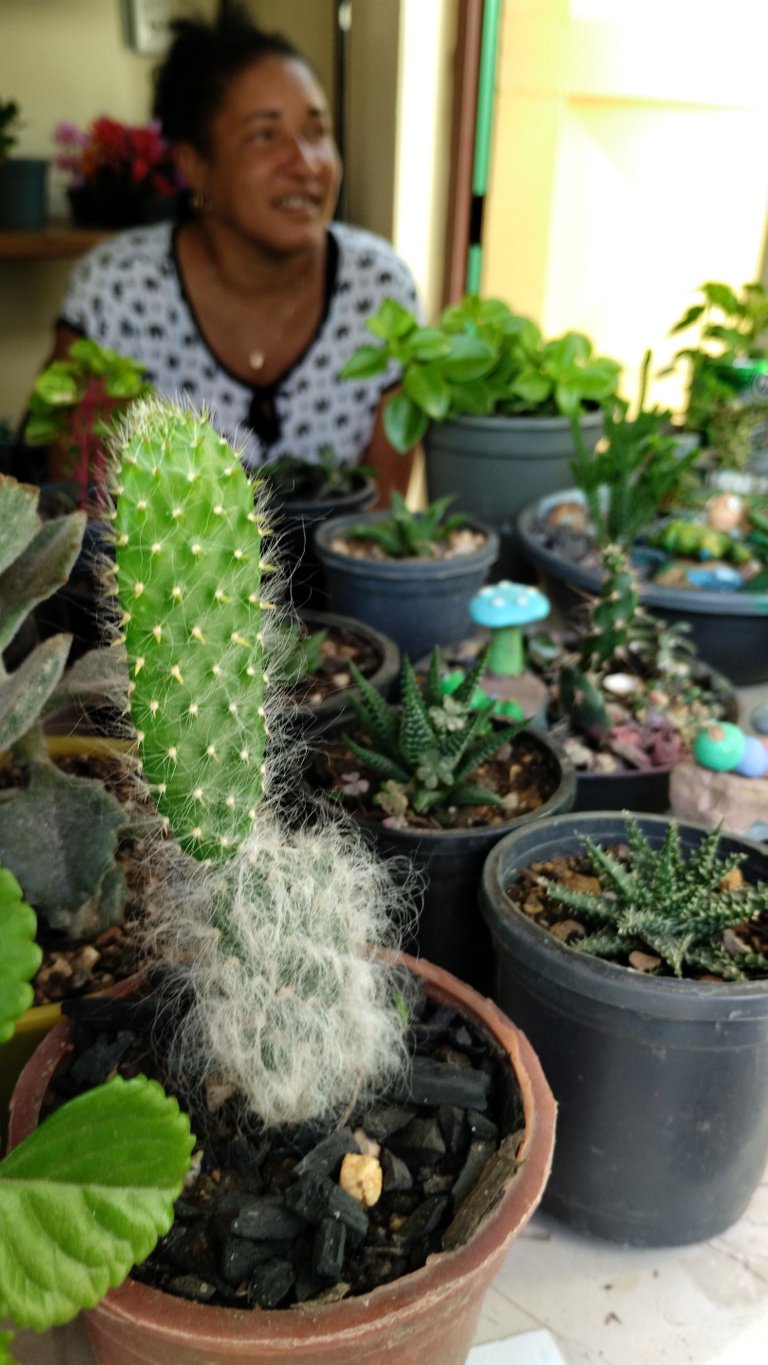 I don't know which one those women finally decided to take home but... they may have kept the bearded cactus.
I have to laugh again, excuse me.
😅😂🤣🤣🤣🤣🤣🤣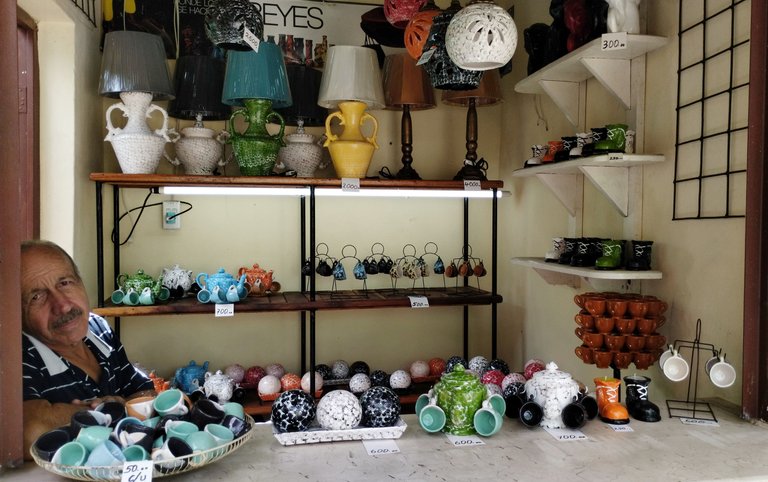 This salesman I think was like statues. So I gave him some conversation.
I hope you enjoyed this adventurous walk down Columbus street and I'll see you soon. Who knows if next time I can bring you a little closer to my paranormal experiences.
---
---
---