Get music out of the instrument or water, it doesn't matter

If you have to get music out of the instrument, you get it out. I don't know, one improvises at the moment. You don't have to think about everything so much, woman. It's just grabbing, without letting go, caressing, enjoying... ujum... I think I'm going a bit off-topic.

(NOT TO FORGET THE #HivePowerBday)

🐝🐝🐝🐝🐝
Proud and Happy Bday Hive ;)
🐝🐝🐝🐝🐝

The guitar, now. This is the matter at hand right now.
I have one hanging on the wall. I just took it down from there to see how I feel with it in my hands. And nothing. I don't feel anything. Let's give it some time to see if this will work...
She looks at me and doesn't know what to do with me, or she does, just looks at me when I write, when I sleep, when I dust the furniture, even herself, because she's a little dirty, believe me. It's like she has a set of magnets to attract the shits of any room-prowling critter.
I'm looking sideways at her, and she's already starting to talk to me.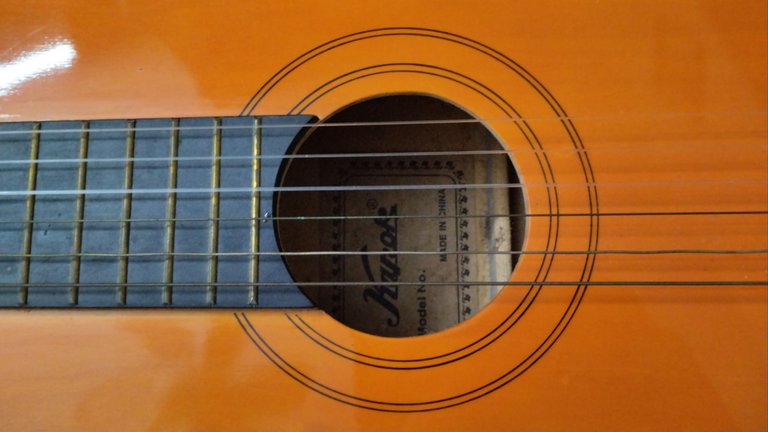 Once a girl came here. A friendship had been born between us. However, she was secretly in love with me. I didn't know it until that day when she told me. But she didn't do it directly. She grabbed the guitar, pulled out a slightly battered sheet of paper and began to play. He had set one of my poems to music.
I don't know at what point we got tangled up in bed. It all went wrong. I told her it would never happen again. She suffered and I went on through life-breaking hearts and then karma took care of restoring all that mess by turning mine into a raisin (pasa). And life happens (pasa) too hahaha... everything went back to normal and I said I would change, that I would stop being so... impulsive. But let's go to the guitar.
Everything I said before is fiction. Or not. Think about what you want.
What is non-fiction is this:
My instrument is a referral to some songs with guitars, depending on the Season through which my life transits. Here I leave two.
Parece un aguacero
-
Lyrics
(Trío Enserie)
Si prefiero no tocarte, dejarte en el agua
Y poner a salvo mis unidades
Huir como un cobarde
Y olvidar hasta el arma con tal de no enamorarme
Porque hay demasiada pólvora en el aire
Y en tu incendio incontrolable
No arderá solo mi alma
Sino todo el pueblo
Si te mudas aquí, cambio de arrozal
Si eres pez, no cazo por el río
Si te vas a dormir, salgo a caminar
Con el fin de agotar los caminos
Si prefiero nunca hallarte, perder las esperanzas
Atarme una piedra al cuello
Llorar, emborracharme, convulsionarme
Ganas de sofocarme en tu pelo
Porque hay demasiada humanidad en juego
Porque ya eres tarde de agua,
Eres estruendo, aire, lágrimas
Y recordarte parece un aguacero...
Si te mudas aqui cambio de arrozal
Si eres pez, no cazo por el río
Si te vas a dormir, salgo a caminar
Con el fin de agotar los caminos...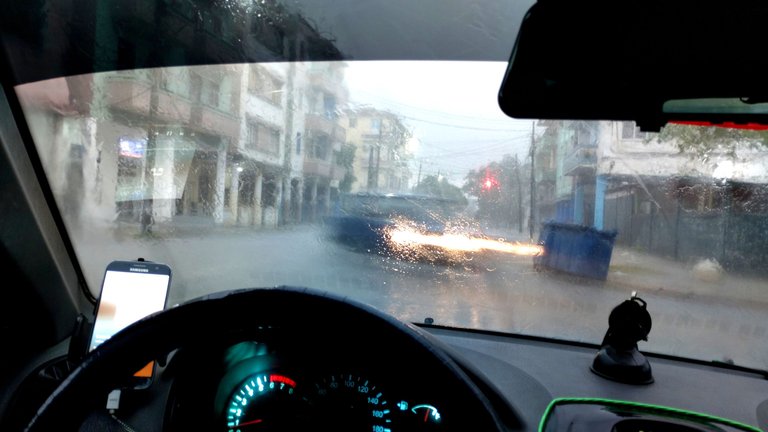 That's how Havana was yesterday, soaked. And I took the opportunity to take some pictures from the car because I had to work under the water. But don´t think it was traumatic for me, I indeed have a job that is almost not a job hahaha... it's fun almost ever. Lucky I am.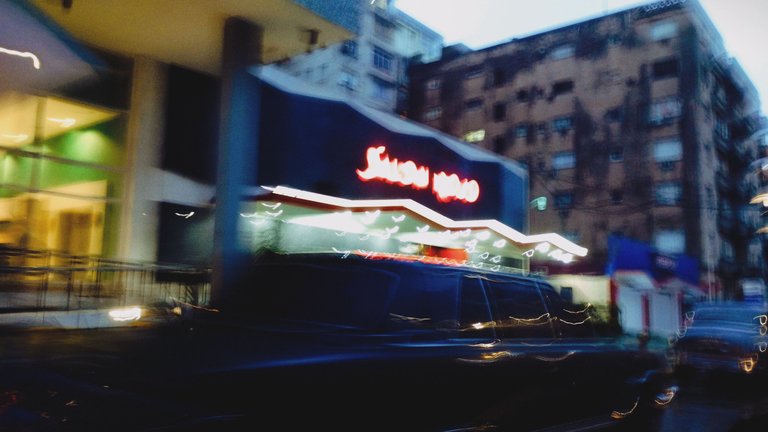 Leaving the Pabellón Cuba in El Vedado, the first thing we see is the Red Room of the Capri Hotel.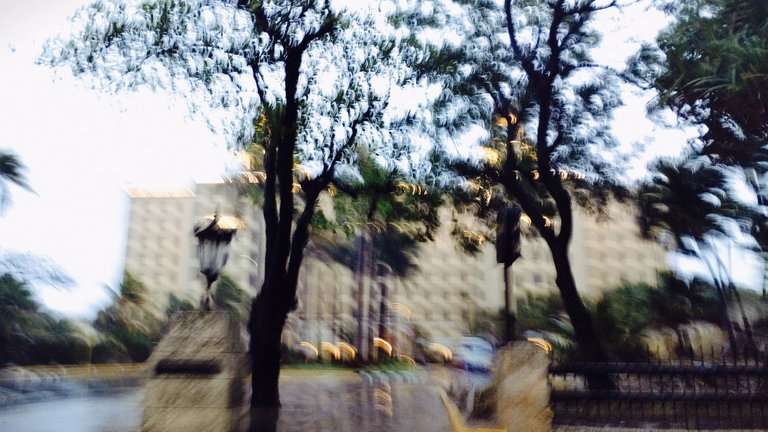 Later the National Hotel.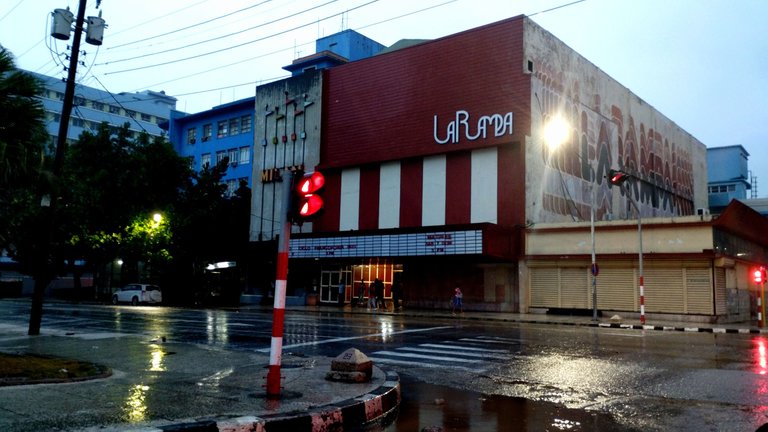 We turn right and cross 23rd street, we arrive at La Rampa and the movie theater that bears that name.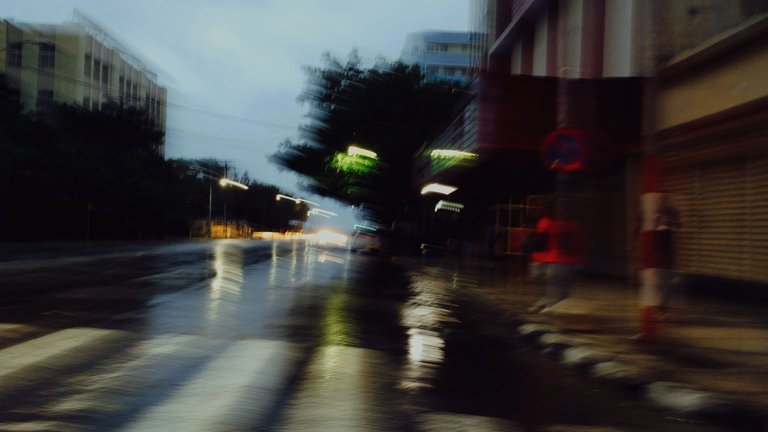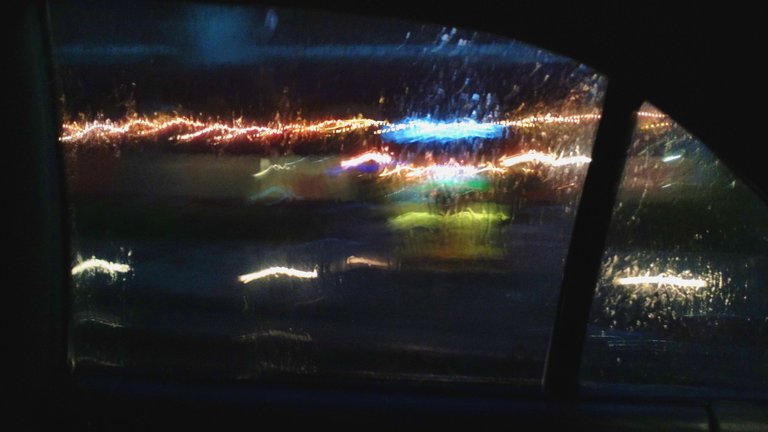 I had to close the window because there was a lot of water coming down. But those colors are pretty, aren't they?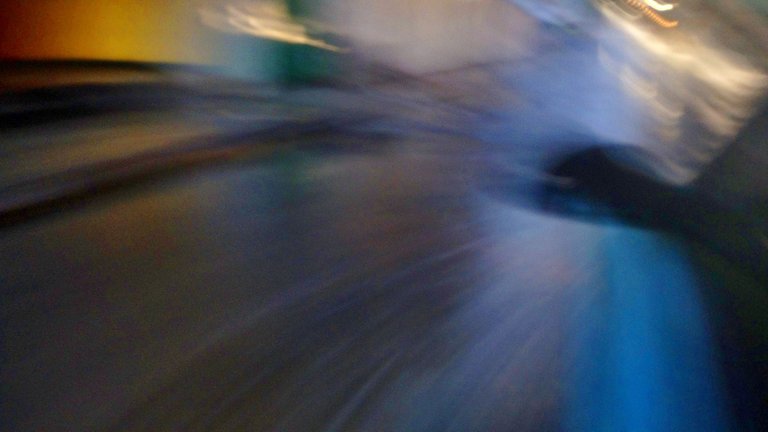 Here I realized that I was crazy to get home because I had to host the #HiveCubaRadio Show Qué Riquera and also the guitar was waiting for me hanging on the wall.
Another song she (the guitar) reminds me of is this one by Vanesa Martín. I don't know how to play guitar, but if I learned a little, I would play these songs I´ve shared with you.
video source
And all of this is responding quickly and drunkenly (I drank a lot of beers on an empty stomach) to @mipiano, the violinist, and her challenge that it can't be true. Wait, the piano is gone now is miviolín.
I decided to play the guitar just a little but I don't know how to hold of this thing.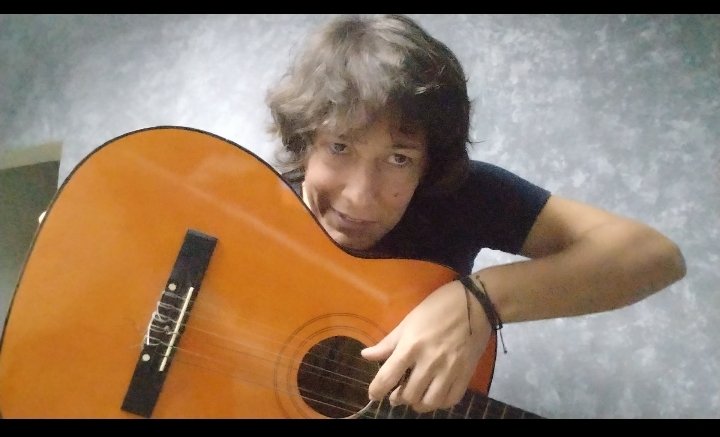 I'm going to make a GIF nanananana (no creo) if the drunkenness lets me. I better need to freshen up my face a bit because I'm missing the Hive Power Up and I have a purchase order placed in the market. I hope all goes well and this thing carries some vibes anywhere...or water, whatever.
I forgot to tell you that someone wanted to buy this guitar and have offered me a lot of money, but I am not selling it, because I like its character, it is indomitable. I need to buy new strings for her and take it to a neighbor's house who is a jazz player to see if she can tune it. Maybe I won't even make it because miss is use to being wild like that... it will be hard to get her in line.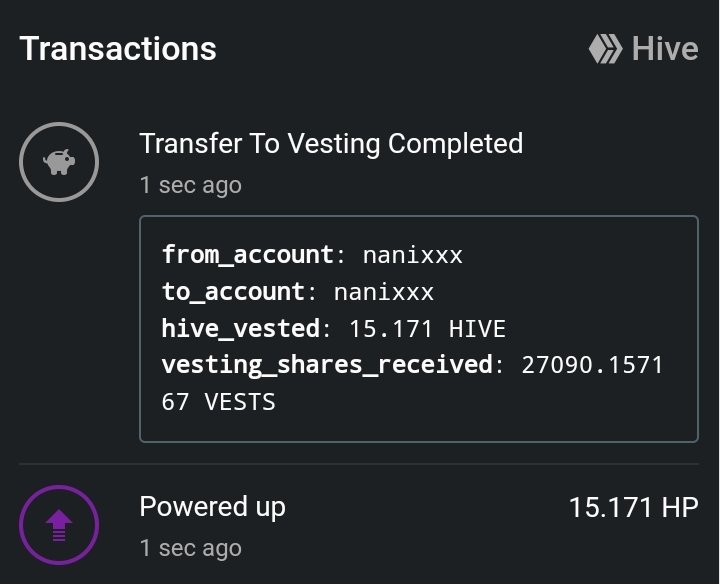 🙌 Finally 🙌
😎
---
---
---