[ENG-ESP] YOUR SCAR ON ME - BY: GUSTAVO CERATI, (COVER).
---
English.
Yes, the remainder prevails. Every intimate contact, every conversation, every experience, every memory; everything remains as a mark on the skin of the soul! These marks are not necessarily born from a couple's relationship, but from any deep interaction we have had with a loved one.
Brother, sister, have you ever perceived it in you? have you ever seen all that they have left in you and what you have left in others? Inevitably we are destined for a connection that leads to the scar of the experience of living and relating.
The song that I offer you today is an original by the great Gustavo Cerati, this song is one of my favorites from his album "siempre es hoy" ("always is today"). The song talks about an emotional mark left by a person, a mark born from a drastic separation that left a mark that could never be erased, that could never disappear even with new loves. This mark left a remnant of feelings of remorse and desire to return to that person, that's why the part that says: "Hey, I beg you to crash into you".
I would like to give a more interesting meaning to my interpretation of the lyrics of the song. As I mentioned at the beginning, every significant contact caused by a relationship (whatever it is) prevails in us. The traces that we leave and that they leave in us, whether good or bad, all work for our growth, for our evolution; because we are the relationships, with ourselves and with others.
We must also be careful! We are susceptible, we are prone with a fragile skin and a fragile mind and, if we learn to relate, we will know how to leave the most appropriate marks so that our path is easier. Our memories, experiences, everything that when we think about it arouses emotions inside us, those are the scars! The marks of our experiences! The experience of living as human beings.
There are times in which my ideas are not the most extensive, surely they are not the most accurate either, but hopefully at some point, whether in the future or in the past, my words manage to connect with the emotions of someone; that my letters are understood and that they reach someone's heart. I don't care if I become famous, I only care about leaving a trace of happiness in someone, whether serving in the vicinity or writing in the distance, I just want to do things that are not for me but for the happiness of something outside me. If you read this, I can only say thank you, for allowing you to read, for allowing me to occupy a space in your mind and in your ears, thank you for being, wherever you are, we are beautiful traces in a vast and unknown existence, we are marks in common; we are one in the stillness.
Español.
Si, el remanente prevalece. Cada contacto intimo, cada conversación, cada experiencia, cada recuerdo; ¡todo queda como una marca en la piel del alma! No necesariamente estas marcas nacen de relaciones de pareja culminadas, si no de cualquier interacción profunda que hallamos tenido con alguna persona amada.
Hermano, hermana, ¿alguna vez lo han percibido en ustedes? ¿alguna vez han visto todo lo que han dejado en ustedes y lo que ustedes han dejado en otros? Inevitablemente estamos destinados a una conexión que nos lleva a la cicatriz de la experiencia de vivir y relacionarnos.
La canción que hoy te ofrezco es original del gran Gustavo Cerati, esta canción es una de mis preferidas en su álbum "siempre es hoy" ( en ingles "always is today"). La canción habla de una marca emocional que dejo una persona, una marca nacida de una separación drástica que dejo una marca que jamas se pudo borrar, que jamas pudo desaparecer ni siquiera con nuevos amores. Esta marca dejo un remanente de sentimientos de remordimiento y de deseo de querer volver con esa persona, por eso la parte que dice: "Hey, te suplico estrellarme en vos".
Quisiera darle un sentido mas interesante a mi interpretación con respecto a la letra de la canción. Como mencione al principio, cada contacto significativo causado por una relación (sea cual sea) prevalece en nosotros. Las huellas que dejamos y que dejan en nosotros, sean buenas o malas, todas funcionan para nuestro crecimiento, para nuestra evolución; porque somos las relaciones, con nosotros y con los demás.
Debemos de igual forma tener cuidado! Somos susceptibles, estamos propensos con una piel y una mente frágil y, si aprendemos a relacionarnos, sabremos como dejar las marcas mas adecuadas para que nuestro camino sea mas sencillo. Nuestros recuerdos, experiencias, todo aquello que cuando lo pensamos suscita emociones en nuestro interior, esas son las cicatrices! Las marcas de nuestras vivencias! La experiencia de vivir siendo seres humanos.
Hay veces en las cuales mis ideas no son las mas extensas, seguramente no son las mas certeras tampoco, pero ojala en algún momento, sea en el futuro o en el pasado, mis palabras logren conectar con las emociones de alguien; que mis letras sean comprendidas y que lleguen al corazón de alguien. No me importa si llegar a ser famoso, solo me importa dejar una huella de felicidad en alguien, sea sirviendo en la cercanía o escribiendo en la lejanía, solo quiero hacer cosas que no sean para mi si no para la felicidad de algo externo a mi. Si lees esto, solo te puedo decir que gracias, por permitirte leer, por permitirme a mi ocupar un espacio en tu mente y en tus oídos, gracias por estar, sea donde sea, somos huellas hermosas en una vasta y desconocida existencia, somos marcas en común; somos uno en la quietud.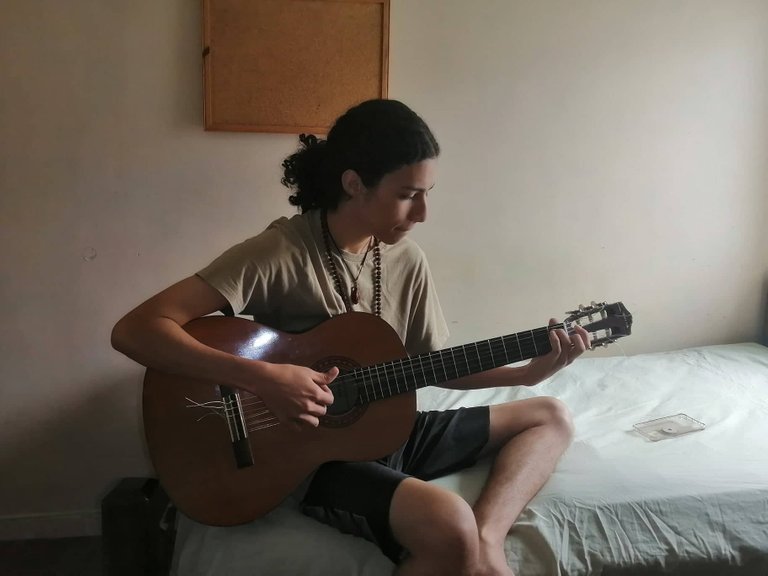 This picture was taken by my partner while I was warming up to play, I think it's a good shot, it even looks a bit gothic he,he,he,he.
Esta foto me la tomo mi compañera mientras calentaba un poco para tocar, creo que quedo buena la toma, hasta parece un poco gótica je,je,je.
Lyrics.
We swore by nothing else
Than to rip out the weeds all at once.
I was left gasping like a fish
No one else erased your scar on me
Crazy daring
I'll sniff through your things
It hurts with pleasure
Your scar on me
Hey, I beg to crash in you
Cook me slow like Icarus in the sun
Since I loved you
It never faded
Your scar on me
Crazy daring
I'll sniff through your things
It hurts with pleasure
Your scar on me
Your scar on me
Your scar on me
Your scar on me
Your scar on me
Your scar on me

Well, that's all for today! I hope you enjoyed the cover! Thanks to the #Qsounds community for existing and allowing these spaces to share art! Blessings to all.
Bueno, esto es todo por hoy! Espero que hayas disfrutado del cover! Gracias a la comunidad de #Qsounds por existir y permitir estos espacios para compartir el arte! Bendiciones para todos.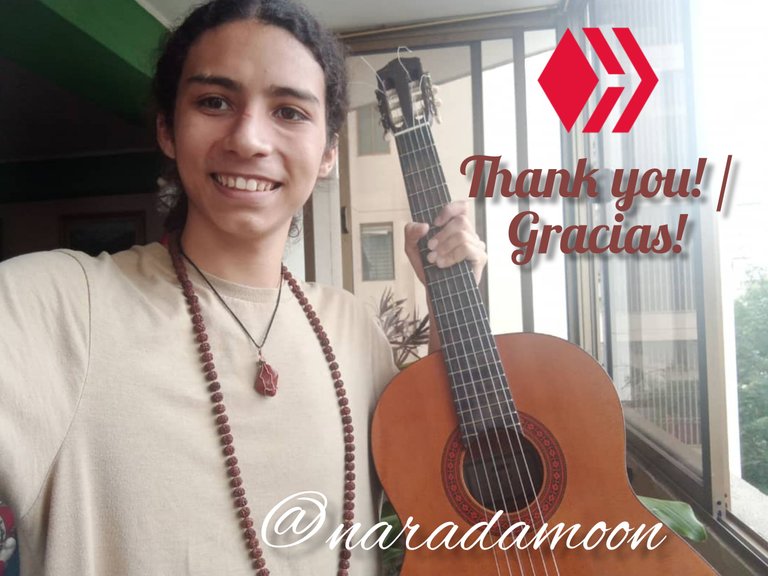 ---
▶️ 3Speak
---
---