Three Tune Tuesday: Three amazing female rockers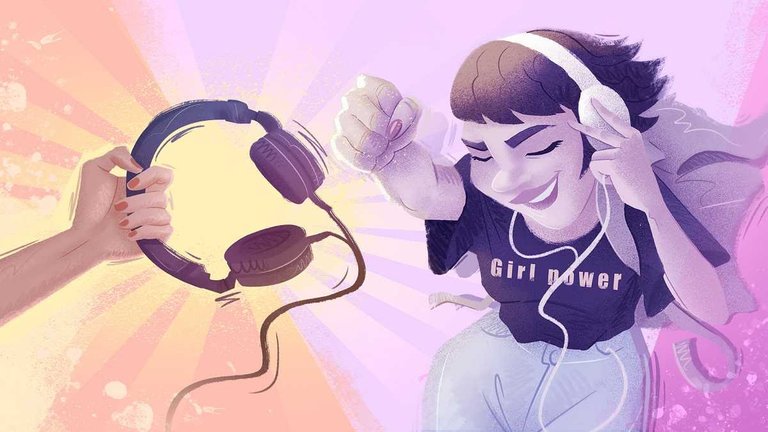 source (fuente)
Three tune Tuesday! I've been meaning to join this weekly challenge, started by @ablaze, for a couple of times now. Unfortunately, I kept leaving it under the table, but I've finally started!
Listening to music and sharing it with someone is wonderful! I think it's one of the things I love the most, and to do it virtually, is an excellent initiative.
Today I want to make a referential tribute to three female rockers. These beautiful divas are beings of overflowing talent, creators of incredible music as beautiful as they are.
Three tune Tuesday! He querido unirme a este desafío semanal, iniciado por @ablaze, desde hace ya un par de ocasiones. Desafortunadamente, lo dejaba bajo la mesa, pero por fin he empezado!
Escuchar música y compartirla con alguien es maravilloso! Creo que es uno de los compartires que más amo, y hacerlo virtualmente, es una excelente iniciativa.
Hoy quiero hacerle un homenaje referencial a tres mujeres rockeras. Estas divas hermosas, son seres de un talento rebosante, creadoras de música increíble tan hermosa como ellas.
---
Avril Lavigne - Smile.
---
I have been listening to this girl a lot lately. I remember that my older sister loved the music of this artist that starts this trilogy. Avril Lavigne has a very moving style in most of her songs. It's a soft rock but at the same time energetic, with lyrics of love or uncontrolled passion he,he,he.
For example, in this song, she literally starts saying she is a crazy bitch and wants to lose control.... Quite interesting Avril, but believe me that despite certain phrases somewhat crazy, the song just talks about love and how a sudden encounter awakened joy in the heart of a passionate teenager lover of guitar and Rock and Roll. I must admit, with all the frankness in the world, that I admire a lot the work of this singer, I like her style, however, it is that kind of music that if I listen too much I end up getting fed up ha,ha,ha,ha, well, I think that can happen to me with any artist if I overdo it too much.
Ha está muchacha la he estado escuchando bastante últimamente. Recuerdo que a mi hermana mayor le encantaba la música de esta artista con la que inicia esta trilogía. Avril Lavigne tiene un estilo bastante movido en la mayoría de sus canciones. Es un rock suave pero a la vez enérgico, con letras de amor o pasión descontrolada je,je.
Por ejemplo, en esta canción, literalmente empieza diciendo que es una perra loca y que quiere perder el control... Bastante interesante Avril, pero creeme que a pesar de ciertas frases un tanto alocadas, la canción solo habla de amor y de como un encuentro repentino despertó alegría en el corazón de una adolescente apasionada amante de la guitarra y del Rock and Roll. Debo admitir, con toda la franqueza del mundo, que admiro mucho el trabajo de esta cantante, me gusta bastante su estilo, sin embargo, es de ese tipo de música que si escucho demasiado termino por hartarme ja,ja,ja, bueno, creo que eso puede pasarme con cualquier artista si me excedo demasiado.
______________________________
Hayley Williams/ Paramore - The only exception.
---
Chances are, you've already heard this beautiful song at some point. I think Paramore's style is a bit more concrete than Avril Lavigne's, I mean, they have more body in their songs and maybe they don't get so shrill heh,heh, of course, I still love Avril.
The music of this band is just too cool! And their vocalist sings beautiful both in a studio and in a live concert. I was about to choose between this song and "ain't it fun" but I decided for the one I shared today because of the interesting lyrics it has. Basically, the song tells us about an event that a girl witnessed as a child with her two parents, a fight between these two important characters in her life, which leads her to have a bad idea about love, but, all this changes when she meets someone special and makes the exception to fall in love.
Lo más probable, es que ya hayas escuchado esta bella canción en algún momento. Creo que el estilo de Paramore es un poco más concreto que el de Avril Lavigne, es decir, tienen más cuerpo en sus canciones y tal vez no se vuelven tan chillones je,je, claro, sigo amando a Avril.
La música de esta banda es demasiado genial! Y su vocalista canta hermoso tanto en un estudio como en un concierto en vivo. Estaba por elegir entre esta canción y "ain't it fun" pero me decidí por la que he compartido hoy por la letra tan interesante que tiene. Básicamente, la canción nos habla de un evento que una muchacha presencio de pequeña con sus dos padres, una pelea entre estos dos personajes importantes en su vida, lo que la lleva a tenerle una mala idea al amor, pero, todo esto cambia cuando conoce a alguien especial y hace la excepcion de enamorarse.
---
María Brink/In this moment - Beautiful tragedy.
---
Finally, I decided to dive into the depths of metal. In this moment is an American metalcore band, which was one of my favorite bands at the age of 14. It symbolized many nights locked in my room, listening to their music with huge studio headphones I had, God, those headphones were big!
The truth is that the style of this band and the voice of their singer are somewhat dramatic, but still, the strength of passion and emission is present in their music with many shades of darkness and suffering, which gives a unique flavor to what you hear from them. I think the lyrics don't talk about something very special, or at least, they don't talk about something that is special to me. It talks about suffering, death, and a way of seeing a bad event as something beautiful, or something like that, I read the lyrics translated into Spanish and I didn't really understand them very well.
Por último, decidí sumergirme en las profundidades del metal. In this moment es una banda de metalcore estadounidense, la cual fue de mis bandas favoritas en la edad de los 14 años. Simbolizó muchas noches encerrado en mi cuarto, escuchando su música con unos enormes audífonos de estudio que tenía, Dios, esos audífonos si que eran grandes!
La verdad es que el estilo de esta banda y de la voz de su cantante son un tanto dramáticos, pero aún así, la fuerza de la pasión y la emisión está presente en su música con muchos matices de oscuridad y sufrimiento, lo cual de da un sabor único a lo que escuchas de ellos. Creo que la letra no hablar de algo muy especial, o por lo menos, no habla de algo que sea especial para mí. Habla de sufrimiento, muerte, y una forma de ver un mal suceso como algo hermoso, o algo así, leí la letra traducida al español y la verdad no la entendí muy bien.

I hope you enjoyed this selection. See you next Tuesday. Let's keep sharing music.
Espero que hayas disfrutado de esta selección. Hasta el próximo martes. Sigamos compartiendo música.
---
---