Three Tune Tuesday: Tres canciones originales
---
Greetings dear community! For me it is a pleasure to return to take a turn through this space of Musical sharing. Three Tune Tuesday is already a fixed routine for me on these days of the week. Today I decided to share my participation with three original songs very dear to me, thanks to them I have understood and lived many key moments in my life, so how can I not remember them?
The first song of this sample is "diaphanous heart". This song has a style very similar to bossa. I decided to add some chromaticism to give it an interesting and characteristic nuance. As a curious fact, on the day of the creation of this song it was raining hail, which is not very common in Caracas, it was quite fun and beautiful to enjoy the experience while I was inspired by the lyrics of the song; and just so you know, no, the song does not talk about hail hahaha, it only talks about the search for purity through introspection and self-love, it also touches a little on the theme of self-improvement.
The second song was my first creation inspired by passionate love. I wrote it to a girl I liked a lot hehehe. With time I changed some things in her harmony. I think it's a very sweet song, it brings back beautiful memories of the past.
And finally, last but not least, we have nothing more and nothing less than my first musical composition: "Sentir". My first song was inspired by a composition that was part of the soundtrack of a studio ghibli movie, specifically, the movie was called "the castle in the sky" very beautiful animation by the way. Of course, the song is also inspired by many other first experiences, like my first yagé ceremony for example, the love I started to feel with music, etc.
Anyway, I hope you enjoyed these samples of songs written by me! See you for another occasion to share more sound art. Until the next song!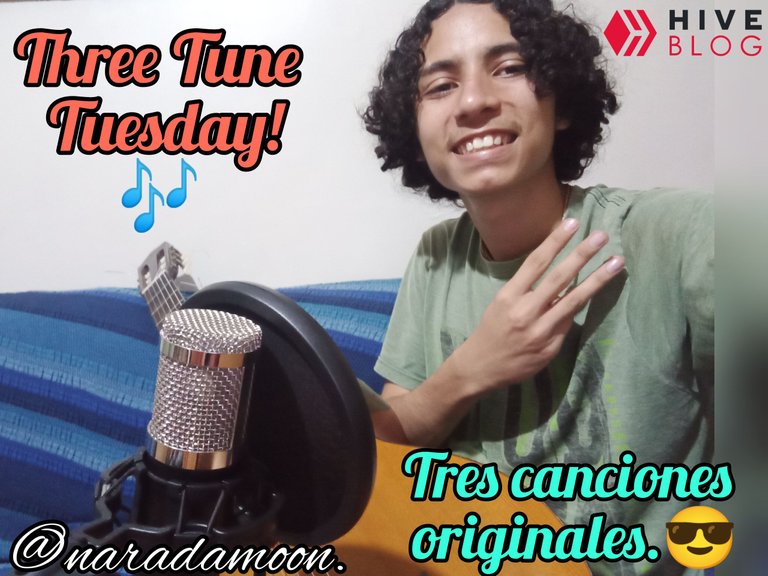 Saludos querida comunidad! Para mí es un placer volver a dar una vuelta a través de este espacio de compartir Musical. Three Tune Tuesday es ya una rutina fija para mí en dichos días de la semana. Hoy decidí compartir mi participación con tres canciones originales muy amadas por mi, gracias ha ellas he comprendido y vivido muchos momentos claves en mi vida, así que, ¿como como no recordarlos?.
La primera canción de esta muestra es "diáfano corazón". Esta canción tiene un estilo muy similar al bossa. Decidí agregarle ciertos cromatismos para brindarle un matiz interesante y característico. Como dato curioso, en el día de la creación de esta canción estaba lloviendo granizo, lo cuál no es muy común en Caracas, fue bastante divertido y hermoso disfrutar de la experiencia mientras me inspiraba en la letra de la canción; y para que sepas, no, la canción no habla del granizo jajaja, solo habla de la búsqueda de la pureza a través de la introspección y el amor propio, también toco un poco el tema de la auto superación.
La segunda canción fue mi primera creación inspirada en el amor pasional. Se la escribí a una chica que me gustaba bastante jejeje. Con el tiempo cambie ciertas cosas de su armonía. Me parece que es una canción muy dulce, me trae bellos recuerdos del pasado.
Y para finalizar, de último lugar tenemos a nada más y nada menos que mi primera composición musical: "Sentir". Mi primera canción estuvo inspirada en una composición que formaba parte de la banda sonora de una película de studio ghibli, específicamente, la película se llamaba "el castillo en el cielo" muy hermosa animación por cierto. Claro, la canción también está inspirada en muchas otras primeras experiencias, como mi primera ceremonia de yagé por ejemplo, el amor que empecé a sentir con la música, etc.
En fin, espero que hayas disfrutado de estas muestras de canciones escritas por mi persona! Nos vemos para otra ocasión para compartir más arte sonoro. Hasta la próxima canción!
---
▶️ 3Speak
---
---