Adventures In Splinterlands - Brawl Report 08.11.22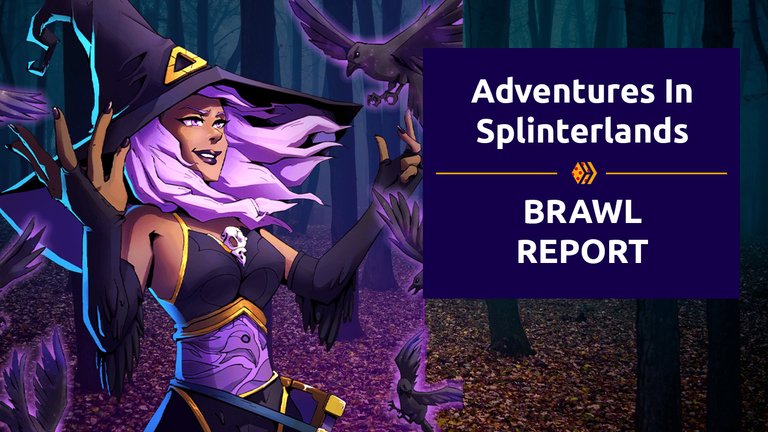 Hello friends, this week another round of Guild Brawls ended, where I fight for the team Pizza 2 The Deep Dish, and I was lucky enough to be among the best players with 5 wins from 6 battles.
I decided to try Gladius Case and Riftwatchers card combos again, and some of them were really effective.
Battle 1
In the first battle with a lot of mana, I decided to use the Waka Spiritblade summoner, which gives cards the ability to poison the enemy, and emphasized the ranged attacks of Phantom Soldier & Magi Necrosi and archers Queen Of Crows & Liza Fox. I used Sand Worm to attack the rear, while the creepy Cursed Windeku provided the defense.
My opponent used Dragon Elemental and Death Elemental combos, and my Cursed Windeku and Phantom Soldier left the battlefield very quickly, but Queen Of Crows did a great job defensively, giving the rest of the cards "room to maneuver".
Victory was inevitable :)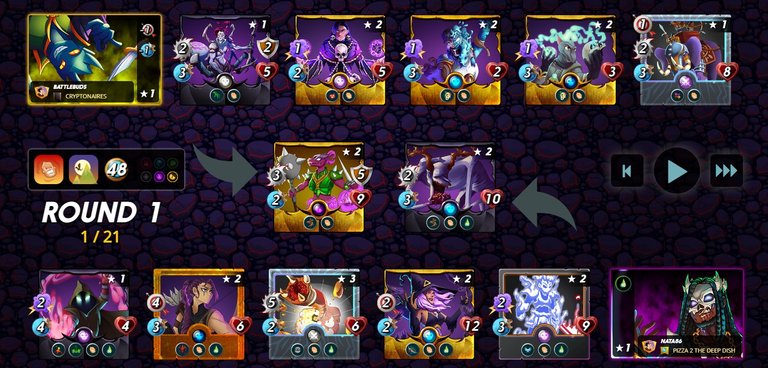 Battle 2
In the second battle, my mana was down to 24, but I used Death again with Waka Spiritblade and Cursed Windeku in the first position, but this time I used Life Sapper & Magi Necrosi as well as Arachne Thug, attacking from the second position.
My opponent chose the Earth element and Mylor Crowling and the "classic" combo of the powerful Flesh Golem on the first position and Wood Nymph healing him, as well as the gladiator Katrelba Gobson, but I had an advantage in attack speed and poison, so I came out the winner without significant losses :)
Watch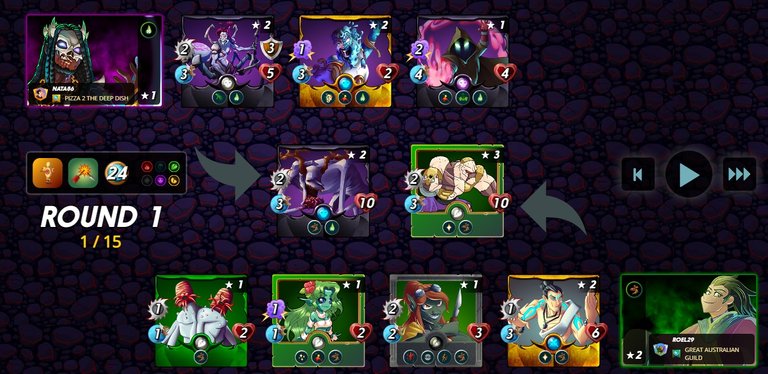 Battle 3
On the third battle, the Equalizer rule came out, so I decided to use the tried-and-true combination of Tarsa and Exploding Dwarf on the first position. Its high speed and increased health make it a very dangerous card for my opponent's first two positions. Chimney Wallstop and Serpentine Spy supported him, and his ranged attacks were handled by the classic Ettin Spearman, Fire Elemental, who also got a health boost from the rule, and Djinn Inferni the mage.
My opponent also staked on Fire elemental and archer attacks, but I had a small advantage in speed and Chimney Wallstop with his bloodlust ability quickly pumped his parameters, turning into a real death machine.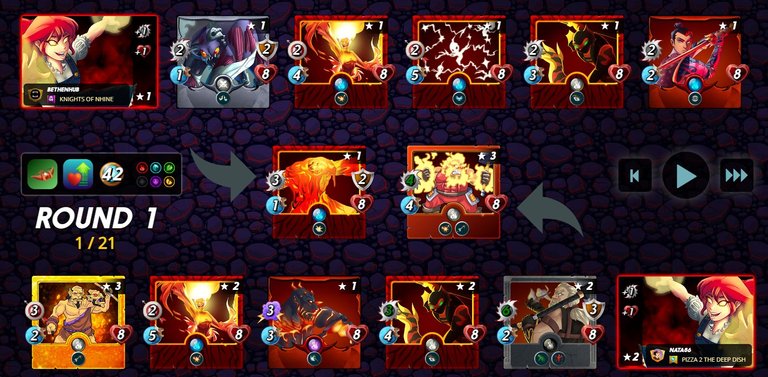 Battle 4
In the fourth battle, the Melee Mayhem rule came out, so I used Death again. Waka Spiritblade Summoner, Cursed Windeku in first position, followed by the fast Phantasm, the legendary Coeurl Lurker with the ability to draw attacks on itself, and Phantom Soldier and Magi Necrosi to support them.
My opponent had a Dragon elemental and placed a very powerful Agor Longtail in the first position, as well as a River Hellondale mage capable of resurrecting the first deceased, so it was a heated battle!
I managed to poison his mage in the first round, and killed Tide Biter on the second, so he had to use his resurrection ability on a weak card, so everything went smoothly from there - while his mage attacked Coeurl Lurker, my Phantasm and mages took his cards one by one.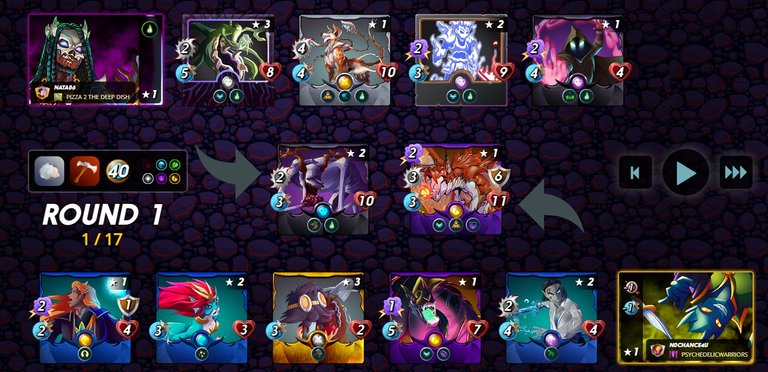 Batttle 5
In the last fight, in addition to the Healed Out rule, a new Return Fire fell out, so I gave up my archers and once again used the proven combination of Waka Spiritblade, Cursed Windeku, and Arachne Thug in second position, adding Phantom Soldier and Revealer mages, capable of knocking out my opponent. The remaining mana unit spent on Creeping Ooze to reduce the opponent's speed.
The opponent used a powerful Harklaw, capable of resisting attacks, as well as a Witch of Warwick gladiator, but poison and level advantage did the trick. Even after losing my Phantom Soldier, my remaining combo was as cohesive as possible, methodically destroying my opponent's cards.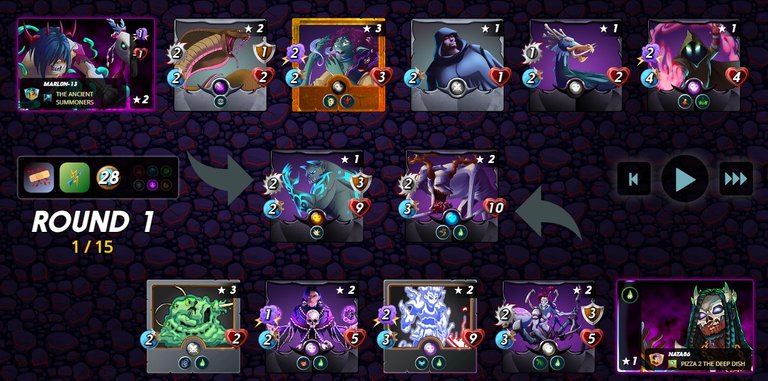 Today is the start of a new round, in which I will definitely try new strategies and was happy to share my experiences.

PIZZA 2 The Deep Dish
Experimental Toppings Acceptable



Make some Noise!
---
---