Arts Gallery @ Baan Chao Phraya - Another FREE attraction!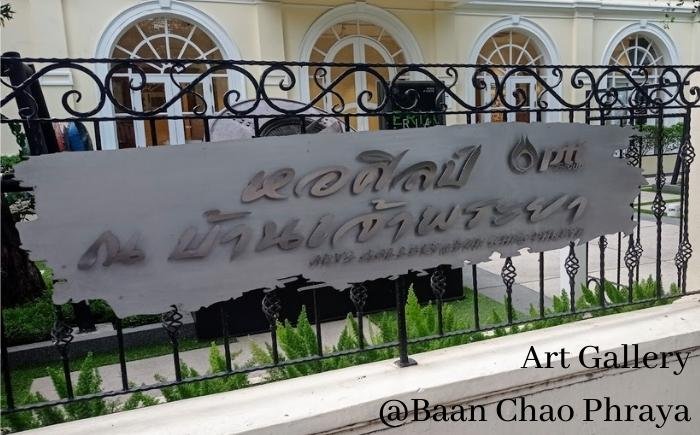 Whilst hunting more beautiful heritage buildings on the banks of the Chao Phraya river last week, I came upon this beautifully restored example of yet another, probably late 19th century, neoclassical former home.
As opposed to being a hotel like the Baan Bang Yi Khan I wrote about last week, this one had been bought by Thailand's largest energy company, PTT, beautifully restored and turned into an art gallery.
This isn't quite as random as it sounds as PTT also happens to run Thailand's largest annual art competition for young people and emerging artists and this is where they display the winners, not only of the latest competition but there are examples going back ten years.
This post is going to be in two sections, firstly the gallery, and secondly the works on display.
Before we get into this, a little information about the building for my friends in the Architecture and Design community. I love connections, so here we go! This house was originally the palace of Prince Sathittamrongsawas who was a nephew of King Mongkut (King Rama IV). Afterwards, it was the home of Mario Tamagno, the famous Italian architect who I name-checked in my post on Baan Bang Yi Khan. More on him in future posts as he is rapidly becoming my favourite early 20th-century Neoclassical architect!
The gallery is not the biggest in the world but we easily spent an hour across the two floors in admiration of the young talent on display. It wasn't just about the paintings, there was sculpture and interactive displays too.
Upon entering the gallery through a beautifully laid out, contemporary garden, complete with some incredible sculptures that we'll look at later, you were immediately met with a refreshingly cool and bright reception area that ran the full length of the building with a small reception desk at one end and a staircase at the other.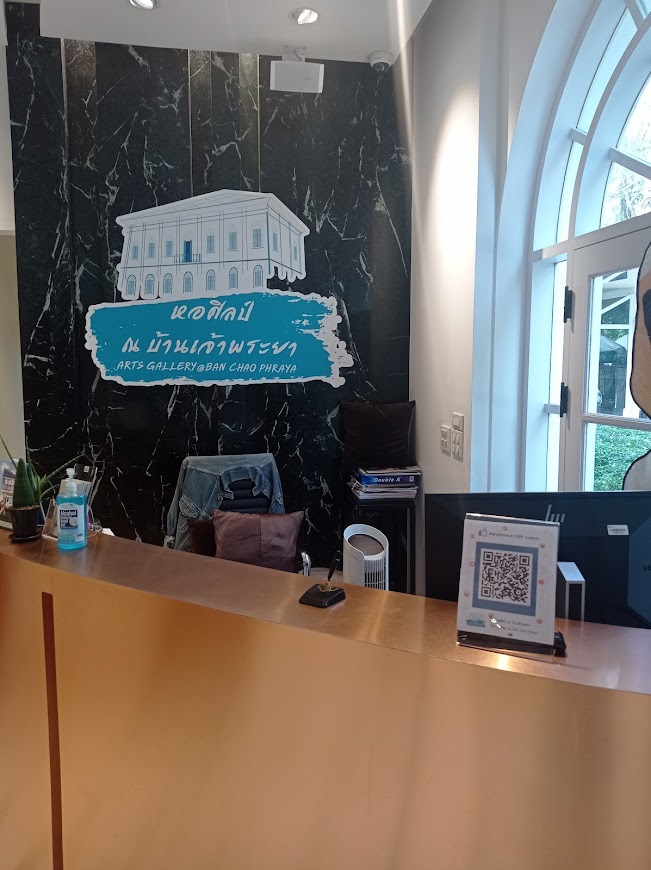 There was no one in attendance other than a security guy outside and as I mentioned above, this is another free attraction! Even the catalogue and guide to the exhibition were free.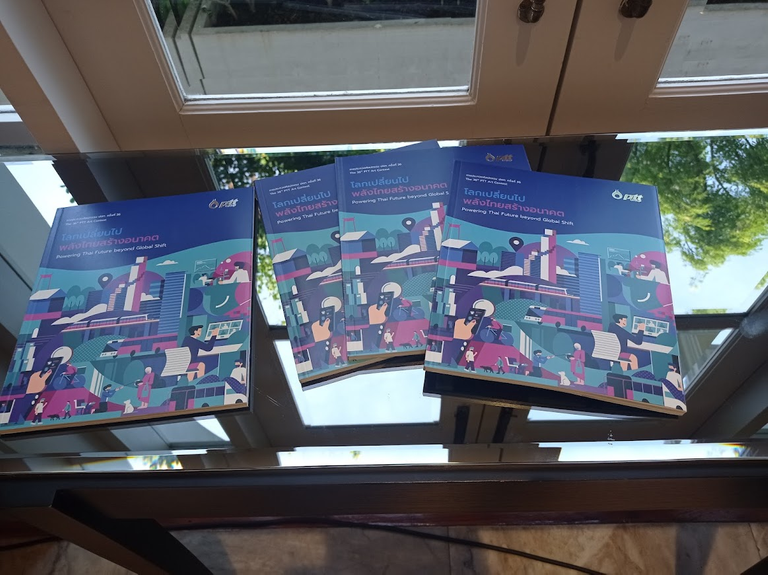 Another photo to save for the 'reflections' photography contest!
The exhibition is entitled 'Powering Thai Future Beyond Global Shift'.
Make of that what you will but I get the impression is about future use of energy in Thailand along with a specific nod towards green energy and energy conservation.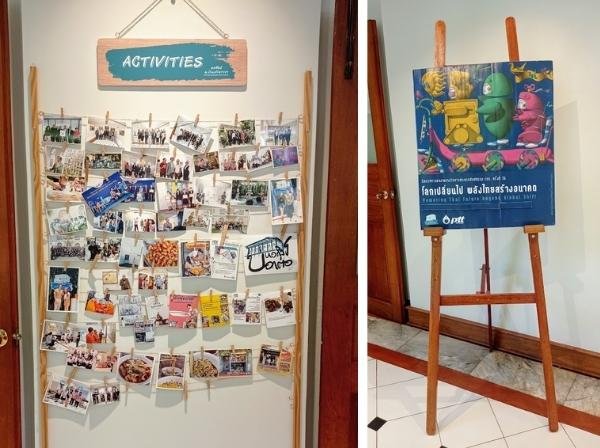 Things often get rather lost in translation when translating from Thai with extra letters appearing and disappearing, depending on who or what is doing the translation. Either way, it's a bizarre title to say the least!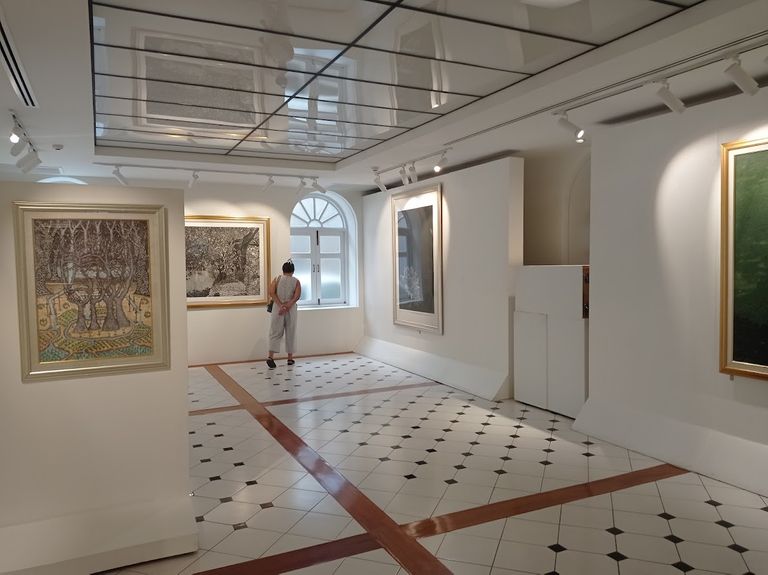 The main exhibition space downstairs was spacious and light and as you can see, very uncrowded!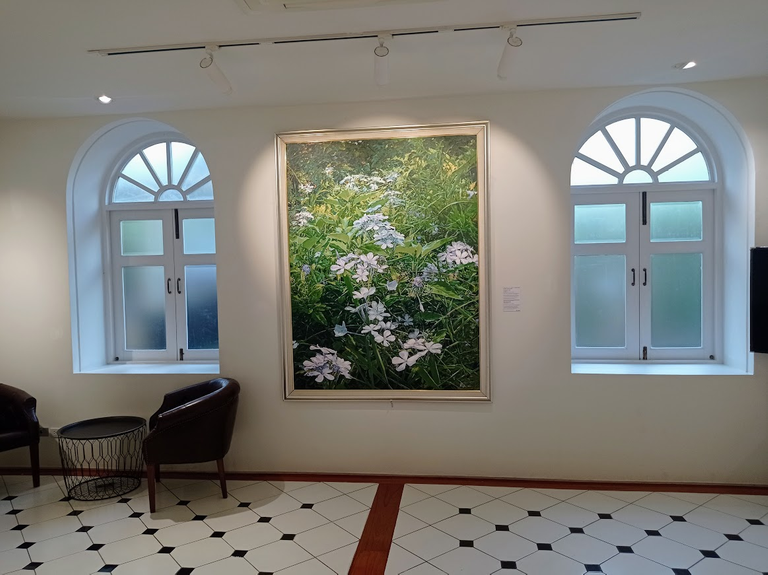 The building's interior was simple, stylish and elegant and was the perfect backdrop to display the works. That particular piece is actually a painting and not a photograph as you might think!
A gorgeous wooden staircase took you up to the second floor where you were met with some highly-polished wooden floors and an open foyer that mirrored the ground floor with the three sets of doors that took you into the upstairs exhibition area. Neoclassical symmetry in action!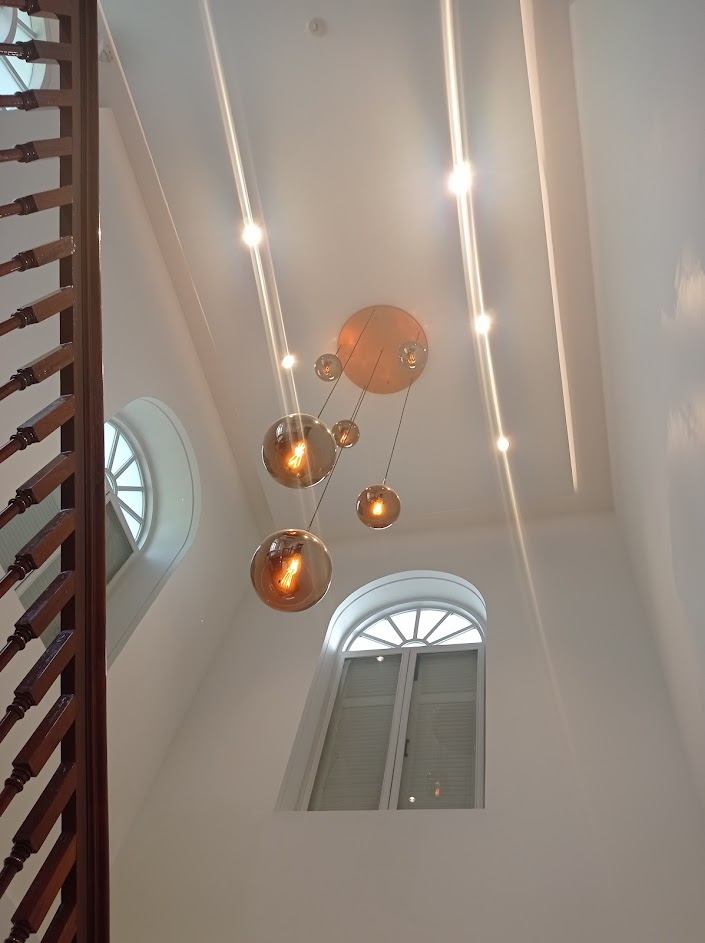 I absolutely loved this light fitting in the stair well!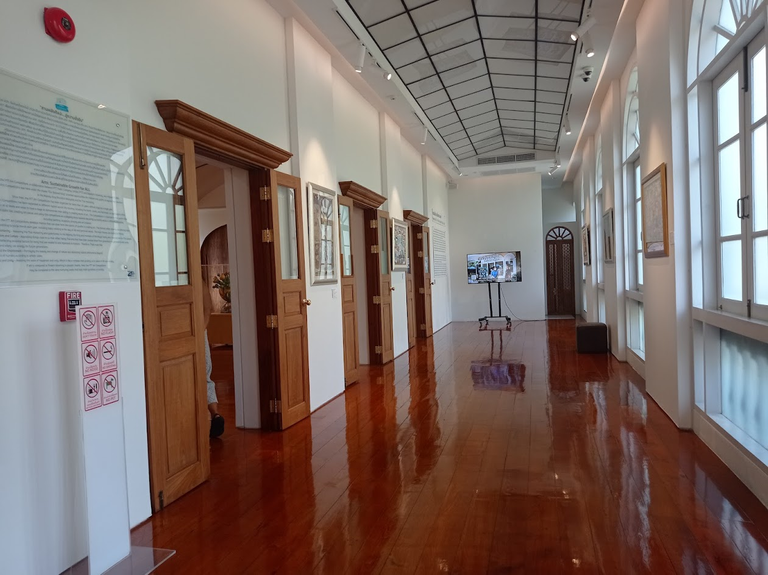 We do these mirror floors so well, whether it's wood or concrete! The 'no' sign you see to the left simply requested no flash photography but no problem with taking as many pictures as you like.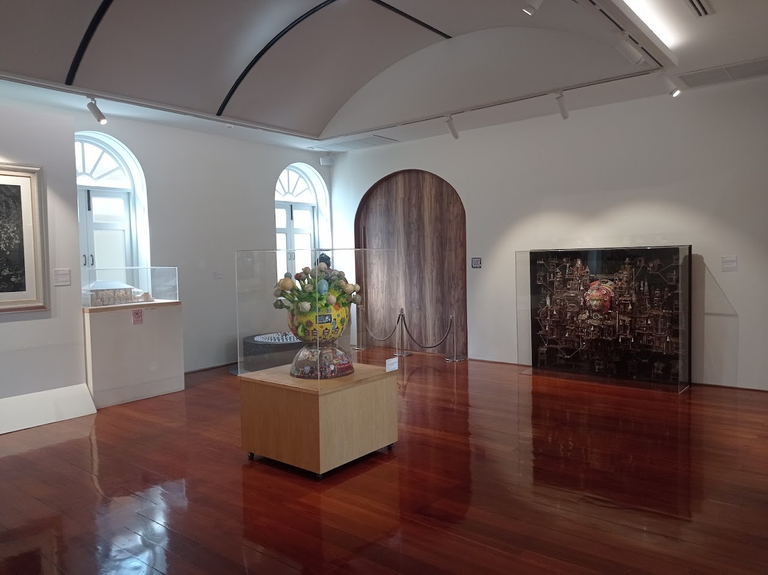 The upstairs seemed to have more... I'm not sure what to call pieces like this. Is it still called a sculpture? Either way, there were more of these pieces upstairs which I really enjoyed looking at.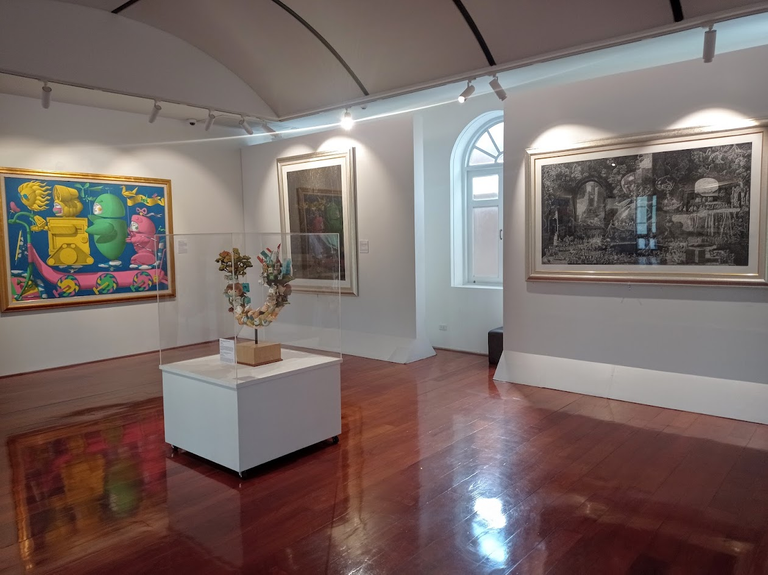 Back downstairs and outside into the minimalistic and geometrical front yard with an Amazon coffee shop in the corner. Amazon coffee shops are all over Thailand, and are always found in PTT petrol stations. Hardly surprising as they are owned by PTT too!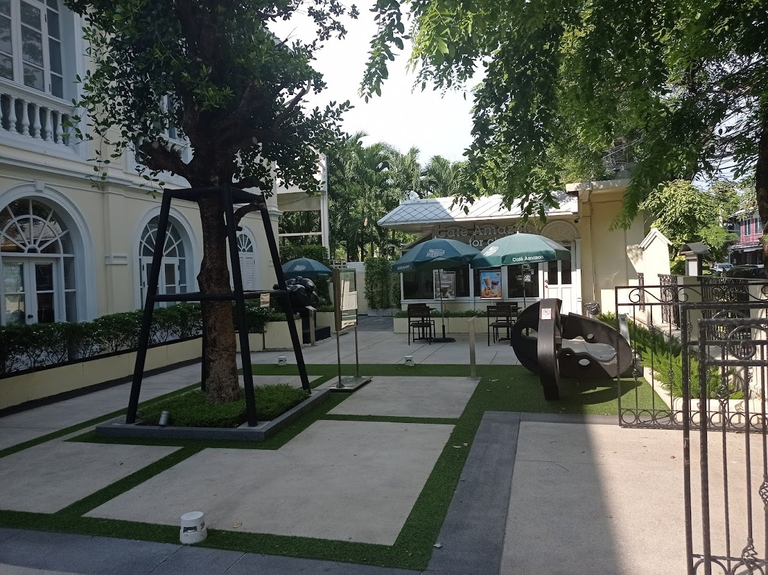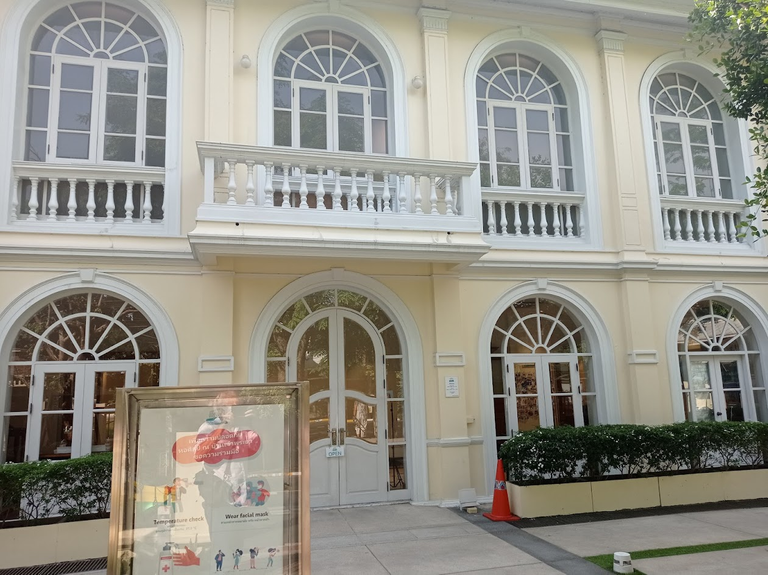 It was rather difficult to get a clear shot of the whole of the facade because of the trees at the front and it being on a busy street but this gives you an idea. I think the PTT traffic cone is a very rebellious touch to the formal gardens!
The Art
We haven't seen much of the art yet so I'm going to share with you my favourite pieces. The photos aren't great as the lighting and glass was creating reflections all over so they're the best I could manage.
I have to say that I'm not a big fan of art and there wasn't really anything I'd have hung on a wall. Not because it was rubbish, it wasn't. There are some very talented young artists in Thailand including my friend @namwan, it's just that generally it wasn't my style. I do however appreciate the pure skill, thought and hard work put into these pieces and everyone deserved its place in a public gallery.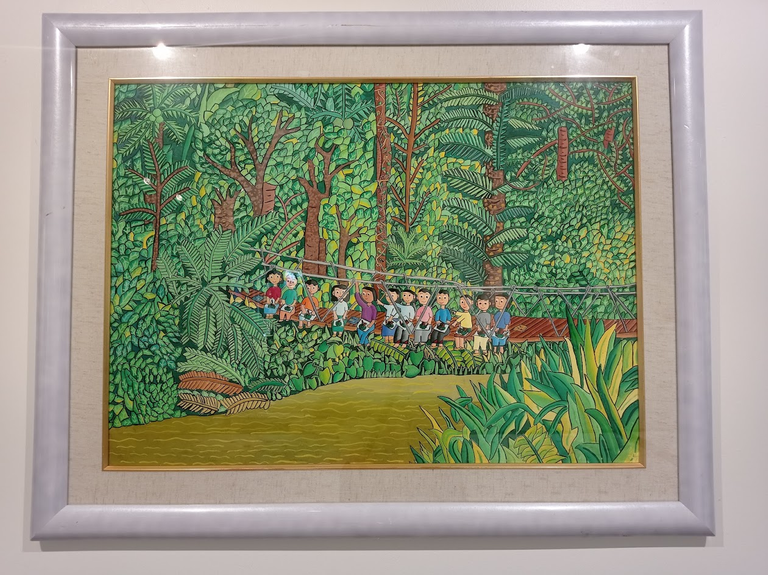 This is entitled 'I love the Forest' and is painted in poster colours by Karnkarak Boonwirt in the 9-13 age group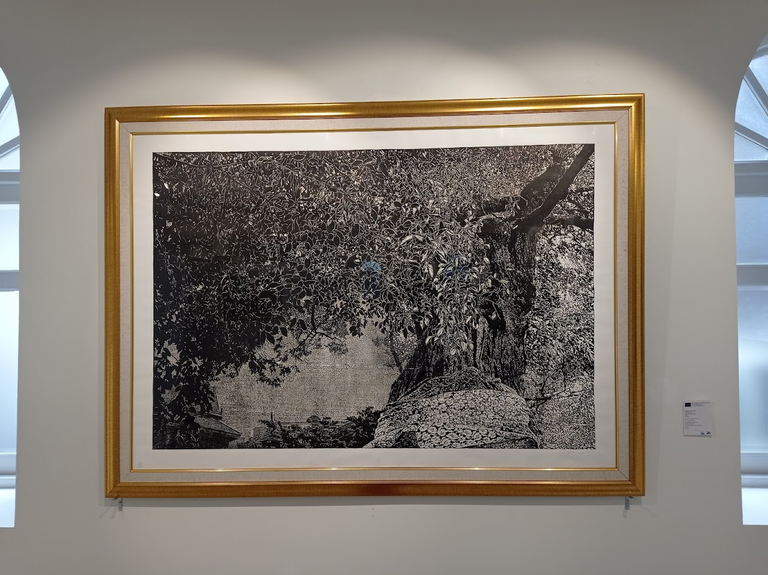 This wasn't really my cup of tea but it was a superb piece of work, especially when I tell you it's actually a carved piece of wood! It's entitled 'The Power of Nature' and is by Surasak Sornsena.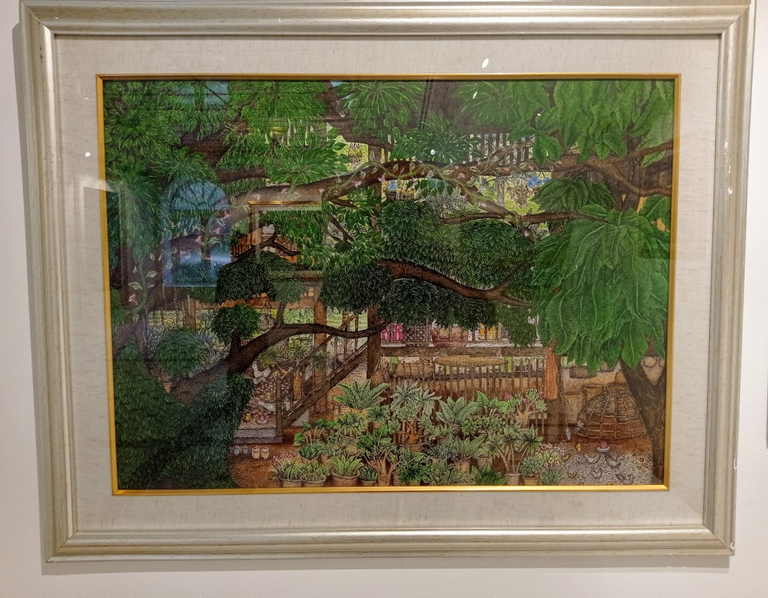 I genuinely liked this picture which was grandly entitled, 'The power of Nature Structure and Cycle' and was painted in poster colour on paper by Chaninart Chuehom in the aged 14-17 category. She added that "Humans and animals all live peacefully with nature but this cycle is being destroyed and all the living things are inevitably being affected by these power consequences." She had obviously put a lot of thought into this and the picture has so much going on. Great job.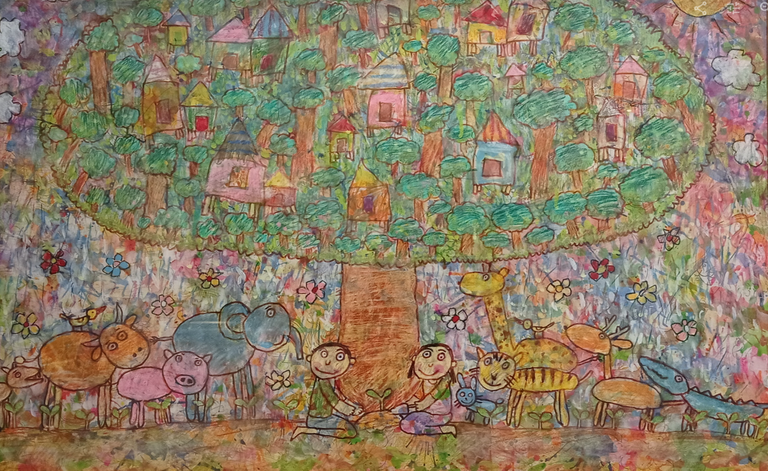 When I first saw this I thought, yes. There's hope for me yet until I realised the little lad who drew this, Sudlert Lertwichai was just 7 years sold. Anyway, anyone who uses crayons and gets their art in a proper art gallery is OK by me! Well done little fella.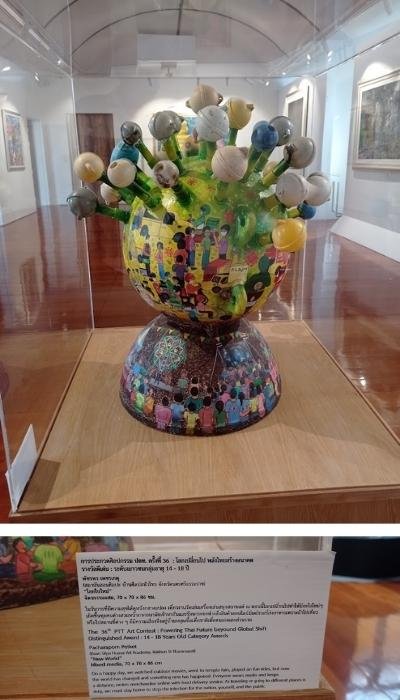 It was upstairs where the pieces were that I liked the most and the crafted items that obviously must have taken a great deal of time and skill to create.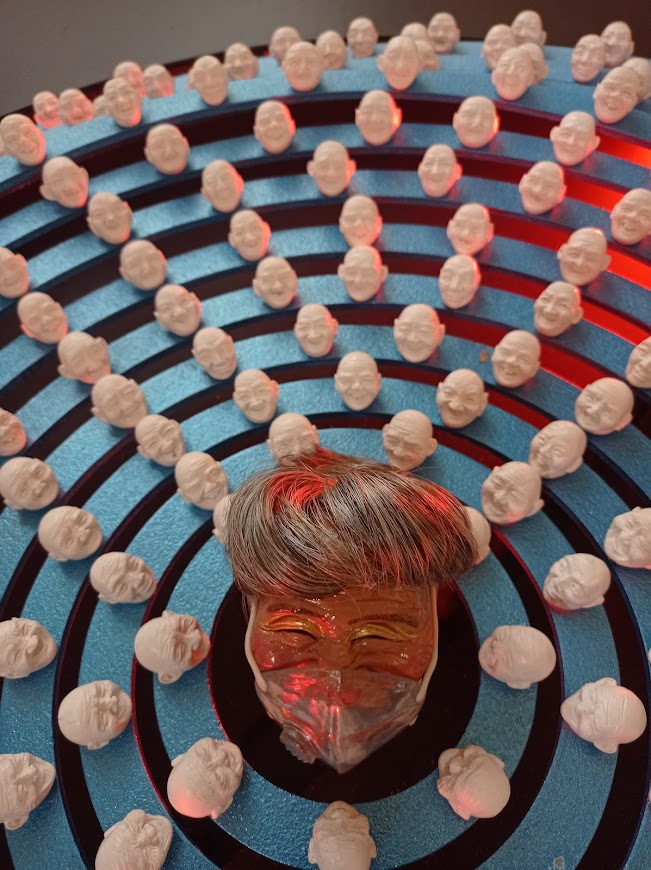 This was superb. A masked old lady drowning in a sea of faces. The concentric circles moved up and down in waves as the head bobbed up and down. It was incredibly poignant and very topical. Excellent piece and like an idiot, I was so fascinated watching it, forgot to take down the details.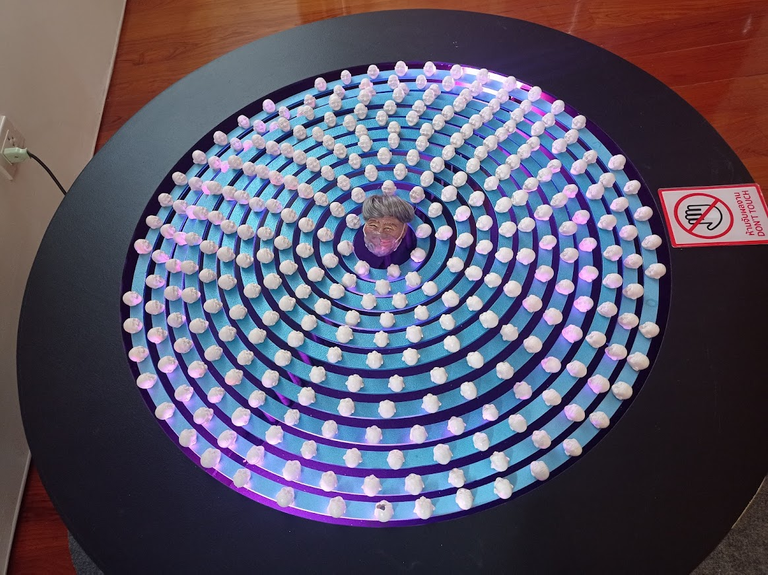 And finally, my very favourite...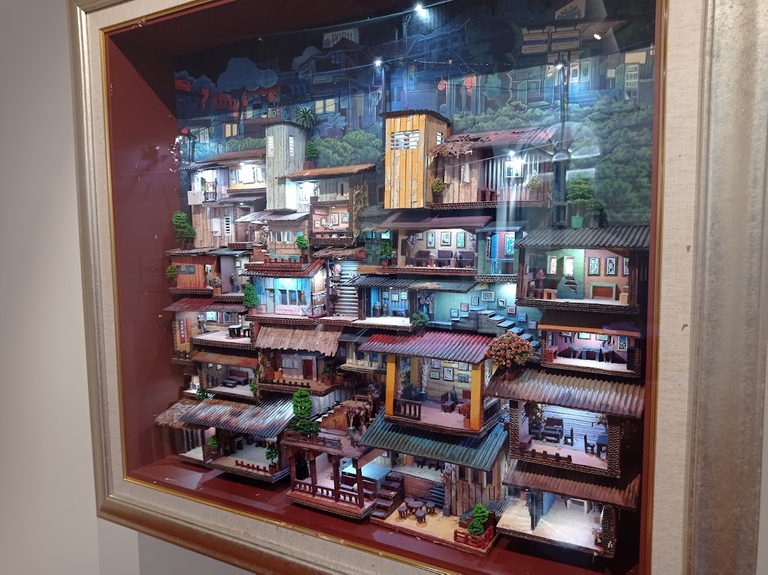 In modelling terms, we'd call this a low relief diorama and it's a superb, detail-filled piece of imaginative modelling.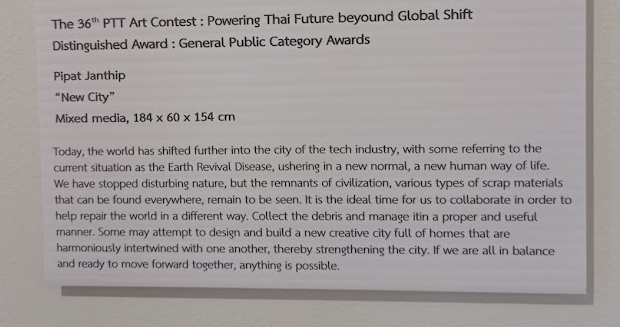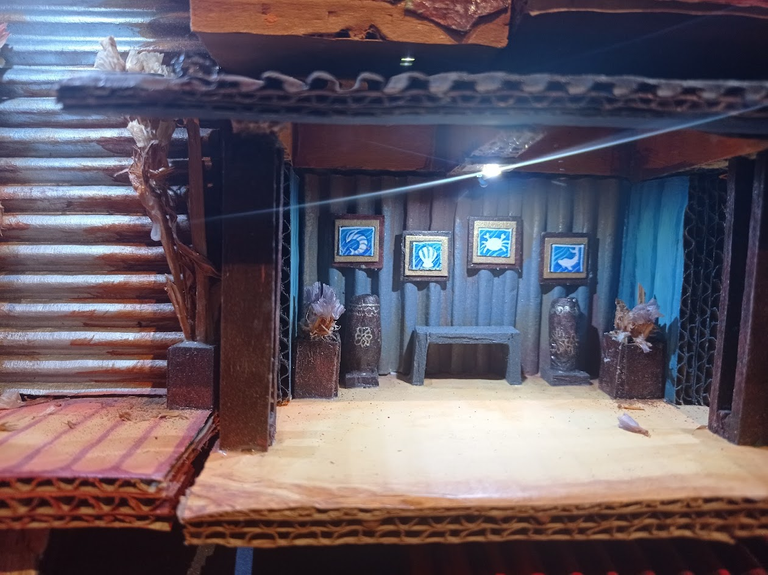 I just love the floor standing vases in this picture.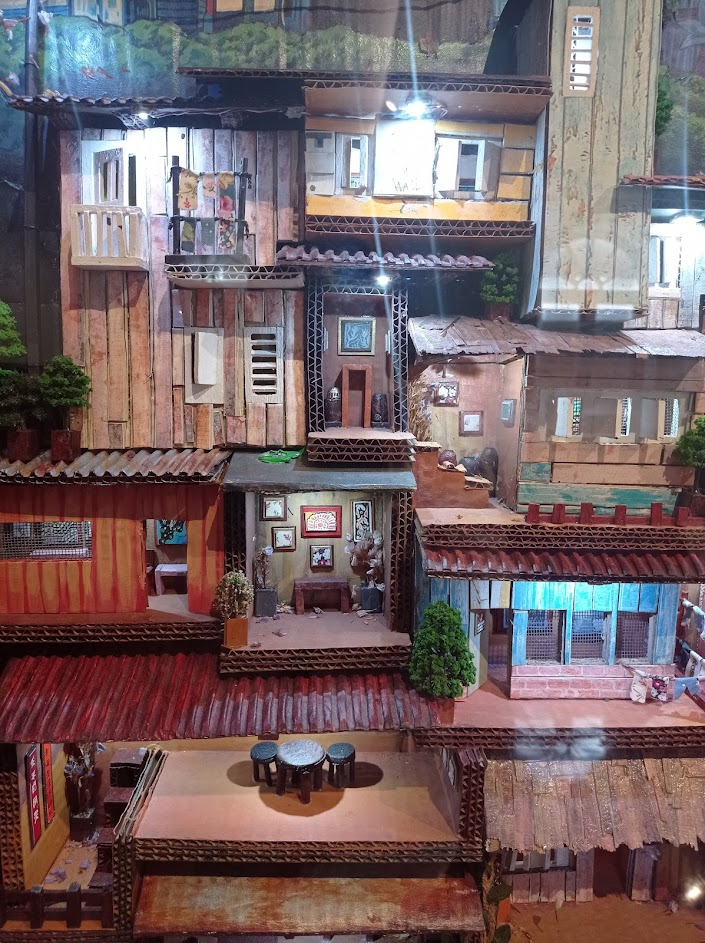 Lots of recycled corrugated cardboard in this shot! The use of mosquito netting for the windows is excellent as are the clothes drying on the washing line.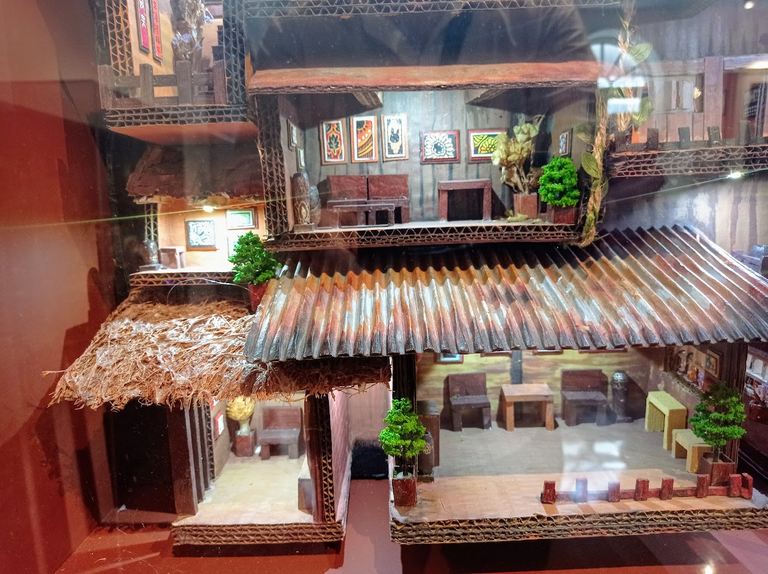 Corrugated iron rooves can still be seen all over in Thailand and they have been recreated perfectly in this photograph.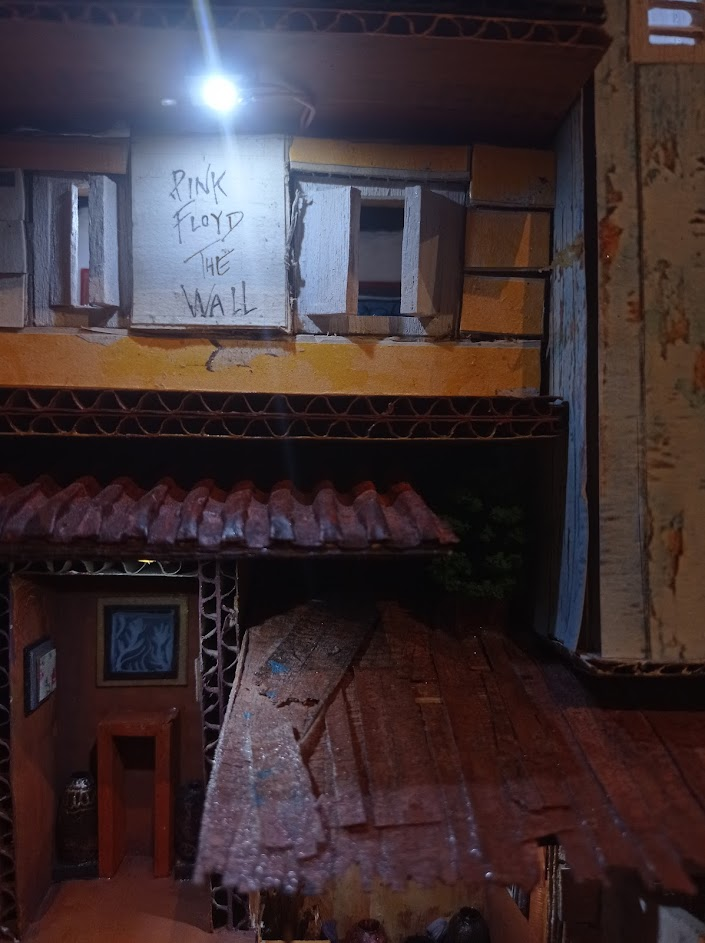 The most unexpected part. Pink Floyd and the font beautifully done!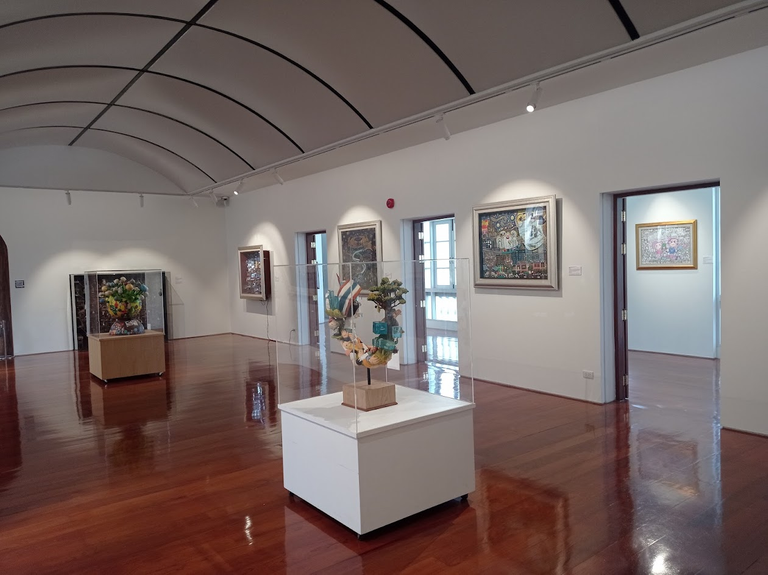 A truly lovely hour spent in a fantastic space made even more wonderful by the fact it was free to get in!
Opening Times: Wednesday to Monday 10.00 - 18.00
Address: 49/1 Phra Arthit Road, Phra Nakhon, Bangkok
the EXACT location is of course pinned to the wonderful @pinmapple and additional information came from Time Out Bangkok
All photos were taken by me.
---
---