Going home... Royal Bunei Airlines

Flights were booked, it was time to leave but this time with some trepidation as we were flying with Royal Brunei Airlines for the first time and the flight times and connections were horrendous!
It was our fault, we'd left booking too late and had been watching in dismay as flight prices rocketed to well over double what we might normally pay. I've flown business in the past for less than they wanted for an economy ticket on Emirates. However, a few weeks ago, Brunei finally lifted all their Covid restrictions and the airline, which had basically been grounded for 2 years, finally started taking bookings and reinstating some routes. To drum up trade, they were cheap as fuck very competitively priced. I love the journey as much as the destination and having neither visited Brunei, or flown the airline, this was another box to be ticked. The wife wasn't so keen, but as she's tighter than a Scottish duck's arse, and so she didn't take a lot of convincing.
If anyone has never heard of Brunei, its in South East Asia and is a tiny part of the island of Borneo, shared with Malaysia and Indonesia. The King of Brunei is said to be one of the very richest men on earth thanks to oil and it is extremely Muslim, as we will see later! It's also 3 hours South-East of Bangkok which means a three hour sector to the capital, Bandar Seri Begawan (a good one to remember for the quiz buffs amongst you), followed by a 4 hour wait and then a very lengthy 15 hour sector to London...
Anyway...
The wife hadn't been able to visit the UK for almost 3 years, and although I had had a quick trip over last Christmas, the day we could travel over to see friends and family again in the UK had finally arrived.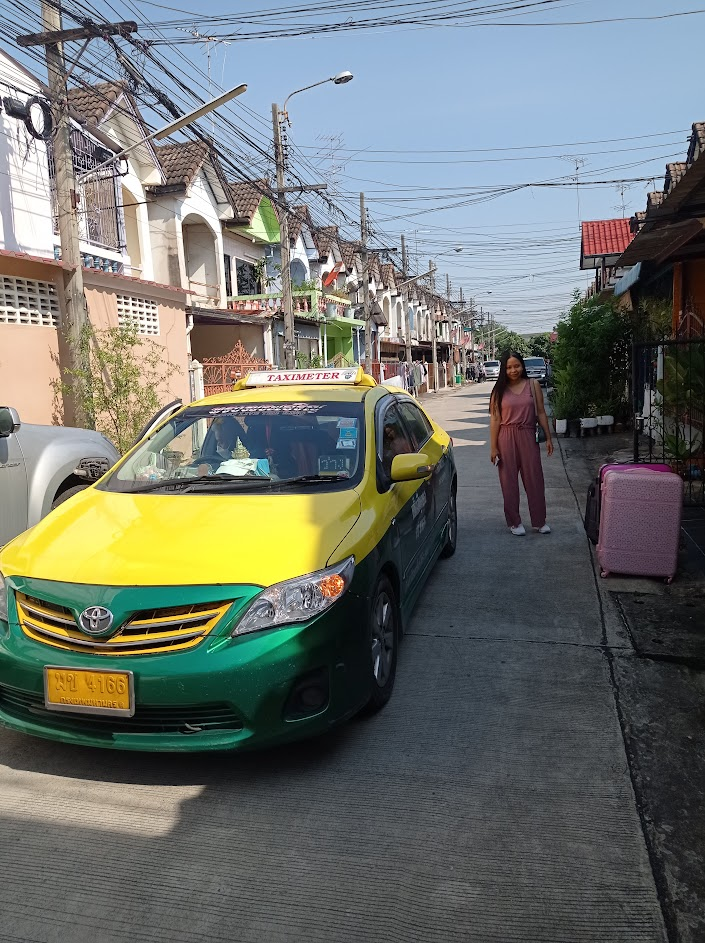 It was a beautiful morning and felt like the awful weather and rainy season we'd been suffering with were over for the year as the first leg of our journey began with a 40 minute taxi ride to Suvarnabhumi Airport, getting there three hours in advance of our 13.30 flight to Brunei.
Swampy was really busy which was great to see although we were still all masked up of course! It's not mandatory to wear a mask now but people generally still do.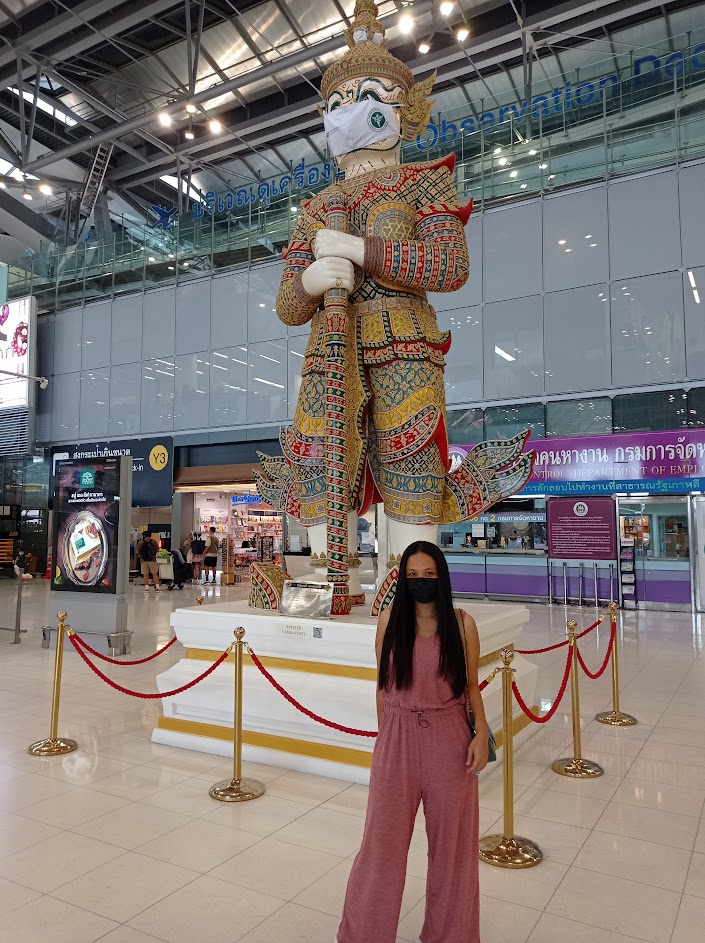 The evil Thai monster was still wearing its mask...as was the giant keeper of the treasure from Thai folklore...
We were first to the bag-drop having checked in online beforehand and with it being mid-morning, which is usually a quiet period, we were quickly through security and immigration and air-side where it was again great to see a bit of life, and the completion of the renovations had really spruced up the terminal.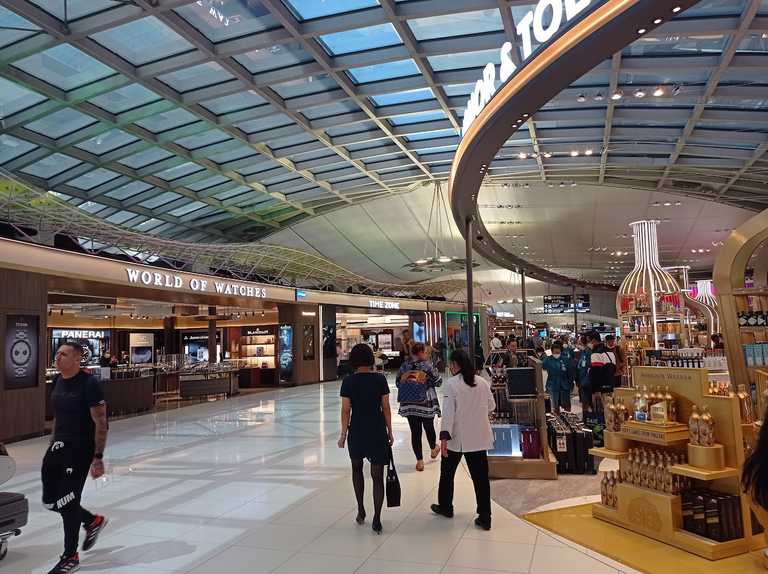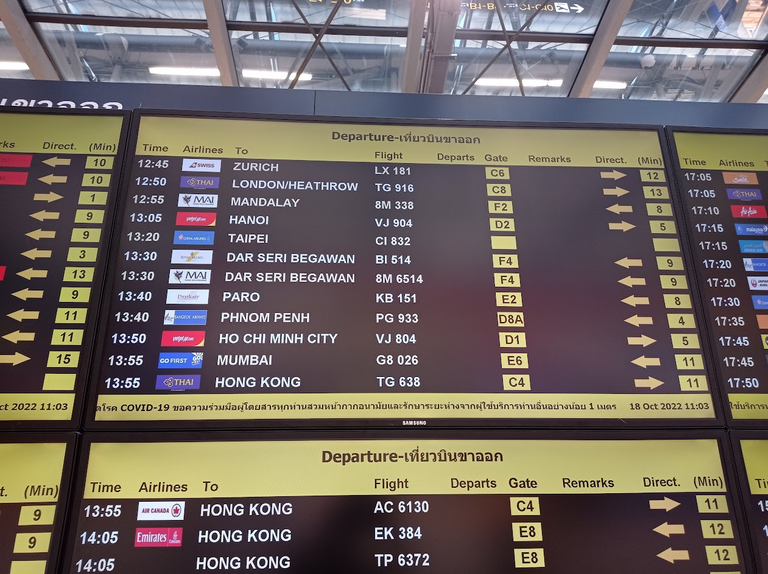 Plenty of time for a pot of lunch before heading down to Gate F4 for our flight.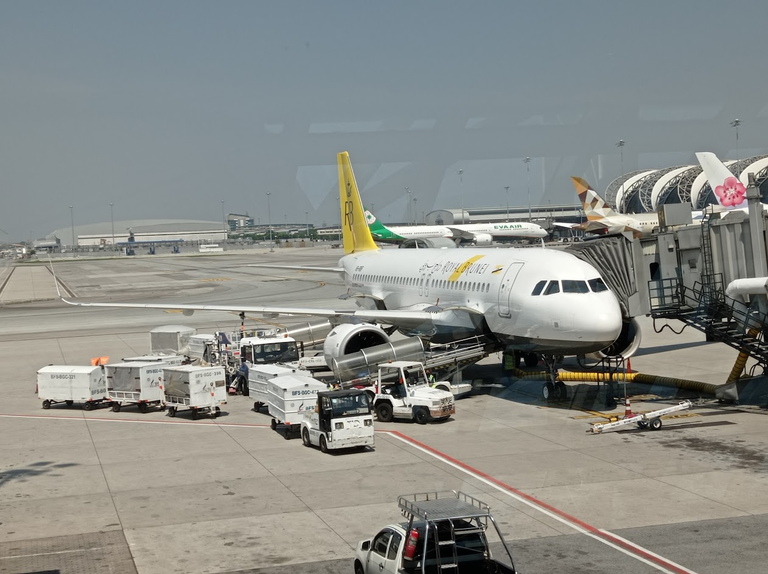 And there she was. The rather smart looking Royal Brunei Airlines Airbus A320 which would carry us to Brunei. We'd read some pretty good reviews of the airline so were quite looking forward to the flight, although there was one strange anomaly. No alcohol whatsoever!
The gate was busy, but not overly so and the flight about half full. Leg room was a little better than most A320s and with it being quiet, there was lots of room to move around to a more preferred seat.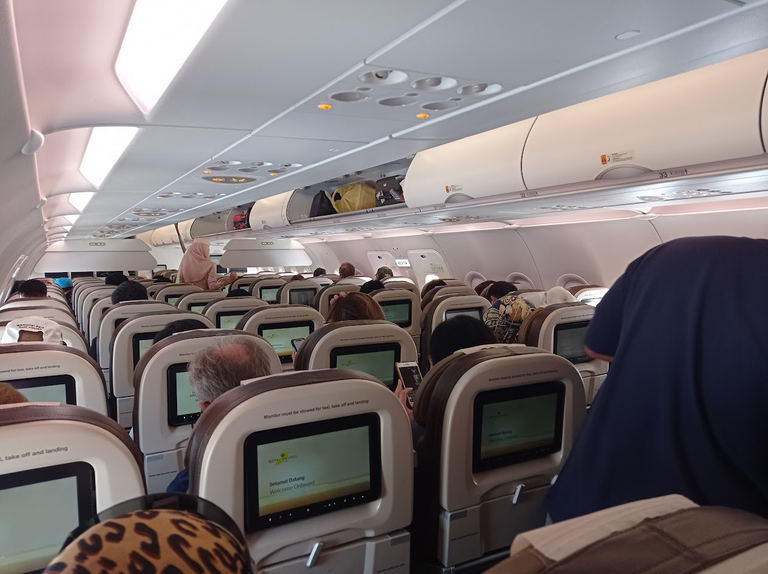 The other cool thing about this aircraft is that it was the first A320 I'd ever flown that had seat-back entertainement. I've flown possibly hundreds of sectors on budget airlines A320s such as Cebu Pacific, Air Asia and Easyjet so this development was going to make the 3 hour flight absolutely fly by.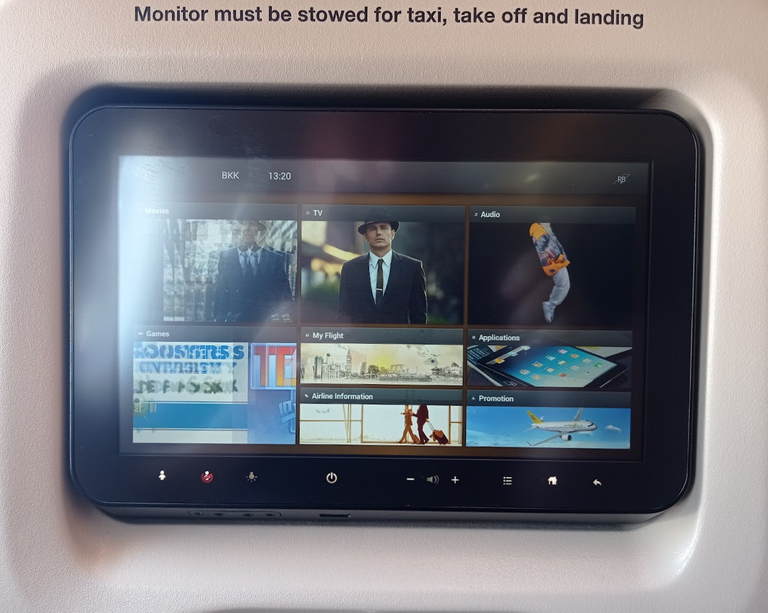 Not only was there entertainment, there was a great selection of movies, both old and new to choose from. To be fair, there was some rather heavy editing to suit such a religious airline but it didn't spoil the enjoyment although some of the more violent movies were about half their original running length!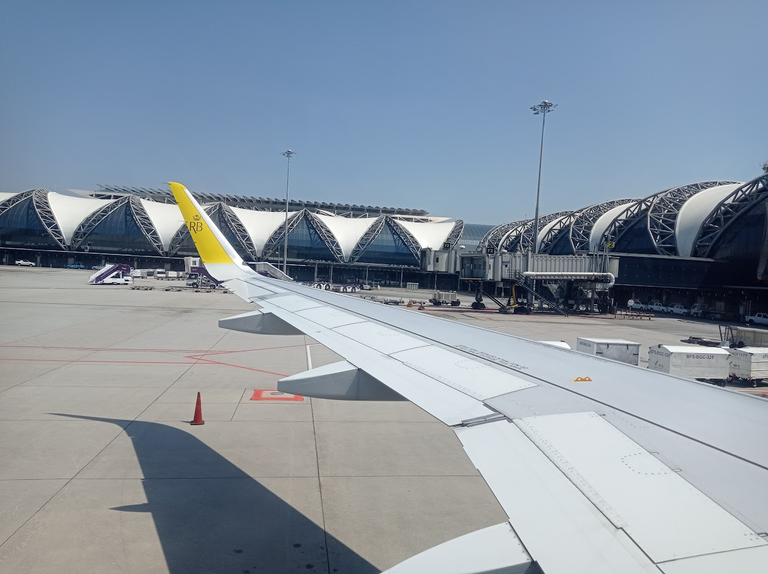 And so it was time to leave the blue skies of Bangkok behind and as we were pushed off the gate and even before the safety procedures. It was time for a prayer!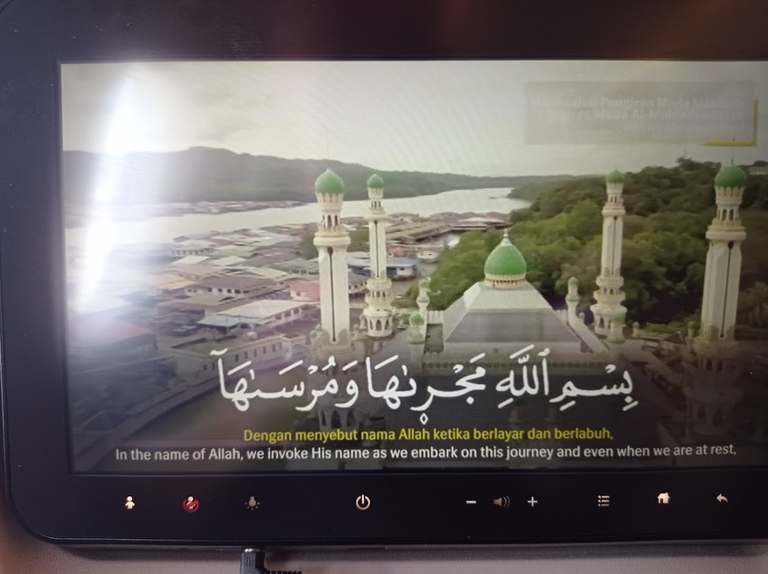 Four minutes this prayer went on for as we beseeched Allah to stop us falling from the sky in a fiery inferno. He must have been listening too because I'm still here to write this post...Cheers Allah old luv, as we say in Yorkshire.
Thirty minutes into the flight, another nice surprise. A full meal on a 2.5 hour flight, and you what? It was really nice. Beef or chicken of course so obviously being English and rarely eating Beef in Thailand, the choice was simple. It would have been better with mash and peas though but was delicious and the lean, tasty beef took the disapoointment that I was still eating rice!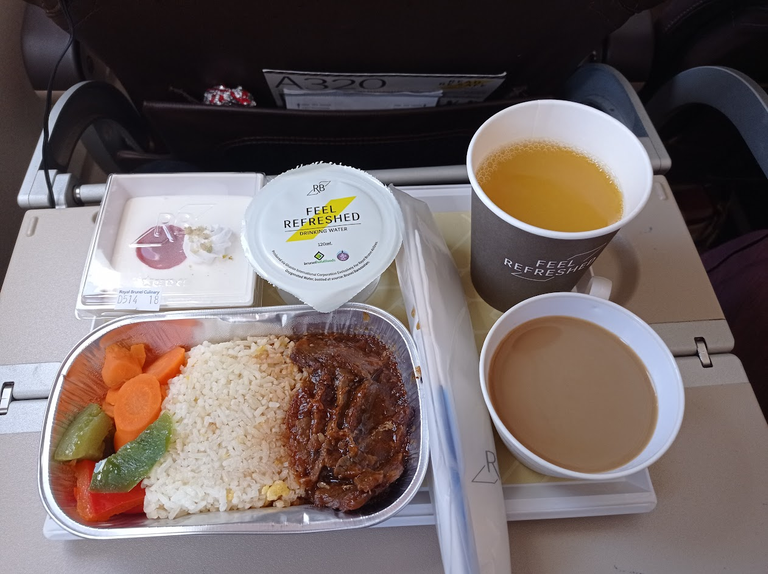 As for the crew, they were all locals and were absolutely wonderful. Smiling, friendly and naturally chatty. Genuinely nice people. I stood up for a while in the rear galley and had a chat and a coffee as a couple of the crew gave me some tips for my night out in Brunei on the way home!
All too quickly, we began the descent into Bandar Seri Begawan and landed at just before 4pm local time. Disembarkment was quick and as it turned out, we were the only ones with an onward ticket to London so there were no queues at the transfer security checkpoint where the two most friendly and smiling security guards had us through and on our way into the departures lounge in no time.
Arriving in the departure lounge, we got our second surprise of the day. Now just remember, even though Brunei is a very small country, this is the only international airport in the capital city and the following photos were taken over the next three hours as we waited for the London flight.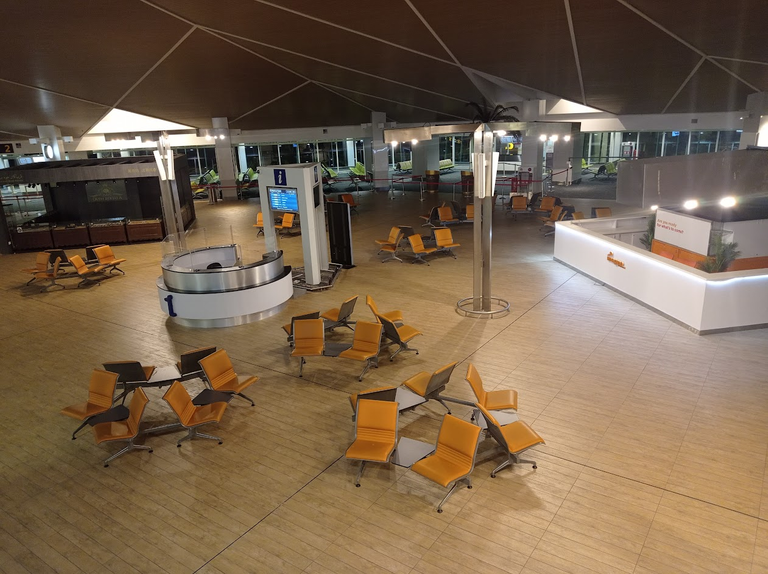 As you can see. The whole terminal was closed. Nothing was open and we were the only people in there! It was like being in the twilight zone and really had us wondering what was going on!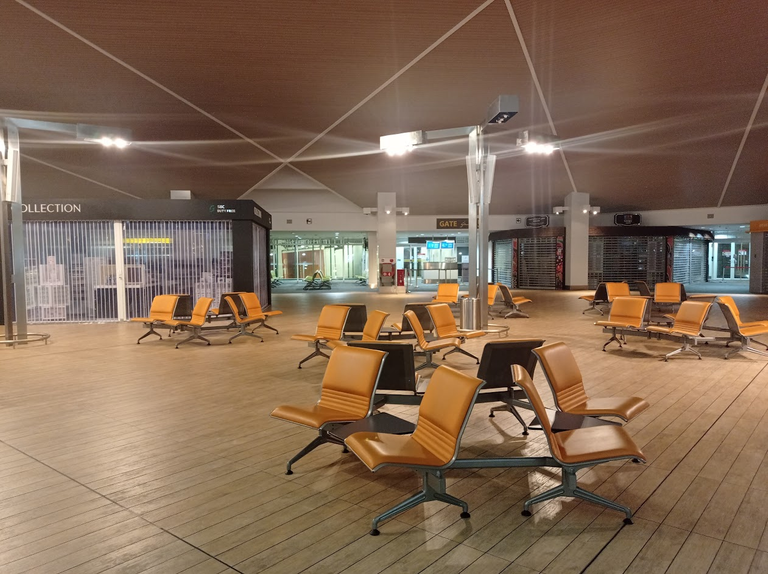 As we sat there just trying to take in our bizarre surroundings, a smiling lady came out of nowhere and asked if we needed any change for the coffee machine as she was going home at 5pm! I gave her just £5 and she came came back with my BND$7 and happily chatted with us for a few minutes before explaining that there were only half a dozen flights a day both arriving and departing, and that all the shops closed at 3pm!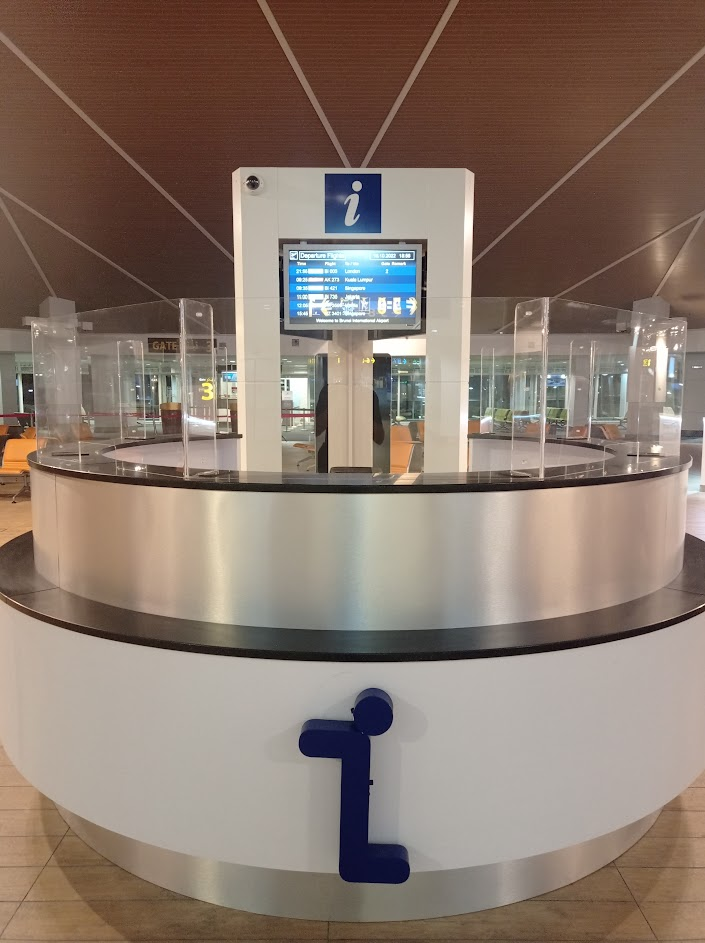 Information? Let's hope you don't need any as the desk was also unmanned. The really annoying thing though was the Internet wasn't working. oh, and other annoying thing was that the coffee machine robbed me of $2 and never gave me a coffee...we did ring the helpline number on the machine only to be told be by a recorded message in English that they too had closed at 3.30pm!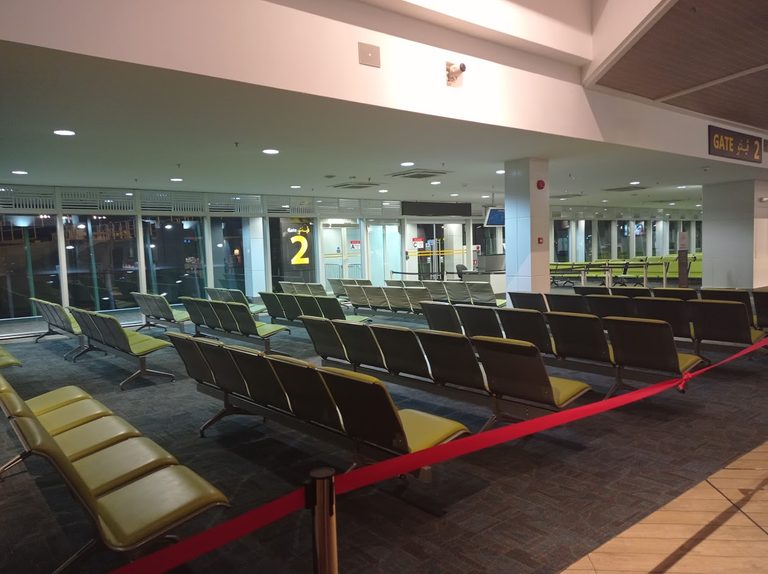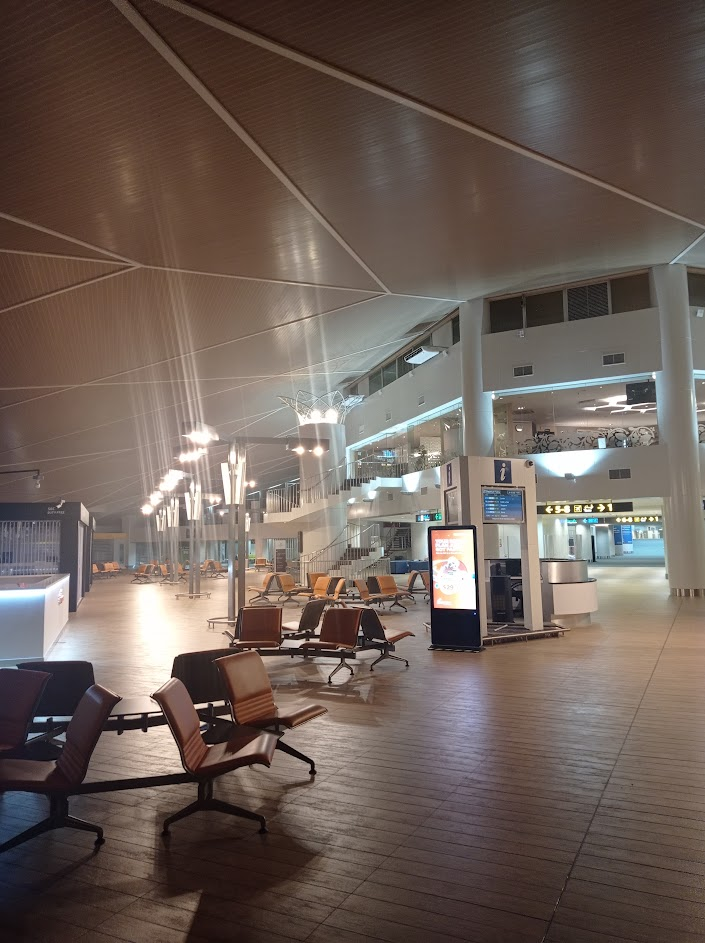 The terminal was actually a really nice space...which I got to know intimately over the next few hours!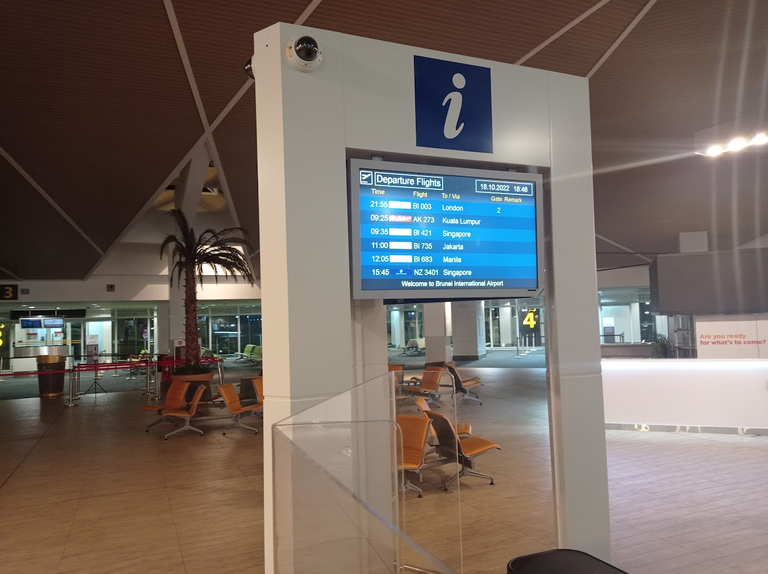 Just five departures in the following 24 hours.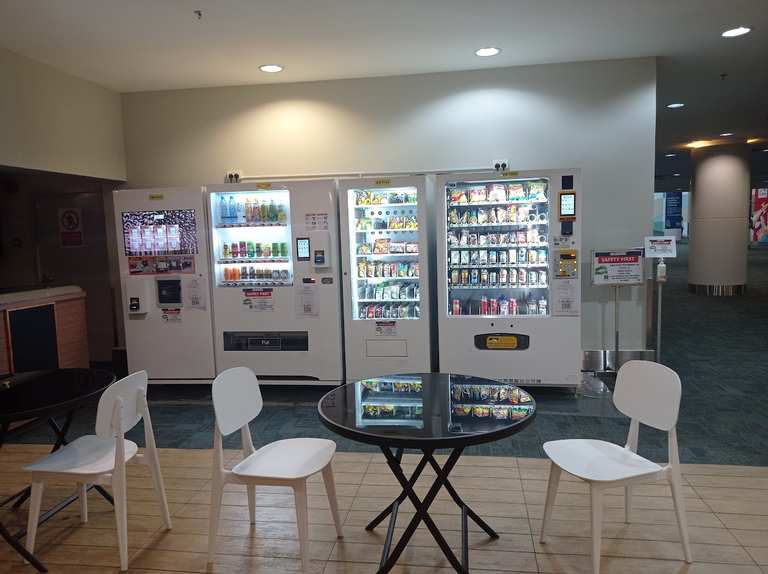 That's the robbing bastard coffee machine. You and I will meet again in another couple of weeks my friend...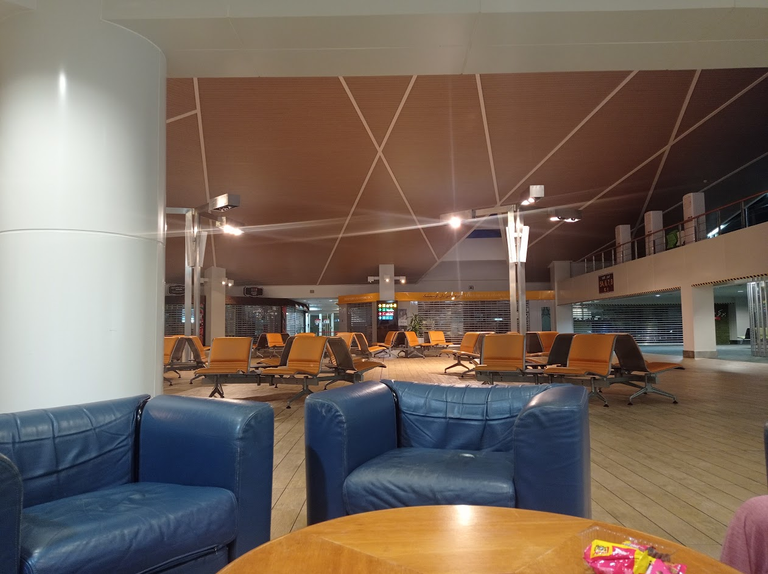 Which seat shall we try next dear?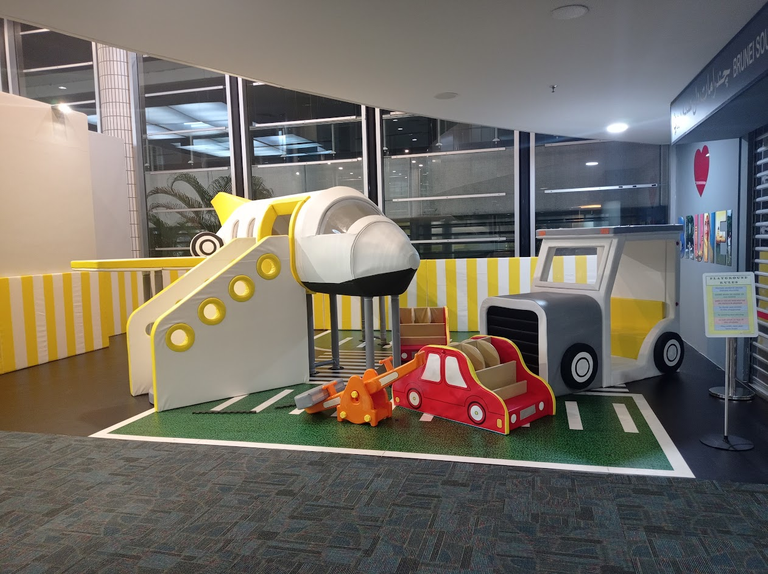 I was tempted...but managed to resist.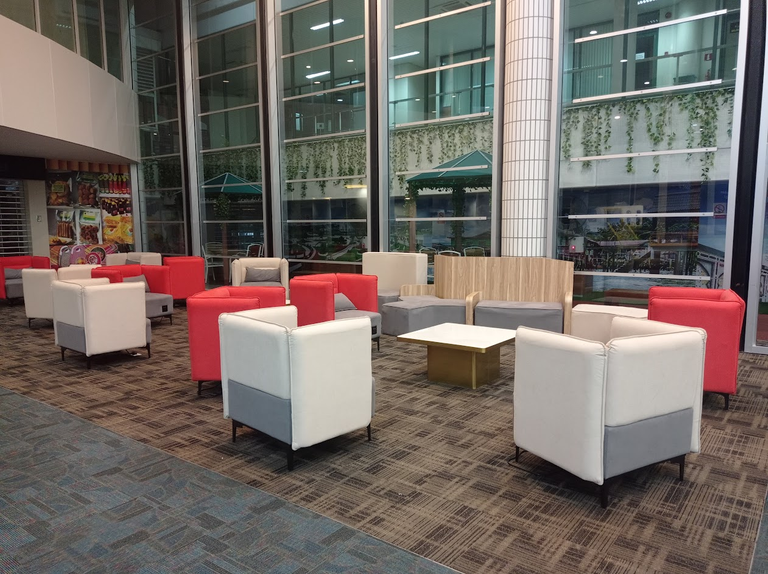 Time ticked on and as it approached 9pm, just an hour before flight time, I was beginning to get a bit nervous. Surely someone else must be catching this flight? I watched the board carefully for any notice of cancellation but none came. What is going on?
I will just mention at this point, if you're a smoker. Cigarettes, like alcohol are not sold in Brunei although if you're a non Muslim, you can bring them into the country but every last stick MUST be declared and a duty of 50cents (USD) per cigarette paid on arrival! There is of course absolutely nowhere to smoke at the airport.
My anxiety was misplaced as flight arrived just a few minutes later from Melbourne, Australia and almost all of the people were transiting here before travelling on to London. I say all of the people, at the gate as we started to board at 9.30pm, I counted around 65 people in total for a 15 hour flight on a very new Boeing 787-8 Dreamliner with almost 260 seats onboard.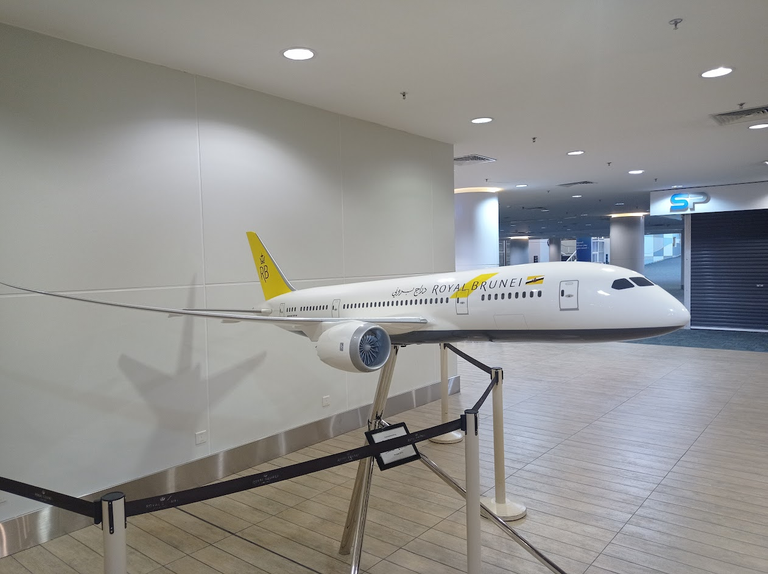 After again praying to Allah for a safe journey, we left the tarmac at exactly 9.55pm for our almost 15 hour hop to London. At least we were flying in the right direction this time.
The cabin was airy and spacious with lots of legroom. The seats were very comfortable and this is important for a fidgety, impatient old bugger like me, especially when I can't have a glass of wine to help me relax and hopefully sleep. The other huge plus for me was the electronic window blinds were not being controlled by the crew which is the case on many of the airlines that fly this aircraft and is really annoying.
The big touchscreens were bright and again featured huge numbers of movies and TV shows, as well as information and music.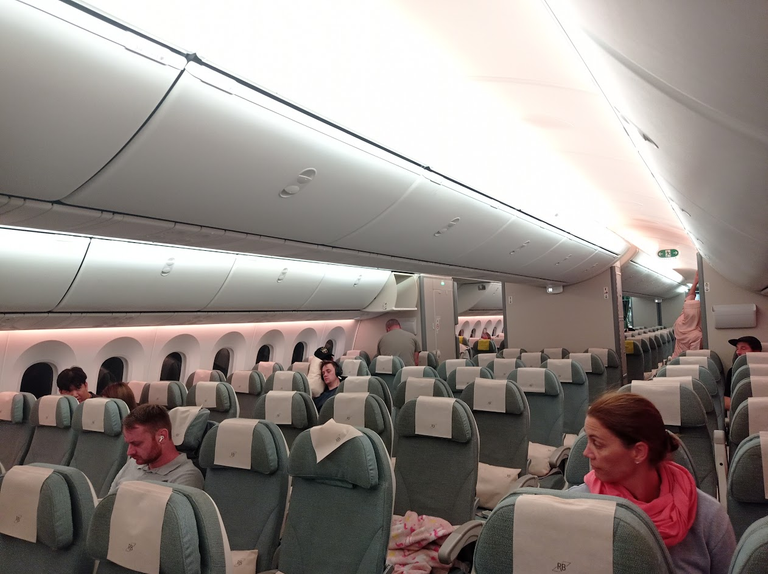 The aircraft's seating was configured in a 3-3-3 formation and with there only being 65 souls onboard, we all shuffled around and had a full block of three seats each and there were still many seats to spare.
The cabin was a really nice and relaxing environment and again, the crew were just absolutely lovely!
The 26 passengers in the full business class must have been seething as we lolled around in our 3 seats!
Soon after takeoff, our evening meal appeared. A choice of chicken or beef, again. So I went for the beef. Again, but this time...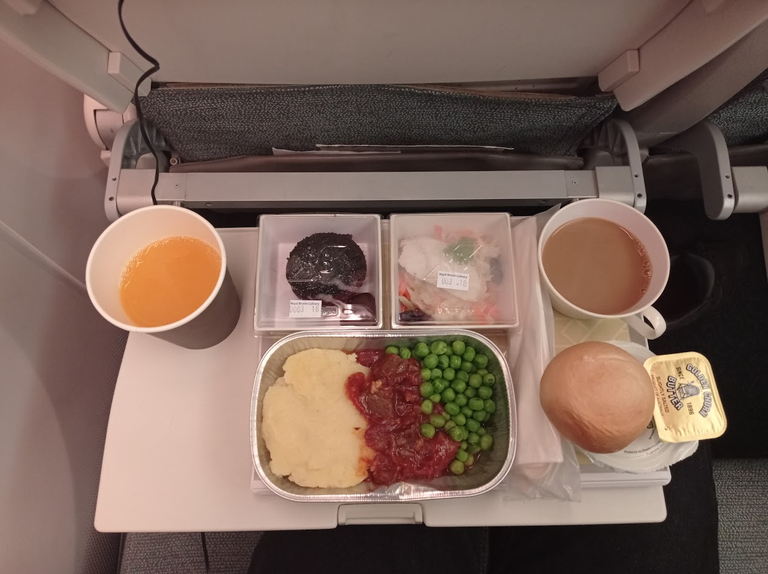 I couldn't believe it. My prayers had been answered. Peas and mash! The fact the plane didn't crash and my food fantasies were fulfilled were as if Allah was sitting on my shoulder!
The meal was simple and the portions weren't massive but it was really tasty. Obviously it could have done with a glass of red or two to wash it down but not to worry, soft drinks, tea, coffee and water were free flowing and you could go to the galley and help yourself to snacks. Even the butter had salt in it and wasn't the usual unsalted, disgusting nonsense that they usually serve over here.
Two hours down, thirteen to go and time to relax as I adjusted my three blankets and three pillows across a full row of three seats and settled down to the Christmas classic, Gremlins after which, I dozed off.
Two hours out and it was time for breakfast and my new found friend on my shoulder had me covered yet again...
Almadullilah! Baked Beans! this trip had started well. Extremely well.
Again, a little stingy on the portion sizes but delicious.
By the time the meal service was over and everything was tidied away, we were starting our descent into Heathrow, landing at 6.25am.
It had been an epic, long flight but it had been smooth and due to the space we all had in the cabin and the fact we flew in darkness all the way meant we could catch some sleep and it wasn't too bad an experience.
Arriving as only the second flight of the day into Terminal 4 meant there were no queues at immigration and within 20 minutes we were out into the arrivals area and ready for the train ride North...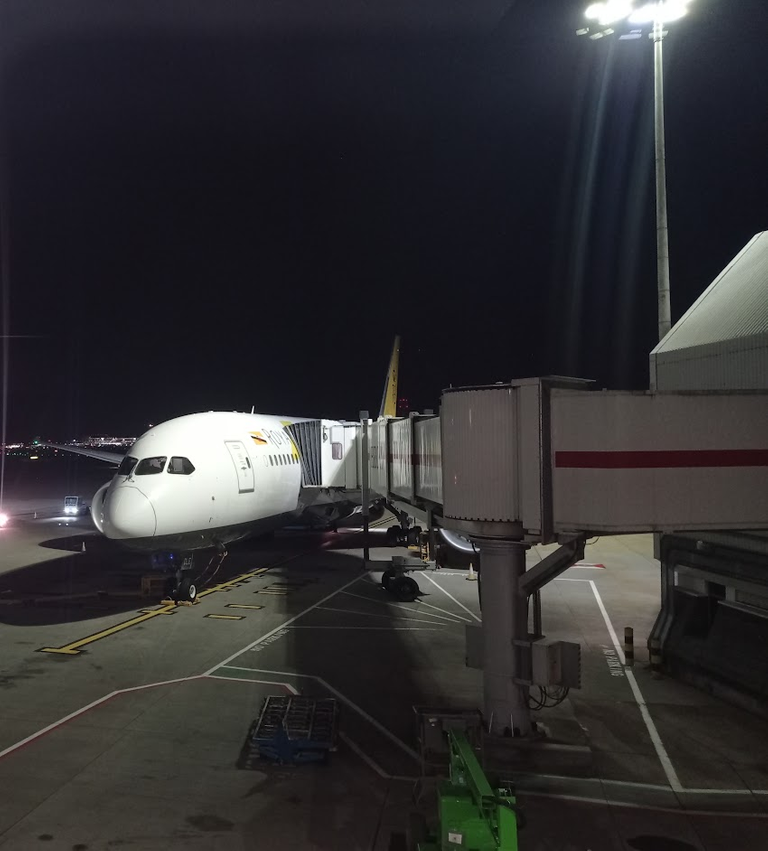 So that's where I've been hiding for the last few weeks. In the UK, trying to avoid social media and eating chocolate but it is great to be back and hope everyone is happy and healthy. Time for morning prayers I think...
Thanks for reading and best wishes to all
All words and photos are created by me and this post has been pinned to the ever wonderful @pinmapple
---
---