If Carlsberg did Servicing...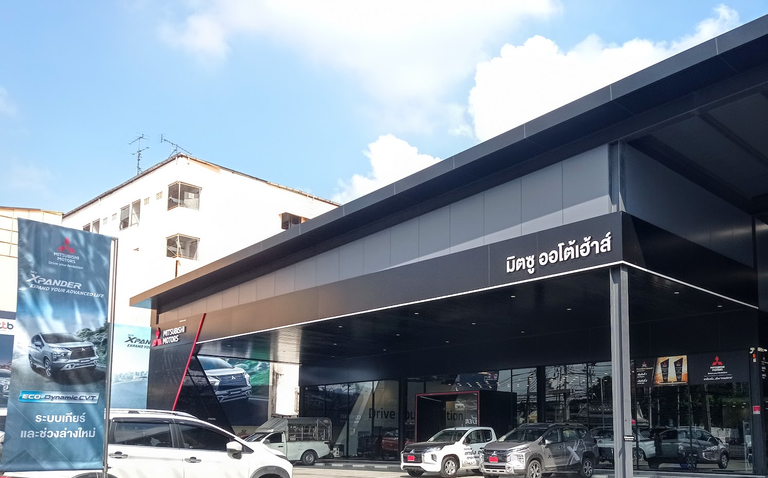 The car was fast approaching 6 months old which meant it needed its first service. Nothing more than an oil change and check-up at 10k / 6 months so I asked the wife to book the car in to get it done.
"But we've only done 7000 kilos."
"Ah, but its 10k or 6 months, whichever comes first."
"We should have used it more then."
This was rapidly turning into one of those 'tricky' conversations...
"It's OK. We have free servicing, both parts and labour for 3 years and a 5 year warranty, both of which will be voided if we don't take it in for the service.......darling."
I left it that to give her time to digest and make the necessary arrangements and the following morning, she announced it was booked in for Tuesday at 10am.
"I've just sent you the map reference for the dealers, it's all booked in."
This was slightly puzzling as I knew exactly where the dealer was. About 4 miles from our house down Chaeng Wattana Road, after all, I was there when we picked it up.
I clicked on the link and looked at Google maps. This dealer was 30 miles away across the other side of the city with an estimated journey time of 1 hour and 30 mins. I hesitated before gingerly asking...
"Is there any particular reason you chose this dealer, darling?!
"They have free ice-creams"...
No. No. Don't. Move on, Nathen. Accept. Happy wife, happy life.
And so it came to pass that yesterday morning, we were sat in the tail-end of the rush hour traffic on the most expensive tollway in Bangkok, burning petrol as if I owned an oil refinery on our way to Samut Prakan province. The dealer wasn't even in bloody Bangkok. For the Brits, imagine living in Enfield and travelling to Croyden at 8.30 in the morning just to get your oil changed!
"OK Google. Play Guns n Roses"
"OK Google. Play ศิริพร อำไพพงษ์"
Even Google's a traitorous bi-lingual scoundrel. Isaan folk music it is then...
We finally arrived at Mitsubishi Auto House Samut Prakan, still talking at least, at 9.30 and I do have to admit, it was rather impressive.
Now I'll just point out now thats its been over 20 years since I had a car serviced at a main dealers and it was never a pleasant experience as you waited in a smelly little room with nicotine stained walls on seats covered in green vinyl reading ten year old copies of 'Autocar' before they were passed on to the local hairdressers.
This place might be the way it is everywhere in the world now but for me, it was an exciting and new experience! (I live a sheltered life...)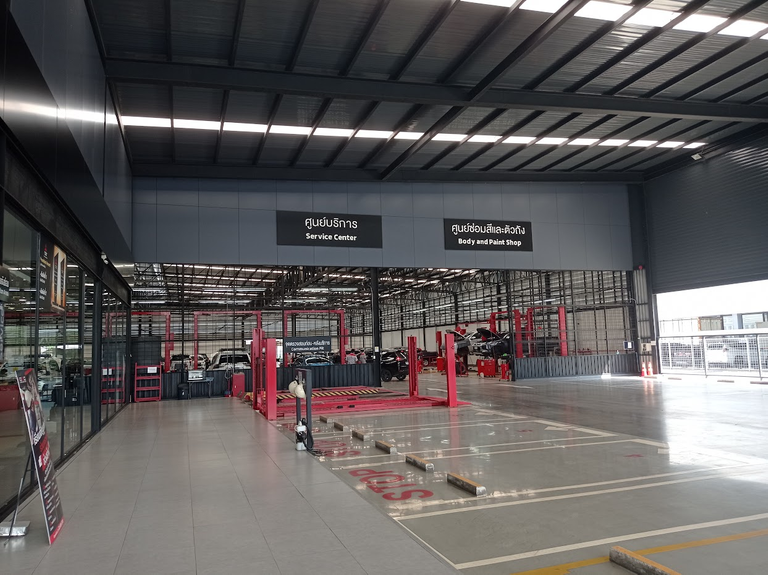 The security man on the gate guided us to a reception parking place while a young lady rushed out from the service counter and introduced herself before leading us inside and taking our keys. A few paperwork formalities later, handled expertly by the wife, and we were led to the waiting room.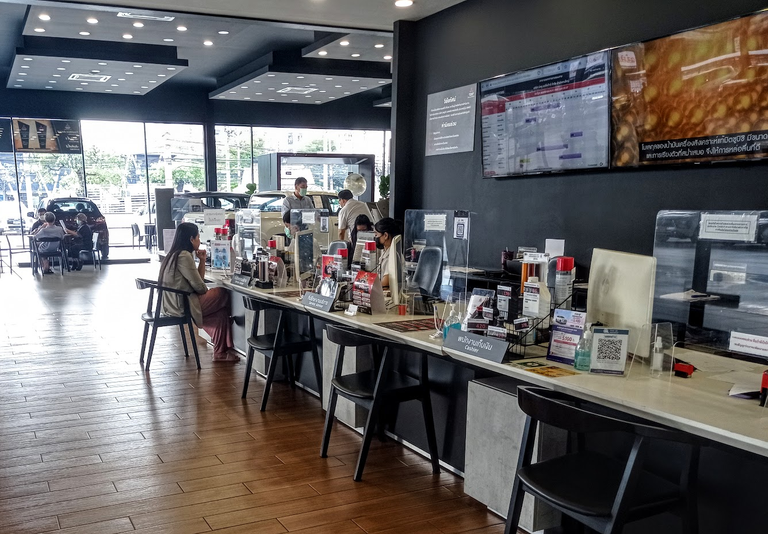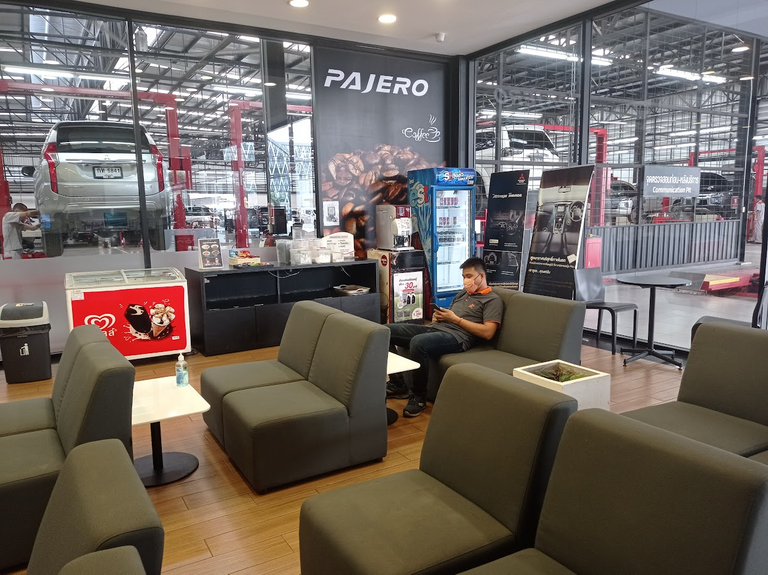 The waiting room had a huge glass window so you could see everything that was going on in the workshop which was immaculate and professional. Not an oily rag in sight. No stains on the polished floors and the mechanics were in freshly laundered uniforms. I glanced around looking for something I could relate to. No page 3 calendars, no spotty apprentices being hung upside down in a barrel full of old engine oil and not a single wolf whistle could be heard as the girls from reception and sales flitted about in their tighly fitting clothing, high heels and incredibly short skirts. Things have changed!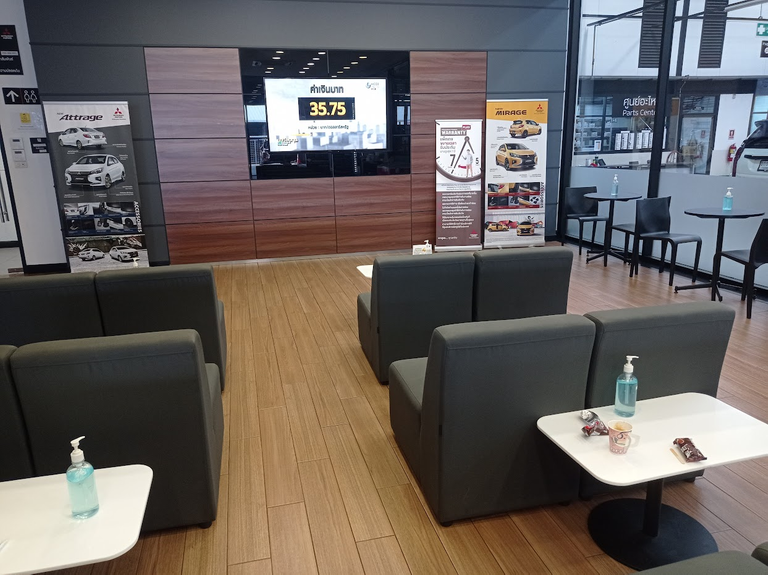 The waiting room itself had a huge front facing seats, laid out in rows with a little table and faced a huge TV. There were computers for customers use, free wifi, of course, and a table laid out with all manner of snacks and munchies that sat between a coffee machine, well stocked drinks fridge and an ice cream freezer!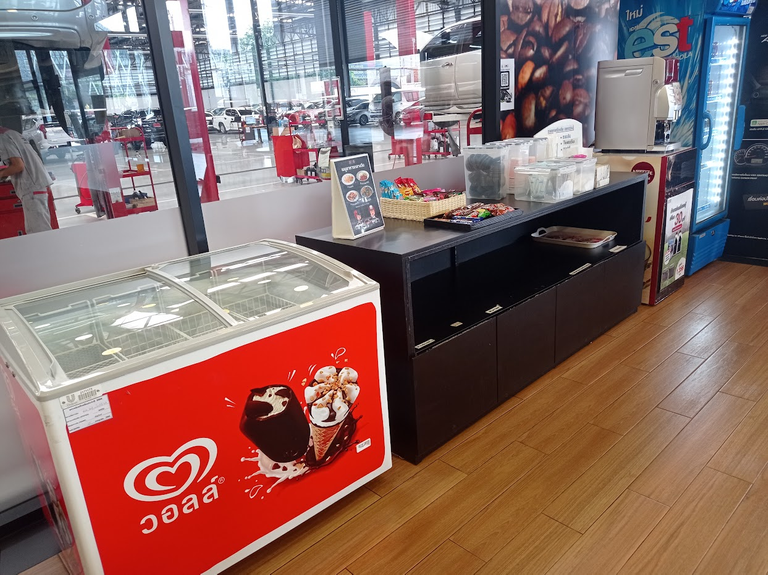 The rotten journey to get there was forgotten as I tucked into some rather delicious, albeit non-cadbury, chocolate mini-rolls and some caramel wafers which were as close to 'Tunnocks' as I could ever possibly hope to find in Thailand. There were only a few customers there but we were all making good use of the hospitality. A different lady was replenishing the goodies as fast as we were eating them!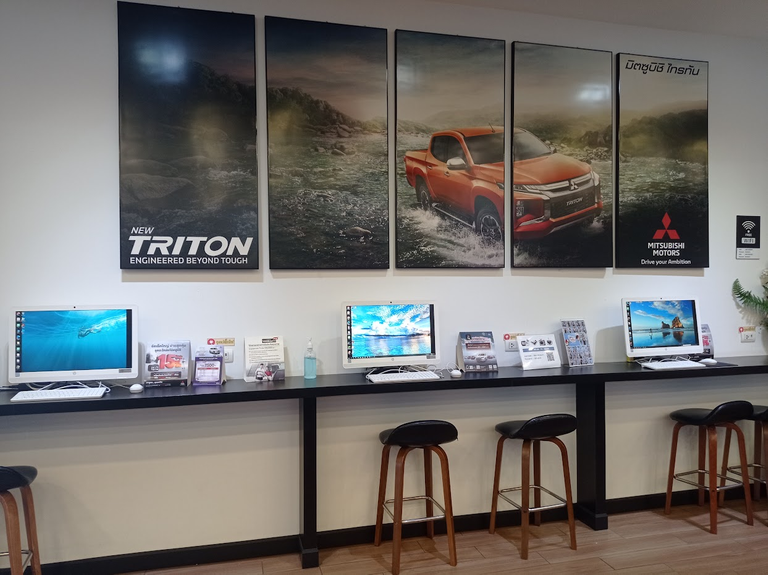 Another thing I thought was great and was something I'd never seen before was a screen showing the progress of the work and time of completion etc. Again, I'm not sure whether this common around the world these days but obviously being a Japanese brand, you'd expect them to be incredibly efficient and organised.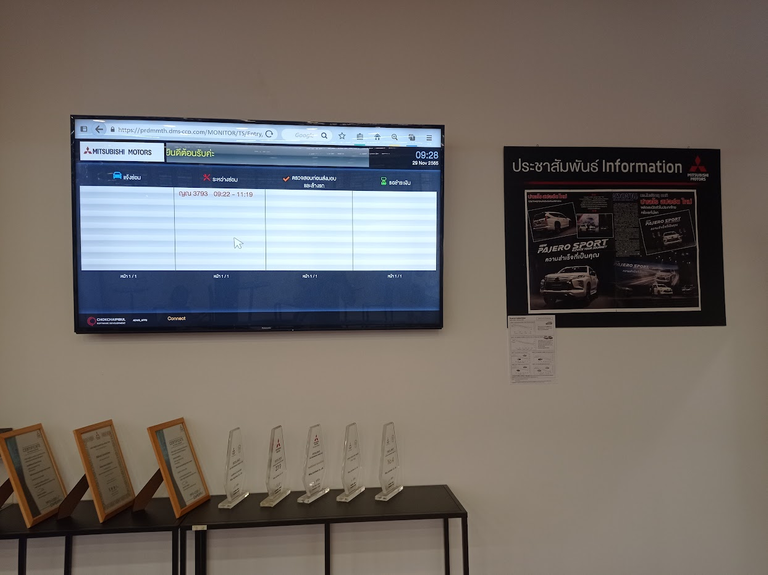 Back to the hospitality and the best was yet to come. About 10.30am, the filler-upper lady came around us all with a menu and asked if we wanted a meal! I stuffed the 6th mini-roll of the day into my pocket for later and chose the fried rice with sausage, all the time hoping that the car wouldn't be finished before i got my lunch.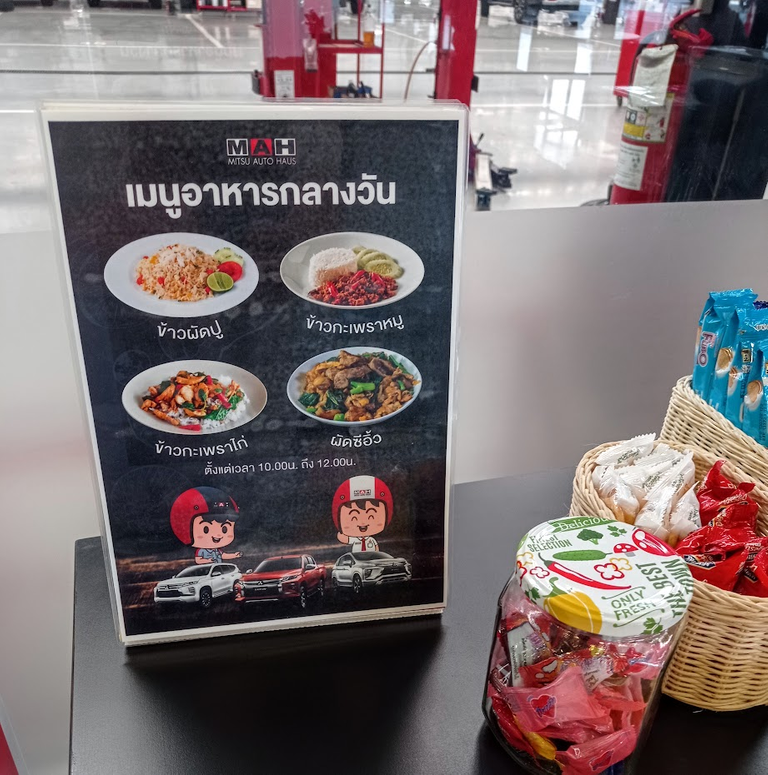 It looks like there is such a thing as a free lunch but only if you're there between 10 and 12.
Disaster looked as though it was about to strike though as the nice service lady tottered over in her 4 inch heels to speak to the wife and invited us both out to inspect the work they'd done and discuss any issues or questions we may have about the car with the mechanic. My free lunch was in the balance, but I needn't have worried.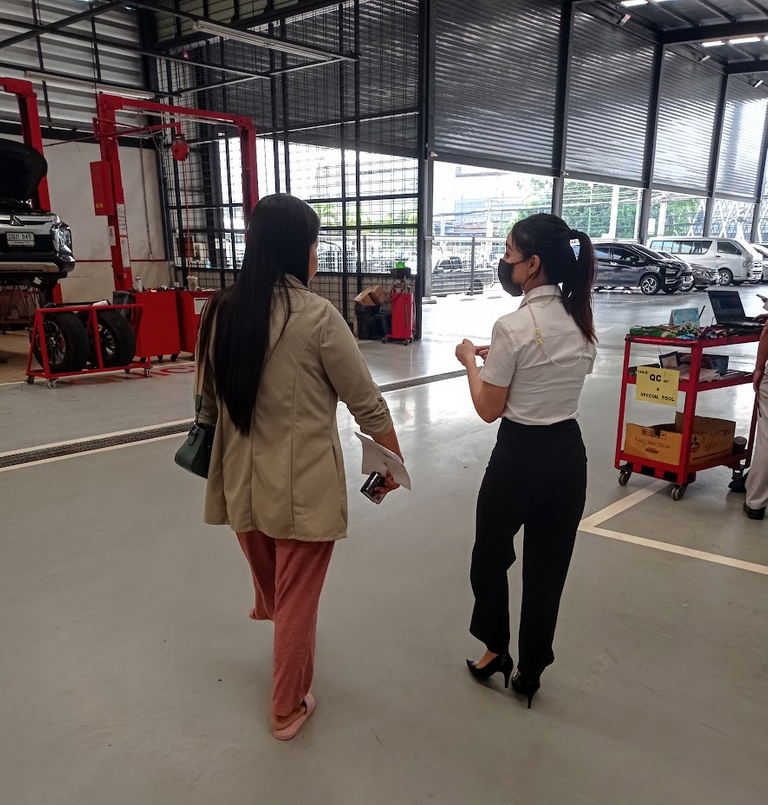 That girl's going to have bad feet when she's older!
"Would you like us to wash the car? Free of charge, of course."
Result, and just in time as filler-upper lady came to take us to a dining room where lunch awaited. Admittedly, the portions weren't that generous but who was I to complain? The food was perfectly edible and afterwards, it was back to the waiting room for more coffee and nibbles for dessert.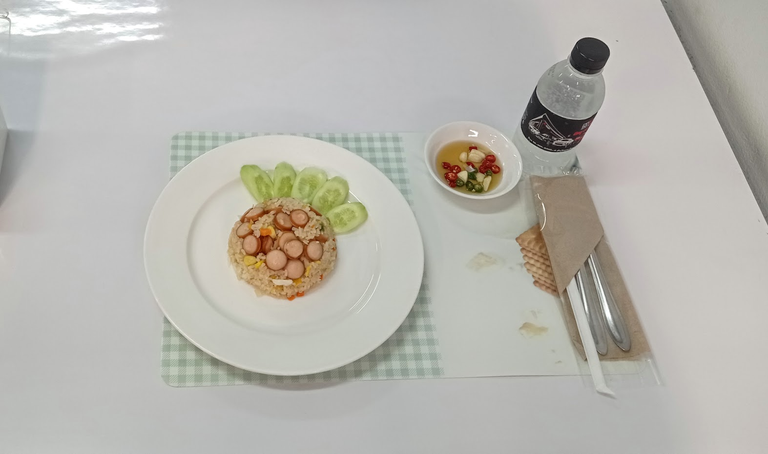 Slightly meagre offerings but simply and tidily presented.
By 11.30, 30 minutes before schedule, the car was finished. Full of fresh oil, checked over, washed and ready to go.
So How Much Does A Main Dealer Service Cost?
Well, it was simply a 6k check and oil change, and we didn't have to pay but we did get the bill and works order which you can see below.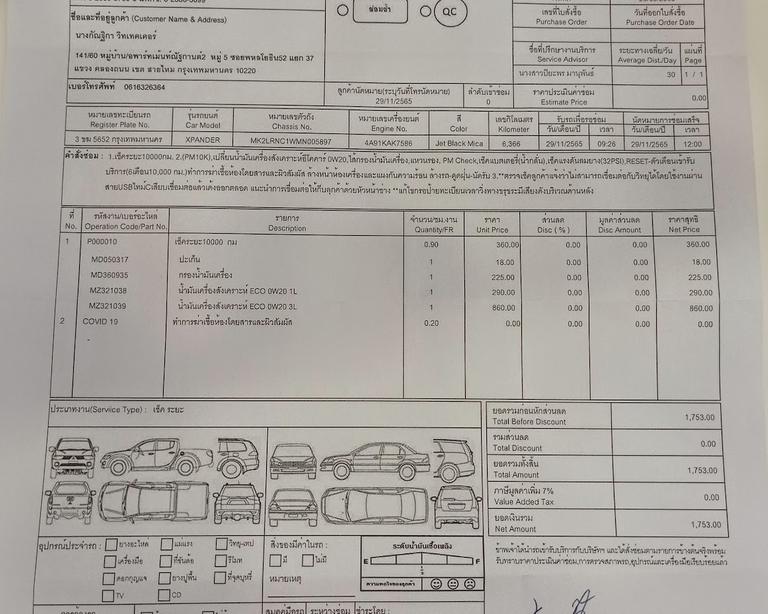 From the top we have the labour charge, 360 Baht, a new seal, 18 Baht. Oil Filter at 225 Baht and then the oil. The final item on the bill is for the Covid disinfectent!
A total of 1753 Baht which is about £42 GBP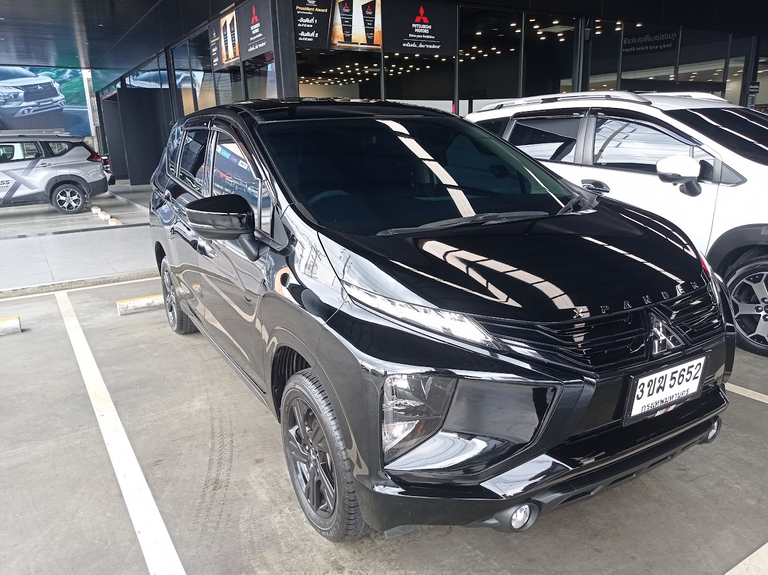 And that was it. We were on our way home. Full and in a clean car. I have often berated Thailand as 'the land that customer service forgot', but on this occassion, it was superb and a very professional, top quality experience. No doubt in another 6 months we will be back at Mitsubushi Auto House in Samut Prakan for some more free snap.
...and the ice cream?
Well, there wasn't any exactly. Only lollies which was fine and the wife happily slurped away to her hearts content...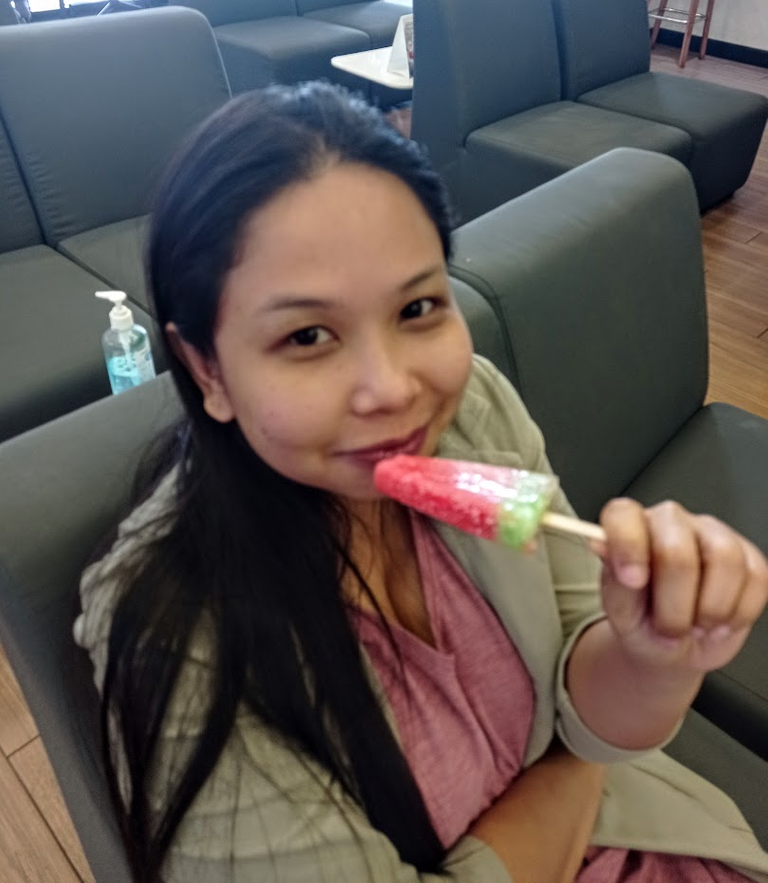 If you're ever in the area, happen to be driving a Mitsubishi and fancy a free coffee and snacks, I've pinned their location to @pinmapple.
If Carlsberg did Servicing...
"OK Google. Play Guns n Roses"
.
.
.
Oh. She is in a good mood!
---
---