iPhone14 - Another Big Step towards a Dystopian Utopia with a Little Insider Trading Thrown In!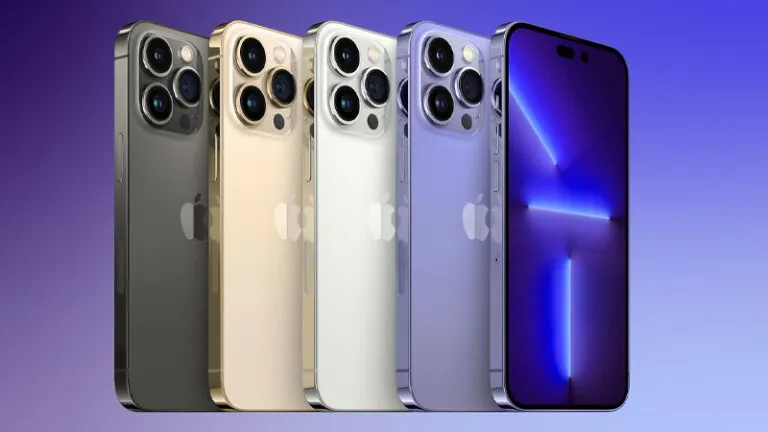 The launch of the new iPhone14 was annoyingly spread far and wide across the newsfeeds last week. You couldn't fail to have not known it was new model time as Apple ramped up the hype to sell yet another expensive phone to desperate consumers with money to burn. Despite having zero interest, I couldn't help but glance down at the new features and one, in particular, caught my eye...
Satellite Communication
I thought I'd look a little deeper at what I consider to be a very important and rather frightening feature which was seemingly glossed over in the reviews with scant detail on how it worked and even fewer people seemingly interested, as their universal glee at getting their hands on the latest big brother, mobile data collecting and tracking devices that you have to buy yourself took over their senses.
Satellite Communication
Wow. Your shiny new iPhone will now be able to send and receive emergency messages, for free for the first two years at least, via satellites, if you point it directly at the satellite which you find by using an App, but there was very little mention of exactly which satellite, and that concerned me.
Well although there was no mention at the keynote, it didn't take much searching to find that the company is 'Globalstar'.
Who?
Globalstar
According to Wikipedia,
Globalstar operates a low Earth orbit (LEO) satellite constellation for satellite phone and low-speed data communications. The Globalstar second-generation constellation consists of 24 low Earth orbiting (LEO) satellites.
Their company history is very interesting and well worth a read and includes lost satellites due to the Russian launch vehicle crashing and a number of 'calls', restructuring and bankruptcy.
This deal with Apple it seems, has been in the making for quite a while with Globalstar sending the first satellite, a backup, for nine years on 19th June 2022, and previous to that, had agreed to a deal to buy 17 new satellites, to be operational by mid-2025.
So that's who will be handling your data but who owns Globalstar?
Firstly, I'd have to say that Globalstar looks to have spent its entire history on financially shaky ground but that aside, let's have a look at the current major shareholders.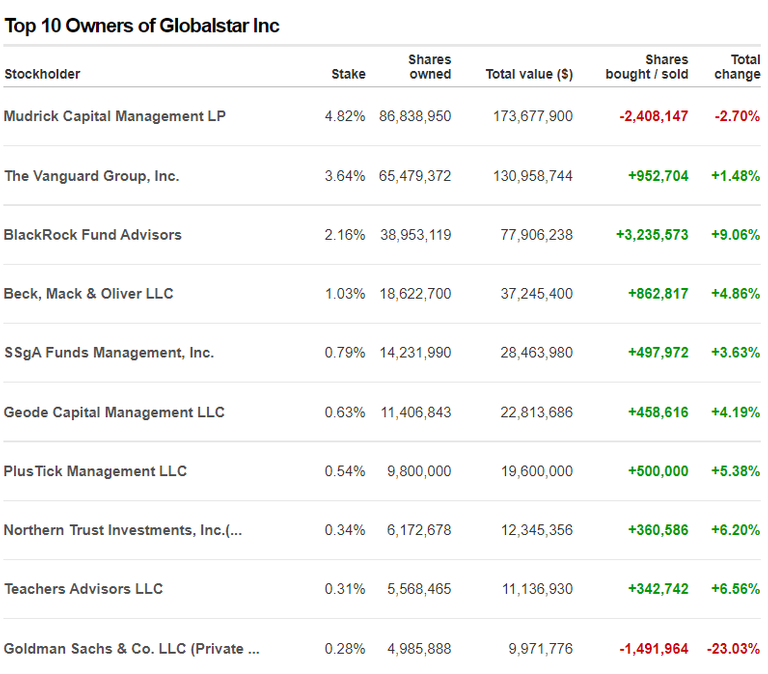 What a surprise, the usual suspects!
Now I'm not casting aspersions here but you'd expect a deal like this one between Apple and Globalstar to take two to three years of negotiation to bring it to a conclusion. In early 2020, Globalstar said it had agreed to provide services for a "potential customer" that it did not name yet just prior to that, what happened three years ago in the markets?
Well, according to CNN Business
Institutional investors purchased a net $719.1 thousand shares of GSAT during the quarter ended June 2019. This may signal that the smart money is gaining interest in this company.
As for their trading in the last quarter, look at who strengthened their positions...
These trades were all made around the 30th of June at the same time as each other!

Who knew what and when? Draw your own conclusions.
One thing is for sure, the everyday average individual investor doesn't get the same intel as the institutions and their old boy's network. Will there be an investigation by the SEC? Behave!
Since the announcement, it also appears that numerous small investors and even the board of directors at Globalstar have been grabbing shares and as such, the share price currently sits 5% what is was previous to the iPhone14 launch.
How much data are people going to freely give away in the name of having 'the latest' technology? Why do so many people happily allow their phones and computers gather and share so much personal information about themselves? It completely befuddles me. I like my phones and gadgets as much as the next person. I want to use this exciting technology but at what cost? I find it completely unacceptable that if I didn't personally adjust my own privacy settings, Google, and therefore the government by default and their data laws, know exactly where I am, what I'm reading, and via all the phone sensors, where I'm moving at any given point in time, 24 hours a day, 365 days a year.
In comments, if you don't mind this, please explain why it doesn't concern you. I'd love to hear your rationale and opinion.
Thanks for reading and best wishes.
@nathen007
Sources are linked within the body of the post and additional content came from:-
---
---