Pachamama - Nuestra madre tierra es parte de nosotros // Pachamama - Our mother earth is part of us // [ENG//ESP]
---
---
Hello friends of Hive, Welcome to my blog.!
Hola amigos de Hive, Bienvenidos a mi blog.!
---
Beautiful and blessed day for all, especially for this great community that encourages us to talk about inspiring and motivating topics for everyone. This time we have the great task of sharing one more initiative that allows us to get closer and foster our personal growth as well as helping us get closer to nature and heal from within.
I am a faithful lover of nature, it has always been a passion of mine to admire how beautiful our surroundings are, to be able to appreciate how perfect and unique each thing is, each stone, each tree, each river or mountain. Everything together in an incomparable harmony that fills us with peace and comforts us in every situation.
Hermoso y bendecido día para todos, en especial para esta gran comunidad que nos alienta hablar sobre temas inspiradores y motivadores para todos. En esta oportunidad tenemos la genial tarea de compartir una iniciativa más que nos permite acercarnos y propiciar nuestro crecimiento personal además de ayudarnos a acercarnos a la naturaleza y sanar desde interior.
Soy amante fiel de la naturaleza, siempre ha sido una pasión para mi admirar lo hermoso que es nuestro alrededor poder apreciar lo perfecto y único que es cada cosa, cada piedra, cada árbol, cada río o montaña. Todo junto en una armonía inigualable que nos llena de paz y nos reconforta en cada situacion.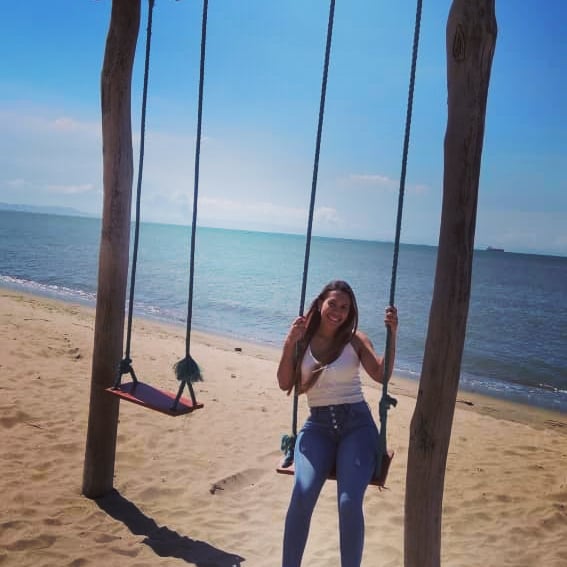 ---

Mi adorada tierra parte mi🌎🌊

---
For me, contact with nature is something wonderful, it makes us heal, it makes us great and it transmits us a pure energy to continue. I think that if there is something that we owe respect to, it is Mother Nature because she gives us so much and at the same moment she is capable of taking it away. She is a whirlwind that, although she loves herself, cannot be controlled and being able to give her back a little of what she gives us is by taking care of her and helping her heal when she needs us. I have never been able to decide why they say beach or mountain since I feel that each space is unique and for each moment an occasion.


I am a biologist and I believe that God gave me the authority to choose the best procession because I have been able to appreciate, care for and always be in contact with our mother earth. I am from Venezuela, Sucre state, one of the most beautiful places in my country full of mountains, rivers and beaches like no other and I have taken advantage of all this. During my career it was wonderful what we did together not only to know how everything worked but also through teaching others about the importance of taking care of our home.
Para mí el contacto con la naturaleza es algo maravilloso, nos hace sanar, nos hace ser grandes y nos trasmite una energía pura para continuar. Creo que si hay a algo que le debemos respeto es a la madre naturaleza pues ella nos da tanto y al mismo instante es capaz de quitarlo. Es un torbellino que aunque se quiera no se puede controlar y poderle retribuir un poco de lo que nos da es cuidandola y ayudándola a sanar cuando nos necesita. Nunca he logrado decidirme por eso que dicen playa o montaña ya que siento que cada espacio es único y para cada momento una ocasión.


Soy bióloga y creo que dios me dio la liz para escoger la mejor procesión pues he podido apreciar, cuidar y estar siempre en contacto con nuestra madre tierra. Soy de Venezuela estado Sucre uno de los lugares mas hermosos de mi país llenos de montañas, ríos y playas como ninguna otra y todo esto lo he sabido aprovechar. Durante mi carrera fue maravilloso lo que hacíamos en conjunto no solo para saber como funcionaba cada cosa sino también a través de la enseñanza a los demás, sobre la importancia de cuidar nuestro hogar.
---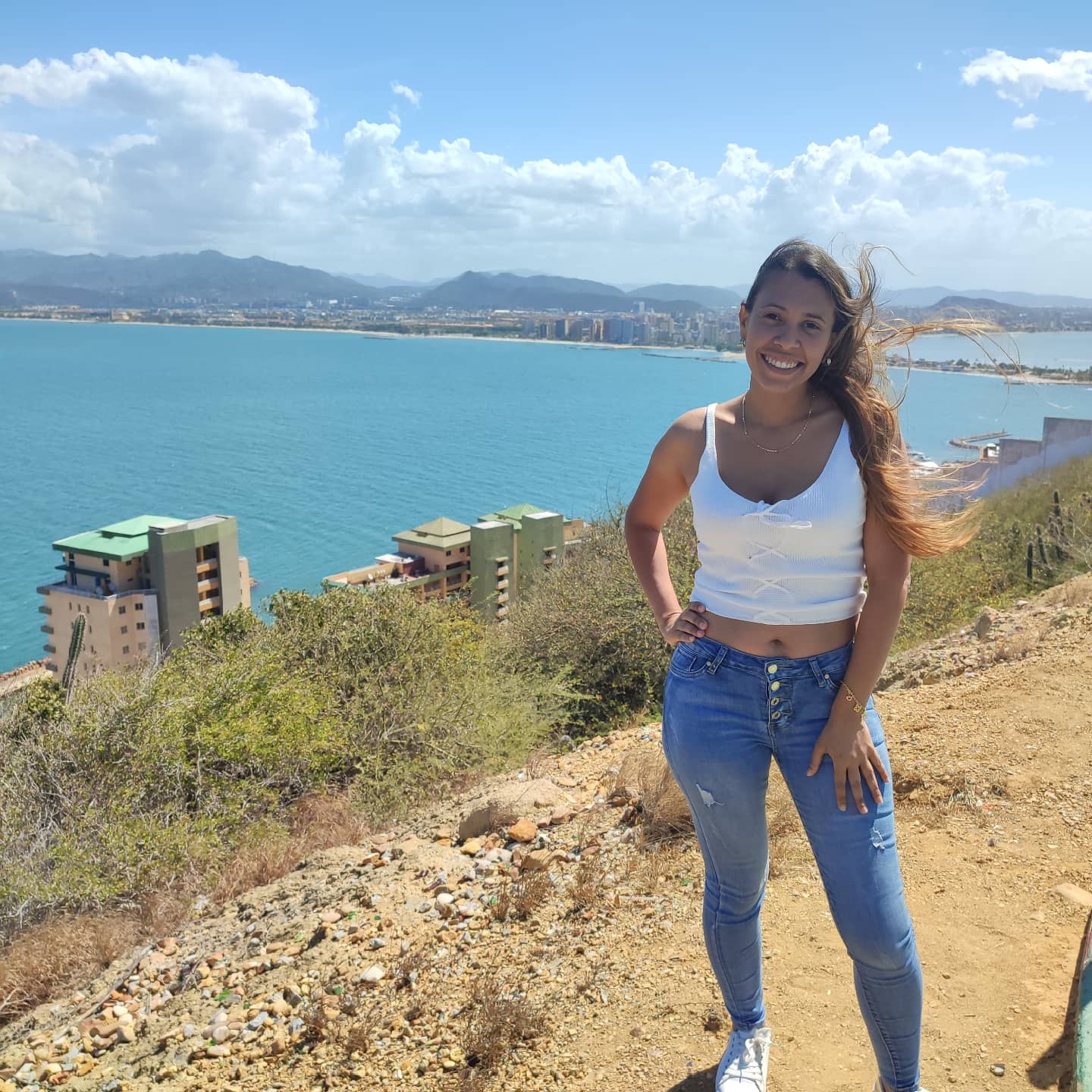 ---


---
Since I was little, a very special person always asked me: do you know why you like to appreciate the sea so much, listen to the waves and feel the breeze on your face? And I just told him: yes because it calms me down. To which he replied because you are the same as him. After several years and so many experiences and setbacks, we talked again sitting on the edge of the beach and he asked me the same question again, only this time he answered it himself. Because you are like the sea when the waves are high and strong it is because your head and heart are not calm, when everything is calm it is because within you there is peace.


And when the sun and the rain fight to see who shines the most within this beautiful landscape, it is because your thoughts cannot agree, that is why every time you have a problem you want to cry or you are even happy, you come to sit in front of the beach because looking at her is looking inside yourself. I think no one had ever told me something so beautiful and at the same time so true and without words that I can't and never want to get out of my head. I don't know if my interior is really an open sea, but I know that inside each one of us there is a part of our mother earth that connects us with the outside world and makes us understand that the purity that she offers us is what we should really appreciate and take care of.
Desde pequeña una persona muy especial me preguntaba siempre: sabes porque te gusta tanto apreciar el mar, escuchar las olas y sentir la brisa en tu rostro? Y yo solo le decía: si porque me calma. A lo que me respondía porque tu eres igual a el. Después de varias años y de tantas experiencias y tropiezos, volvimos a conversar precisamente sentados a la orilla de la playa y volvió hacerme la misma misma pregunta solo que esta vez el mismo la respondió. Porque eres como el mar cuando el oleaje esta alto y fuerte es porque tu cabeza y corazón no están tranquilos, cuando todo esta en calma es porque dentro de ti hay paz.


Y cuando el sol y la lluvia pelean para ver quien brilla más dentro de este hermoso paisaje es porque tus pensamientos no logran ponerse de acuerdo, es por eso que cada vez que tienes un problema quieres llorar o incluso estas feliz vienes a sentarte frente a la playa porque observarla a ella es observar tu interior. Creo que nadie jamás me había dicho algo tan hermoso y a la vez tan cierto y sin palabras que no puedo ni quiero sacar de mi cabeza jamás. No se si de verdad mi interior es un mar abierto pero se que dentro de cada uno hay una parte de nuestra madre tierra que nos conecta con el mundo exterior y nos hace entender que la pureza que nos ofrece es lo que realmente debemos apreciar y cuidar.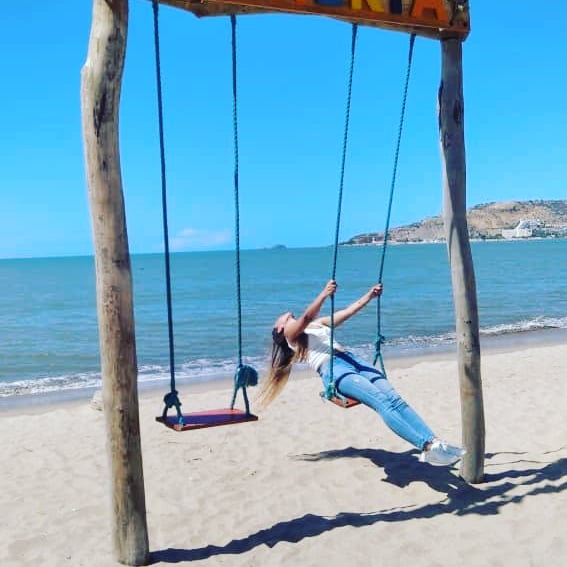 That is why being the month of our beautiful Pachamama, I not only want to remember how important it is for each of us and how we carry it inside us, but also the importance of caring for it and loving it every day, putting a grain of sand because this It is our home and always gives us the best of itself.


Well friends, it has been a great pleasure to participate in this initiative and I want to invite @litzismar and @nathyortiz to participate.
Es por eso que siendo el mes de nuestra hermosa Pachamama no solo quiero recordar lo importante que es para cada uno de nosotros y como la llevamos en nuestro interior sino también la importancia de cuidarla y amarla todos los días, poniendo un granito de arena pues este es nuestro hogar y siempre nos brinda lo mejor de si.
Bueno amigos ha sido un gran placer participar en esta iniciativa y Quiero invitar a @litzismar y @nathyortiz a participar.
---

Thank you once again dear friends for reading and visiting my blog. !!

---
---
---
---