Now I have reached level-63 and My Daily Progress in The Rising Star Game ( Day-77 )
( Day-77 )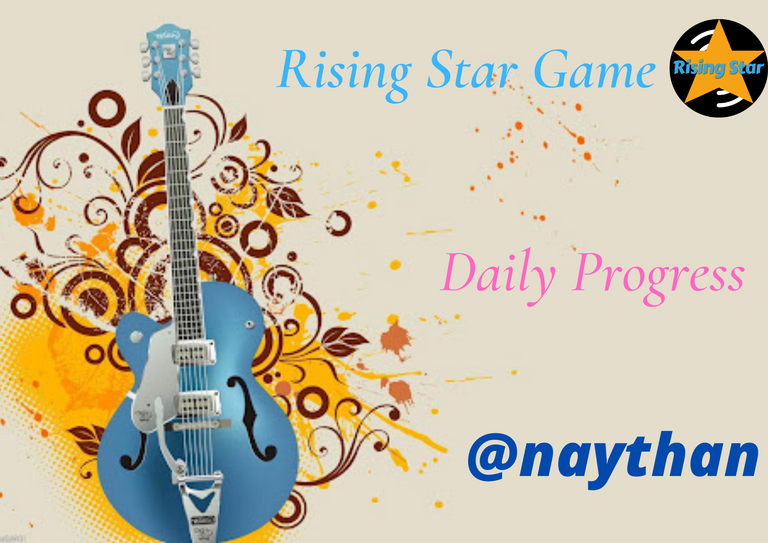 Hello friends,
It's been 77-days since I played the Rising Star game.
I think this game is full of interesting things for me.
Today I was able to level up.
Now I have reached level-63.
It takes about 3 days to win a level.
I do my missions on a regular basis.
The more you level up, the longer it takes to level up.
You need more energy to do more missions.
If possible, buy more energy booster cards.
Good luck to all Rising Star Game players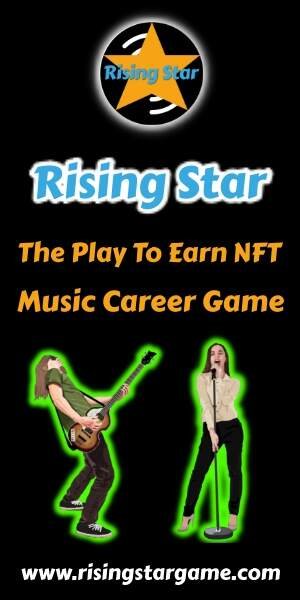 The missions I do today are as follows:
3 x Illegal Busking
2 x Open Mic Night
3 x Mid Week Support
7 x Radio Interview
1 x Radio Studio Session
3 x Shopping Mall
1 x Record A Demo
1 x Acoustic Tent
1 x Local Mini Tour Support
1 x STARBITS Millionaire
I aim to do my best missions and move forward.
How are you friends?
If there is a good way, please guide me.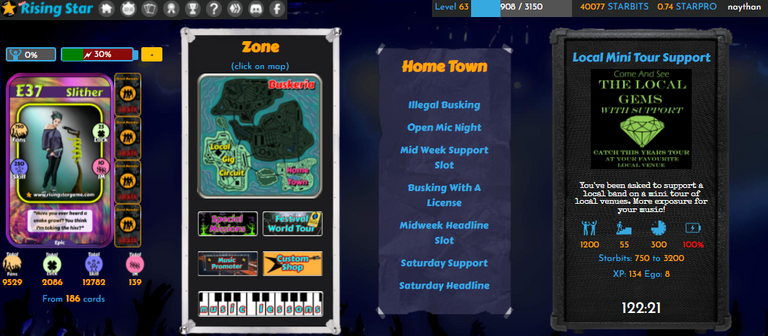 | Total Fans | 9529 |
| --- | --- |
| Total Luck | 2086 |
| Total Skill | 12782 |
| Total IM | 139 |
| Total Card | 186 cards |
| My Ego | 0% |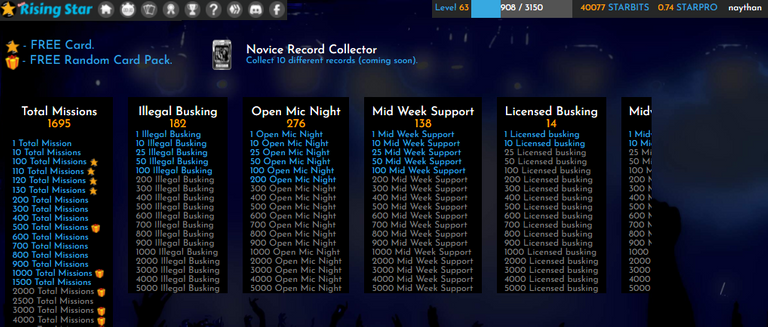 Today I completed 23 missions.
As of this writing, a total of 1695 missions have been completed.
Today I can keep my ego at 0%.

My current rank


Here are some of my daily activities:
| My Mission | Yesterday Total Achievements | Today Achievements | Today Total Achievements |
| --- | --- | --- | --- |
| Illegal Busking | 179 | 3 | 182 |
| Open Mic Night | 274 | 2 | 276 |
| Mid Week Support | 135 | 3 | 138 |
| Licensed Busking | 14 | - | 14 |
| Midweek Headline Slot | 18 | - | 18 |
| Saturday Support | 12 | - | 12 |
| Saturday Headline | 15 | - | 15 |
| Radio Interview | 308 | 7 | 315 |
| Radio Studio Session | 28 | 1 | 29 |
| Shopping Mall | 85 | 3 | 88 |
| Record A Demo | 52 | 1 | 53 |
| Acoustic Tent | 48 | 1 | 49 |
| Local Mini Tour Support | 25 | 1 | 26 |
| Guitar Fair | 10 | - | 10 |
| Drum Fair | 7 | - | 7 |
| Production Fair | 20 | - | 20 |
| Halloween 2021 | 49 | - | 49 |
| STARBITS Millionaire | 35 | 1 | 36 |
| Basic Singing Lesson | 132 | - | 132 |
| Guitar Lesson | 107 | - | 107 |
| Production Lesson | 49 | - | 49 |
| Piano lesson | 65 | - | 65 |
| Drum Lesson | 5 | - | 5 |
| Total | 1672 | 23 | 1695 |

If you want to play the best blockchaingame while listening to music, you can access this link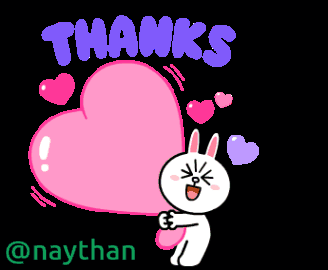 Burmese Language

သူငယ်ချင်းများအားလုံးမင်္ဂလာပါ,
Rising Star game ကိုကစားလာတာ (၇၇) ရက်ရှိပါပြီ။
ဒီဂိမ်းကငါ့အတွက်စိတ်ဝင်စားဖို့ကောင်းတဲ့အရာတွေနဲ့ပြည့်နေတယ်ထင်တယ်။
ဒီနေ့တော့ ကျွန်တော် level တတ်နိုင်ခဲ့ပါတယ်။
အခုဆိုရင် ကျွန်တော် level-63 ရောက်ရှိခဲ့ပါပြီ။
Level တစ်ခုနိုင်တတ်ဖို့အတွက် ၃ ရက် လောက်ကြာပါတယ်။
ကျွန်တော်ကတော့ mission တွေကို ပုံမှန်လေးပဲ လုပ်နေပါတယ်။
Level ပိုတတ်လာလေ Level တတ်နိုင်ဖို့ အချိန်ပိုကြာလာပါတယ်။
Mission များများ လုပ်နိုင်ဖို့အတွက် Energy များများရှိဖို့တော့ လိုပါတယ်။
ဖြစ်နိုင်ရင် energy booster card တွေ များများ ဝယ်ထားတာ ကောင်းပါတယ်။
Rising Star Game ကစားသူများ အားလုံး ကံကောင်းကြပါစေ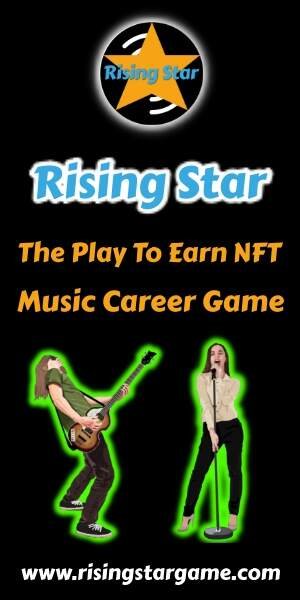 ကျွန်တော် ဒီနေ့လုပ်ဖြစ်တဲ့ mission တွေကတော့ အောက်ပါအတိုင်း ဖြစ်ပါတယ်
3 x Illegal Busking
2 x Open Mic Night
3 x Mid Week Support
7 x Radio Interview
1 x Radio Studio Session
3 x Shopping Mall
1 x Record A Demo
1 x Acoustic Tent
1 x Local Mini Tour Support
1 x STARBITS Millionaire
ကျွန်တော်ကတော့ အကောင်းဆုံး mission တွေကိုပြုလုပ်ပြီးတော့ ရှေ့ဆက်သွားမယ်လို့ ရည်မှန်းထားပါတယ်။
သူငယ်ချင်းတို့ကော အခြေအနေဘယ်လိုရှိပါသလဲ?
နည်းလမ်းကောင်းလေးများရှိရင် လမ်းညွှန်ပေးပါအုံး။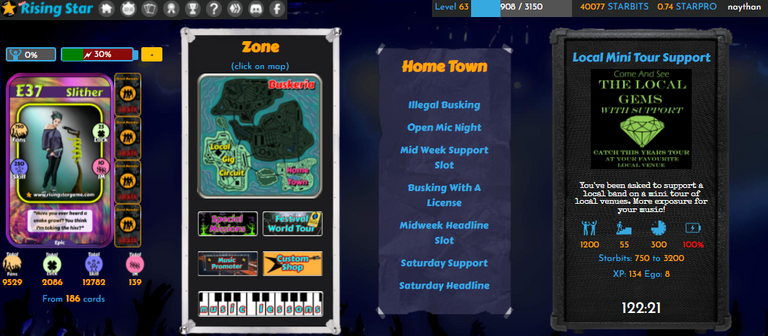 | Total Fans | 9529 |
| --- | --- |
| Total Luck | 2086 |
| Total Skill | 12782 |
| Total IM | 139 |
| Total Card | 186 cards |
| My Ego | 0% |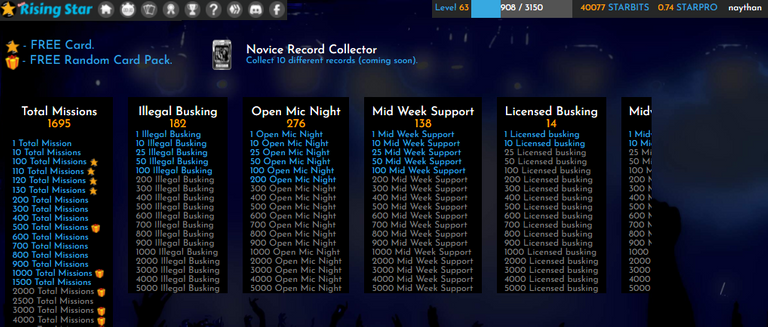 ဒီနေ့တော့ 23 missions ကို ပြီးအောင် လုပ်နိုင်ခဲ့ပါတယ်။
အခုအချိန်ထိ 1695 missions အထိ ပြုလုပ်နိုင်ခဲ့ပါပြီ။
ဒီနေ့ ကျွန်တော့်ရဲ့ Ego ကိုတော့ 0% မှာထိန်းထားနိုင်ပါတယ်။

ကျွန်တော့်ရဲ့ လက်ရှိ Rank ပါ


ဒါကတော့ ကျွန်တော့်ရဲ့ နေ့စဥ် လုပ်ဆောင်မှု့လေးတွေပါ
| My Mission | Yesterday Total Achievements | Today Achievements | Today Total Achievements |
| --- | --- | --- | --- |
| Illegal Busking | 179 | 3 | 182 |
| Open Mic Night | 274 | 2 | 276 |
| Mid Week Support | 135 | 3 | 138 |
| Licensed Busking | 14 | - | 14 |
| Midweek Headline Slot | 18 | - | 18 |
| Saturday Support | 12 | - | 12 |
| Saturday Headline | 15 | - | 15 |
| Radio Interview | 308 | 7 | 315 |
| Radio Studio Session | 28 | 1 | 29 |
| Shopping Mall | 85 | 3 | 88 |
| Record A Demo | 52 | 1 | 53 |
| Acoustic Tent | 48 | 1 | 49 |
| Local Mini Tour Support | 25 | 1 | 26 |
| Guitar Fair | 10 | - | 10 |
| Drum Fair | 7 | - | 7 |
| Production Fair | 20 | - | 20 |
| Halloween 2021 | 49 | - | 49 |
| STARBITS Millionaire | 35 | 1 | 36 |
| Basic Singing Lesson | 132 | - | 132 |
| Guitar Lesson | 107 | - | 107 |
| Production Lesson | 49 | - | 49 |
| Piano lesson | 65 | - | 65 |
| Drum Lesson | 5 | - | 5 |
| Total | 1672 | 23 | 1695 |

ဂီတ သံလေးတွေနားဆင်ရင်း အကောင်းဆုံး blockchaingame ကို ကစားမယ်ဆိုရင်တော့ ဒီ လင့်ကနေ ဝင်ရောက်ကစားနိုင်ပါတယ်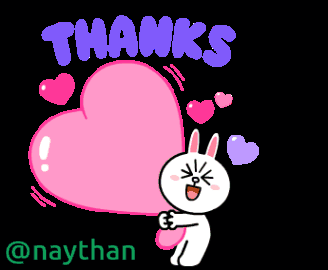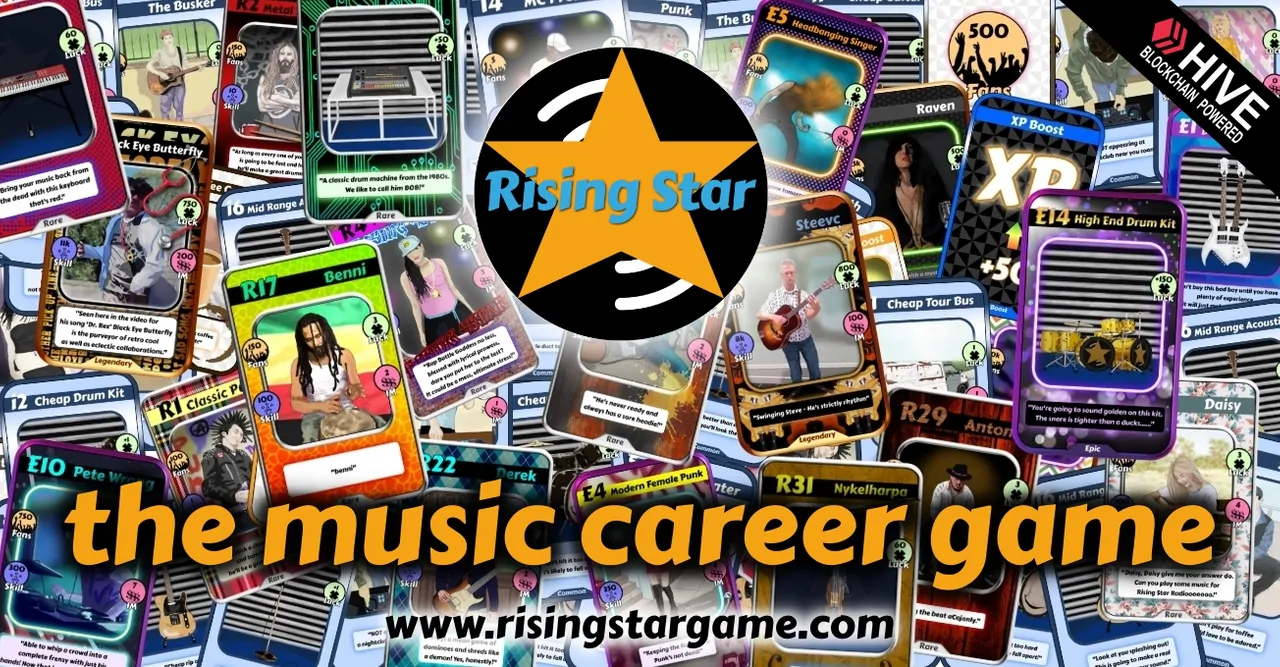 ---
---