Our surprise trip to Örebro | Vår överraskningsresa till Örebro

Vår överraskningsresa till Örebro
Denna jul var inte som alla andra jul då julledigheterna, röda dagar infall på helgerna alltså lördag och söndag, vilket gjorde att man var tvungen att ta semester för att få långledigt. Eftersom vi inte ville slösa våra semestrar så tog vi inte extra ledigt i december.
Den enda röda dagar som vi fick ledigt var måndagen den 26 dec annandag jul. Eftersom vi fick besök på lördag så säger min man på söndag morgon kl.8.00 att vi ska åka iväg, jag har en överraskning till er. Jag blev chockad o tänkte på mån är vi lediga men var kan vi åka nu över dagen. Det som stressar upp mig är inte packningen utan resan då det blir mörkt i Sverige redan kl.14.45. Vilket betyder att även om du åker väldigt tidigt på morgonen så, hinner du inte hem innan det blir mörkt och det gillar inte jag.
Our surprise trip to Örebro
This Christmas was not like any other Christmas, as the Christmas holidays fall on the weekends, Saturday and Sunday, which meant that you had to take a semester to get a long leave. Because we didn't want to waste our vacations, we didn't take extra vacations in December.
The only red days we got off were on Monday December 26, Boxing Day. Since we had visitors on Saturday, my husband said on Sunday morning at 8.00pm that we are going somewhere, I was surprised. I was shocked and thought that we have a day off on monday but where can we go now for one day. What stresses me out is not the packing but the journey as it gets dark at 2.45pm in Sweden nowadays. Which means that even if you leave very early in the morning, you won't make it home before it gets dark and that scares me.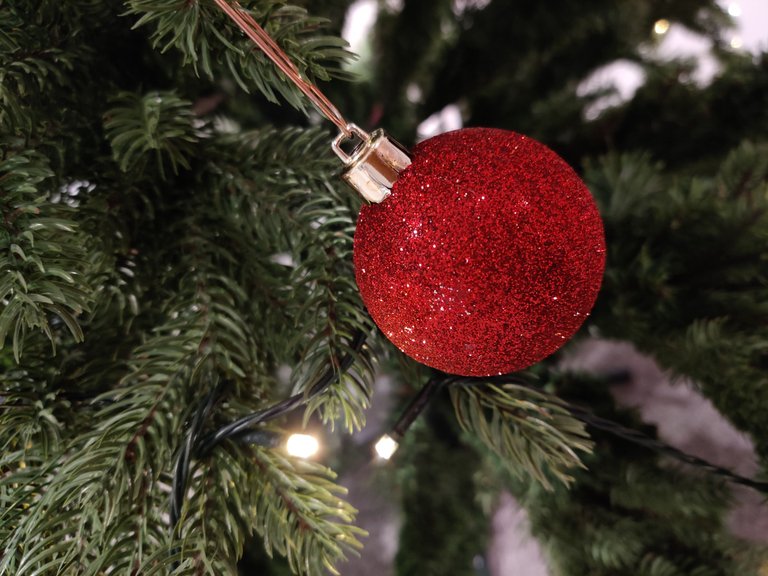 Bilden har jag tagit med OnePlus 7Pro
Eftersom det var en överraskning så fick jag bara veta att jag skulle packa våra saker samt natt kläderna ifall vi behövde övernatta någonstans. Det var första gången vi skulle köra bil utanför Stockholm på vintern, så det var lite pirrigt för vi hör alltid om vinter och särskild jultrafik på nyheter och vill vill då inte fastna i jultrafiken eller i storm någonstans. Men eftersom barnen nu är äldre kan man nog riskera lite.
Since it was a surprise, I was only told to pack our things and night clothes in case we needed to stay overnight somewhere. It was the first time we were going to drive outside of Stockholm in the winter, so it was a little nerve-wracking because we always hear about winter and special Christmas traffic on the news and don't want to get stuck in Christmas traffic or in a storm somewhere. But since the children are now older, you can probably take a little risk.
Kl.10 startade vår resa och det var första gången som min man inte talade om för mig heller var vi skulle åka. Det enda jag visste var att vi skulle till Örebro. Jag tycker det känns lite bekvämt att veta ungefär vart man ska och hur många tim det ska ta. Så jag vet att från Stockholm till Örebro skulle det ta 2 tim, helt ok. Vi brukar oftast stanna emellan även om det är bara 2 tim resa, bara för att rasta och fika mm. Men det verkade som att barnen väntade på överraskningen så även de ville inte heller stanna så vi körde på.
At 10 o'clock our journey started and it was the first time that my husband did not tell me where we were going either. The only thing I knew was that we were driving to Örebro. I think it feels a bit convenient to know approximately where you are going and how many hours it will take. So I know that from Stockholm to Örebro it would take 2 hours, perfectly fine. We usually stop in between, even if it's only a 2 hour journey, just to rest and have coffee etc. But it seemed like the kids were waiting for the surprise so they didn't want to stop either, so we drove on.
Vi kom fram till Örebro och vi parkerade bilen precis utanför Örebro slott. Det passade utmärkt att parkera där i 24 tim eftersom vi skulle röra oss runt i stan. Efter det kom första överraskningen Elite hotel Of Sweden där vi checkade in men fortfarande trodde inte barnen att vi skulle övernatta där. Vi vilade någon timme sedan kom andra överraskningen. Kl.16 säger min man att vi ska gå ut och promenera så klä på er ordentligt. Vi går ut mot Örebro Centrum och går ca 10 min och märker att flera människor är på väg dit eller tillbaka. Snart börjar vi se ljusslingor i olika färger.
We arrived in Örebro and we parked the car right outside Örebro Castle. It was perfect to park there for 24 hours because we were going to move around town. After that came the first surprise Elite hotel Of Sweden where we checked in but the children still didn't think we would spend the night there. We rested for about an hour, then the second surprise came. At 4 p.m. my husband says we are going out for a walk, so dress properly. We went out towards Örebro Centrum and walked about 10 minutes and noticed that several people were on their way somewhere or back. Soon we started to see strings of light in different colors and heard some nice music.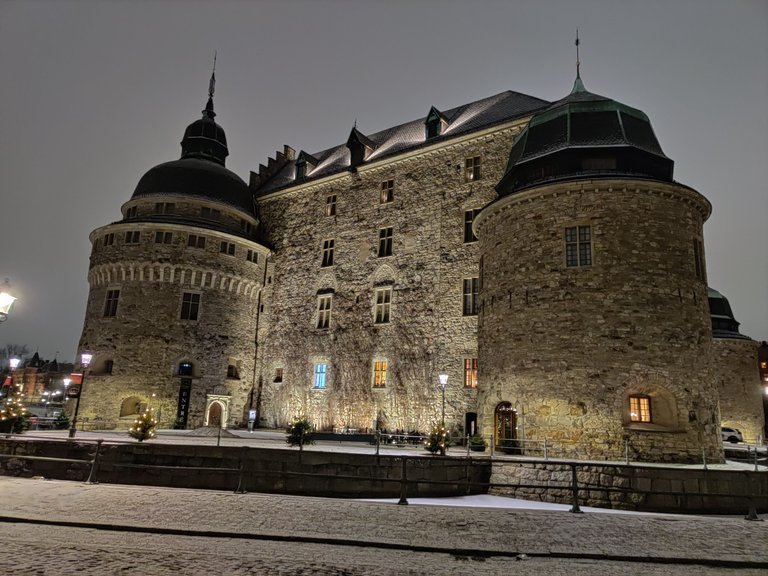 Bilden har jag tagit med min OnePlus 7Pro, Örebro Slott
Det bästa jag tycker med vintern är faktiskt alla dessa ljus dekorationer och pynt. Så jag blir lockad av dessa ljus som vi går mot. Väl framme kom vi till Örebro Stadsparken där det var en utställning skapad av flera olika färgade LED-lampor.
Det var vår huvud överraskning som vi egentligen hade rest så långt för. Föreställning The Forest Magic skapad av LED-lampor i olika former. Utställningen bestod av spindel, fjärilar och blommor. Medan vi stod där slocknade plötsligt alla ljus och det blev kolsvart, 2 sekunder senare tänds allt och hög musik spelas och föreställningen börjar med olika ljus tänds i takt med musiken. Detta hände varje 15 min. Detta hände 4 ggr medan vi stod där så intressant och vacker det var att vi promenerade i skogen i 2 timmar.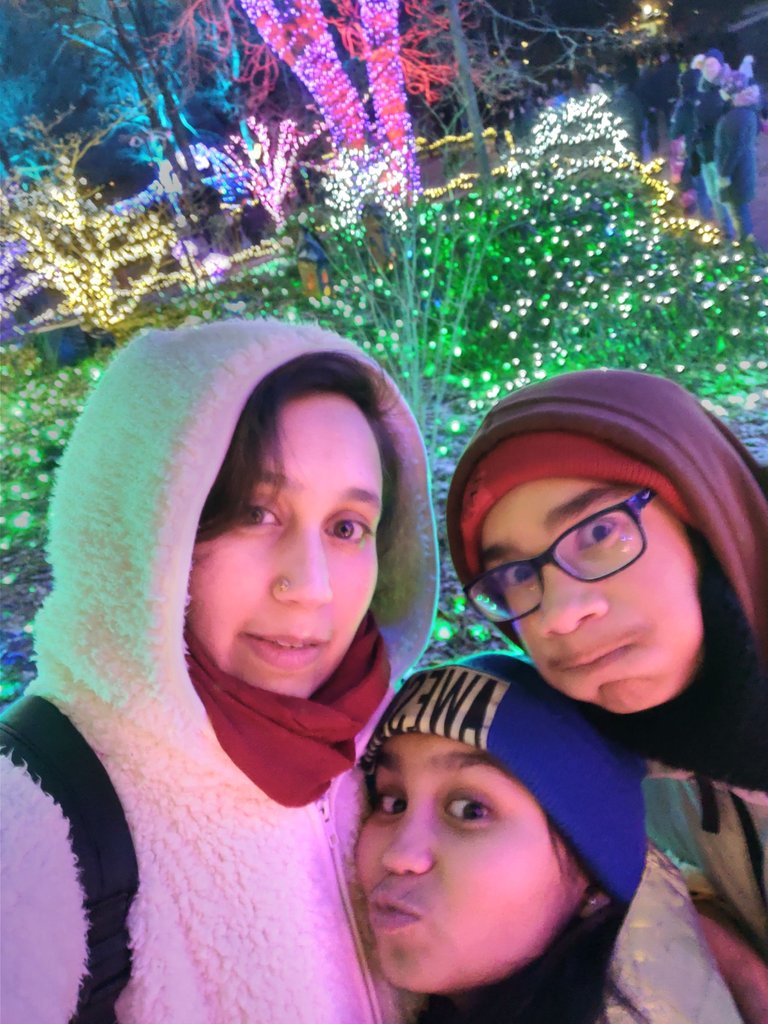 Bilden har jag tagit med OnePlus 7Pro. I parken och barnen är aldrig seriösa på mina bilder. @hamza-art , @ilma-ansari
Videon har jag filmat med OnePlus 7Pro
The best thing I like about winter is actually all these bright decorations and lightning. So I got attracted to these lights that we're moving towards.
Once there, we came to Örebro Stadsparken where there was an exhibition created by several different colored LED-lights.
It was our main surprise that we had actually traveled. The Forest Magic created with different LED- lights in different shapes. The exhibition consisted of spiders, butterflies and flowers. While we were standing there suddenly all the lights went off and it went pitch black, 2 seconds later everything lights up and loud music plays and the show starts with different lights lighting up in time with the music. This happened every 15 min. This happened 4 times while we were standing there. It was so interesting and beautiful that we walked in the forest for 2 hours.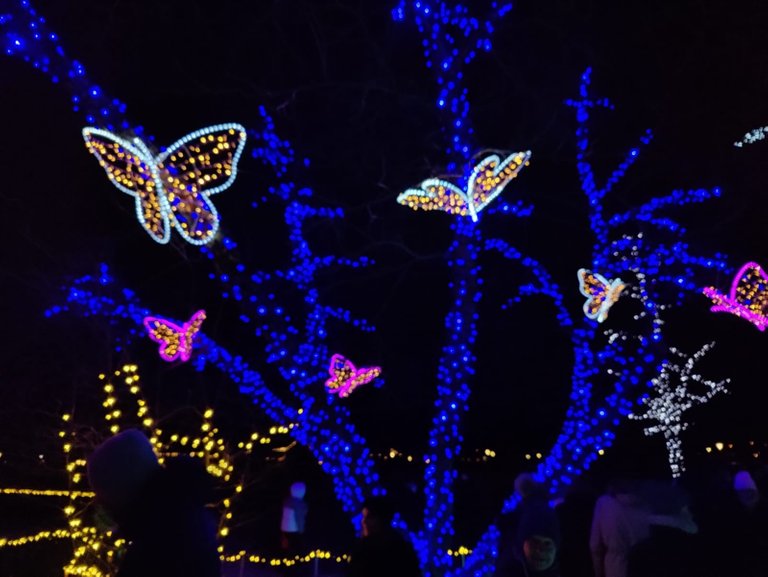 Bilden har jag tagit med min OnePlus 7 Pro,The Magical Forest.
Egentligen kunde vi ha stannat där mycket längre då det var häftigt att se ljuset och musiken och barnen ville inte heller gå därifrån. Men vi var också hungriga så vi går till en restaurang och äter innan vi går tillbaka till hotellet. Eftersom det är en liten stad är inte allt öppet och det som är öppet stänga tidigt, det är ju ingen storstad som Stockholm.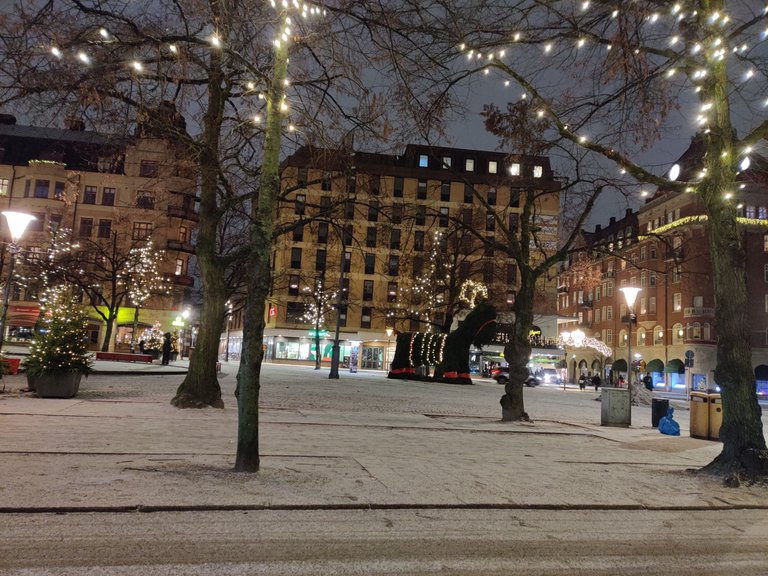 Bilden har jag tagit med OnePlus 7Pro, Örebro Centrum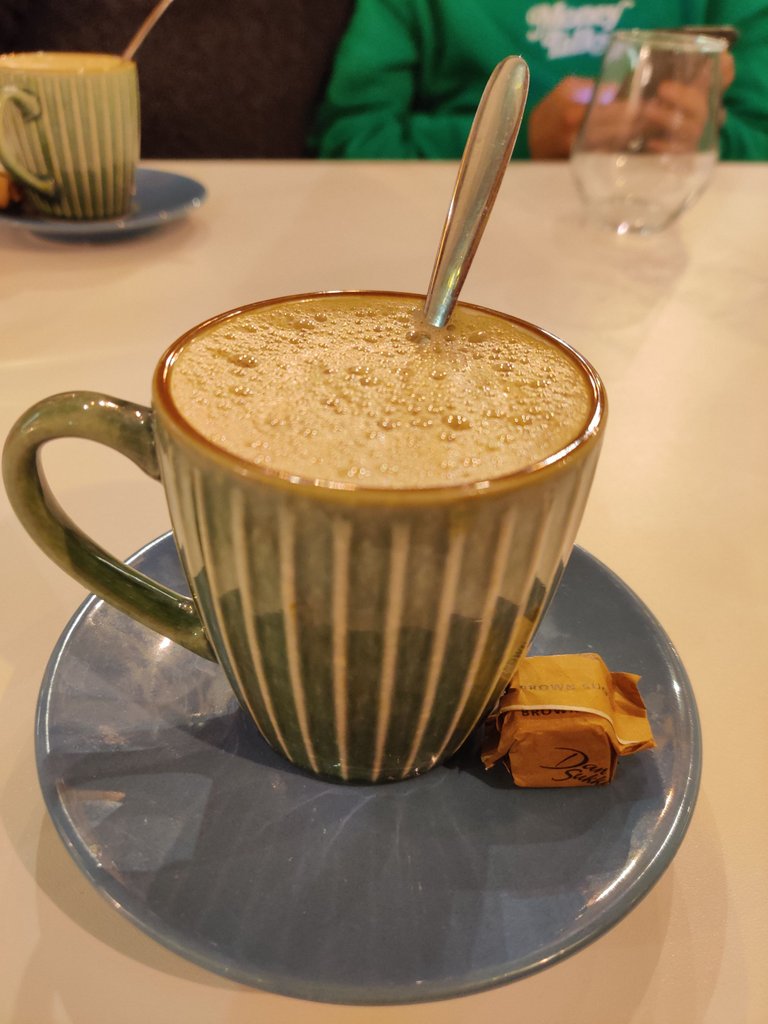 Bilden har jag tagit med OnePlus 7Pro, avslutar kvällen med Chai
2 tim resa mycket en välbesökt oförglömlig resa. Det blev en mycket lång dag så nu var det dags att gå tillbaka till hotellet och sova för att senare resa hem nästa dag.
Det var som sagt en mycket äventyrlig dag för inte bara barnen utan även för mig, då jag första gången på 16 år inte själv visste vart vi skulle. Men väl spenderat och utnyttjat ledighet blev det. Slutsatsen att man inte behöver alltid resa långt för att hitta roliga saker att göra.
Actually we could have stayed there much longer as it was awesome to see the lights and music and the kids didn't want to leave either. But we were also hungry so we went to a restaurant and ate before going back to the hotel. Since it is a small town, not everything is open on holidays and what is open closes early, it is not a big city like Stockholm.
The 2 hour trip was a very well visited, unforgettable trip. It was a very long day so now it was time to go back to the hotel and sleep to later travel home the next day.
As I said, it was a very adventurous day not only for the children but also for me, as for the first time in 16 years I myself did not know where we were going. But it was time off well spent and utilized. The conclusion is that you don't always have to travel far to find fun things to do.
Wish u all a very nice holiday, keep smiling.
---
---