Cine TV Contest #32 - Movie that Represents Autumn: The Goonies.

The Goonies (1985), is an adventure film that connects with viewers, who are able to see themselves reflected in its pre-teen and teenage protagonists, given the empathy and humor they convey in their performances.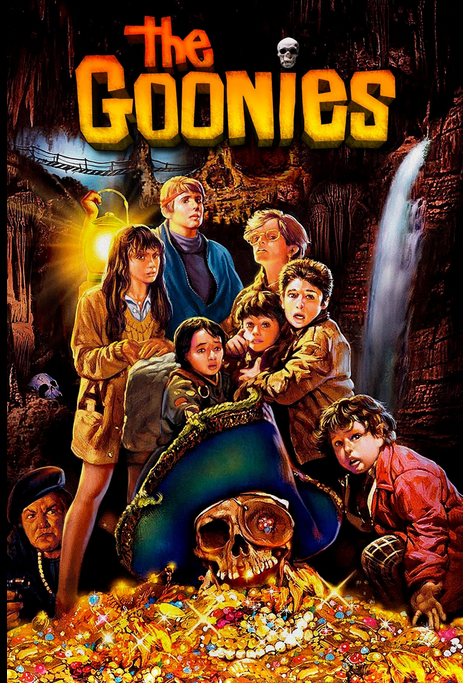 Source
Although much of the film takes place underground, it is clearly autumn, so the viewer feels that the protagonists are having their last adventure before they are forced to go their separate ways.
A group of friends embark on an adventure to save the neighborhood from an unscrupulous real estate company that wants to build a golf course. We will witness entanglements, teenage love and incomprehension on the part of the adults in the film.
This unusual gang consists of Mikey (Sean Astin), Mouth (Corey Feldman), Data (Ke Huy Quan) and Chunk (Jeff Cohen) who find a treasure map that leads to the pirate galleon of the legendary One-Eyed Willy.
Joining in the search are Mikey's brother Brand (Josh Brolin), Andy (Kerri Green) and Stef (Martha Plimpton). The asthmatic and good-natured leader of the group is Mickey; the snooty and know-it-all is Mouth; the comical and good-natured is Gordi; and the inventive and intelligent is Data; followed by the "bigger" Brand, his girlfriend Andy and her friend Stef.
Source
Chunk quickly forms a friendly bond with an innocent man who is kept chained in a basement and who later becomes a key player in the outcome of the story. His name is Sloth Fratelli (John Matuszak), who is the brother of the film's bad guys; the Fratellis (Robert Davi - Jake Fratelli and Joe Pantoliano - Francis Fratelli), who escape from prison and led by their mother (Anne Ramsey - Mama Fratelli) pursue the protagonists.
Sloth Fratelli :
Source
This film brings people closer to their desires and dreams, to a fiction that we would like to live, it identifies the good beyond what scares us in appearance, and presents children who did not need video games, cell phones, tablets and any electronic device that exists today to have an afternoon worth remembering. There is a fraternal atmosphere among the protagonists, which leads to transmit values such as friendship, loyalty and teamwork off-screen.
Source
This action-adventure film is directed by Richard Donner and produced by Steven Spielberg. Here the director achieves very decent and adequate performances from his young actors. Chris Columbus, develops the original idea of Steven Spielberg.
Sean Astin, with 13 years; and Josh Brolin, with 17, debuted in this film and years later would be recognized in the film sagas such as The Lord of the Rings and Avengers, respectively. Corey Feldman and Martha Plimpton continued their acting careers with some success and the rest of the gang chose other professional paths.
On a technical level we see some very beautiful Oregon locations, the makeup for Sloth is stunning, the remarkable soundtrack is reminiscent of those that accompanied the adventure films of the 30s and 40s. Cindy Lauper performed the song The Goonies R good enough, for the soundtrack of the film.
Source
In this iconic film of the 80's, we find an adventure with pirate treasures, monsters, a city in danger, gangsters, situations that even with the current technology of video games many of us would like to live, besides believing we are Superman.
It is a very suitable film to watch in autumn and that reflects in the protagonists an era of changes in which they live an adventure that they will never forget in their lives.
I hope that this publication has been to the liking of the community, and brings back memories to those of us who were children and teenagers in those 80's. This is my participation in the Cine TV Contest #32 - Movie that Represents Autumn Link Here. Good luck to all participants!.
---
---