Cine TV Contest #32 /Dead Poets Society: A Path to Free Thought/un camino hacia el pensamiento libre [ENG/ESP]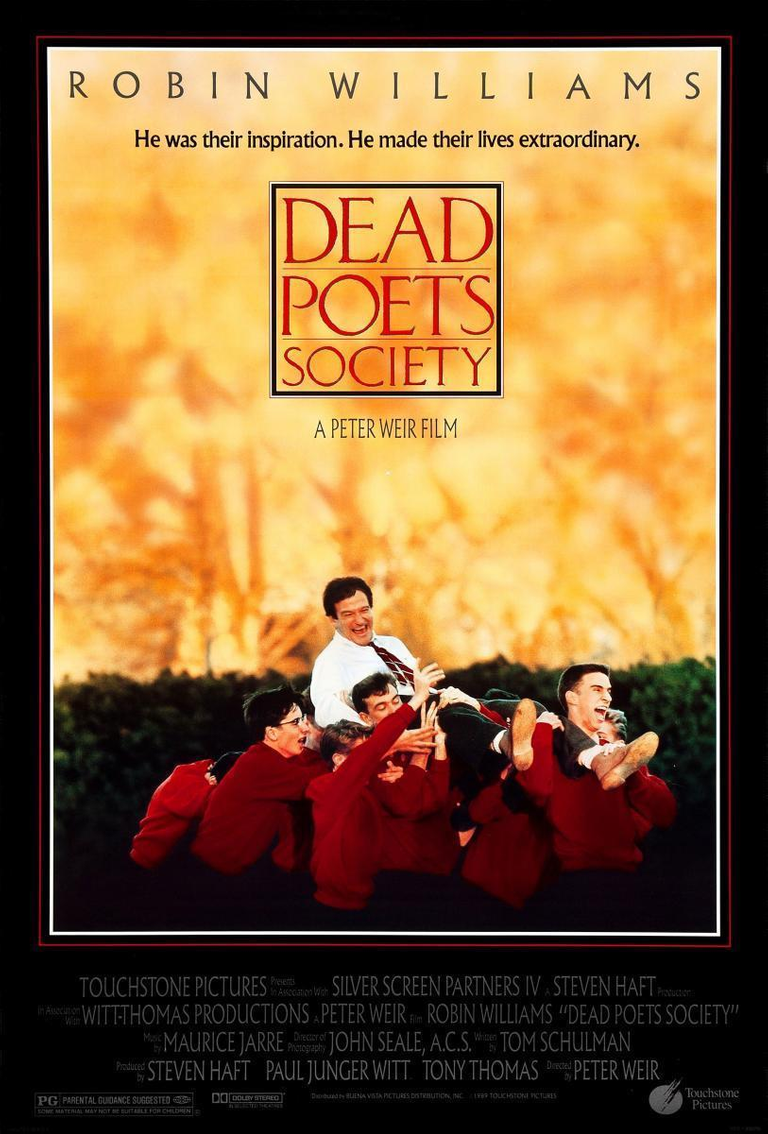 Source

Hello friends, welcome to my blog, in this new week of the contest dedicated to autumn, it reminds me of those movies in which you see the character sitting on the sofa, with a blanket, watching spring say goodbye; The leaves of the trees begin to fall, which gives rise to winter and is the farewell cycle for a new renewal of things. In my country there are no seasons, but I had the opportunity to see it, when I traveled years ago (1998), in the month of October to the USA, Louisiana, Lafayette. There I fell in love with that beautiful color of the leaves, with its nostalgic atmosphere that evokes great poets. This is why I chose this film that I saw many years after its release, "Dead Poest Society", a film directed by Peter Weir and starring Robin Williams, released in 1989.
Hola amigos, bienvenidos a mi blog, en esta nueva semana del concurso dedicada al otoño, me recuerda a esas películas en que el personaje lo ves sentado en el sofá, con una cobija, viendo como se despide la primavera; comienzan a caer las hojas de los árboles, que da pie al invierno y es el ciclo de despedida para una nueva renovación de las cosas. En mi país no se dan las estaciones, pero tuve la oportunidad de verla, al viajar hace años (1998), en el mes de octubre a USA, Louisiana, Lafayette. Allí me enamoré de ese hermoso color de las hojas, de su atmosfera nostálgica que evoca a grandes poetas. Por esto escogí esta película que vi muchos años después de su estreno, "Dead Poest Society", una película dirigida por Peter Weir y protagonizada por Robin Williams, estrenada en 1989.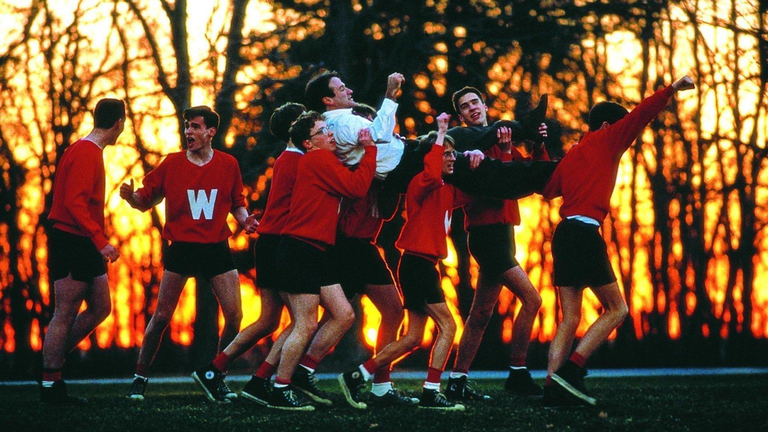 Source

This film is set in 1959, it is about how a literature teacher through classic poets, changes the way of thinking of his students so that they see the beauty of life and live it through words. I identified with this film when I saw it because in school, I was in a pilot program that taught students to think, we studied a problem and we had to see it from different angles: the good, the interesting, the bad or complicated for us. This allowed us to see the point of view of each participant and understand how a situation was different for each one. The program was called "Learn to Think", we had to intelligently question what they told us and make the decision to believe it or not, this allowed us not to be stupid followers of people because they told us something and to do it based on our values and knowledge.
Esta cinta está ambientada en 1959, trata de como un maestro de literatura a través de poetas clásicos, cambia la manera de pensar de sus alumnos para que vean la belleza de la vida y vivirla a través de las palabras. Me identifiqué con esta cinta cuando la vi porque en el colegio, estuve en un programa piloto que enseñaba a pensar a los alumnos, estudiábamos un problema y debíamos verlo en ángulos diferentes: lo bueno, lo interesante, lo malo o complicado para nosotros. Esto nos permitía ver el punto de vista de cada participante y entender como una situación era diferente para cada uno. El programa se llamaba "Aprender A Pensar", debíamos cuestionar de manera inteligente lo que nos decían y tomar la decisión de creerlo o no, esto nos permitía no ser seguidores tontos de las personas porque nos dijeran algo y hacerlo con base en nuestros valores y conocimientos.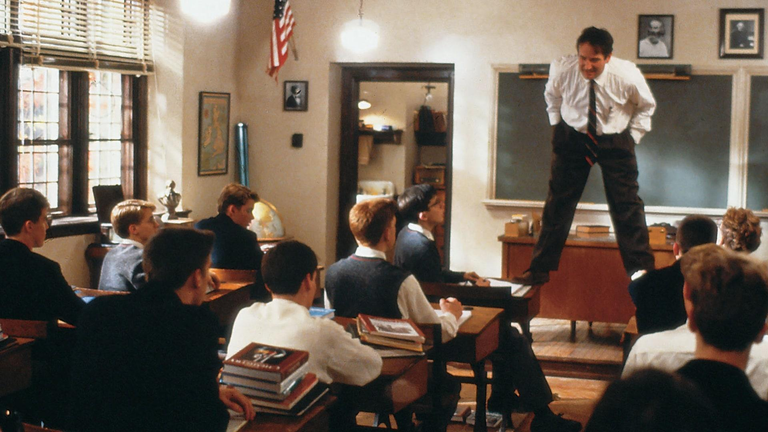 Source

In the movie, Professor John Keating (Robin), teaches at Welton Academy, he takes the kids to see pictures of the alumni, the first day of school and tells them to look at the pictures, that now they are, full of emotions, fears, dreams, goals, and whispers "Carpe Diem", which means in Latin, "Seize the Day", a phrase that is marked in me, since I saw the movie and that scene was the beginning of one of The best performances of Robin Williams. For me, this film is a masterpiece because of its performances, because of the plot it touches, because of the way it changes teaching paradigms to open the minds of young people full of energy, fears, fears, which are normal in adolescence, to direct them to through literature to confront and overcome them.
En la película, el profesor John Keating (Robin), enseña en la Academia Welton, él lleva a los chicos a ver fotografías de los exalumnos, el primer día de clases y les dice que miren las fotos, que esos ahora son ellos, llenos de emociones, miedos, sueños, metas, y les susurra "Carpe Diem", que significa en latín, "Aprovecha el Día", una frase que quedo marcada en mí, desde que vi la película y esa escena fue el comienzo de una de las mejores actuaciones de Robin Williams. Para mí esta cinta es una obra maestra por sus actuaciones, por la trama que toca, por la manera de cambiar los paradigmas de enseñanza para abrir la mente de jóvenes llenos de energía, miedos, temores, que son normales en la adolescencia para encauzarlas a través de la literatura a enfrentarlos y superarlos.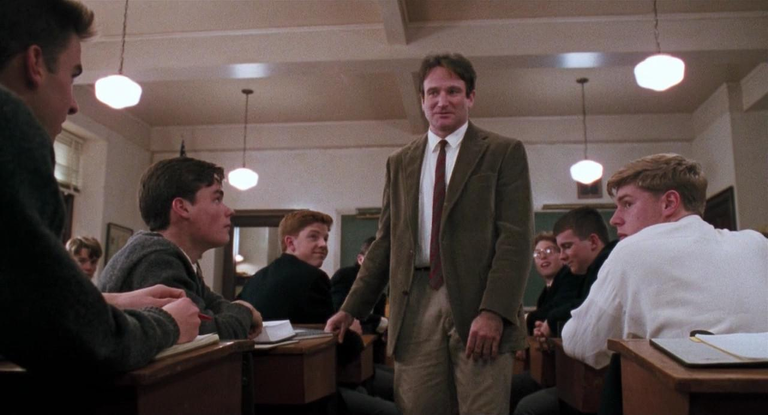 Source

Talking about this film fills me with emotion and memories of that teacher who taught us to think and criticize in a constructive way what she wanted to impose on us without taking into account our feelings or opinions, they taught us to defend our arguments and regardless of the consequences of it, but do it responsibly. In the film we see how each of the students has their own demons and crosses to carry, but the way Professor Keating (Robin) teaches them, teaches them to think for themselves, teaches them to express themselves through poetry, but it also teaches them to take responsibility for their actions, that freedom carries responsibility and there is a fine line between freedom and debauchery.
Hablar de esta cinta me llena de emoción y recuerdos de esa profesora que nos enseñaba a pensar y criticar de manera constructiva aquello que quería imponérsenos sin tomar en cuenta nuestros sentimientos u opiniones, nos enseñaron a defender nuestros argumentos y sin importar las consecuencias de ello, pero hacerlo con responsabilidad. En la cinta vemos como cada uno de los alumnos tienen sus propios demonios y cruces que cargar, pero la manera de enseñar del profesor Keating (Robin), les enseñaba a pensar por sí mismos, les enseña a manifestarse a través de la poesía, pero también les enseña a responsabilizarse de sus actos, que la libertad conlleva responsabilidad y hay una línea delgada entre la libertad y libertinaje.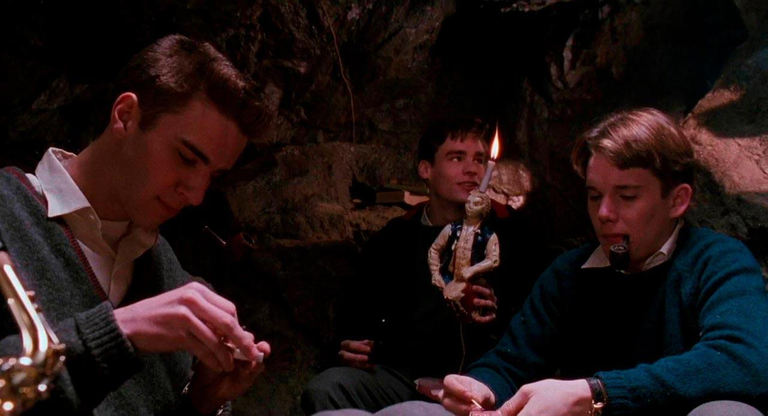 Source

The film is full of nuances and teachings, through the stories of each of the students, Niel Perry (Robert S. Leonard), Todd Anderson (Ethan Hawke), Charles Dalton (Gale Hansen), Richard Cameron (Dylan Kussman) , Knox Overstreet (Josh Charles), Gerard Pitts (James Waterston) and Steven Meeks (Allelon Ruggiero), they make up the society that teaches us through poetry to live each day to the fullest, enjoying it, but with responsibility and meaning. I hope that if you haven't seen this film you will see it and I say goodbye by leaving you a fragment of his book of Odes, where "Carpe Diem" appears, dedicated to Leucónoe by Horace's poet.
La cinta está llena de matices y enseñanzas, a través de las historias de cada uno de los alumnos, Niel Perry (Robert S. Leonard), Todd Anderson (Ethan Hawke), Charles Dalton (Gale Hansen), Richard Cameron (Dylan Kussman), Knox Overstreet (Josh Charles), Gerard Pitts (James Waterston) y Steven Meeks (Allelon Ruggiero), ellos conforman la sociedad que nos enseña a través de la poesía a vivir cada día a plenitud, disfrutándola, pero con responsabilidad y significado. Espero que si no has visto esta película la veas y me despido dejándote un fragmento de su libro de Odas, donde aparece "Carpe Diem", dedicado a Leucónoe del poeta de Horacio.

Carpe Diem
Do not inquire, Leuconoe (it is not lawful to know),
What end do the gods reserve for your life and mine,
or combine the magic numbers. You better resign yourself
to the decrees of fate, may Jupiter grant you to live many years,
May this be the last time you see the waves break
Tyrrhenian against the rocks opposed to his fury.
Be wise, drink good wine and reduce long hopes
to the brief space of existence. While we talk,
The envied hour flees. Seize the day, don't trust tomorrow.
Horace (Venosa, 65 BC - Rome, 8 BC)
No indagues, Leucónoe (no es lícito saberlo),
qué fin reservan los dioses a tu vida y la mía,
ni combines los números mágicos.
Mejor será que te resignes
a los decretos del hado, sea que Júpiter te conceda vivir muchos años,
sea éste el último en que ves romperse las olas del
Tirreno contra los escollos opuestos a su furor.
Sé prudente, bebe buen vino y reduce las largas esperanzas
al espacio breve de la existencia. Mientras hablamos,
huye la hora envidiada. Aprovecha el día, no confíes en el mañana.
Horacio (Venosa, 65 a.C. - Roma, 8 a.C.)
Source Carpe Diem

Official Trailer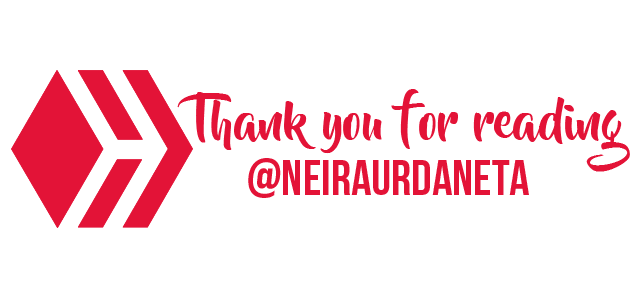 Page separator was made by me with the Canva application
If you want to participate in this contest this is the link
---
---