[ENG/ESP] Celebrating my stepfather's 77th birthday as a family/Celebrando las 77 primaveras de mi padrastro en familia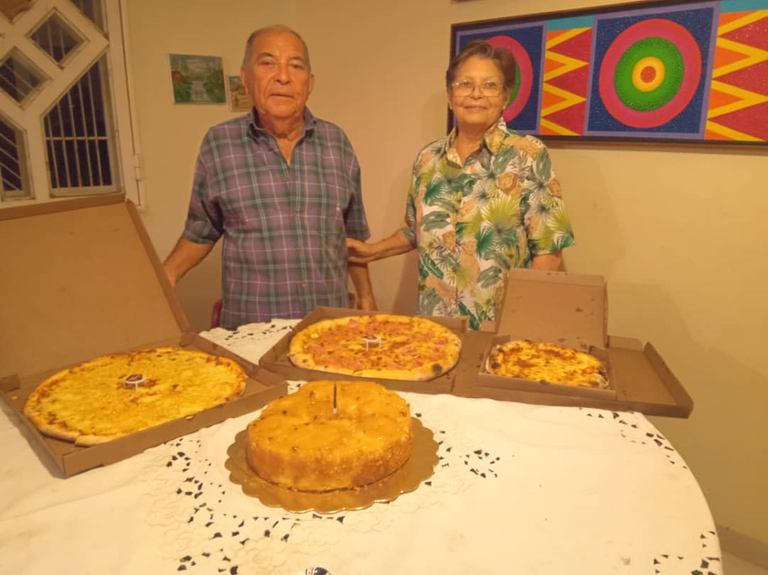 Hello friends, welcome to my blog, in my family we are in the month of family holidays because almost everyone was born in the month of August. We always try to celebrate these dates in meetings and more in this time of pandemics and diseases. The family is the most precious treasure and among the hectic life that we have it is important to spend these moments together and celebrate life.
Hola amigos, bienvenidos a mi blog, en mi familia estamos en el mes de las fiestas familiares porque casi todos nacieron en el mes de agosto. Siempre tratamos de celebrar estas fechas en reuniones y más en esta época de pandemias y enfermedades. La familia es el tesoro más preciado y entre la vida agitada que tenemos es importante pasar estos momentos juntos y celebrar la vida.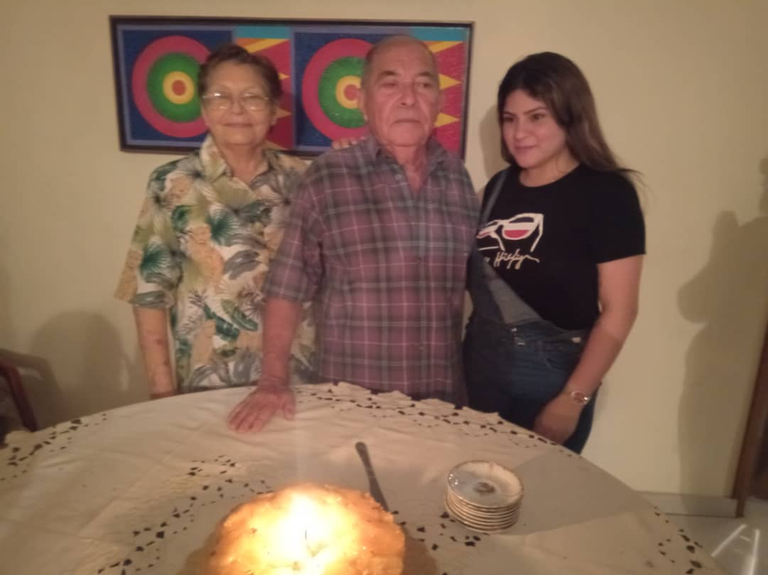 My stepfather turns 77, his children are abroad, which makes him a little sad at this time, despite the video calls from his children and grandchildren. Fortunately, one of the granddaughters was able to come this year from Peru and she accompanied him on this day, which made him immensely happy in addition to the call from her children and grandchildren.
Mi padrastro cumple 77 años, sus hijos se encuentran fuera del país, lo que hace que en estas fechas se entristezca un poco, a pesar de las videollamadas de sus hijos y nietos. Afortunadamente, una de las nietas pudo venir este año de Perú y lo acompaño en este día, cosa que lo alegro inmensamente además de la llamada de sus hijos y nietos.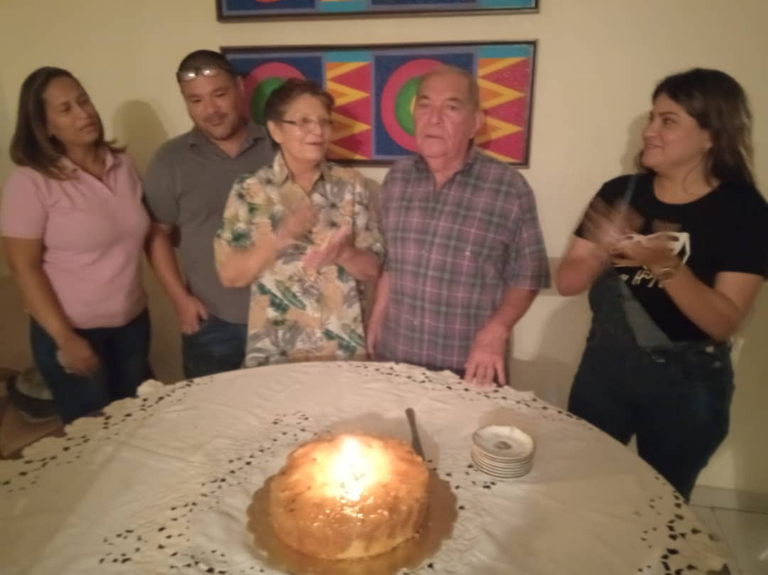 Between pizzas, donuts, cake, soft drinks and beers we had a great time, chatting and talking about everything a little. My mother is one of the lucky ones because she has all her children and grandchildren close to her, thanks to cryptocurrencies and Hive, no, we have seen the need to emigrate. I believe that in special moments it is important to accompany older relatives in this type of celebration and even more so when their close ones are not there.
Entre pizzas, donas, torta, refrescos y cervezas lo pasamos genial, conversando y hablando de todo un poco. Mi madre es de las afortunadas porque tiene todos sus hijos y nietos cerca, gracias a las criptomonedas y Hive, no, nos hemos visto en la necesidad de emigrar. Creo que en momentos especiales es importante acompañar a los familiares mayores en este tipo de celebraciones y más cuando sus seres cercanos no están.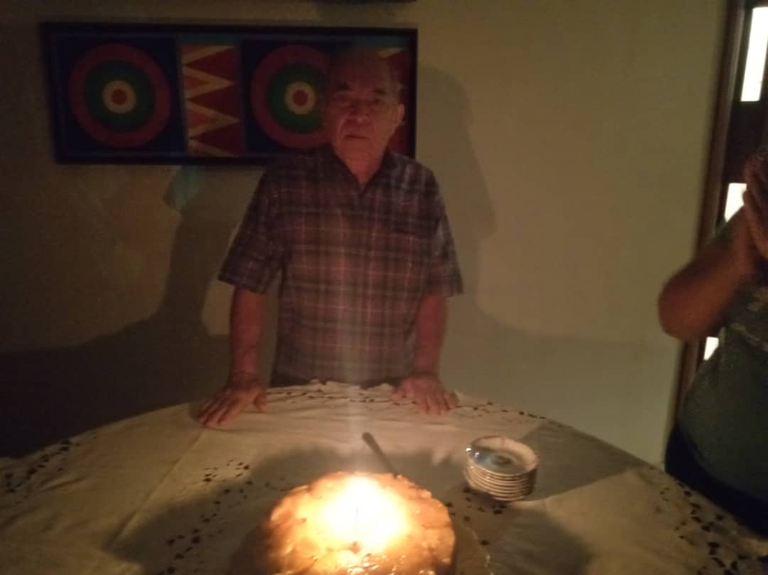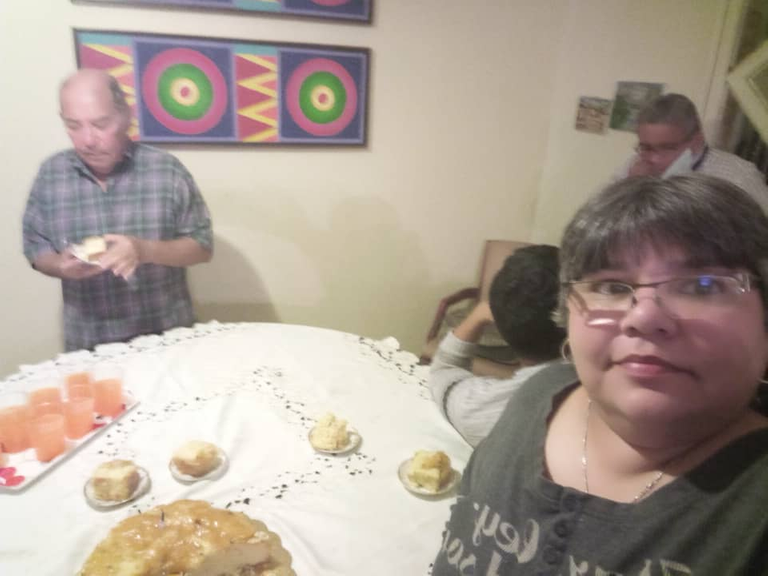 My mother, after becoming a widower and spending nearly 10 years a widow at the age of 50, found love again, when she least expected it. They have been living together for 20 years and they got married last year, both widowed in advanced ages, they had the fortune to meet to spend the rest of their lives in each other's company. My stepfather has known how to win the affection of my nephews who call him grandfather and of the family. Happy birthday Carlos, may there be much more to share and spread love.
Mi madre, luego de enviudar y pasar cerca de 10 años viuda a la edad de 50 años, encontró de nuevo el amor, cuando menos lo pensaba. Son 20 años viviendo juntos y el año pasado se casaron, ambos viudos en edades avanzadas, tuvieron la fortuna de encontrarse para pasar el resto de la vida en mutua compañía. Mi padrastro se ha sabido ganar el cariño de mis sobrinos que lo llaman abuelo y de la familia. Feliz cumpleaños Carlos que sean mucho más para compartir y esparcir amor.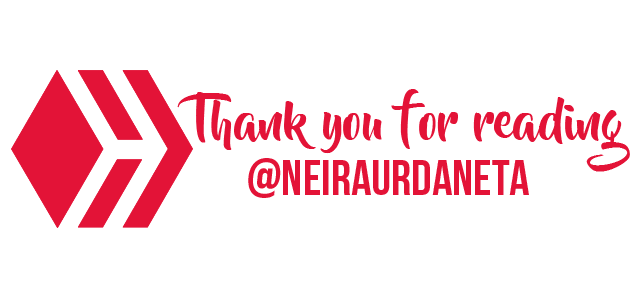 All Photos taken with my cell UMIDIGI A11
---
---