[ENG/ESP] Delicious Homemade Stewed Tongue With Vegetables/Deliciosa Lengua Guisada Con Vegetales Casera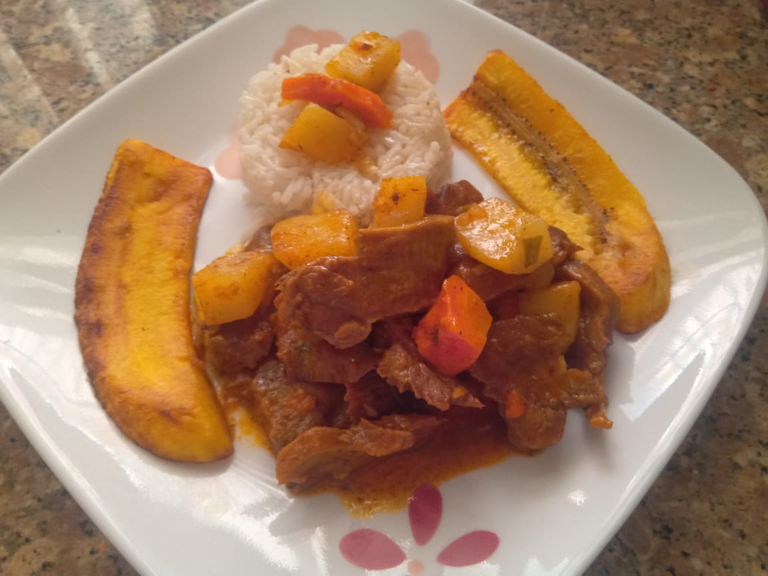 Hello friends, welcome to my blog, the recipe that I bring you is one of the dishes that I make when I have time because, although it is easy, it takes time, but it is worth it. He told them about the stewed tongue with vegetables, I accompany it with rice and plantain slices that give the dish that sweet touch. Here I leave the ingredients you need and how I make it.
Hola amigos, bienvenidos a mi blog, la receta que les traigo es una de los platos que lo hago cuando tengo tiempo porque, aunque es fácil lleva tiempo, pero vale la pena. Les habló de la lengua guisada con vegetales, la acompaño con arroz y tajadas de plátano que le dan ese toque dulzón al plato. Acá les dejo los ingredientes que necesitas y como la elaboro.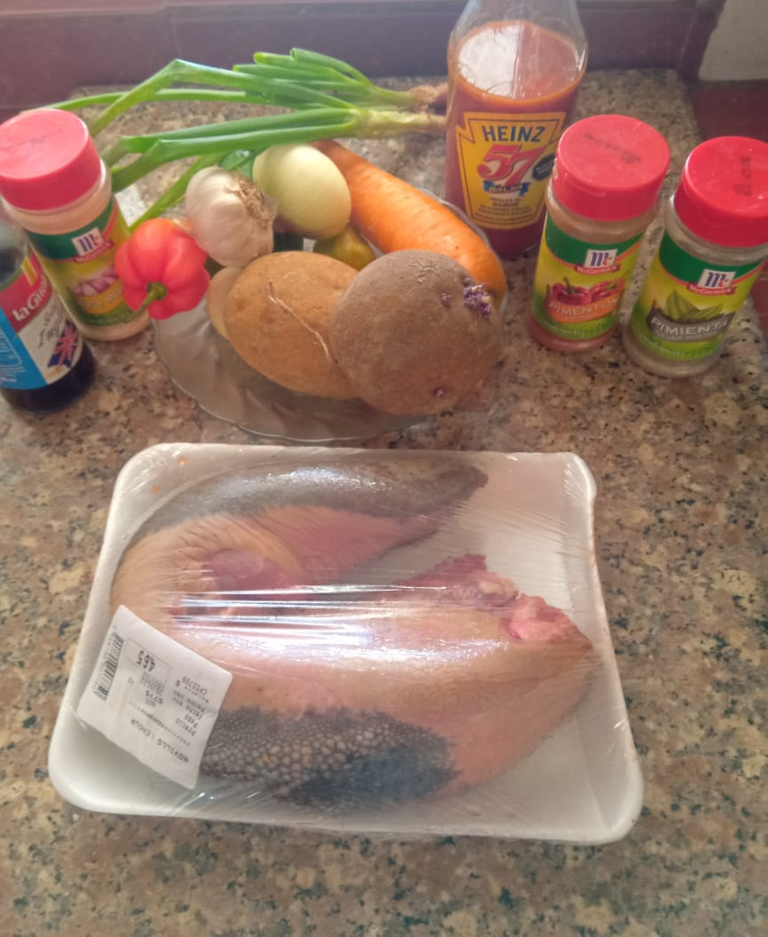 Ingredients:
• 1 beef tongue
• 1 large potato
• 1 carrot
• 1 paprika
• 1 onion
• 2 sweet peppers
• 3 cloves of garlic
• 15g chives
• 2 tablespoons Worcestershire sauce
• 2 tablespoons sauce 57
• Salt, pepper and paprika powder to taste
• 2 tablespoons of onoto
Ingredientes:
• 1 lengua res
• 1 papa grande
• 1 zanahoria
• 1 pimentón
• 1 cebolla
• 2 ajíes dulce
• 3 dientes de ajo
• 15g de cebollín
• 2 cucharadas de salsa inglesa
• 2 cucharadas de salsa 57
• Sal, pimienta y pimentón en polvo al gusto
• 2 cucharadas de onoto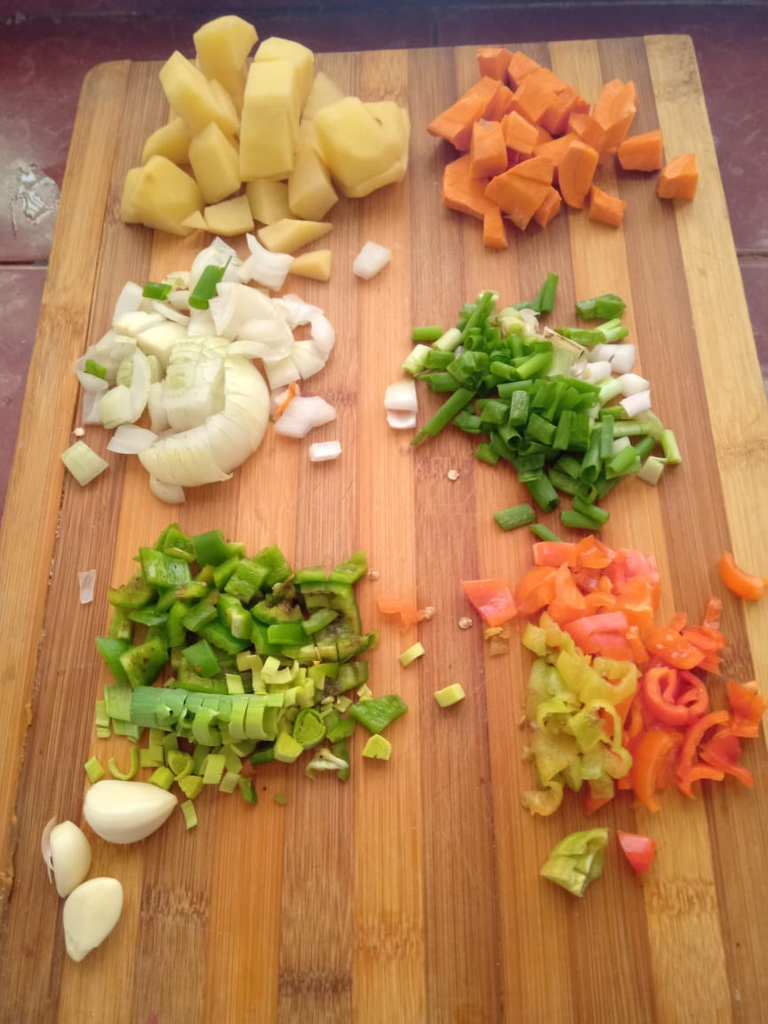 Elaboration:
The first thing is to chop everything, starting with the vegetables, then we must clean the tongue, for this we must place the tongue in a pot with water and salt over high heat, leaving it to cook for approximately 30 minutes so that we can remove the skin. After the time is still hot and this is important, start with a knife to remove and remove all the skin. Do not wait for it to cool down because it will be more difficult to do so. After removing all the skin, we cut it into slices.
Elaboración:
Lo primero es picar todo, comenzando por los vegetales, seguidamente debemos limpiar la lengua, para ello debemos colocar en una olla con agua y sal a fuego alto, la lengua dejando que se cocine por 30 minutos aproximadamente para que podamos remover la piel. Pasado el tiempo aun caliente y esto es importante comienza con un cuchillo a remover y quitar toda la piel. No esperes a que se enfrié porque será más difícil hacerlo. Luego de remover toda la piel, la cortamos en rodajas.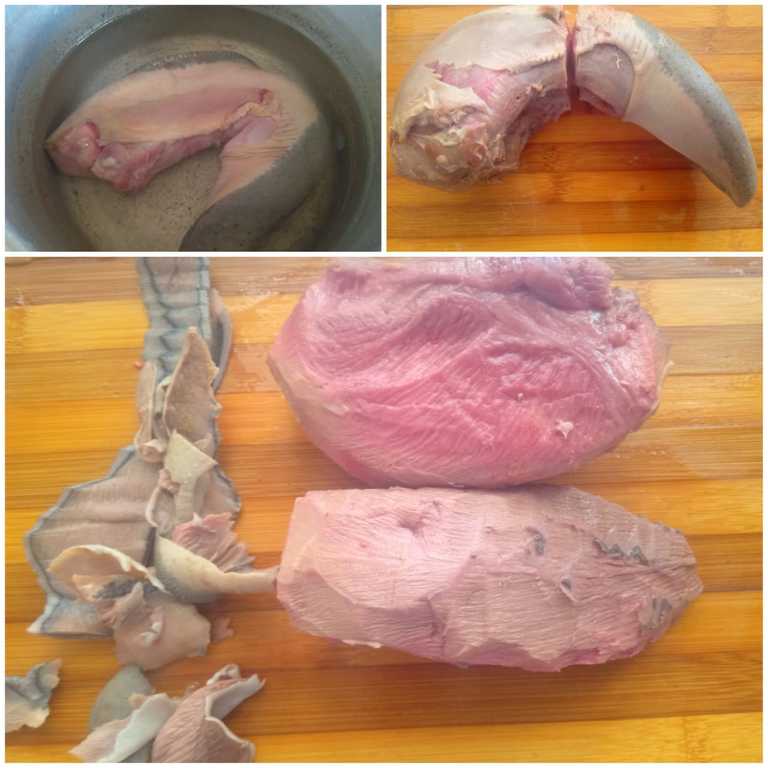 Once the skin is removed and chopped into slices, we proceed to put it in a pressure cooker adding approximately one liter of water for an hour. At that time the meat will be soft and tender as we want it. We remove the pot from the heat, verify that it is smooth and begin the preparation.
Una vez removida la piel y picada en rodajas, procedemos a meterla en una olla de presión agregando aproximadamente un litro de agua por una hora. En ese tiempo la carne estará suave y tierna como la deseamos. Retiramos la olla del fuego, verificamos que este suave y comenzamos la preparación.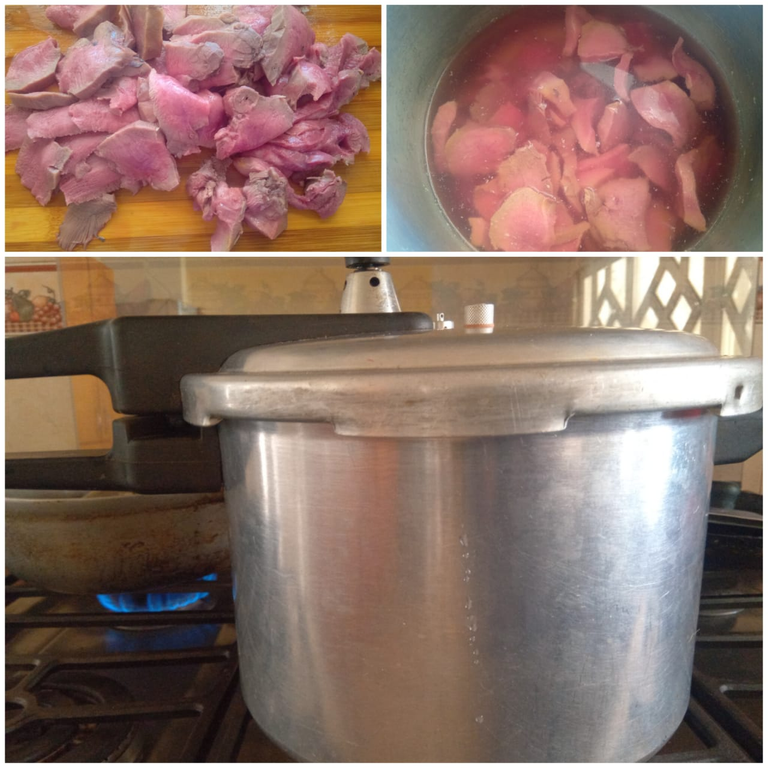 Ready the tongue, we proceed to place all the vegetables and place it back on the burner over medium heat, we stir to integrate all the ingredients. Once everything is integrated, we begin to season with salt, pepper, paprika powder, Worcestershire sauce, 57 sauce and onoto. Let cook for an hour to soften the potatoes and carrots. After 30 minutes we check that the vegetables are soft and that the seasoning is good, we hope to reduce the sauce.
Lista la lengua, procedemos a colocarle todos los vegetales y colocarla de nuevo en la hornilla a fuego medio, revolvemos para integrar todos los ingredientes. Una vez integrado todo comenzamos a sazonar con la sal, pimienta, pimentón en polvo, salsa inglesa, salsa 57 y onoto. Dejamos cocinar por una hora para que se ablanden las papas y zanahorias. Pasado 30 minutos revisamos que estén blandas los vegetales y que este bien de sazón, esperamos reduzca la salsa.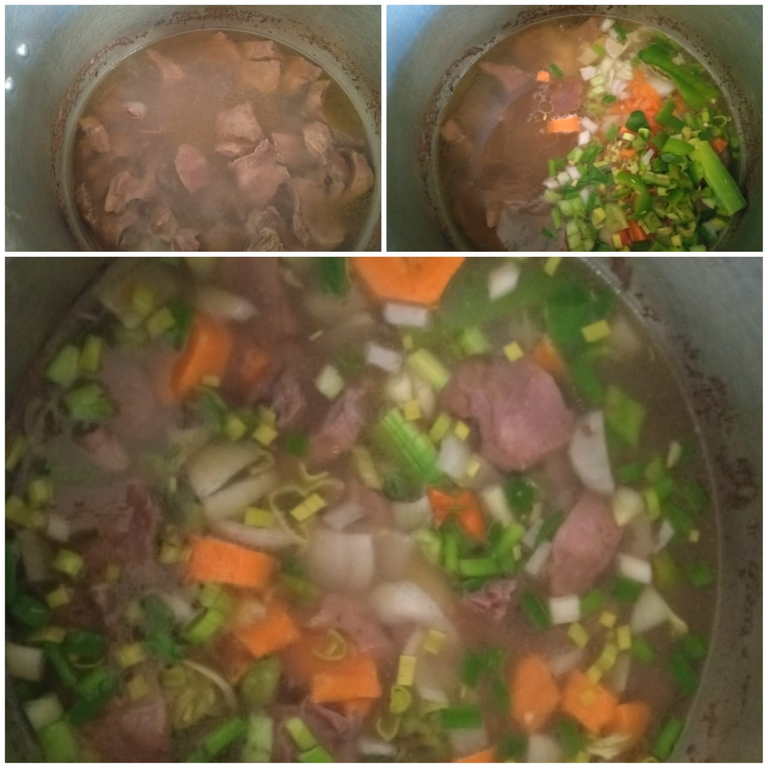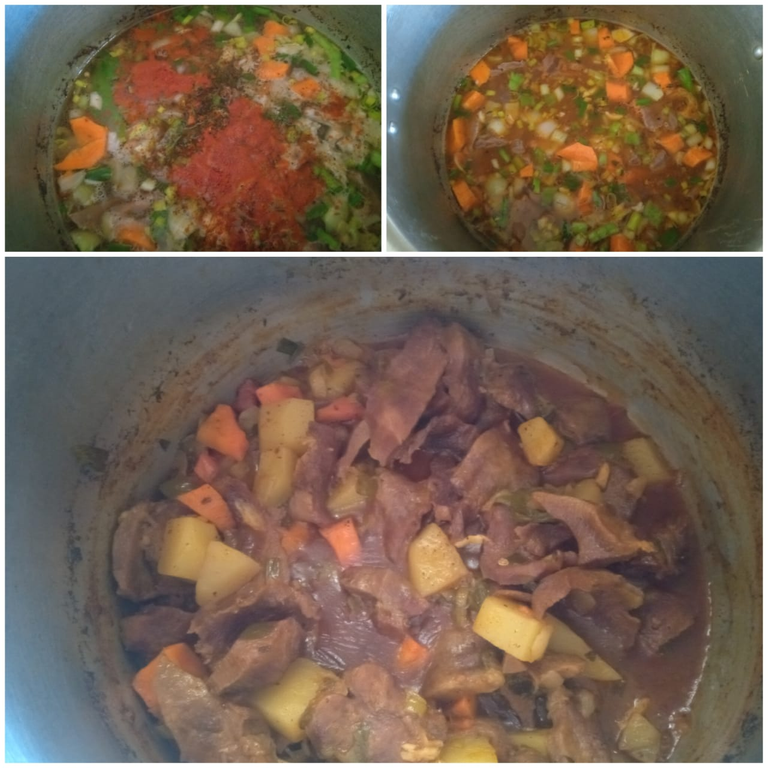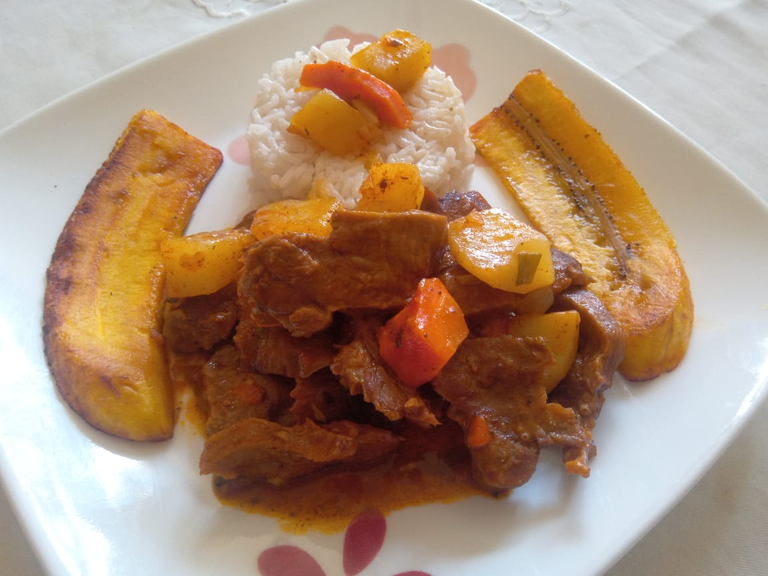 Once the hour has passed everything will be ready, we only have to serve and enjoy this delicious dish with the contours of your preference, in my case I accompanied it with white rice and slices of banana. I hope you will like the recipe.
Una vez pasada la hora todo estará listo, solo nos queda servir y disfrutar este delicioso plato con los contornos de tú preferencia, en mi caso lo acompañe con arroz blanco y tajadas de plátano. Espero te gustará la receta.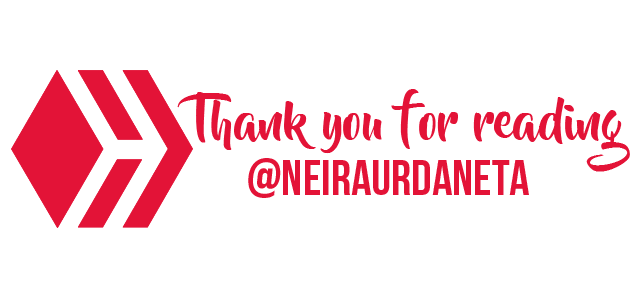 All Photos taken with my cell UMIDIGI A11
---
---