THE LOST CITY (2022) MOVIE REVIEW (Eng/Esp)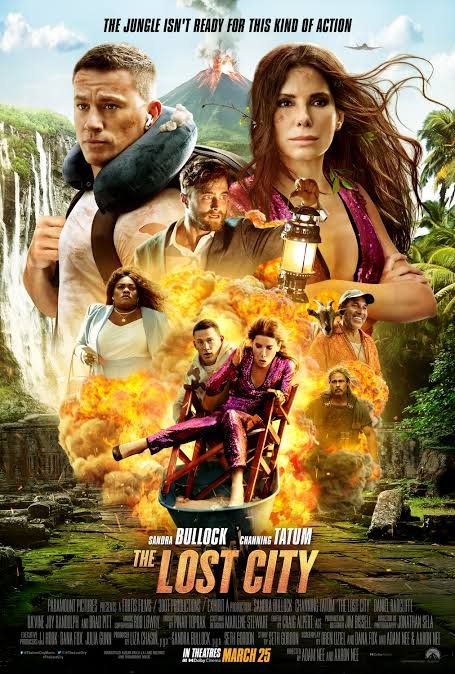 Source
ENGLISH VERSION
I'm a sucker for movies set in the jungle, if you're a fan of Jumanji, you would love this too.
It aired on the 22nd of April 2022, and is currently sitting at a 78% rating by Rotten Tomatoes
ABOUT THE PRODUCTION
The movie is directed by the Nee brothers(Adam and Aaron Nee). The story was written by Seth Gordon. It stars some A list actors like Sandra bullock, Channing Tatum, Daniel Radcliffe and the ever handsome Brad Pitt.
ABOUT THE MOVIE
It is an American action-adventure comedy film set in the jungle but it doesn't start there. It starts with a novelist, Loretta, struggling with writer's block. She seems to have lost her husband and is struggling with life.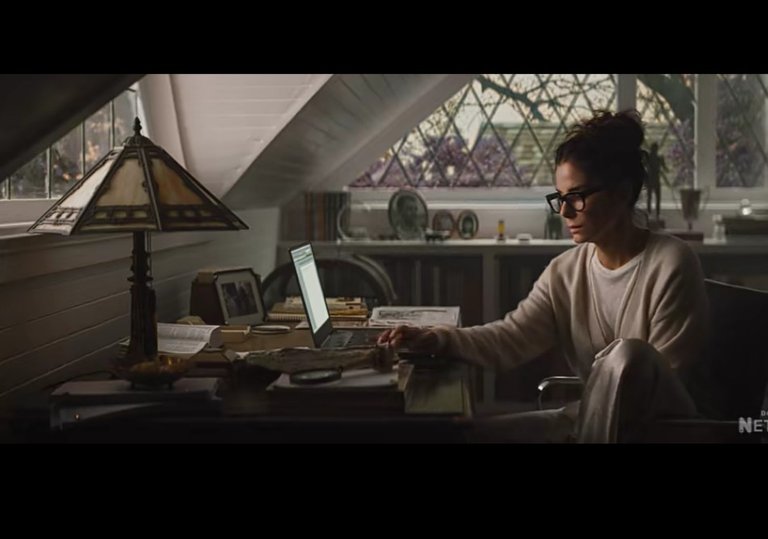 Screenshot taken from the movie
Just before she goes for her book tour, she's kidnapped by a billionaire (Daniel Radcliffe), who is bent on finding the treasure she writes in her bestselling book. He feels she is the only one that can translate the map to find the treasure. It is up to the model she uses for the cover of her book, Dash(Channing Tatum) to save her. He enlists the help of his meditation buddy, Jack Trainer (Brad Pitt) who is also an ex navy seal to save Loretta (Sandra bullock) from the hands of the foe.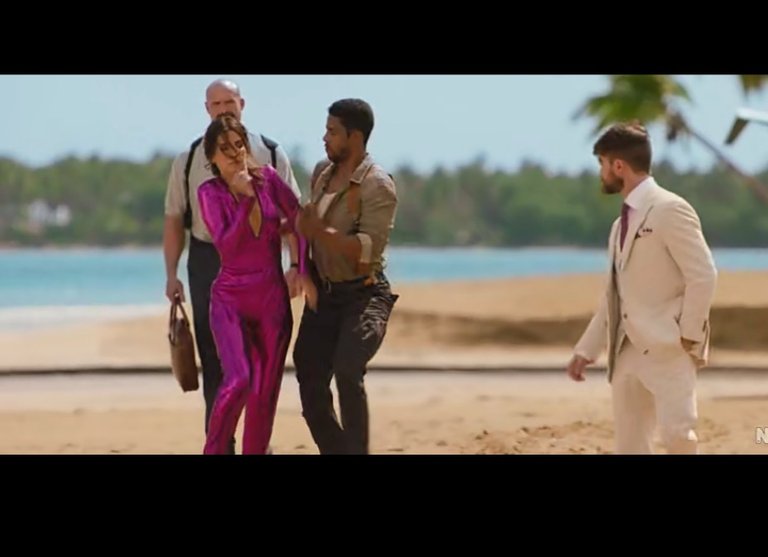 Screenshot taken from the movie
They find out her abductors have taken her to and island in search of the treasure and they proceed to find her. Like every adventure film, things don't seem to go as planned. Loretta is rescued but is lost in the jungle with Dash without and cell service. They make best with what they can find. It is clear that there's a connection between them but it seems only Dash can see it.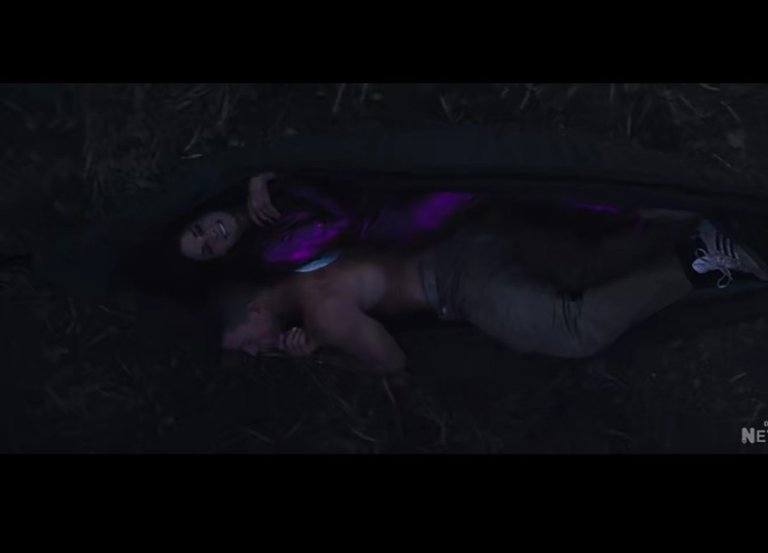 Screenshot taken from movie
They are a chaotic duo. They make it to a local town where Loretta finally sees Dash, sees the connection. It was just as she had written in her love novel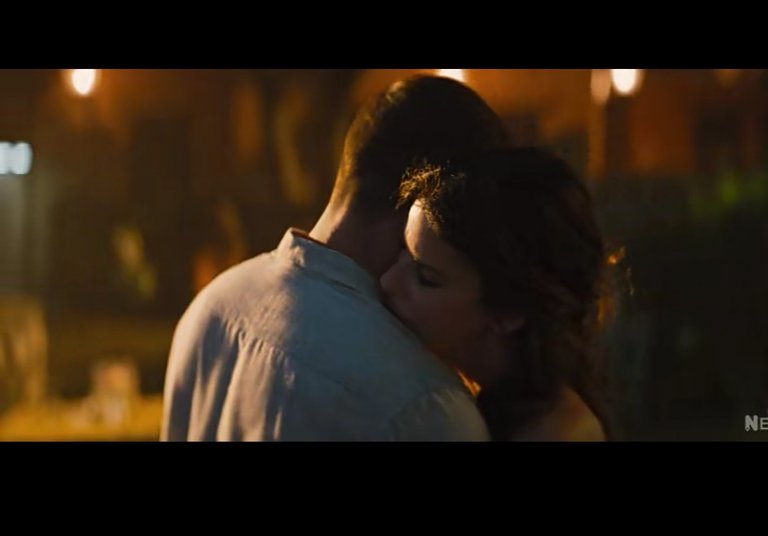 Screenshot taken from movie
but before anything happens, they are recaptured by the billionaire who is still bent on finding the treasure. He takes them to a cave where he thinks the treasure might be only to find out all is not as it seems. Devastated by what he finds, he locks them up in the tomb and makes a run for it before the volcano erupts. They make their way out of the tomb and the billionaire is captured by the police.
Loretta sees now that there is more to life than she knew, the story ends with a kiss shared between Loretta and Dash.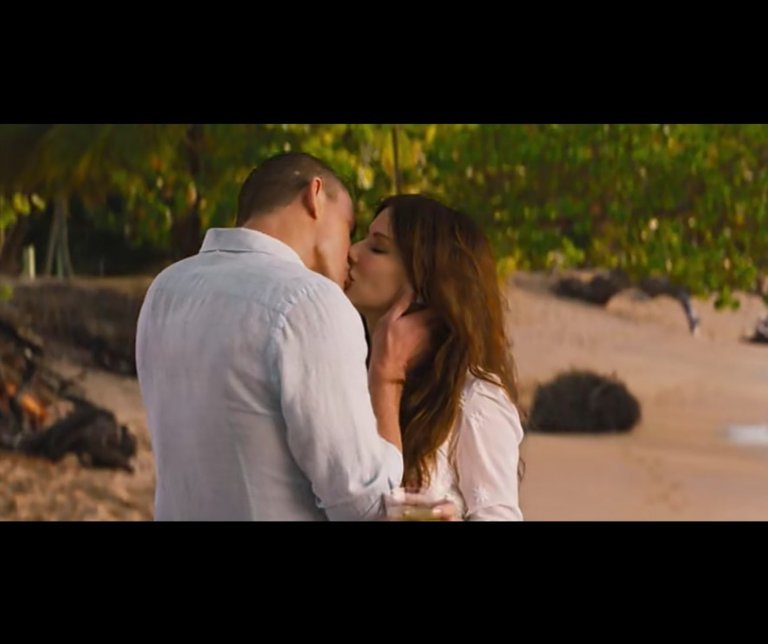 Screenshot taken from movie
MY PERSONAL OPINION
I'd rated the movie a 7/10. It was a great movie, the production crew did a good job. I really enjoyed the dialogue between Sandra bullock and Channing Tatum's characters. Like I said before, if you are an action adventure fan, you would totally enjoy this movie
---
I tried to keep the plot very simple because the movie just came out and I didn't want to leave spoilers Incase people had not seen it yet. Its a great movie, definitely something you can watch a second time.
---
SPANISH VERSION
---
Soy un fanático de las películas ambientadas en la jungla, si eres fanático de Jumanji, también te encantaría esto. Se emitió el 22 de abril de 2022 y actualmente tiene una calificación del 78 % según Rotten Tomatoes.
SOBRE LA PRODUCCIÓN
La película está dirigida por los hermanos Nee (Adam y Aaron Nee). La historia fue escrita por Seth Gordon. Está protagonizada por algunos actores de la lista A como Sandra Bullock, Channing Tatum, Daniel Radcliffe y el siempre guapo Brad Pitt.
SOBRE LA PELÍCULA
Es una película estadounidense de comedia de acción y aventuras ambientada en la jungla, pero no comienza allí. Comienza con una novelista, Loretta, luchando contra el bloqueo del escritor. Parece haber perdido a su esposo y está luchando con la vida.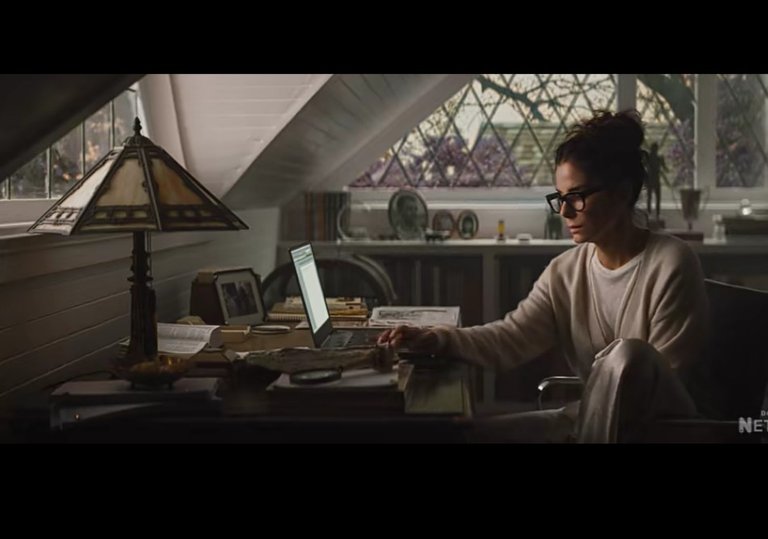 Captura de pantalla tomada de la película
Justo antes de emprender la gira de su libro, es secuestrada por un multimillonario (Daniel Radcliffe), que está empeñado en encontrar el tesoro que ella escribe en su libro más vendido. Siente que ella es la única que puede traducir el mapa para encontrar el tesoro. Depende de la modelo que usa para la portada de su libro, Dash (Channing Tatum) salvarla. Solicita la ayuda de su compañero de meditación, Jack Trainer (Brad Pitt), quien también es un ex Navy Seal, para salvar a Loretta (Sandra Bullock) de las manos del enemigo.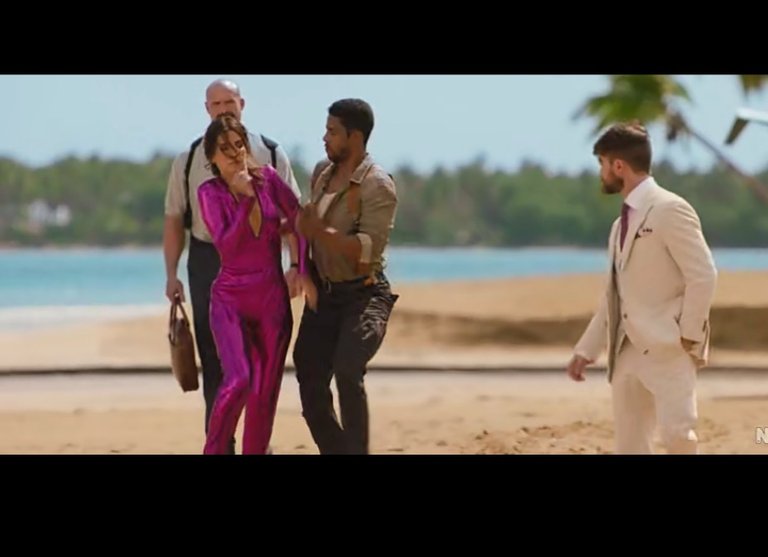 Captura de pantalla tomada de la película
Descubren que sus secuestradores la han llevado a una isla en busca del tesoro y proceden a encontrarla. Como toda película de aventuras, las cosas no parecen salir según lo planeado. Loretta es rescatada pero se pierde en la jungla con Dash sin servicio celular. Hacen lo mejor con lo que pueden encontrar. Está claro que hay una conexión entre ellos, pero parece que solo Dash puede verlo.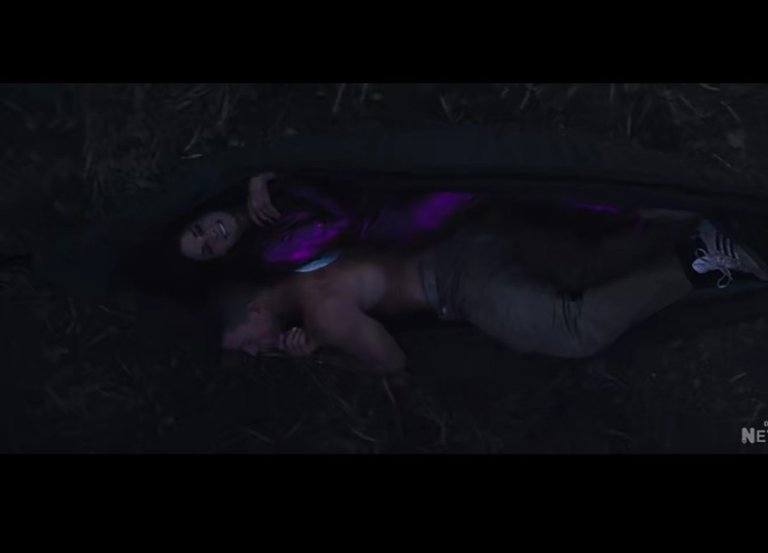 Captura de pantalla tomada de la película
Son un dúo caótico. Llegan a un pueblo local donde Loretta finalmente ve a Dash, ve la conexión. Era tal como lo había escrito en su novela de amor.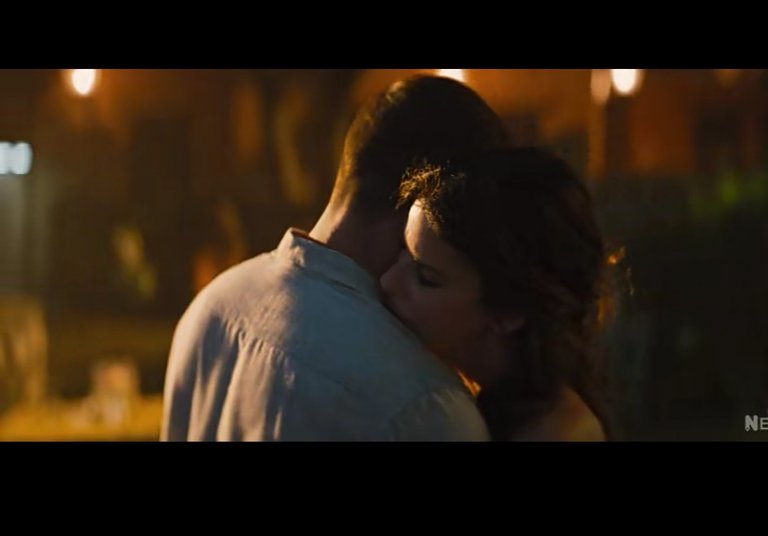 Captura de pantalla tomada de la película
pero antes de que suceda algo, son recuperados por el multimillonario que todavía está empeñado en encontrar el tesoro. Los lleva a una cueva donde cree que podría estar el tesoro solo para descubrir que no todo es lo que parece. Devastado por lo que encuentra, los encierra en la tumba y huye antes de que el volcán entre en erupción. Salen de la tumba y el multimillonario es capturado por la policía. Loretta ve ahora que hay más en la vida de lo que ella sabía, la historia termina con un beso compartido entre Loretta y Dash.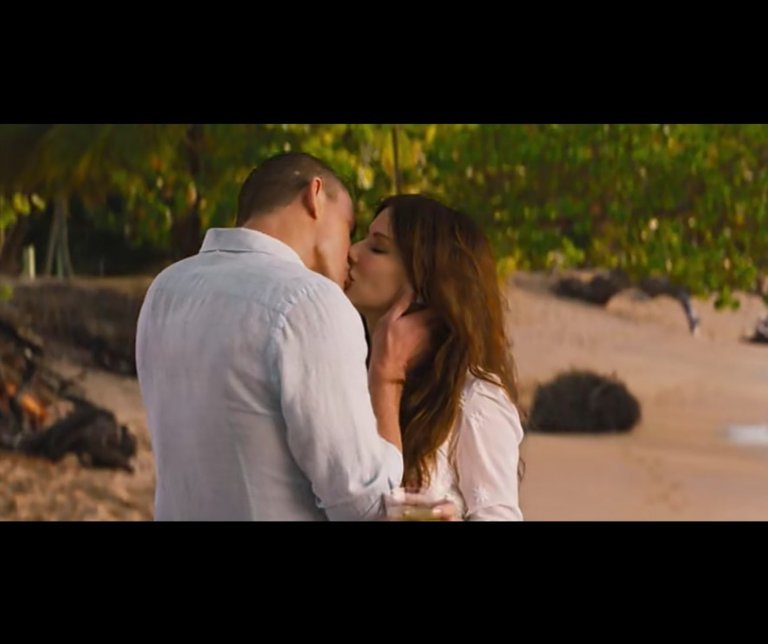 Captura de pantalla tomada de la película
MI OPINIÓN PERSONAL
Califiqué la película con un 7/10. Fue una gran película, el equipo de producción hizo un buen trabajo. Realmente disfruté el diálogo entre Sandra Bullock y los personajes de Channing Tatum. Como dije antes, si eres un fanático de las aventuras de acción, disfrutarás totalmente de esta película.
---
Traté de mantener la trama muy simple porque la película acaba de salir y no quería dejar spoilers en caso de que la gente aún no la haya visto. Es una gran película, *definitivamente algo que puedes ver por segunda vez.
---
---