Santiago lights from above — Luces de Santiago vistas desde el aire | World Photography Contest — Lights of the world
English:
This photo shows the lights of the city of Santiago (Chile), just before the sunrise. It was taken from an airplane close to the airport of this city. Notice the lights of the dawn just behind the mountains of the Andes. You can also see a song layer above the city, due to air pollution, this is quite common in the Chilean capital.
The photo was taken with the camera of my cell phone a Samsung Galaxy S20 and edited in Gimp. I also share the image in black and white.
Español :
Esta fotografía muestra las luces de la ciudad de Santiago (Chile), justo antes del amanecer. Fue tomada desde un avión durante en las cercanías del aeropuerto de la capital chilena. Noten que el alba esta comenzando, justo detrás de la cordillera de los Andes. También vale la pena destacar la capa de contaminación ("smog") que se encuentra sobre el valle, fenómeno muy común aquí.
La fotografía fue tomada con la cámara de mi celular un Samsung Galaxy S20 y editada en Gimp.
También muestro la imagen en formato blanco y negro.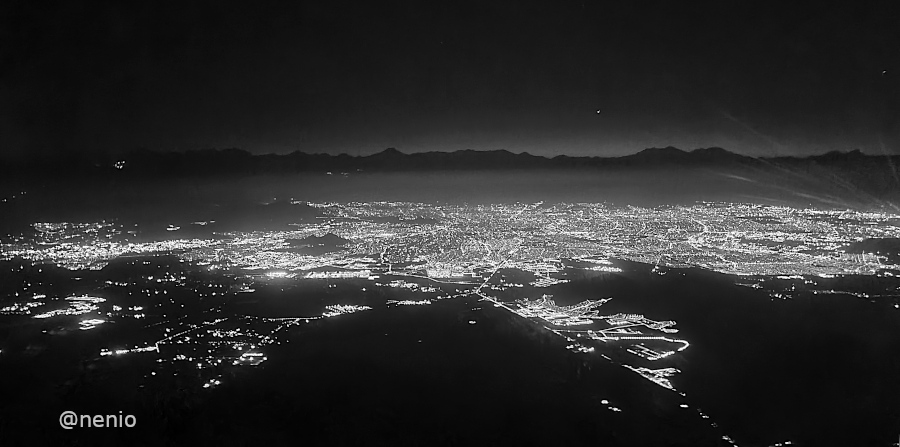 These images are my entries to the round #28 in
#worldphotography
contest organized by
@marc-allaria
, and this week there is
"lights of the world"
. The rules can be read
here
.
Con estas imágenes estoy participando en el concurso
#worldphotography
(en su vigésima octava ronda) organizado por
@marc-allaria
, y el tema de esta semana es
luces del mundo
. Las reglas están publicadas
aquí
---
Thank you for visiting my blog. I hope that you enjoyed the post.
Gracias por visitar mi blog y espero que el post haya sido de su agrado.
---
---

Images by @nenio — All rights reserved

---
---