My stake and earnings of CUB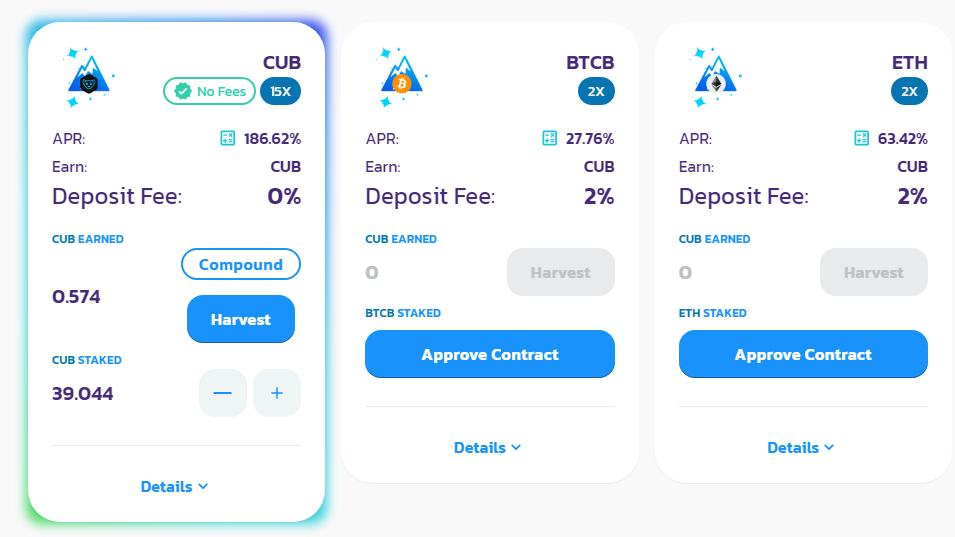 Hi there,
How's it going? It's NEO here.
As you might seen in my previous posts (probably not :D) I've participated in CUB stake via https://cubdefi.com since beginning of it. In the first place I have staked 2.5 wBNB pool (its inactive now) to earn CUB and then any harvested CUB I have staked into CUB pool. As you can see on screenshot above all of it generated 39 CUB and also in the meantime price of CUB goes down quite drastically and back up to almost $4 and price of BNB jump up to $300. Percentages have changed in the meantime too. Value of this 39CUB at the moment is about $150 and I still left it staked. I should mention about deposit and transaction fees which in total might be something like $25.
Is it worth it? Honestly any $$$ you can earn when your crypto is working while you sleep is worth it and that is how I look at this DeFi projects. At the moment I am observing how price of CUB will act and then I will think about any exchange etc.
Remember I am not a financial advisor, I just like free $$$ :))))))
Stay safe.
Bless.
/NEO
---
Who is NEO?
DJ, Vlogger, Co-Founder of NEOwear, Content Creator, Appics Ambassador, Cryptopreneur
WEBSITE: ►http://www.neopch.com
NEOwear Inspirational Clothing: ►http://www.neo-wear.com
Posted Using LeoFinance Beta
---
---