Cuando la corrupción e injusticia toca nuestra puerta • When corruption and injustice knock on our door [Es•En]

La vida es maravillosa, en mi caso es el doble porque cuento con mi esposa e hijo incondicionalmente y el resto de mi familia, que a pesar de estar lejos, nunca han dejado de apoyarme sin importar la distancia que nos separa. Amor infinito pa' mi gente por siempre y pa' siempre.
Hace unas semanas pasamos tres días de angustia, miedo y terror.
Ya hoy siento que puedo hablar más calmadamente sobre lo sucedido, la verdad nunca nada me ha afectado tanto como esto. Yo soy una persona muy positiva y optimista. Le busco el lado bonito o el aprendizaje a toda mala situación.
Volviendo al asunto, les comento resumidamente todo lo que pasé con mi esposa e hijo.
Life is wonderful, in my case it is twice as wonderful because I count on my wife and son unconditionally and the rest of my family, who despite being far away, have never stopped supporting me no matter the distance that separates us. Infinite love to my people forever and ever.
A few weeks ago we spent three days of anguish, fear and terror.
Today I feel that I can talk more calmly about what happened, the truth is that nothing has ever affected me as much as this. I am a very positive and optimistic person. I look for the beautiful side or learning from every bad situation.
Back to the subject, I will summarize everything I went through with my wife and son.
---
---
---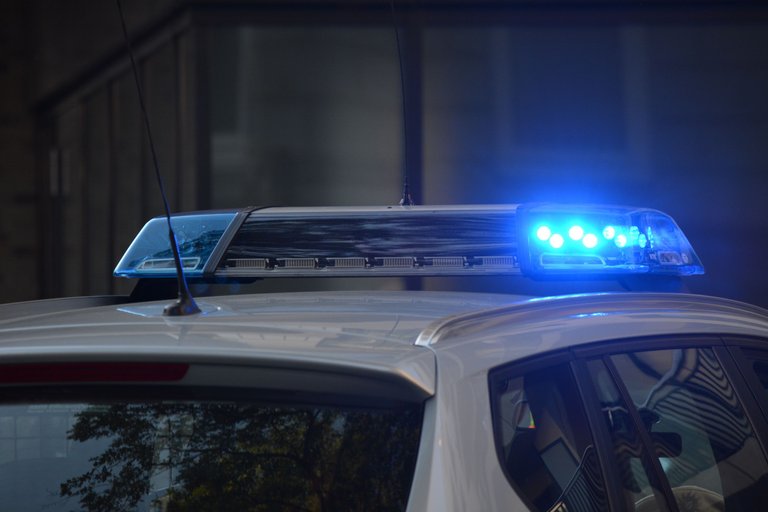 Para nadie es un secreto que los cuerpos policiales, sobretodo los de Venezuela, están más corruptos y podridos que nunca.
Eran las tantas horas del mediodía del 7 de septiembre, mi esposa Estefania estaba terminando de hacer el almuerzo, y yo estaba con mi hijo en nuestro cuarto viendo cosas en la computadora.
De repente escucho el susto de mi esposa y lo siguiente que dice es "Nelson la policía", mi hijo del miedo corrió a esconderse al closet, y yo voy a dónde mi esposa, pero en ese mismo momento ya venían dos policías, encapuchados, sin identificación, aplicando el comúnmente conocido psicoterror (Todo esto paso con mi esposa en ropa de casa, mi chamín y yo en boxers).
It is no secret that the police forces, especially in Venezuela, are more corrupt and rotten than ever.
It was the middle of the day on September 7, my wife Estefania was finishing lunch, and I was with my son in our room watching things on the computer.
Suddenly I hear my wife's fright and the next thing she says is "Nelson, the police", my son, out of fear, ran to hide in the closet, and I go to my wife, but at that very moment two policemen came, hooded, without identification, applying the commonly known psychoterror (All this happened with my wife in house clothes, my son and I in boxers).
---
---
---
Uno de ellos me apunta con su arma preguntándome que quién se escondió en el closet. Dije que es mi hijo y que me dejara sacarlo del cuarto. Le di un beso y le dije que fuera con su mamá, que todo iba a estar bien, a pesar de que yo tenía impotencia, rabia, odio y no lo niego, miedo por mi familia, por la situación que estaban pasando.
Me encierran en mi cuarto con 3 policías, en la sala estaba mi esposa con mi hijo. Yo estaba como en trance, no me creía posible que eso nos estuviera pasando a nosotros. La cara de miedo de mi mujer e hijo, es algo que hasta el sol de hoy no he podido borrar de mi mente.
One of them pointed his gun at me asking me who was hiding in the closet. I said it was my son and to let me take him out of the room. I kissed him and told him to go with his mother, that everything would be all right, even though I was helpless, angry, hateful and I do not deny it, afraid for my family, for the situation they were going through.
They locked me in my room with 3 policemen, in the living room was my wife with my son. I was in a trance, I could not believe it was happening to us. The look of fear on the faces of my wife and son is something that to this day I have not been able to erase from my mind.
---
---
---
Empiezan a revisar los celulares y el cuarto, y yo les hablé claro y les dije que lo único ilegal que iban a conseguir en esta casa era que yo fumo marihuana y que tenía mi consumo personal. De una vez busqué los 3 gramos que me quedaban y se los entregué. Uno de los policías que agarro mi frasco con mi hierba, se saca de un bolsillo una bolsa con mucha más hierba y pone mi hierba junto con su bolsa.
Fue cuando entendí que esa gente venía a jodernos de una y otra forma. El que me apunto con su arma viene y me dice, "Yo no te voy a discriminar, pero ¿Cómo vamos a hacer?. Consíguete 2000$ para la tarde y aquí no ha pasado nada."
Por el apuro yo no pensé en la cantidad y les dije que si, solo para que se fueran ya de la casa.
They start to search the cell phones and the room, and I spoke clearly and told them that the only illegal thing they were going to get in this house was that I smoke marijuana and that I had my personal consumption. All at once I looked for the 3 grams I had left and gave it to them. One of the policemen who grabbed my jar with my weed, took out of his pocket a bag with a lot more weed and put my weed together with his bag.
That's when I understood that these people were coming to fuck with us in one way or another. The one who pointed his gun at me comes and says, "I'm not going to discriminate against you, but how are we going to do it? Get $2,000 for the afternoon and nothing has happened here."
In my haste I didn't think about the amount and said yes, just to get them out of the house.
---
---
---
Llamé a mis familiares para que me aconsejaran de qué podía hacer. Unos me decían que denunciara, otros que me fuera de la casa.
Lamentablemente en este país no sirve la justicia, o solo se mueve a tu favor si cuentas con bastante dinero en el bolsillo.
Se habían llevado mi celular, y dejaron el de mi esposa porque les suplicamos que era la única manera de poder comunicarnos con nuestros familiares.
I called my relatives for advice on what to do. Some told me to report it, others told me to leave the house.
Unfortunately in this country justice is useless, or it only works in your favor if you have a lot of money in your pocket.
They had taken my cell phone, and left my wife's because we begged them that it was the only way we could communicate with our relatives.
---
---
---
Al cabo de 1 hora los policías volvieron a aparecer. Con el psicoterror al doble.
"Te la diste de loco" era lo que me decía uno, "ahora nos vamos a llevar detenidos a los dos y el chamito pa la lopna".
En ese momento es cuando empezó el verdadero terror. Me encierran en el cuarto de nuevo, uno me pega de espalda contra la pared, y con su antebrazo me presiona la tráquea/garganta, preguntándome "¿Dónde están las panelas, la escopeta y la pistola?"
Yo les dije que aquí no hay nada de eso, la única hierba que había ya se las había dado, que solo somos mi esposa, mi hijo y yo. Que no salgo de mi casa ni mucho menos ando jodiendo en la calle.
Que nosotros trabajamos en con diseño gráfico, la artesanía y mi esposa con Hive. Que si querían podían salir y preguntarle a los vecinos o la comunidad.
After 1 hour the policemen reappeared. With double the psycho-terror.
"You were acting crazy" was what one of them said to me, "now we are going to take the two of them and the kid to the prison".
That's when the real terror began. They lock me up in the room again, one of them sticks me with my back against the wall, and with his forearm presses my windpipe/throat, asking me "Where are the panelas, the shotgun and the pistol?"
I told them that there is none of that here, the only weed there was I had already given them to him, that it's just my wife, my son and me. That I don't leave my house and I don't fuck around in the street.
That we work with graphic design, crafts and my wife with Hive. That if they wanted they could go out and ask the neighbors or the community.
---
---
---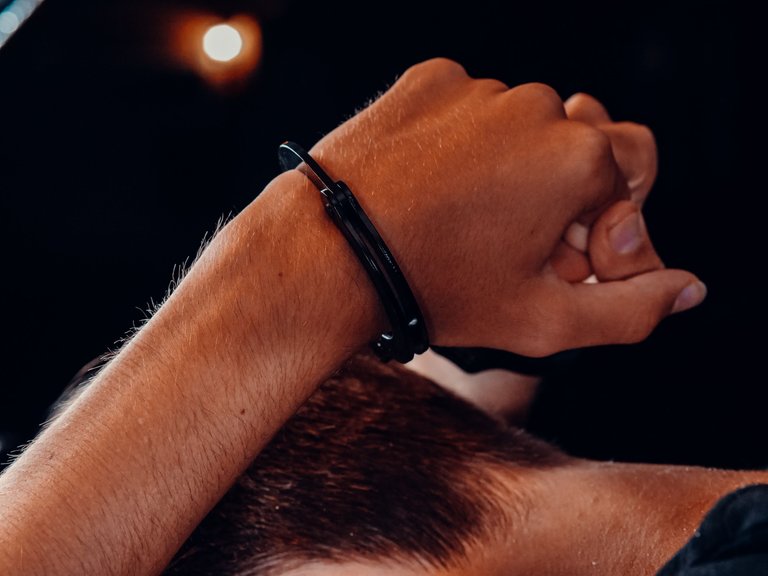 Cómo habían visto un pago de Orinoco el computadora, ellos querían insinuar que yo estaba estafando a la gente con correos y cómo no entendieron razones empezaron a robarnos de frente. A mí me "esposaron" con un hilo de nuestros materiales de artesanía.
Se llevaron nuestra cámara, está vez sí los dos celulares, la laptop de mi hijo y otras cosas por las que tanto hemos luchado.
Dejan a mi esposa e hijo en casa, y a mi llevan en una caravana de 6 motos.
Un pequeño pero gran detalle, es que ellos hicieron ese procedimiento sin tener orden judicial.
As they had seen a payment from Orinoco on the computer, they wanted to insinuate that I was swindling people with couriers and as they did not understand the reasons they started to rob us head on. They "handcuffed" me with a string of our craft materials.
They took our camera, this time both cell phones, my son's laptop and other things we have fought so hard for.
They leave my wife and son at home, and take me in a caravan of 6 motorcycles.
A small but great detail is that they did this procedure without a court order.
---
---
---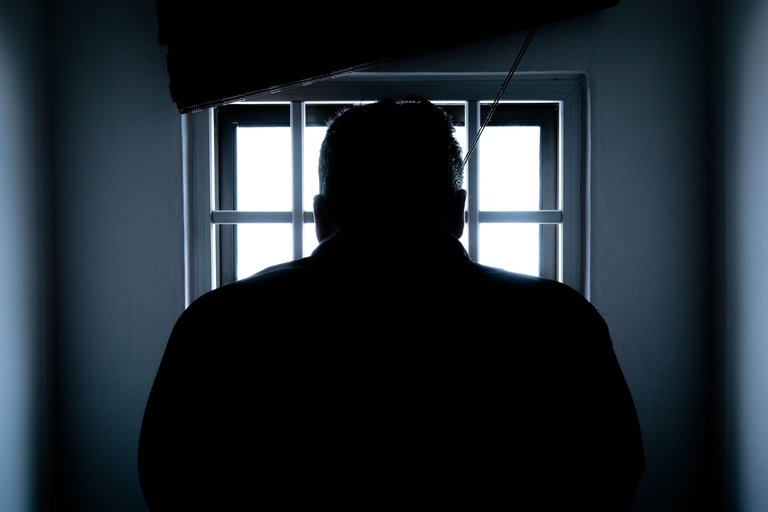 Al llegar al comando de la policía, empiezan a cuadrar entre ellos que iban a decir, todo esto enfrente de mi. Me empiezan a decir que los lleve a dónde la persona que me vende la hierba. Yo les hablé claro que no iba a hacer eso.
Poco a poco se van incorporando más y más policías, todos con burlas por mi orejas o mi aspecto. Que si estoy loco y blah blah.
Cosas que en realidad ya estoy acostumbrado a escuchar.
En mi mente solo pensaba en cómo estarán mi esposa e hijo. Pensando en el desespero que podían tener, y yo ahí sin poder hacer nada. Impotente y con un odio infinito por las personas que me rodeaban en ese momento.
When I arrived at the police headquarters, they began to discuss among themselves what they were going to say, all this in front of me. They start telling me to take them to the person who sells me the weed. I made it clear to them that I was not going to do that.
Little by little more and more cops join in, all making fun of me because of my ears or my looks. That if I'm crazy and blah blah.
Things I'm actually used to hearing by now.
In my mind I was just thinking about how my wife and son will be. Thinking about how desperate they could be, and me standing there helpless. Helpless and with an infinite hatred for the people around me at that moment.
---
---
---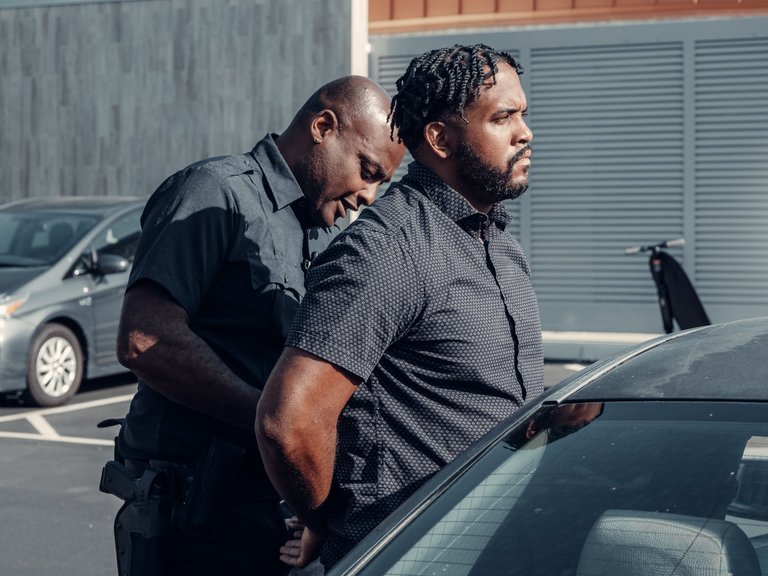 Me tomaron una foto con menos de 1gramo y al rato me esposan y me dicen que me suba en tal moto para ir a hacerme el informe médico, para confirmar que no lo "golpean" a uno.
Saliendo vi a mi esposa, con cara de miedo y angustia, pude darle un beso, para reponer fuerzas y aguantar lo que vendría, y le dije a dónde me llevaban. Yo no había ni desayunado, ni almorzado y ya eran como las 4 de la tarde.
Cuando estamos de regreso en el comando policial, los policías todos alterados me dicen de nuevo, "te la diste de loco, ahora te vamos a poner con toda esa mie***".
Yo sin entender me ponen enfrente de una mesa con 10gramos de marihuana, una gramera o peso, el celular de mi esposa y el mío.
They took a picture of me with less than 1 gram and after a while they handcuffed me and told me to get on a motorcycle to go and get a medical report, to confirm that I was not "beaten".
On the way out I saw my wife, with a face of fear and anguish, I was able to give her a kiss, to regain strength and endure what was to come, and I told her where they were taking me. I hadn't even had breakfast or lunch and it was already about 4 o'clock in the afternoon.
When we were back at the police station, the policemen, all upset, told me again, "you were crazy, now we are going to put you with all that shit".
Without understanding, they put me in front of a table with 10 grams of marijuana, a weighing machine, my wife's cell phone and mine.
---
---
---
Luego de la foto, el comandante de ellos me dice que me acerque y que le comenté que paso con sus muchachos. Yo le dije que ellos querían dinero, pero que no tengo esa cantidad, el con cara de "sorprendido" me dice "¡ahhh!, ¿es que los muchachos te están pidiendo dinero?".
A mi lado estaba el policía que me había apuntado con el arma, el que me había dicho que el no me discriminaba. Terminando de hablar su comandante me da un golpe en toda la boca del estómago, y me dice "respeta al comandante mamagu***". Yo sin aire respondí que no, no me están pidiendo dinero (eso es lo que querían escuchar), que me lleven a mi celda o calabozo y listo.
After the photo, their commander told me to approach him and tell him what happened with his boys. I told him that they wanted money, but that I didn't have that amount, and with a "surprised" look on his face he said "ahhh, are the guys asking for money?
Next to me was the policeman who had pointed his gun at me, the one who had told me that he did not discriminate against me. When he finished speaking, his commander punched me in the pit of my stomach and told me "respect the commander mamagu***". I said no, they are not asking me for money (that's what they wanted to hear), they should take me to my cell or jail and that's it.
---
---
---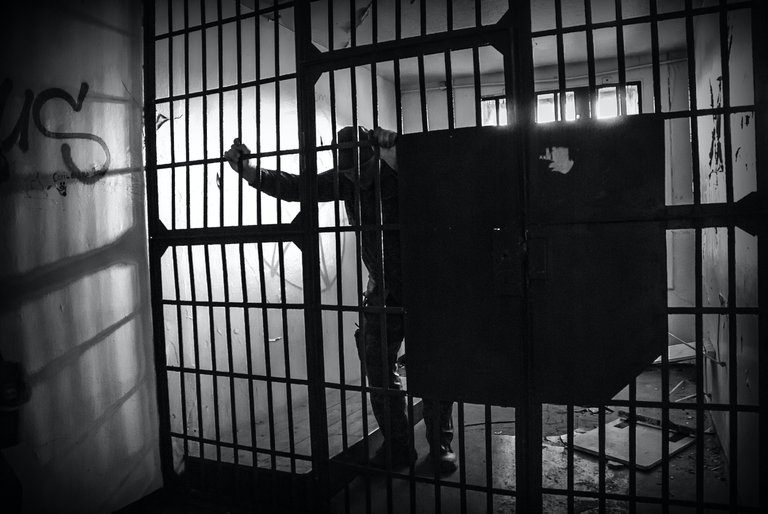 Dentro del comando habían dos celdas. Una con 6 personas y otra con 5, yo era el 6to en esa celda. Celdas pequeñas, te tocaba hacer tus necesidades en bolsa, orinar en un pote y luego echarlo en un hueco.
Ya hablando con quienes estaba ahí encerrado, me di cuenta de lo infinita que es la injusticia en este país.
Un abuelo de 81 años y su hijo de 42, ahí encerrados desde hace dos meses, solo porque no quisieron darle dinero a un policía. Otro caso es el de un chamo 24 años, padre de 4 niñ@s. Un policía llegó tocando a su casa, él salió y el policía le dio con su arma en la cabeza y se lo llevó al comando. Luego llevaron a su esposa y la cachetearon para que firmara una denuncia de que él supuestamente le había quemado la nalguita a una de sus hijas con una cuchara caliente.
Yo vi la foto de la supuesta quemada, y solo era un lunar de nacimiento, no había roncha ni burbuja. Él también tenía más de dos meses encerrado. Escuchándolos a ellos ya yo me estaba preparando para lo peor.
Inside the command there were two cells. One with 6 people and the other with 5, I was the 6th in that cell. Small cells, you had to relieve yourself in a bag, urinate in a pot and then throw it in a hole.
Talking to the people I was locked up there, I realized how infinite the injustice in this country is.
An 81 year old grandfather and his 42 year old son, locked up there for two months, just because they did not want to give money to a policeman. Another case is that of a 24 year old boy, father of 4 children. A policeman came knocking at his house, he came out and the policeman hit him in the head with his gun and took him to the police station. Then they took his wife and slapped her so that she would sign a complaint that he had supposedly burned one of his daughters' buttocks with a hot spoon.
I saw the photo of the supposedly burned buttock, and it was only a birthmark, there was no welt or bubble. He had also been locked up for more than two months. Listening to them I was already preparing for the worst.
---
---
---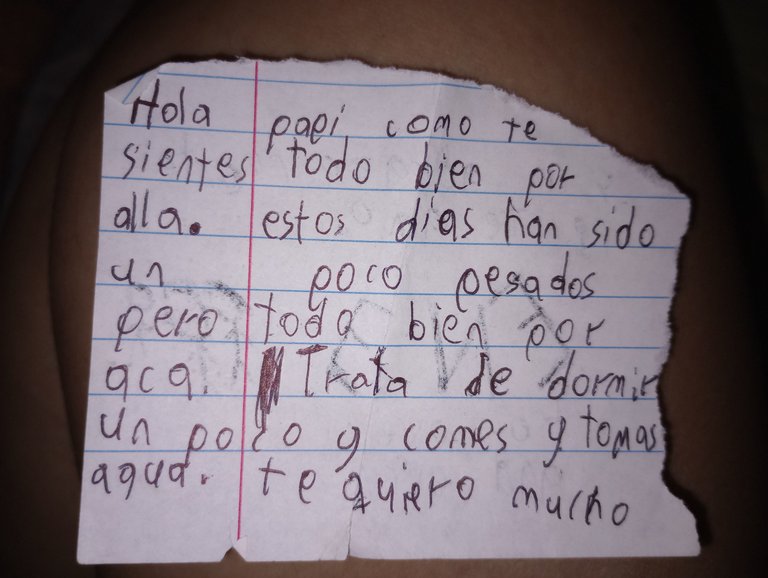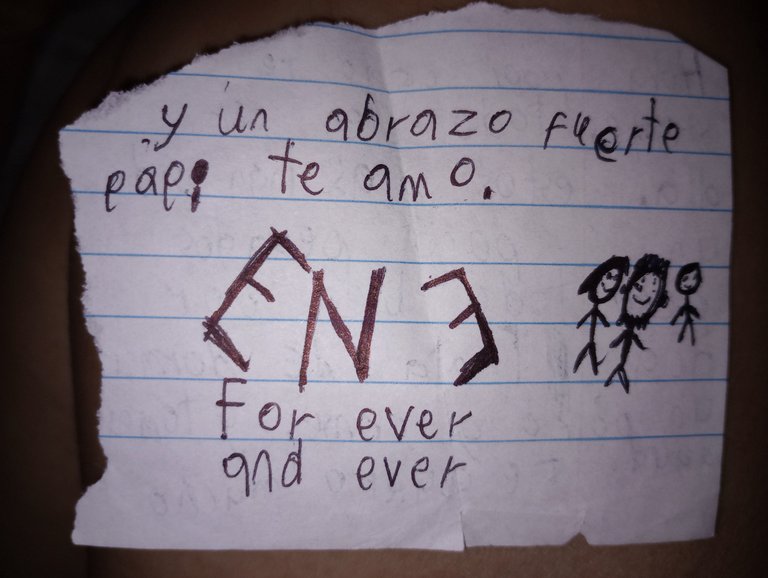 No tenía ni dos horas encerrado, y ya me querían ir a estar con mi familia y que todo esto fuese una mala pesadilla.
A eso de las 6 de la tarde, llega un policía con dos panes y un jugo que me había enviado mi esposa. La verdad los panes los compartí con las personas que estaban, el jugo si traté de tomar lo más que pude para tener energías. Dejé un poco para compartir con los demás.
Se hizo de noche y empezamos a acomodarnos para dormir en unas colchonetas. Yo no pude pegar un ojo sino hasta cuando vi que ya estaba amaneciendo me dije: "descansa un poco, no sabes lo que te toca hoy". Dormí como unos 30min.
I hadn't even been locked up for two hours, and I wanted to go and be with my family and make all this a bad nightmare.
At about 6 o'clock in the afternoon, a policeman arrived with two loaves of bread and a juice that my wife had sent me. The truth is that I shared the bread with the people who were there, the juice I tried to drink as much as I could to have energy. I left some to share with the others.
It got dark and we began to settle down to sleep on some mats. I couldn't sleep a wink until I saw that it was already dawn, I said to myself: "get some rest, you don't know what you have to do today". I slept for about 30 minutes.
---
---
---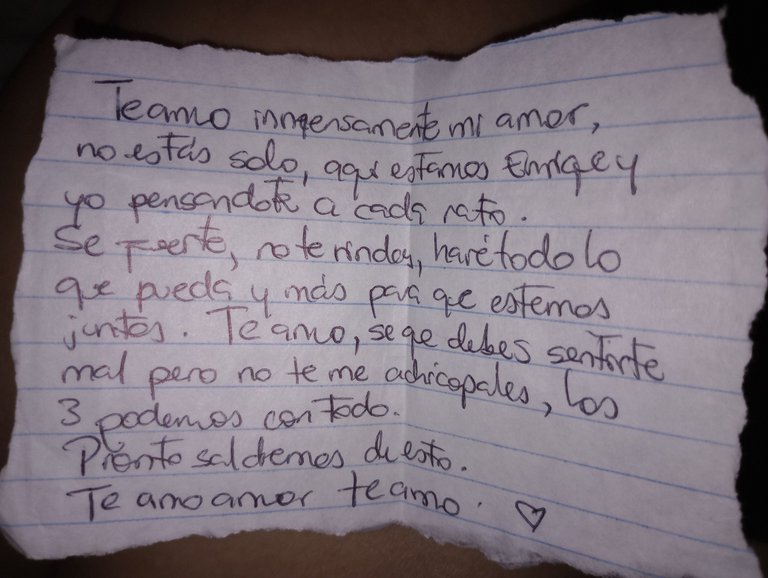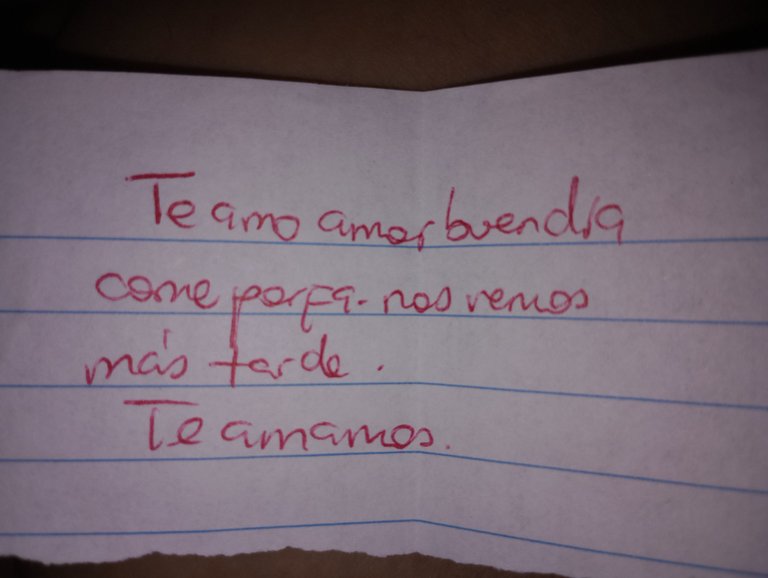 A eso de las 9 de la mañana llega otro policía con una carta de mi esposa, unos pastelitos y 2 cigarros. Comí dos pastelitos y compartí el resto. Solo comía para reponer energía, no porque tuviera hambre, en realidad sentía un nudo en el estómago.
Se suponía que ese día me llevarían a tribunales y mientras esperaba a uno de los que estaba en nuestra celda lo soltaron ese día. Lo irónico es que él si era malamañoso, se la pasaba robando material estratégico.
At about 9:00 a.m. another policeman arrives with a letter from my wife, some pastries and 2 cigars. I ate two pastries and shared the rest. I only ate to replenish my energy, not because I was hungry, I actually felt a knot in my stomach.
I was supposed to be taken to court that day and while I was waiting for one of the people in our cell he was released that day. The ironic thing is that he was a real bad boy, he kept stealing strategic material.
---
---
---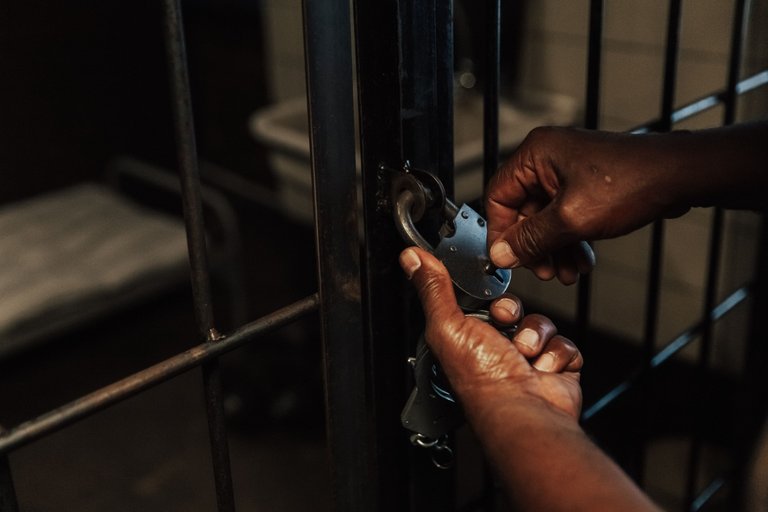 Cuando por fin me llevan a tribunales, resulta ser que no estaba la fiscal que llevaría mi caso. Saliendo vi a mi esposa e hijo, y le suplique al policía que por favor se acercará para poder darles un beso. Yo iba esposado, no pude abrazarlos, pero ellos a mi si, alimentándome un poquito más de fuerzas para soportar todo.
De nuevo para la celda del comando de la policía. Yo sentí que me iba a dar algo, pero no podía darme el gusto, no estaba con nadie más que conmigo mismo ahí dentro. Estaba mentalizándome que iba a pasar otra noche ahí, sin dormir en casa con mi esposa e hijo.
When they finally took me to court, it turned out that the prosecutor who would be handling my case was not there. On the way out I saw my wife and son, and I begged the policeman to please come closer so I could give them a kiss. I was handcuffed, I could not hug them, but they hugged me, giving me a little more strength to endure everything.
Back to the cell of the police command. I felt that I was going to get something, but I could not give myself the pleasure, I was not with anyone but myself in there. I was psyching myself up that I was going to spend another night in there, without sleeping at home with my wife and son.
---
---
---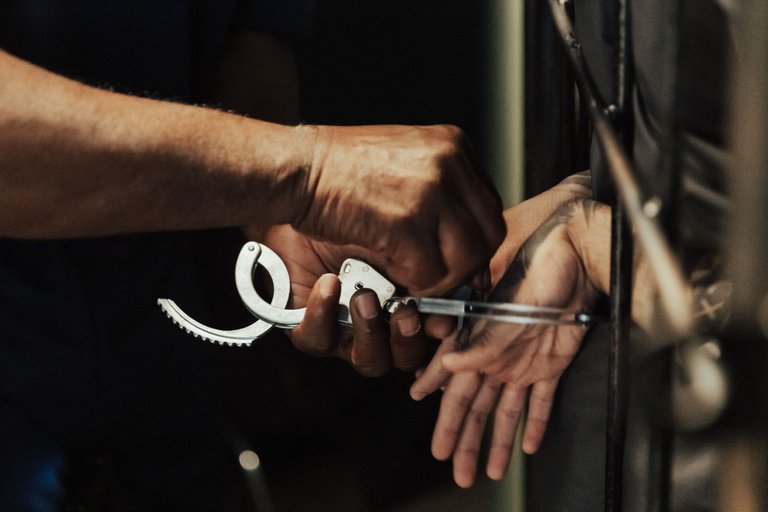 A eso de las 9 y tantas de la noche se acerca un policía y me dice que salga de la celda y que siga caminando. Mi mente se puso a imaginar lo peor, que me caerían a golpes.
De repente enfrente veo a un vecino de la comunidad que es abogado, y me dice que me quede tranquilo, que al día siguiente me sueltan. De repente aparece mi esposa y el abogado dice que va a buscar a mi hijo.
En ese momento me derrumbé, abrazo a mi esposa muy fuerte y me voy en llanto. Ella me pregunta que si me golpearon y yo le dije que no. Al aparecer mi hijo fue más llanto y más abrazos. Esos minutos que pasé con ellos fueron la gloria para mí. Nosotros nunca habíamos pasado más de un día separados.
At about 9:00 p.m. a policeman approaches me and tells me to get out of the cell and keep walking. My mind began to imagine the worst, that I would be beaten to a pulp.
Suddenly across the street I see a neighbor from the community who is a lawyer, and he tells me to stay calm, that the next day I will be released. Suddenly my wife appears and the lawyer says he is going to look for my son.
At that moment I broke down, hugged my wife very tightly and left in tears. She asked me if I had been beaten and I said no. When my son appeared, there was more crying. When my son appeared there was more crying and more hugs. Those minutes I spent with them were the glory for me. We had never spent more than a day apart.
---
---
---
Mi esposa tuvo que comprar 5 perros calientes y un refresco para darle a los policías que estaban de turno y la dejaran verme 5 minutos.
Me devuelven a la celda, y allá comento el por qué me habían sacado. En la mirada de mis compañeros de celda pude ver un brillo de alegría, estaban alegres que pude ver a mi familia, pero a su vez tristeza porque ellos no corrieron con la misma suerte.
Acomodamos todo para dormir, y yo queriendo que las horas se volvieron minutos. Esa noche si no dormí nada.
A las 9 de la mañana me lleva un policía 3 arepas, con una nota que me envío mi esposa.
My wife had to buy 5 hot dogs and a soft drink to give to the policemen who were on duty so they would let her see me for 5 minutes.
They returned me to the cell, and there I commented on why they had taken me out. In the eyes of my cellmates I could see a gleam of joy, they were happy that I could see my family, but at the same time sad because they did not have the same fate.
We arranged everything to sleep, and I wanted the hours to turn into minutes. That night I didn't sleep at all.
At 9 o'clock in the morning a policeman brought me 3 arepas, with a note that my wife had sent me.
---
---
---
A las 10 me llaman pasa llevarme a tribunales. Estando allá me meten en otra celda, estaba yo solo. A mi lado otra celda con una mujer. Ya me estaban matando las ansias por salir de ahí y estar con mi esposa e hijo.
Al pasar 30min más o menos me llevan frente a la fiscal, presente también el abogado que había contratado mi esposa. Ni 5 minutos duramos ahí cuando me devuelven a la celda.
Según entendí en ese momento me pidieron una colaboración que era una perilla para una puerta y que pondrían 60 dias de investigación a mi caso.
Pasan otros 30min y por fin me sacan de la celda para firmar y tomar mis huellas.
Saliendo de tribunales, veo a mi esposa e hijo corriendo hacia mi. Los abrazo, los beso, cuánto los extrañaba...
Atrás de ellos venía un gran amigo y su familia, que estuvieron apoyando a mi esposa e hijo. Mi amigo nos hizo en favor de llevarnos en su carro hasta la casa. Había terminado todo.
At 10 o'clock they call me to take me to court. While there they put me in another cell, I was alone. Next to me there was another cell with a woman. I was already dying to get out of there and be with my wife and son.
After 30 minutes or so they took me to the prosecutor's office, where the lawyer my wife had hired was also present. We didn't even last 5 minutes when they returned me to the cell.
As I understood at that moment they asked me for a collaboration that was a knob for a door and that they would put 60 days of investigation in my case.
Another 30 minutes passed and finally they took me out of the cell to sign and take my fingerprints.
Leaving the courthouse, I see my wife and son running towards me. I hug them, I kiss them, how much I missed them....
Behind them came a great friend and his family, who were supporting my wife and son. My friend did us the favor of taking us in his car to the house. It was all over.
---
---
---
El abogado nos dice que podemos denunciar y recuperar las cosas que nos robaron, pero lamentablemente vivimos en este país, donde eso puede ser un arma de doble filo. Nosotros preferimos enfocar ese esfuerzo y dinero en irnos del país.
Le pusimos amor y mucha fe al país, a pesar de que todos los costos fueran cuesta arriba, pero ya esto fue la gota que derramó el vaso.
Ya han pasado casi 30 días desde lo sucedido, y estamos ansiosos porque este período termine para cerrar este mal ciclo.
The lawyer tells us that we can denounce and recover the things that were stolen from us, but unfortunately we live in this country, where that can be a double-edged sword. We prefer to focus that effort and money on leaving the country.
We put a lot of love and faith in the country, even though all the costs were uphill, but this was the straw that broke the camel's back.
It has been almost 30 days since this happened, and we are anxious for this period to end to close this bad cycle.
---
---
---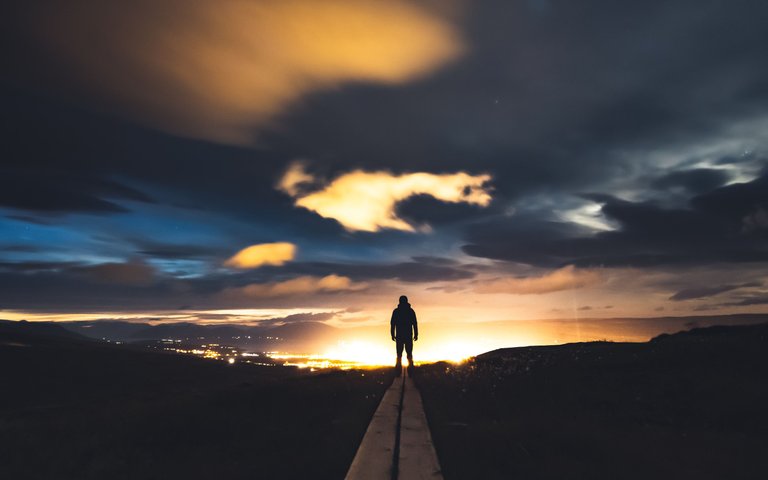 Fuerza para todas las personas que han pasado por algo similar, y sobretodo fuerza para esas personas encerradas injustamente.
¿Hasta cuándo seguirá tan podrido y corrupto nuestro país?
Strength for all the people who have gone through something similar, and above all strength for those people unjustly locked up.
How long will our country remain so rotten and corrupt?
---
Gracias infinitas a Lendrys, su esposa y sus padres, por el apoyo incondicional hacia mi esposa e hijo. A mis familiares que están fuera y que a pesar de la distancia movieron cielo y tierra para apoyarnos. A todas las buenas amistades que se preocuparon y estuvieron pendientes.
Sobretodo gracias a mi esposa Estefania, por ser una guerrera y no estar tranquila hasta verme a mi libre. Te amo mi puchunga. Orgulloso de mi hijo por darle palabras de aliento, apoyo y hasta por regañar a mami para que comiera en esos días de zozobra. Te amo mi campeón.
Infinite thanks to Lendrys, his wife and parents, for the unconditional support to my wife and son. To my family members who are abroad and who, despite the distance, moved heaven and earth to support us. To all my good friends who cared and were attentive.
Above all, thanks to my wife Estefania, for being a warrior and not being calm until I am free. I love you my puchunga. Proud of my son for giving words of encouragement, support and even for scolding mommy so she would eat in those days of anxiety. I love you my champion.

Imagen de portada de mi autoría e imágenes del texto extraídas de pexels.com
Traducción de deepL.com
---
---