CODM: Defeat Groot. Guide to facing the secret enemy. Shi No Numa [Es • En]
---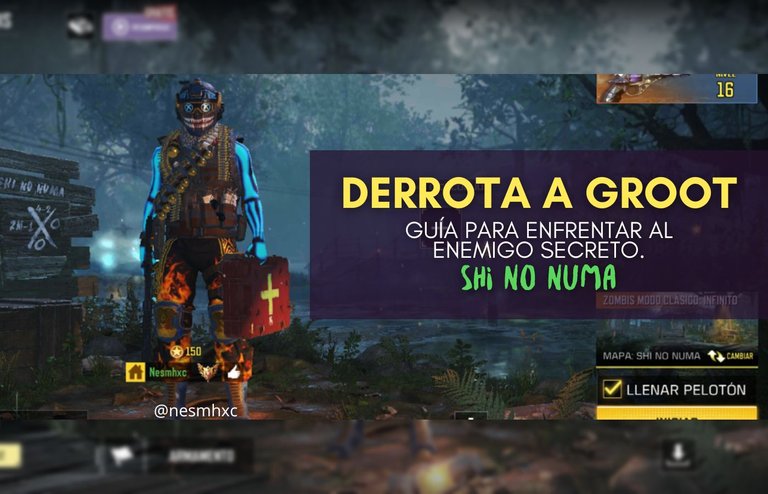 Saludos amigos de Hive • Greetings friends of Hive
Una vez más compartiendo con ustedes un video de Call Of Duty Mobile. En esta ocasión les traigo una pequeña guía y gameplay para poder enfrentar a un enemigo secreto, y la manera más fácil de vencerlo.
Once again sharing with you a Call Of Duty Mobile video. This time I bring you a small guide and gameplay to be able to face a secret enemy, and the easiest way to defeat him.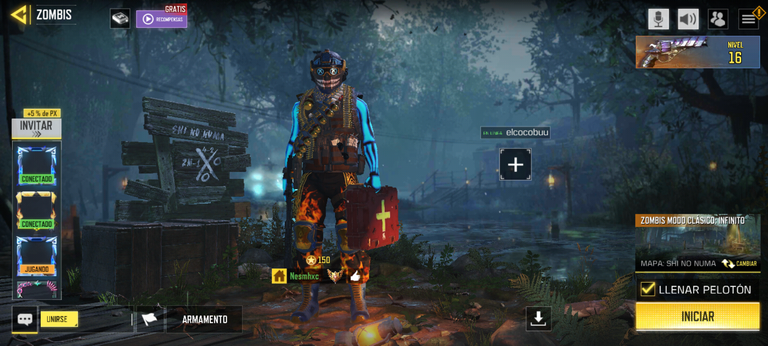 Para comenzar pondremos el Modo Zombie Extremo. En modo normal o infinito no funciona. A diferencia del modo normal que consta con 10 rondas, el modo extremo son 12 rondas.
To start we will set the Extreme Zombie Mode. In normal or infinite mode it does not work. Unlike the normal mode which consists of 10 rounds, the extreme mode consists of 12 rounds.
Lo principal es reunir los puntos necesarios para una buena arma, mejoras, escudo y perks o traguitos.
The main thing is to collect the necessary points for a good weapon, upgrades, shield and perks.
Mi mejor consejo es dejar en cada ronda 1 zombie "vivo", para que nos de tiempo de subir el nivel del arma, como también ir por los traguitos que nos puedan faltar o reparar chaleco. Siempre debemos estar bien equipados y preparados para cada ronda.
My best advice is to **leave 1 zombie "alive" in each round, so that we have time to upgrade the level of the weapon, as well as go for the drinks that we may be missing or repair vest ** We must always be well equipped and prepared for each round.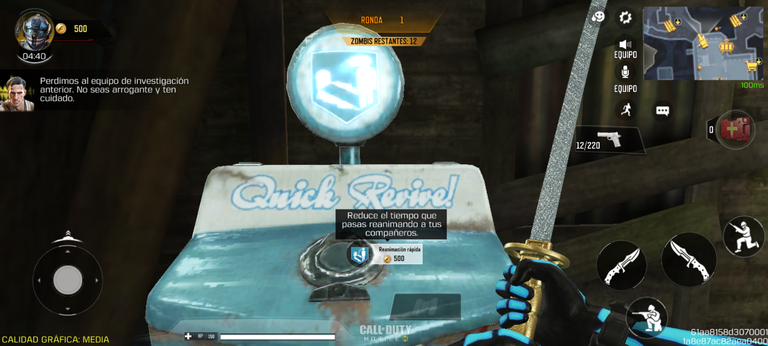 El primer perk o traguito que tomé sirve para levantar a los amigos caídos más rápido. Yo lo tomé para enseñarles dónde se encuentra, pero a mí no me servía porque estaba jugando solo.
The first perk I took serves to lift fallen friends faster, I took it to show them where it is located, but it didn't work for me because I was playing alone.
Para poder activar el ascensor del sótano, es necesario dos engranajes que conseguiremos fácilmente, en el vídeo muestro el lugar específico donde se encuentran.
In order to activate the basement elevator, you need two gears that you can get easily, in the video I show you the specific place where they are located..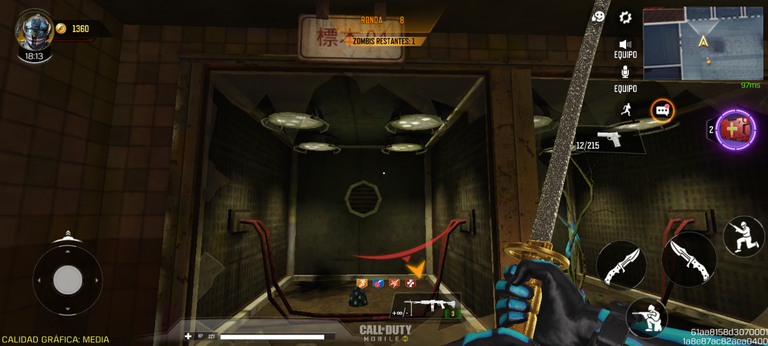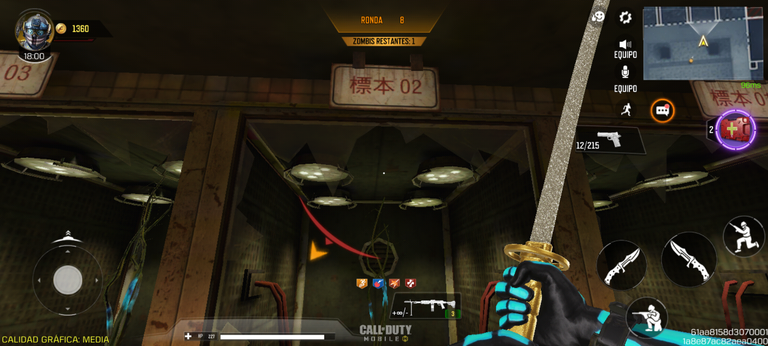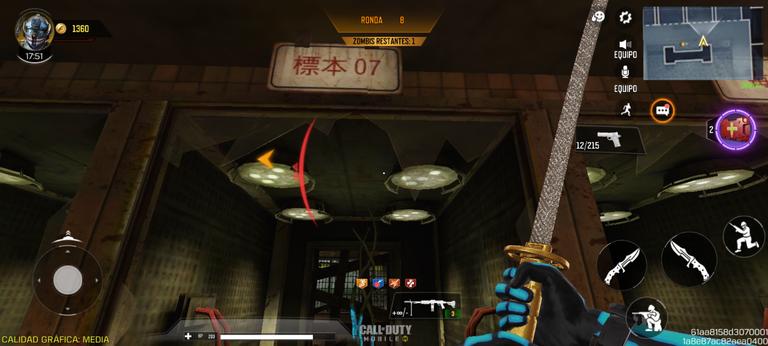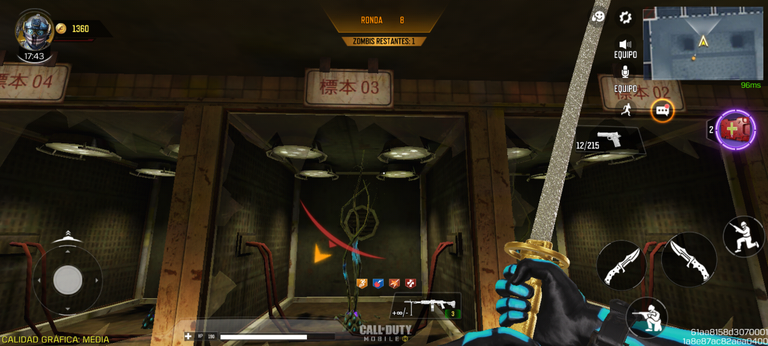 Luego de tener los engranajes, iremos a reparar el ascensor. Bajamos y vamos directo al laboratorio. Encontraremos 4 semillas, debemos acercarnos para que salgan sus raíces, y luego dispararles en el orden correcto como muestro en el vídeo.
After we have the gears, we will repair the elevator. We go down and go straight to the laboratory. We will find 4 seeds, we must approach them so that their roots come out, and then **shoot them in the correct order as I show in the video.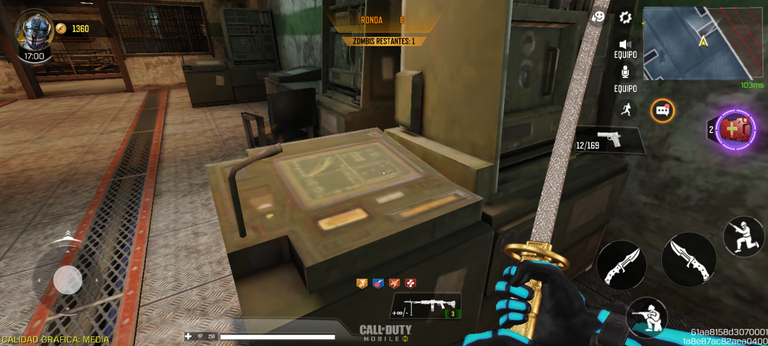 Luego correr al otro extremo del laboratorio y activar el archivo que se encuentra en la consola. Automáticamente nos daremos cuenta que el enemigo que nos salía que era la araña, cambia y se pone el gigante de madera, o como yo le digo "el Groot".
Then run to the other end of the laboratory and activate the file that is in the console, we will automatically realize that the enemy that was the spider, changes and becomes the wooden giant, or as I call it "the Groot".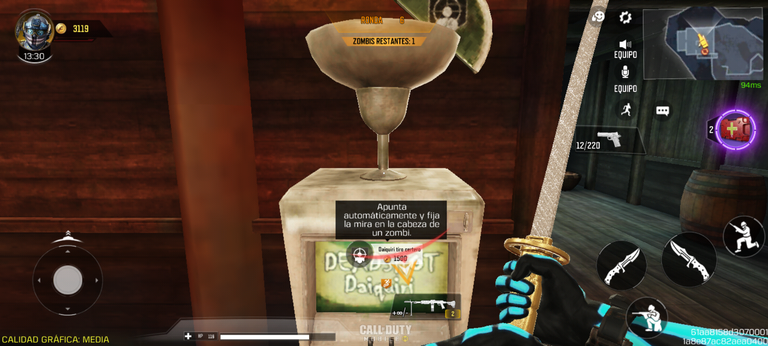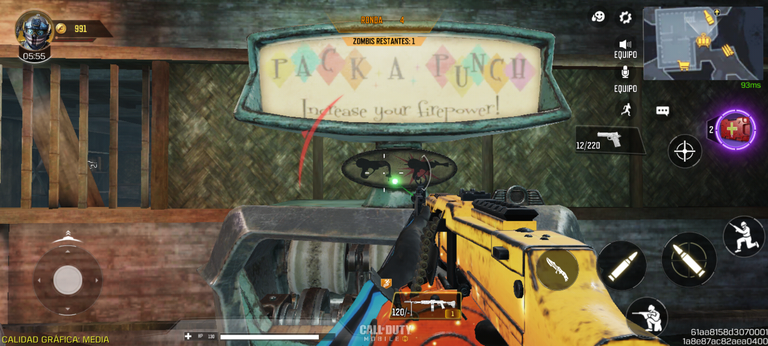 El segundo traguito que tomé es el de apuntar automáticamente a los zombies a la cabeza, en esa cabaña se encuentra uno de dos componentes que necesitamos para el Pack a Punch, para poder subir el nivel del arma y hacerla más poderosa.
The second little drink I took is to aim zombies automatically at the head, in that hut is one of two components that we need for the Pack a Punch, to be able to **raise the level of the weapon and make it more powerful.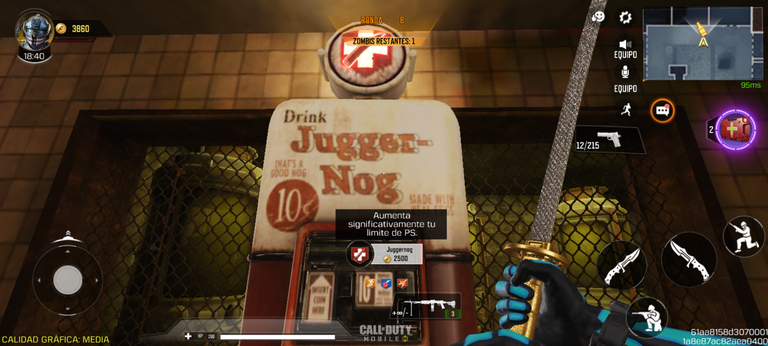 El 3er traguito que tomé sirve para subir tus puntos de vida, lo cual te hace más resistente a los golpes de los zombies.
The 3rd shot I took serves to raise your health points, which makes you more resistant to zombie hits.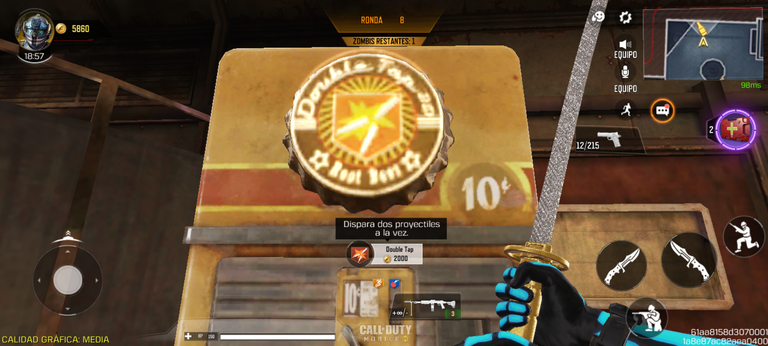 El 4to traguito sirve para disparar dos proyectiles a la vez, lo cual nos facilita muchísimo matar a los zombies.
The 4th shot is used to fire two projectiles at the same time, which makes it much easier to kill the zombies.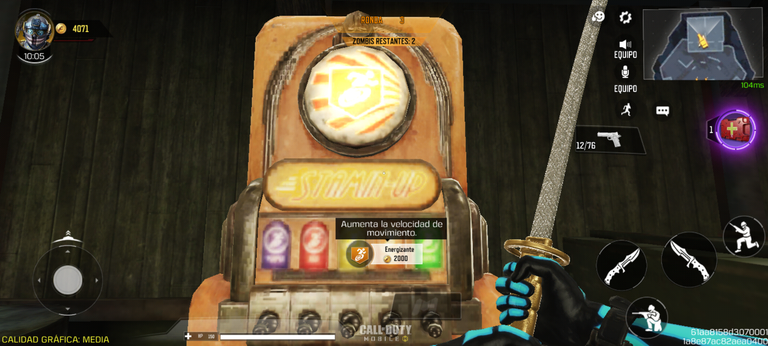 El 5to traguito es para aumentar nuestra velocidad de movimiento.
The 5th drink is to increase our speed of movement.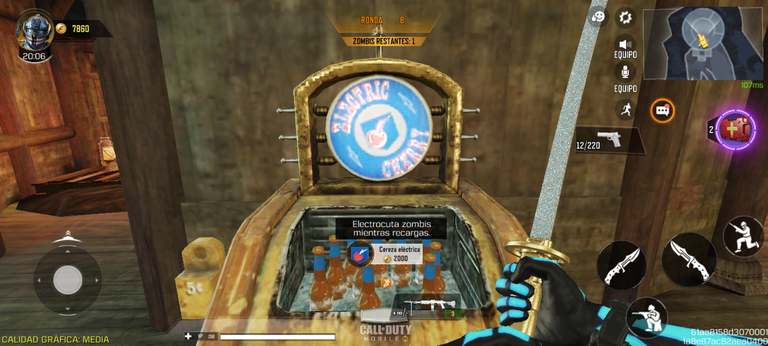 El 6to traguito electrocuta los zombies mientras recargas.
The 6th shot electrocute the zombies while recharging.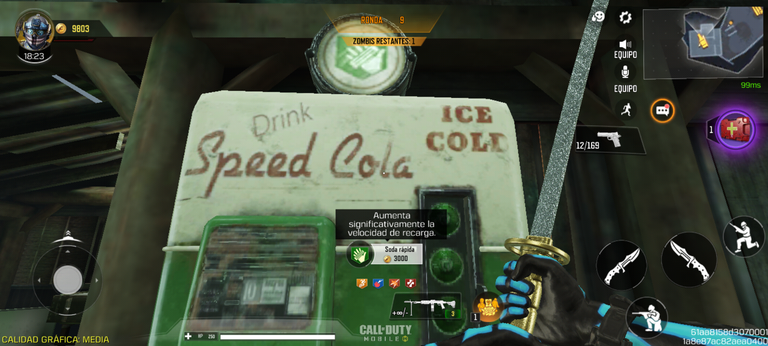 Me faltó un traguito que ayuda a recargar el arma más rápido, pero yo no la tomé porque llevaba equipada un arma que no era necesario recargar.
I missed a little drink that helps to reload the weapon faster, but I didn't take it because I was carrying a weapon that didn't need to be reloaded.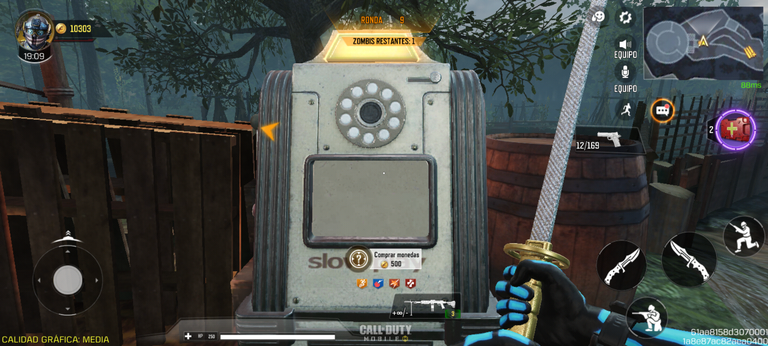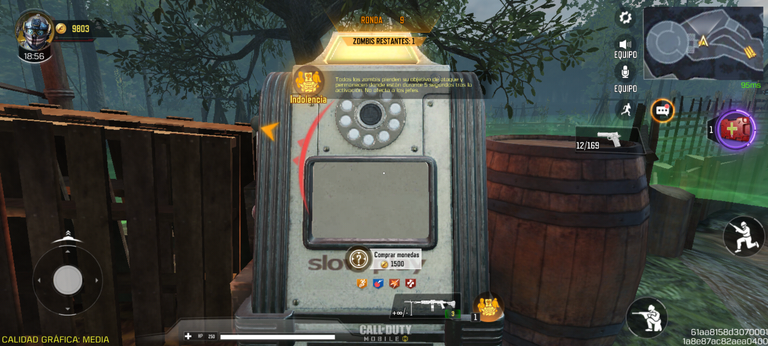 También encontraremos unas máquinas que por un cierto costo de puntos, nos dará una moneda, la cuál nos beneficia con algún bono ilimitado. El efecto de la moneda es aleatorio.
We will also find some machines that for a certain cost of points, will give us a coin, which benefits us with some unlimited bonus. **The effect of the coin is random.
Ya en la ronda dónde nos enfrentamos a Groot, debemos ser muy cuidadosos porque sus golpes son bien letales. Lo mejor es mantener siempre la distancia. Ser paciente y no quedarnos en un solo sitio.
Already in the round where we face Groot, we must be very careful because his hits are very lethal. The best thing to do is to **always keep your distance. Be patient and do not stay in one place **.
Espero esta pequeña guía les sirva y le saquen el mayor de los provechos.
I hope this little guide will help you and that you will get the most out of it.
Cuéntame, ¿Qué tal tu experiencia venciendo al Groot?
Tell me, How was your experience beating the Groot??
Nos leemos en la próxima,
See you next time,
Saludos y buenos humos • Greetings and good vibes.
Nesmhxc

Video editado en Capcut
Capturas y vídeo grabados desde mi Moto G31
Portada creada en Canva
Traduccion en deepl
---
▶️ 3Speak
---
---