Alcatraz. Defeating enemies with a Random Team [En-Es]
---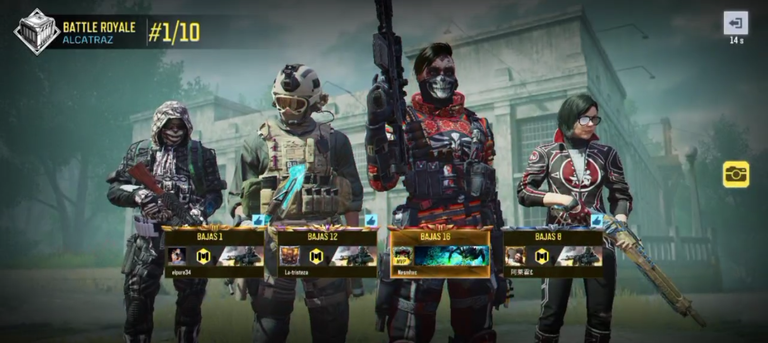 Greetings Friends of Hive Gaming
.
Once again sharing with you a Gameplay of the game Call of Duty Mobile, in which I feel that my performance is getting better and better.
This time I bring you a Battle Royale game in Alcatraz, which for those who do not know, is enabled every weekend from Friday until Sunday night.
I start the game shooting down several opponents using the Kilo 141, which is an assault rifle and I like to use it because it is much more stable than the AK-47, but it is outclassed by the M4.
Then I switch to the Switchblade that I got on the ground, because I consider it a good submachine gun, especially for its mobility at close range. With it I accumulate 3 more kills.
I'm knocked down and when I fall again I eliminate an opponent on the roof. I then get two enemies that I eliminate with the Pharo and then switch to the M4 with which I eliminate another opponent.
In this way I took down each of the enemies that crossed my path and thanks to the support of the random team, we achieved victory.
I invite you to watch the video so you can better detail the play, and soon I will be sharing more of my battles in this great game.
Greetings and Good Smoke
.

---
---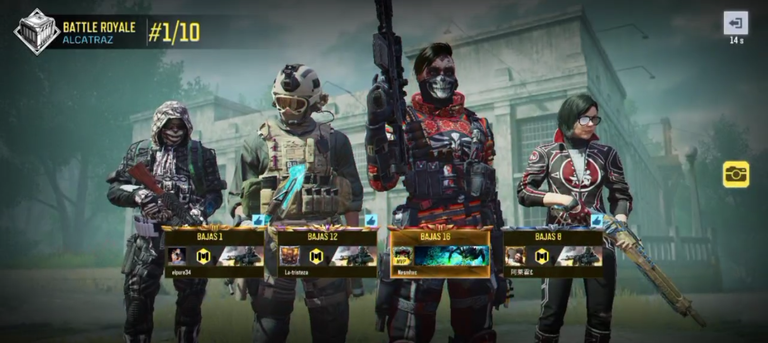 Saludos Amigos de Hive Gaming
Una vez más compartiendo con ustedes un Gameplay del juego Call of Duty Mobile, en el que siento que mi desempeño es cada vez mejor.
En esta ocasión les traigo una partida Battle Royale en Alcatraz, que para quienes no lo saben, se encuentra habilitada todos los fines de semana desde el día viernes hasta el domingo en la noche.
Inicio la partida derribando varios contrincantes utilizando el arma Kilo 141, que es un fusil de asalto y me gusta usarlo porque es mucho más estable que la AK-47, pero que es superado por la M4.
Luego cambie a la Switchblade que conseguí en el piso, porque lo considero un buen subfusil, sobre todo por su movilidad a corta distancia. Con él acumulo 3 muertes más.
Soy derribado y al caer nuevamente elimino a un adversario en el techo. Me consigo luego con dos enemigos que elimino con la Pharo y luego cambio a la M4 con la que elimino a otro contrincante.
Así fui derribando a cada uno de los enemigos que se cruzaron en mi camino y gracias al apoyo del equipo random, logramos la victoria.
Te invito a ver el video para que puedas detallar mejor la jugada, y pronto les estaré compartiendo más de mis batallas en este gran juego.
Saludos y Buenos Humos

Video editado en Capcut
Musica Extraida de la app
Video captado con Moto G31
---
▶️ 3Speak
---
---