Chuao queen of chocolate - Illustration made in the traditional way (Es/En)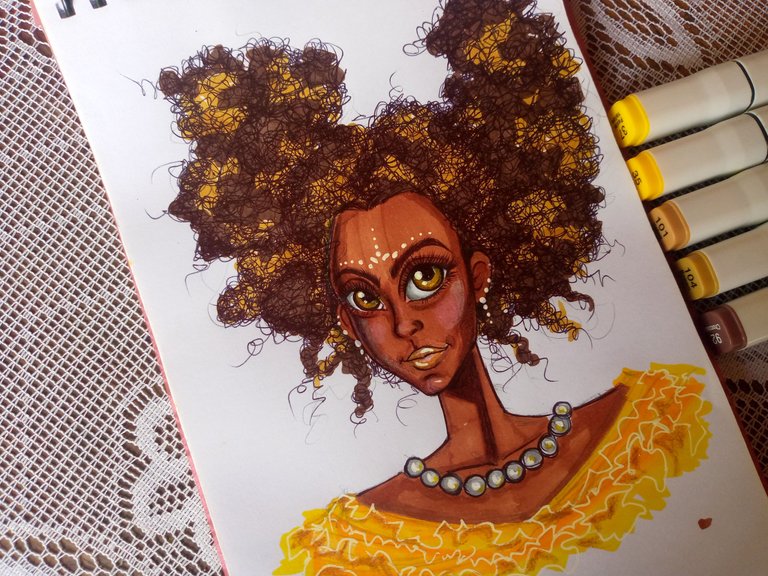 Continuamos creando personajes curiosos del universo **Sugar Candy** en esta ocasión quise ilustrar algo que hiciera referencia al chocolate ya que en estos últimos días en el lugar donde vivo ha llovido muchísimo y el chocolate caliente siempre está presente. Entonces me dije, por qué no, hagamos a la representante del mundo de los chocolates y quise llamarla ** Chuao Reina de chocolates**. El nombre **Chuao** proviene de la zona donde se produce el cacao más fino de Venezuela.
We continue creating curious characters from the Sugar Candy universe, this time I wanted to illustrate something that made reference to chocolate, since in the last few days where I live it has been raining a lot and hot chocolate is always present. So I said to myself, why not, let's make the representative of the world of chocolates and I wanted to call her Chuao Queen of Chocolate. The name Chuao comes from the area where the finest cocoa in Venezuela is produced.
Deseé crearla con una hermosa piel tostada y un cabello rizado abundante y ojos color miel para darle juego con su atuendo amarillo el cual me encantó con todos esos pequeños detalles desordenados.
I wanted to create her with beautiful tan skin and rich curly hair and honey-colored eyes to match her yellow outfit which I loved with all those little messy details.
Debo decir que los marcadores que estoy usando permiten una intensidad hermosa, no hay que hacer demasiados malabares para lograr detalles encantadores. El cabello fue una de mis partes favoritas para hacer, ya que me encanta trabajar con trazos desordenados, los cuales terminan dando un tipo de estilo muy lindo.
I must say that the markers I'm using allow for beautiful intensity, you don't have to juggle too much to achieve lovely details. The hair was one of my favorite parts to do, as I love working with messy strokes, which end up giving a really nice kind of style.
Como de costumbre realicé un boceto principal y posteriormente fuí agregando los colores de mi personajes, jugando con las capas, creo que fuese más genial si usara un papel más grueso. Le di detalles con un lapicero tinta blanca en el rostro y acentué algunas sombras con un color negro. Realizar esta ilustración me gustó mucho
As usual I made a main sketch and then I added the colors of my character, playing with the layers, I think it would be cooler if I used a thicker paper. I gave details with a white ink pen on the face and accentuated some shadows with a black color. I really enjoyed doing this illustration.
Espero les guste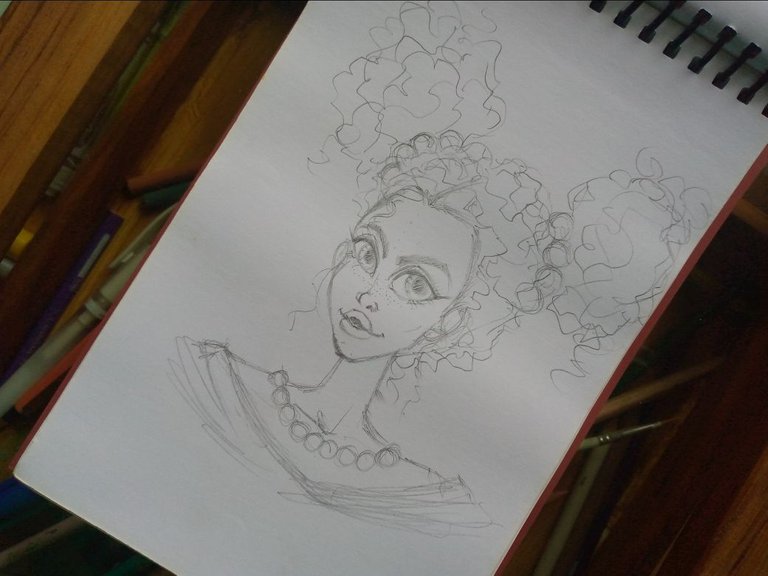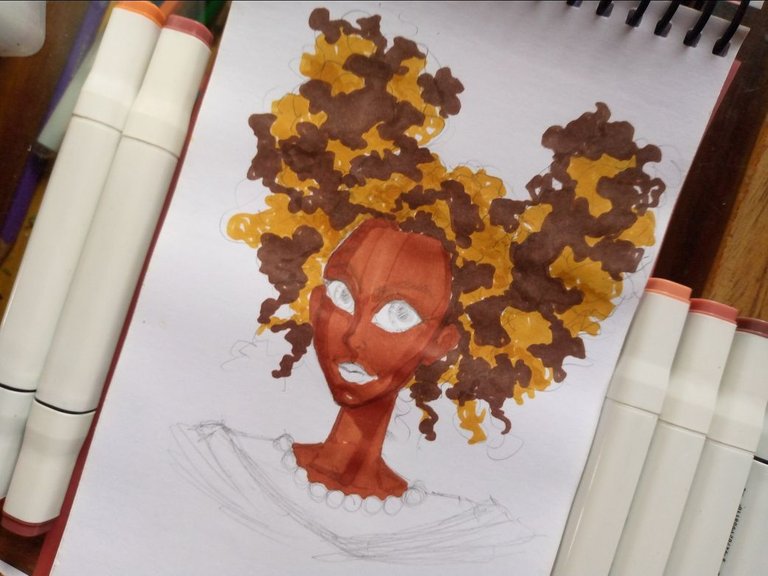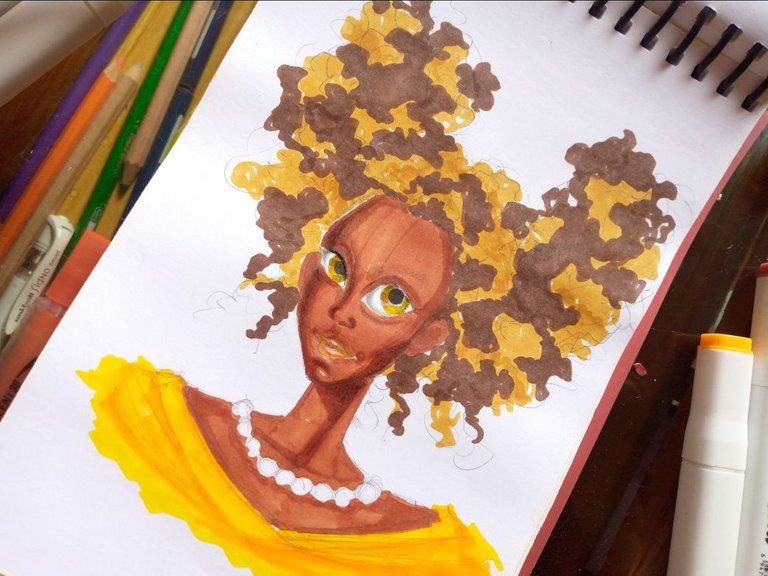 Resultado Final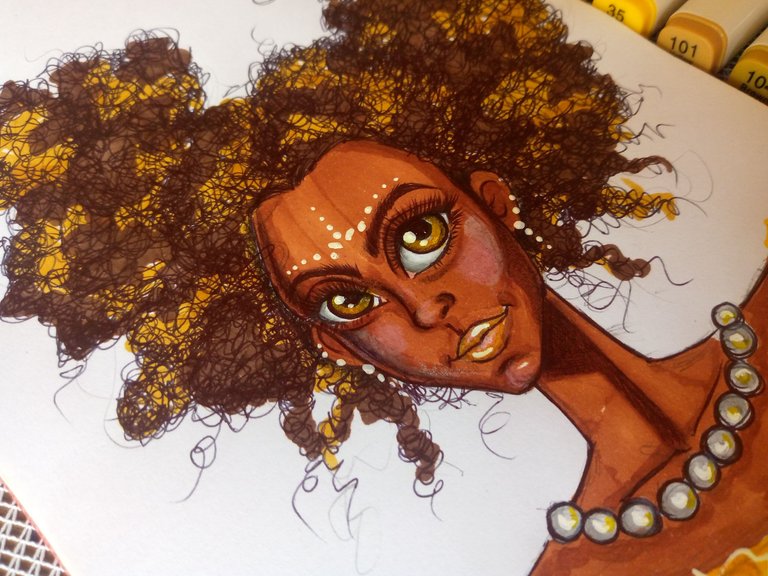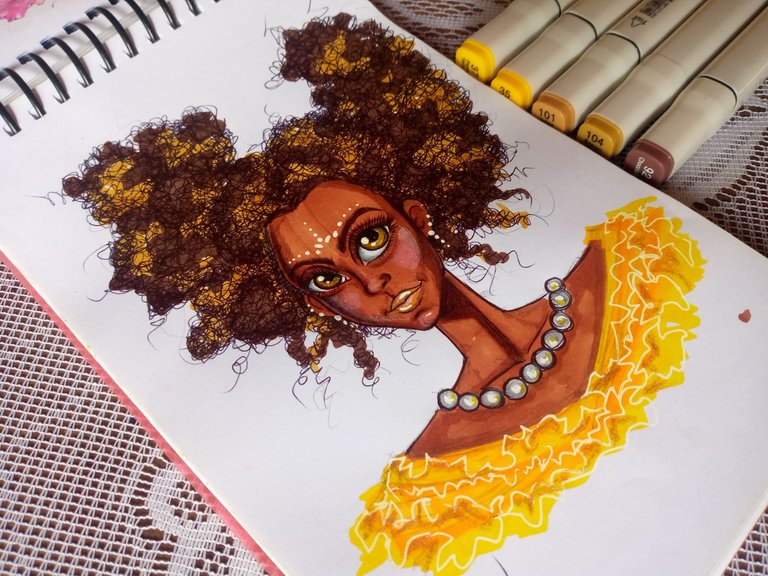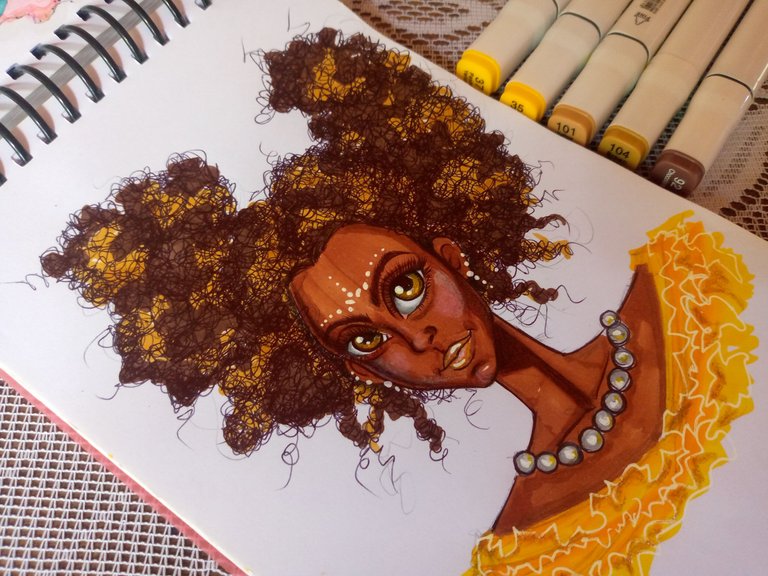 Instagram
---
---