Mi experiencia en la 2da exhibición de SWC | My experience in the 2nd SWC exhibition [ESP] | [ENG]
---
Mi experiencia en la 2da exhibición de SWC
My experience in the 2nd SWC exhibition
---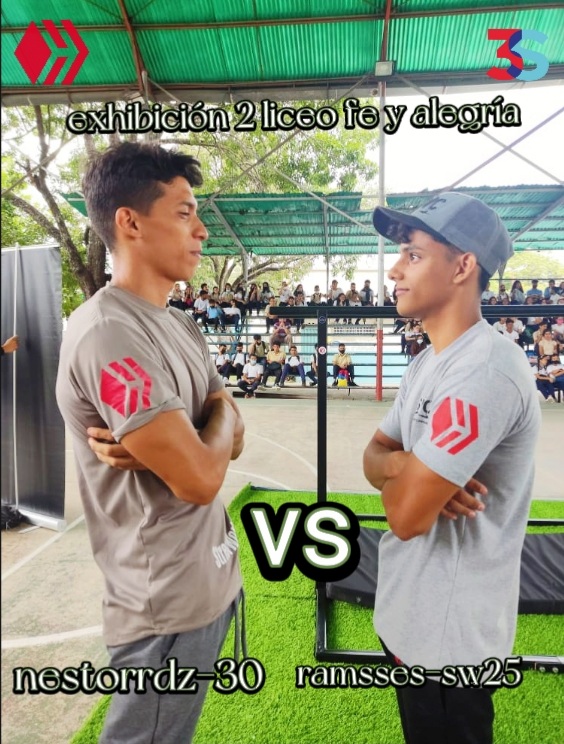 ---
---
Hola amigos y amigas de
SWC
Hoy les muestro como fue mi experiencia en la 2da exhibición que se llevo a cabo en el liceo fe y alegría ubicado cerca de mi localidad a continuación verán lo que fue desde mi perspectiva.
Hello friends of
SWC
Today I show you how was my experience in the 2nd exhibition that took place in the liceo fe y alegría located near my town, below you will see what it was like from my perspective.
---
---
▶️ Watch on 3Speak
---
---
Ya esta es nuestra segunda exhibición no esta demás decir que la pasamos excelente en mi caso me sentí muy feliz haciendo y demostrando lo que es la calistenia y el Street Workout y también viendo a la mayoría de los alumnos del liceo dándonos apoyo desde las gradas con sus aplausos para así motivarnos cuando hacíamos nuestras demostraciones de trucos tanto en dinámicos como estáticos, muchos quedaban sorprendidos al ver como hacíamos nuestros combos e incluso ellos con ganas de intentar lo que hacemos y eso me gusto ya que los motivamos a practicar este hermoso deporte un de las cosas que me pone muy feliz.
This is already our second exhibition and it is not too much to say that we had an excellent time in my case I felt very happy doing and demonstrating what is calisthenics and Street Workout and also seeing most of the high school students giving us support from the stands with their applause to motivate us when we did our demonstrations of tricks in both dynamic and static, many were surprised to see how we did our combos and even they wanted to try what we do and I liked that because we motivate them to practice this beautiful sport one of the things that makes me very happy.
---
---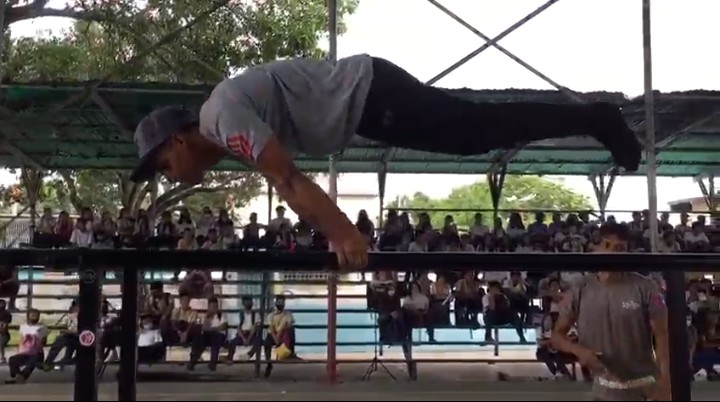 ---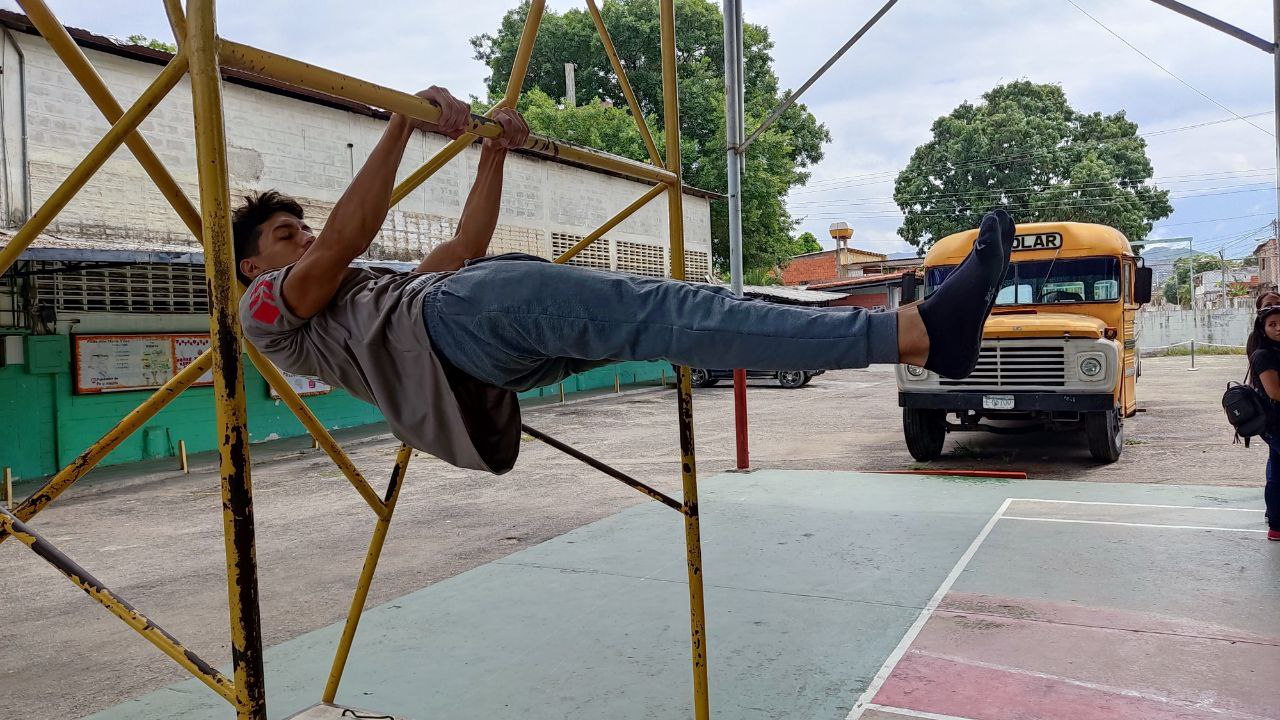 ---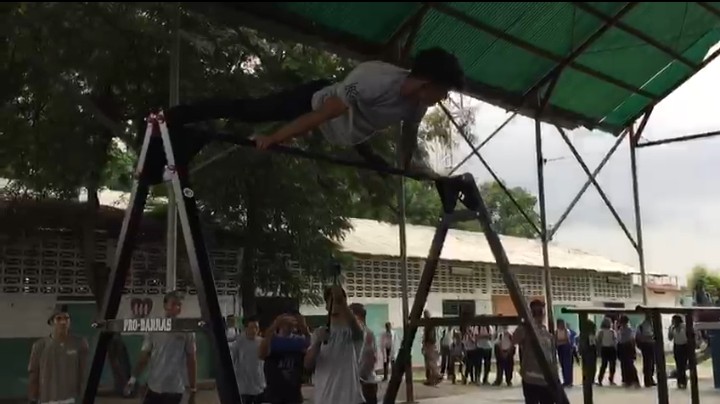 ---
Luego de hacer nuestras combinaciones se hicieron varios sersus amistoso entre los mismos integrantes de nuestra comunidad en el cuál fui participe en un versus con
@ramsses-sw25
el cual fue un buen contrincante ya que tiene muy buen arsenal de trucos y combos tanto dinámicos como estáticos, a la hora de hacer mis combinaciones me sentí un poco nervioso pero estaba muy motivado a ganar este versus a demás que era muy bueno el apoyo que obtuve de los chicos y chicas que se encontraban dese las gradas apoyando.
After making our combinations were made several friendly sersus between the same members of our community in which I participated in a versus with
@ramsses-sw25
which was a good opponent because he has a very good arsenal of tricks and combos both dynamic and static, when making my combinations I felt a little nervous but I was very motivated to win this versus besides it was very good support I got from the boys and girls who were in the stands supporting.
---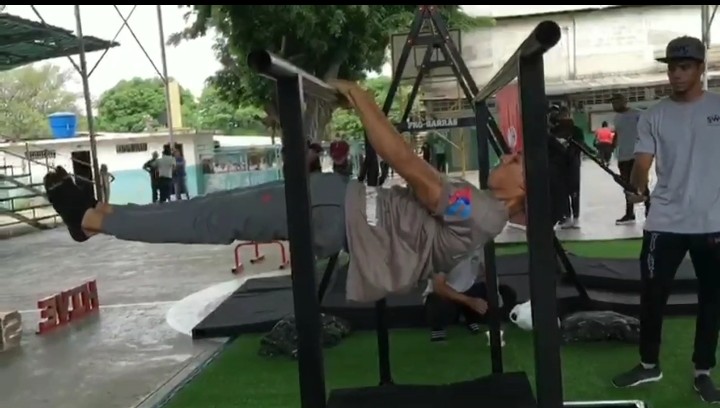 ---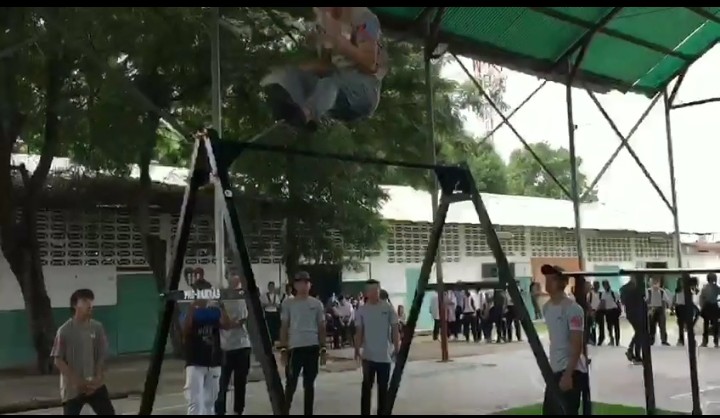 ---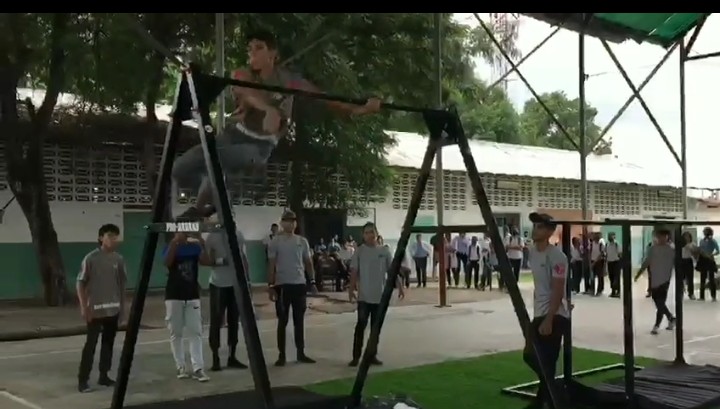 ---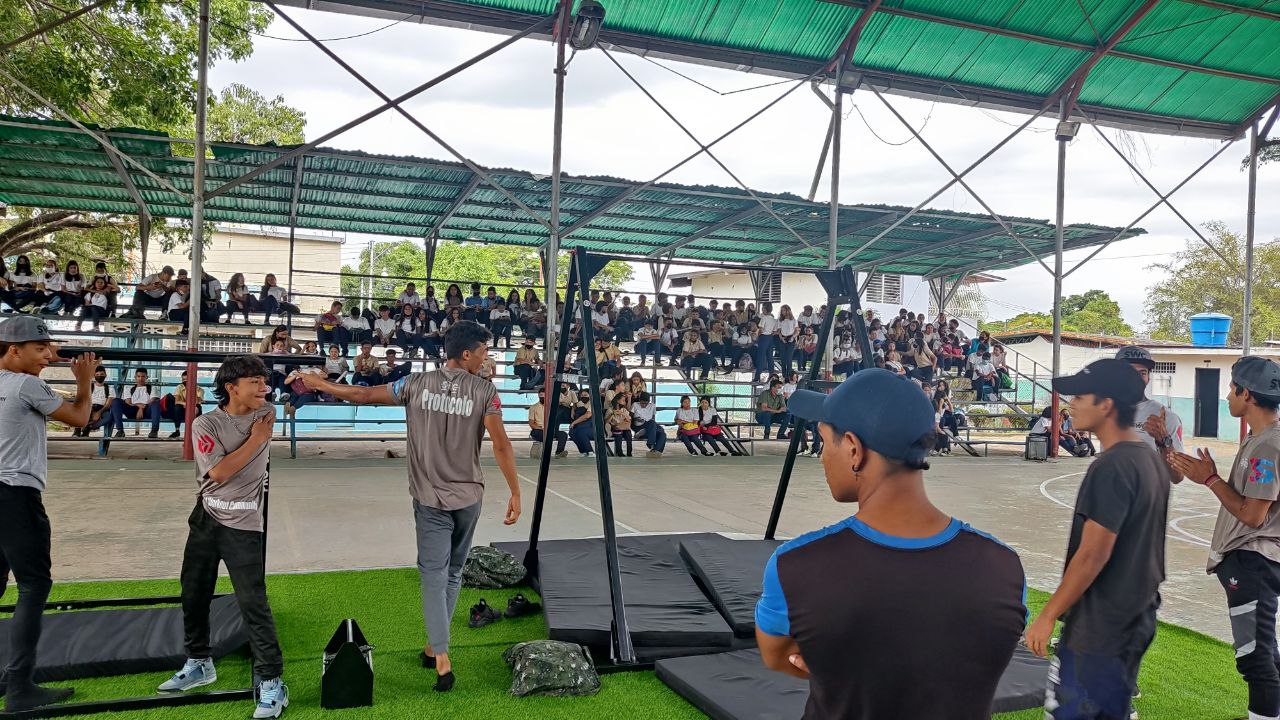 ---
Al momento de decidir quien era el ganados de este encuentro tomaron como jurado al público que eran los mismos estudiantes que estaban observando, en el primer encuentro se decidió que era replica y había que hacer otra demostración para definir quien era el ganador, yo ya me encontraba agotado y sentí que no podía ganarle pero quería hacerlo así que solo di lo mejor de mi y así pude lograr ganar a petición de los chicos y chicas que estaban presenciando la exhibición. Fue muy gratificante participar e incluso incentivar a quienes querían iniciar en el Street Workout o calistenia, fue una muy buena exhibición.
At the time of deciding who was the winner of this meeting they took as jury the public that were the same students who were watching, in the first meeting it was decided that it was a replica and had to do another demonstration to define who the winner was, I was already exhausted and felt that I could not win but I wanted to do it so I just gave my best and so I could win at the request of the boys and girls who were witnessing the exhibition. It was very rewarding to participate and even encourage those who wanted to start in Street Workout or calisthenics, it was a very good exhibition.
---
| ¡Muchas gracias por haber visto mi publicación! | Thank you very much for having seen my post! |
| --- | --- |
---
Creador de contenido original
Original content creator
---
| Musicalización | Musicalisation |
| --- | --- |
| La música usada en la edición de este video está libre de derechos de autor. | The music used in the editing of this video is copyright free. |
---
Medio Social
Social Medial
---
---
▶️ 3Speak
---
---