#FullDeportes - MotoGP - Gran Premio de Styria [Esp/Eng]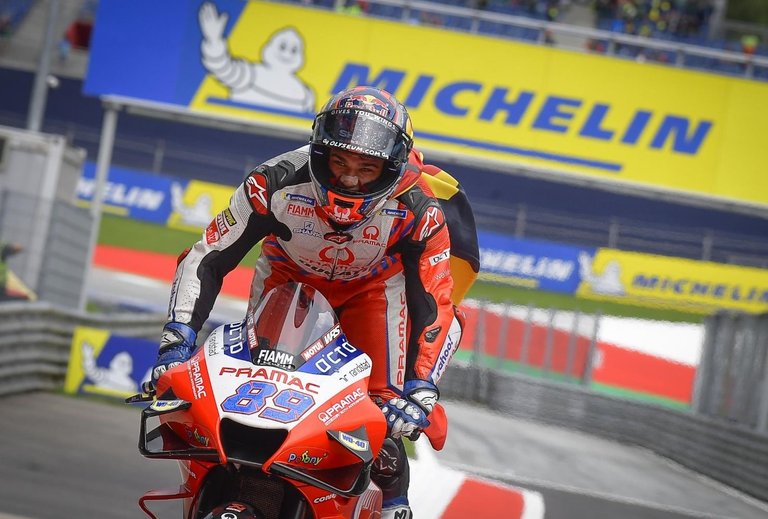 Fuente
// De regreso a la actividad del MotoGP después del descanso de verano. Empieza la segunda mitad del campeonato y se encuentra más interesante que nunca //
>_El campeonato de MotoGP vuelve a la acción en tierras austriacas en el espectacular circuito de Red Bull Ring en la segunda ocasión que se realiza este gran premio, el Gran Premio de Styria.
// Back to MotoGP activity after the summer break. The second half of the championship begins and it is more interesting than ever //
>_ The MotoGP championship is back in action on Austrian soil at the spectacular Red Bull Ring circuit on the second occasion of this grand prix, the Styria Grand Prix.
---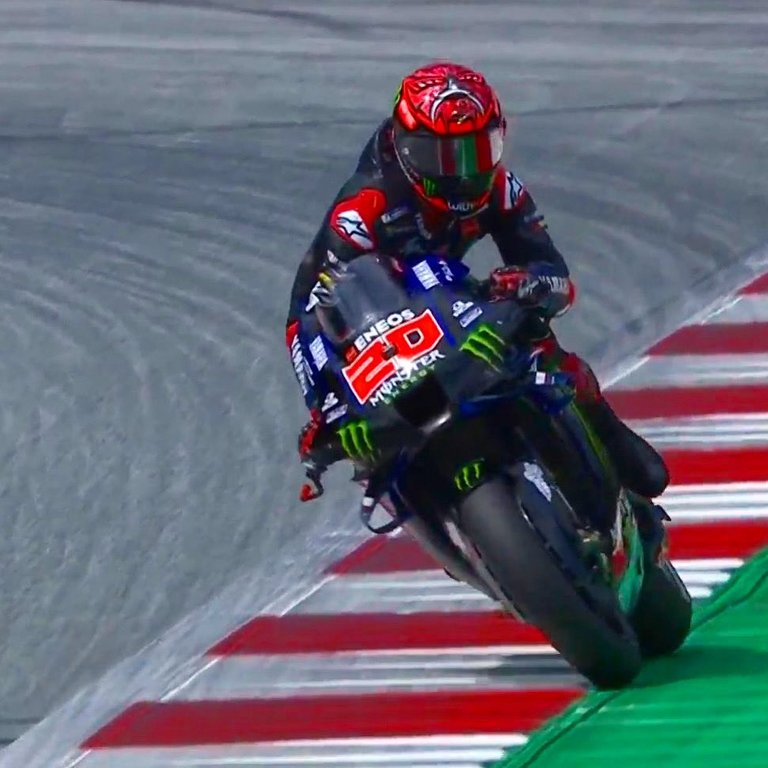 Fuente
// Día de clasificación //
>_ El sábado llegó y la clasificación, como ya es costumbre, nos mantuvo al filo del asiento hasta el último segundo.
El líder del campeonato, Fabio Quartararo, logró el tiempo más rápido del día, pero fué penalizado al rebasar los límites de pista, lo que lo dejó al final con la P3 rodeado de Ducatis para el inicio de carrera.
Bagnaia, con la Ducati oficial, lograría la P2 con grandes posibilidades de lograr la victoria en un circuito que favorece la potencia de la moto italiana.
La sorpresa del día la dio el rookie de la temporada, Jorge Martín, que con la Ducati del Pramac Racing, que logró su segunda pole position en lo que va del campeonato e imponiendo un nuevo record en el Red Bull Ring con el tiempo oficial más rápido.
Los tiempos de clasificación quedaron así:
// Qualy day //
>_ Saturday arrived and qualifying, as usual, kept us on the edge of the seat until the last second.
Championship leader Fabio Quartararo set the fastest time of the day, but was penalized for exceeding the track limits, which left him at the end with the P3 surrounded by Ducatis for the start of the race.
Bagnaia, with the official Ducati, would achieve the P2 with great chances of achieving victory on a circuit that favors the power of the Italian motorcycle.
The surprise of the day was given by the rookie of the season, Jorge Martín, who with the Pramac Racing Ducati, achieved his second pole position so far in the championship and setting a new record in the Red Bull Ring with the faster official time.
The qualifying times were like this:
---
| Posición | Nombre | Equipo | Constructor | Tiempo |
| --- | --- | --- | --- | --- |
| 1 | Jorge Martin | Pramac Racing | Ducati | 1m22.994s |
| 2 | Francesco Bagnaia | Ducati Lenovo Team | Ducati | 1m23.038s |
| 3 | Fabio Quartararo | Monster Energy Yamaha MotoGP | Yamaha | 1m23.075s |
---
// Día de la Carrera //
>_ El domingo llegó y todo se encontraba listo para el inicio de la carrera.
En esta ocasión tendríamos el regreso al grid de dos pilotos muy conocidos. Dani Pedrosa, el piloto que ya tiene dos años trabajando con la marca austriaca como tester y desarrollador de tecnología, se presentaba en su debut en carrera como wildcard para KTM. Por su parte, el británico Cal Crutchlow llegaba como sustituto de Franco Morbidelli, que se encuentra en rehabilitación, al Petronas Racing Team.
// Race Day //
>_ Sunday arrived and everything was ready for the start of the race.
On this occasion we would have the return to the grid of two well-known drivers. Dani Pedrosa, the rider who has already been working with the Austrian brand as a tester and technology developer for two years, appeared in his career debut as a wildcard for KTM. For his part, the British Cal Crutchlow came as a replacement for Franco Morbidelli, who is in rehabilitation, for the Petronas Racing Team.
Fuente
La largada fué espectacular, con las dos Ducatis de Bagnaia y Martin manteniendo las dos primeras posiciones.
Joan Mir, logró ubicarse en la segunda posición al tener una excelente arranque, ubicándose en la tercera plaza, y al final de vuelta, ponerse en P2.
Quartararo, pese a tener una moto con mejor aceleración, no pudo mantener la plaza y empezó a perder terreno enfrascándose con Miller, Zarco y Márquez por la P3.
Márquez empezó muy agresivo y en la primera vuelta tocó al piloto de Aprilia, Aleix Espargaro, mandándolo fuera de pista y haciendo que este perdiera muchas posiciones. Marc no recibió penalización.
The start was spectacular, with the two Ducatis de Bagnaia and Martin holding the top two positions.
Joan Mir, managed to place himself in second position by having an excellent start, placing himself in third place, and at the end of the lap, putting himself in P2.
Quartararo, despite having a bike with better acceleration, could not hold the place and began to lose ground, engaging with Miller, Zarco and Márquez on fight for P3.
Márquez started very aggressive and on the first corner he touched the Aprilia rider, Aleix Espargaro, sending him off the track and causing him to lose positions. Marc received no penalty.
Fuente
Apenas tres vueltas tenía la carrera cuando, en la curva 3, Dani Pedrosa perdió la llanta trasera de su KTM provocando una caída, quedando él y su moto en la trazada de salida, que el piloto Lorenzo Salvadori de Aprilia no pudo esquivar, provocando un accidente que provocaría una bandera roja.
Afortunadamente para Pedrosa y Salvadori, el accidente no pasó a más y ambos pilotos regresaron de propio pie a los paddocks. Pedrosa reiniciaría la carrera y terminaría en la P10 después de recuperar varias plazas. Salvadori no pudo salir nuevamente.
The race was barely three laps when, in turn 3, Dani Pedrosa lost the rear tire of his KTM causing a crash, leaving him and his motorcycle on the race line, which the Aprilia rider Lorenzo Salvadori could not avoid , causing an accident that would cause a red flag.
Fortunately for Pedrosa and Salvadori, had no serious consequences and both riders returned to the paddocks on their own feet. Pedrosa would restart the race and finish in P10 after recovering several places. Salvadori could not restart the race.
Fuente
Se pactó un nuevo reinicio de carrera a 27 vueltas, donde Maverick Viñales tuvo que iniciar la carrera desde pits al no poder salir a la vuelta de reconocimiento.
Nuevamente Martin y Mir lograron ubicarse en las primeras plazas, seguidos de Miller. Zarco y Quartararo se empezaron a pelear por la cuarta plaza, mientras Bagnaia se precipitaba a las últimas plazas al no encontrar ritmo de carrera.
Nuevamente, Márquez tendría un contacto con Aleix Espargaro, que tendría que abandonar la carrera unas vueltas más adelante por una falla en el motor de la Aprilia.
A new 27-lap race restart was agreed, where Maverick Viñales had to start the race from the pits as he was unable to start the reconnaissance lap.
Again Martin and Mir managed to place themselves in the first places, followed by Miller. Zarco and Quartararo began to fight for fourth place, while Bagnaia rushed to the last places when he could not find race rhythm.
Again, Márquez would have a contact with Aleix Espargaro, who would have to abandon the race a few laps later due to a failure in the Aprilia engine.
Fuente
Martin recuperaba la primera posición para no volver a perderla nunca más mientras unos metros más atrás se mantenía la pelea por la P4 entre los dos franceses, Quartararo y Zarco.
Después de una cuantas vueltas se formarían dos grupos en la cabeza de la carrera, Martin que empezaba a separarse de Mir, y la pelea por la tercera plaza entre Quartararo, Miller y Zarco.
Miguel Oliveira, el piloto de KTM, tendría que abandonar la carrera debido a un defecto en su llanta delantera en la vuelta 15.
Martin recovered the first position to never lose it again while a few meters behind the fight for the P4 between the two French, Quartararo and Zarco continued.
After a few laps, two groups would form at the head of the race, Martin starting to separate from Mir, and the fight for third place between Quartararo, Miller and Zarco.
Miguel Oliveira, the KTM rider, would have to abandon the race due to a defect in his front tire on lap 15.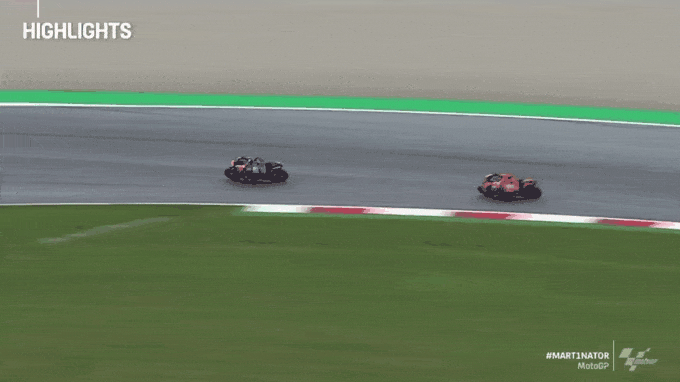 Fuente
En la vuelta 18, Miller perdería el frente de su moto y terminaría en la trampa de grava mientras peleaba por la P3 contra Quartararo, que aprovechaba el rápido paso por curva de la Yamaha para aventajar a Miller y Zarco.
On lap 18, Miller would lose the front of his bike and end up in the gravel trap as he battled for P3 against Quartararo, who was taking advantage of the Yamaha's fast cornering to get ahead of Miller and Zarco.
Fuente
Jorge Martin logra su primera victoria en el MotoGP después de solo 6 carreras en su temporada de rookie y le da una victoria más al equipo Pramac Racing.
El actual campeón, Joan Mir, se queda con la P2, después de no poder seguir el ritmo de Martin. Aún así, es un gran resultado para los de Susuki, que han logrado incrementar la polivalencia de su moto con su "Rear Ride Height Device".
Para el actual líder del campeonato, Quartararo, la P3 se vuelve en un podio de oro, ya que históricamente el Red Bull Racing es un circuito que complica mucho a la Yamaha. Además, lográ sacarle puntos a Zarco en el campeonato, que al final se tuvo que quedar con la P6, ya que perdió el rendimiento de sus gomas en la última vuelta de la carrera.
Brad Binder se vuelve la mejor KTM del día después de tener una carrera digna de recordar, ya que logró pasar de la P16 a la P4. Junto a Pedrosa que terminó en los puntos, muestran que KTM se está convirtiendo en un digno aspirante al título de constructores, en el que se encuentra en la P3, arriba de Honda.
Takaa Nakagami terminó como la mejor Honda, y se sigue viendo preocupación en la casa del ala dorada, que no lográ ajustar sus motos a sus pilótos.
Jorge Martin achieves his first MotoGP victory after just 6 races in his rookie season and gives one more victory to the Pramac Racing team.
The current champion, Joan Mir, stays with P2, after not being able to keep up with Martin. Still, it's a great result for Susuki's guys, who have managed to increase the versatility of his bike with their "Rear Ride Height Device".
For the current leader of the championship, Quartararo, the P3 turns into a golden podium, since historically the Red Bull Racing is a circuit that complicates Yamaha a lot. In addition, he managed to get points from Zarco in the championship, who in the end had to stay with the P6, since he lost the performance of his tires in the last lap of the race.
Brad Binder becomes the best KTM of the day after having a race worth remembering, as he managed to go from P16 to P4. Together with Pedrosa who finished in the points, show that KTM is becoming a worthy contender for the constructors' title, in which they are third, ahead of Honda.
Takaa Nakagami finished as the best Honda, and concern continues to be seen in the house of the golden wing, who are not able to adjust their bikes to their riders.
Fuente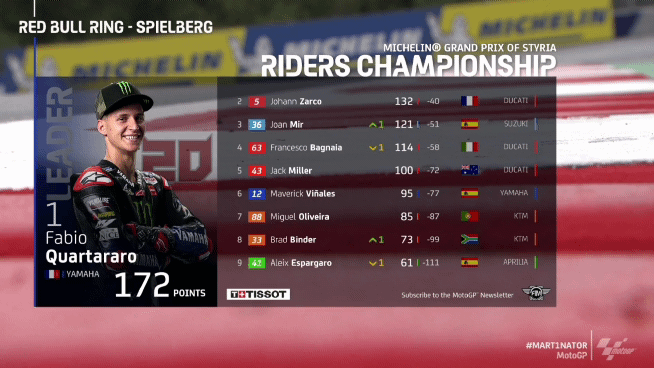 Fuente
>_ El campeonato se pone más emocionante. Quartararo aumenta su ventaja a 172 puntos después de un excelente fin de semana, donde supo sacar provecho al paso por curva de la Yamaha.
Zarco pierde puntos importantes después de que sus gomas le jugaran una mala pasada en la última vuelta, quedando con 130 puntos. Seguramente el próximo fin de semana podrá ajustar.
Mir logra ponerse en tercer lugar con 121 puntos, dejando a Bagnaia con 114.
No tendremos que esperar mucho para la siguiente carrera del MotoGP, que repite nuevamente fecha en Austria, en el Gran Premio de Austria el próximo fin de semana. Donde seguramente veremos como los equipos ajustaran tácticas y nos podrán dar una carrera mucho más peleada.
Eso es todo por el momento amigos, un saludo y nos vemos pronto en una entrada más sobre el mundo motor.
>_ The championship gets more exciting. Quartararo increases his lead to 172 points after an excellent weekend, where he was able to take advantage of the Yamaha cornering.
Zarco lost important points after his tires played a trick on him on the last lap, leaving him with 130 points. Surely next weekend he will be able to adjust.
Mir manages to take third place with 121 points, leaving Bagnaia with 114.
We won't have to wait long for the next MotoGP race, which again repeats the date in Austria, at the Austrian Grand Prix next weekend. Where we will surely see how the teams will adjust tactics and can give us a much more fought race.
That's all for the moment friends, greetings and see you soon in one more post about the motor world.

// Hive // Twitter // Facebook //
// Instagram // Movescount // Strava // Lbry //
---
---