#FullDeportes - MotoGP - ¡¡Locura en el Gran Premio de Austria!! [ESP/ENG]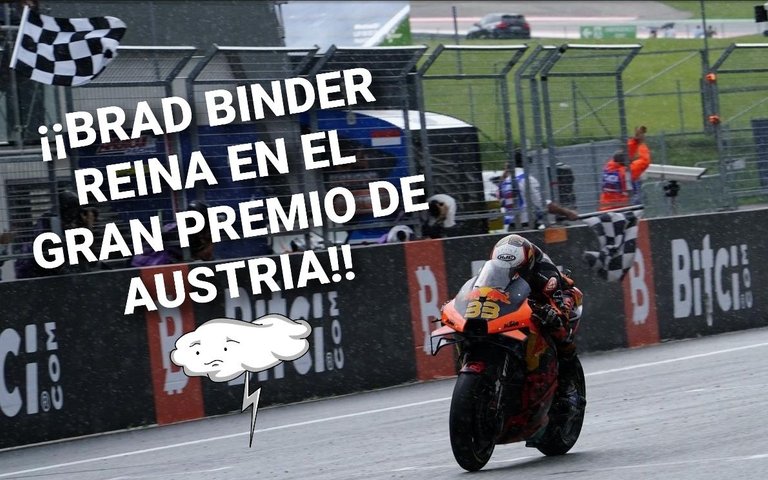 Fuente
// La locura se desató en el Red Bull Ring, y Brad Binder se hace con la victoria al apostarlo todo //
>_ El día de ayer se corrió la décima primera fecha del campeonato de MotoGP en el Red Bull Ring en lo que fué el Gran Premio de Austria.
Las expectativas eran altas, ya que desde el día viernes se podía ver tiempos rapidísimos, que nos auguraban grandes emociones para el domingo.
// La Clasificación //
>_ Después de sufrir una caída en la FP4 e iniciar desde la Q1, Jorge Martin del Pramac Racing, lograría la pole con un nuevo record de pista (1m22.643s).
En segunda posición, Fabio Quartararo con la Yamaha (1m22.677s), seguidos de Pecco Bagnaia con la Ducati oficial (1m23.063s).
// La Carrera //
// Madness broke out at the Red Bull Ring, and Brad Binder claimed the win by betting it all //
>_ Yesterday the 11th round of the MotoGP championship took place at the Red Bull Ring in what was the Austrian Grand Prix.
Expectations were high, since from Friday we could see very fast times, which augured great emotions for Sunday.
// The Qualy //
>_ After suffering a crash in FP4 and starting from Q1, Jorge Martin from Pramac Racing would achieve pole with a new track record (1m22.643s).
In second place, Fabio Quartararo with the Yamaha (1m22.677s), followed by Pecco Bagnaia with the official Ducati (1m23.063s).
// The Race //
![20210816_042804.gif](
)

>_Al iniciar la carrera, Jorge Martin lograba mantener la primera plaza. Quartararo y Zarco no podían frenar en la primera curva y salían de pista, perdiendo posiciones con Márquez y Bagnaia.

Mir, Miller y Binder mantendrían sus posiciones.

>_ At the start of the race, Jorge Martin managed to keep the first place. Quartararo and Zarco couldn't stop at the first corner and went off the track, losing positions to Márquez and Bagnaia.

Mir, Miller, and Binder would hold their positions.



Fuente
Bagnaia lograría hacerse del liderato de la carrera perseguido por Jorge Martin. Marc Márquez, que fué el único piloto que colocó la llanta trasera suave en su moto, empezaba a cazar a Martin.
Quartararo hacia gala de su habilidad para frenar tarde y se enfrascaba en lucha directa con su compatriota Zarco por la P4.
Bagnaia would manage to take the lead in the race pursued by Jorge Martin. Marc Márquez, who was the only rider who put the soft rear tire on his bike, started hunting Martin.
Quartararo showed off his ability to brake late and engaged in a direct fight with his compatriot Zarco for P4.
Fuente
>_ Jorge Martin buscaba recuperar la primera posición. La batalla entre Bagnaia, Márquez y Martin provocaría que Quartararo y Zarco se acercaran al liderato de la carrera.
Faltando diez vueltas para el final de carrera, Johan Zarco sufriría una caída en la curva 9, perdiendo la oportunidad de restarle algunos puntos a Quartararo. Todo lo contrario, perdería la segunda plaza en el Campeonato de Pilotos, quedando en la cuarta plaza con una diferencia de 49 puntos.
>_ Jorge Martin was looking to recover the first position. The battle between Bagnaia, Márquez and Martin would cause Quartararo and Zarco to get closer to the lead of the race.
With ten laps to go to the end of the race, Johan Zarco suffered a crash at Turn 9, losing the opportunity to subtract some points from Quartararo. On the contrary, he would lose second place in the Drivers' Championship, remaining in fourth place with a difference of 49 points.
Fuente
>_ La lluvia hacía presencia en el circuito, provocando que Quartararo se pasara en la frenada en la primera curva.
Marc lograría el liderato en la curva 3 con tan solo 7 vueltas para el final y parecía que la estrategia de montar los neumáticos blandos podría salirle bien.
La lluvia aumentaba en intensidad y el grupo líder empezaba a perder ritmo. Joan Mir en la Susuki y Brad Binder de KTM lograban alcanzarlos y la pelea por el liderato se convertía en una lucha encarnizada.
> _ The rain was present on the circuit, causing Quartararo to go overboard during the first corner.
Marc would take the lead at Turn 3 with just 7 laps to go and it seemed that the strategy of mounting the soft tires could work for him.
The rain increased in intensity and the leading group began to lose pace. Joan Mir in the Susuki and Brad Binder of KTM managed to catch up with them and the fight for the leadership turned into a fierce fight.
Fuente
>_ Con tan solo cuatro vueltas para el final de carrera, la mayoría de pilotos decidieron entrar a pits para cambiar de moto. En el grupo líder entraron Marc, Quartararo, Bagnaia, Martin y Mir.
El único piloto que se mantuvo fué Brad Binder, que apostaba todo para lograr la victoria de la marca austriaca en el premio de casa. Junto al alemán, Aleix Espargaro de Aprilia y Valentino Rossi completaban las tres primeras posiciones.
> _ With only four laps to go to the end of the race, most riders decided to go into the pits to change bikes. The leading group included Marc, Quartararo, Bagnaia, Martin and Mir.
The only driver who remained was Brad Binder, who bet everything to achieve the victory of the Austrian brand in the home prize. Along with the German, Aleix Espargaro from Aprilia and Valentino Rossi completed the first three positions.
Fuente
>_ En la última vuelta, Pecco Bagnaia y Jorge Martin, rebasaban a Iker Lecuona del Tech3 KTM y Luca Marini del Sky VR46 Avintia, terminando en la P2 y P3 respectivamente.
Brad Binder, haciendo gala de un coraje increíble, lograría terminar en la primera posición, dándole la victoria a la casa austriaca.
Eso es todo amigos. espero les haya gustado este post y nos vemos en la próxima.
>_ On the last lap, Pecco Bagnaia and Jorge Martin passed Iker Lecuona from Tech3 KTM and Luca Marini from Sky VR46 Avintia, finishing in P2 and P3 respectively.
Brad Binder, showing incredible courage, would manage to finish in the first position, giving the victory to the Austrian house.
That's all folks. I hope you liked this post and see you in the next one.

// Hive // Twitter // Facebook //
// Instagram // Movescount // Strava // Lbry //
---
---