[PT/EN] Primeiro encontro cultural Hive || First Hive cultural meeting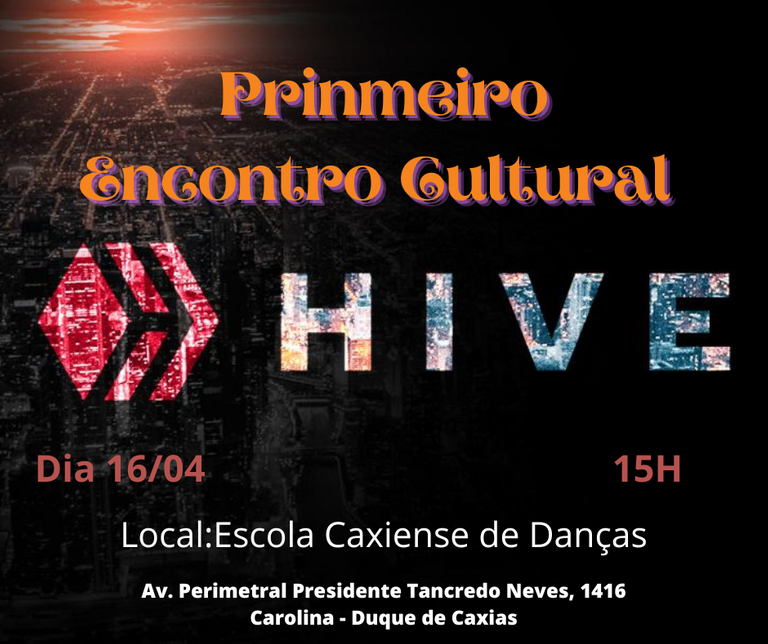 Objetivos e divulgação
No ultimo domingo tivemos o primeiro "Encontro Cultural Hive" patrocinado pela Nexo Digital e tivemos como sede desse primeiro econtro a Escola Caxiense de Danças(@escadas).
O encontro foi divulgado entre a comunidade de dança de salão do município de Duque de Caxias e amigos, sendo o principal objetivo desse encontro fazer uma introdução a Hive e criar contas para os novos hivers auxiliando eles em suas primeiras postagens.
Além de irmos nos bailes e escolas da região para divulgar o encontro, divulgamos também nos grupos de whatsapp relacionados a dança e cultura, já que buscamos publico de criação de conteúdos na área da arte e cultura focando na dança por conta do publico que estávamos convidando.
No fim o encontro acabou sendo bem menor do que esperávamos tendo apenas 5 pessoas além da equipe da Nexo Digital, quando o programado era receber entre 10 e 15 pessoas, mas na medida do possível foi bem produtivo e tivemos uma conversa que durou 3 horas sobre a Hive o que deixou alguns dos integrantes do encontro muito interessados nas postagens e alguns outros interessados nas possibilidades de investimento.

A preparação
A preparação foi bem mais trabalhosa que o próprio evento em si, fechamos o acordo de uso da escola, fizemos blusas da Hive, preparamos o coffe break, a preparação da apresentação e os tópicos de assuntos a serem tratados, fizemos o flyer e fomos nos locais já citados divulgar nosso evento.
Infelizmente com uma equipe bem reduzida algumas funções não foram muito bem concluídas durante o evento. Tivemos apenas 3 pessoas trabalhando para que o evento acontecesse e acabaram faltando registros de alguns momentos como da mesa do coffe por exemplo.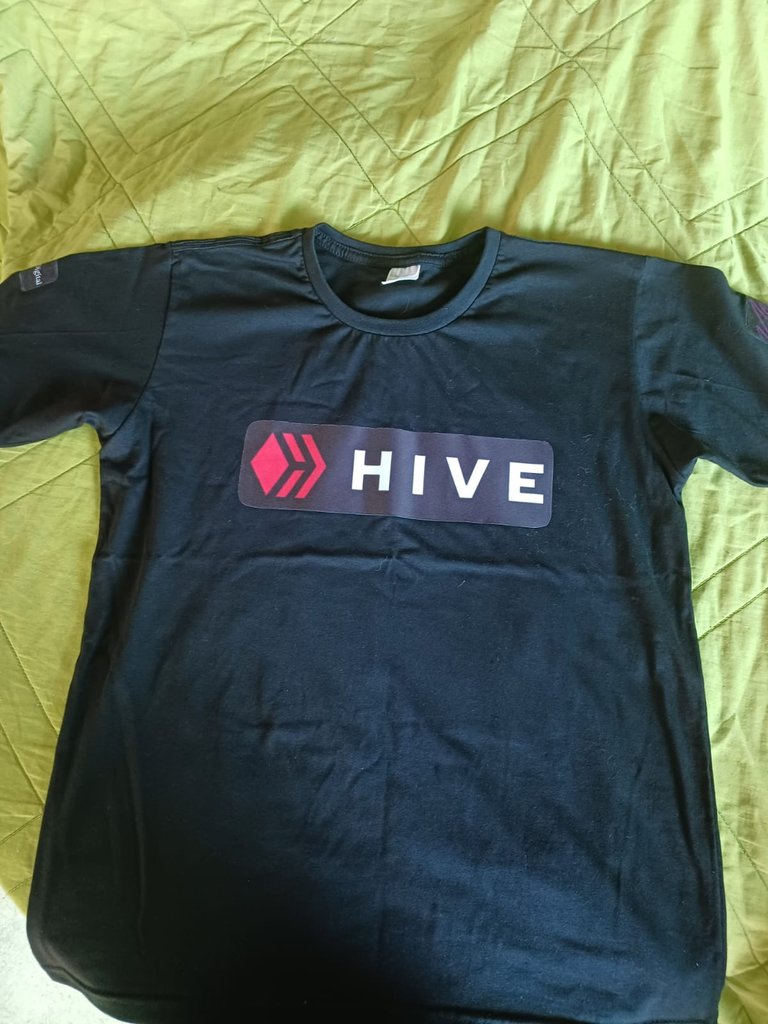 Camisa preta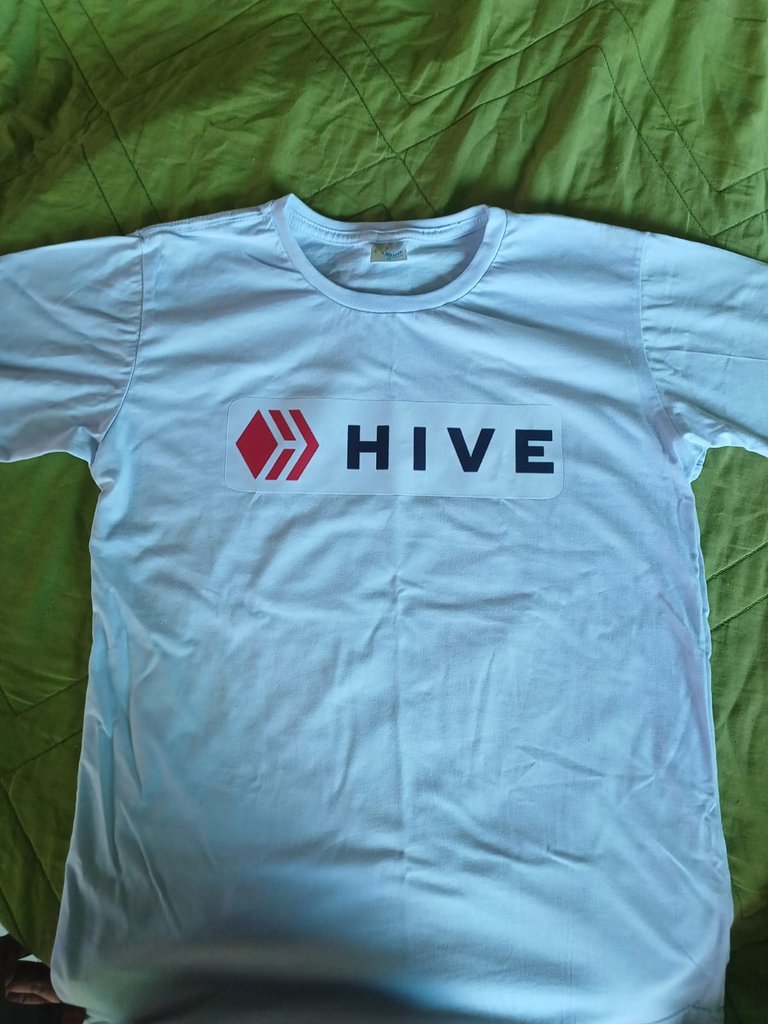 Camisa branca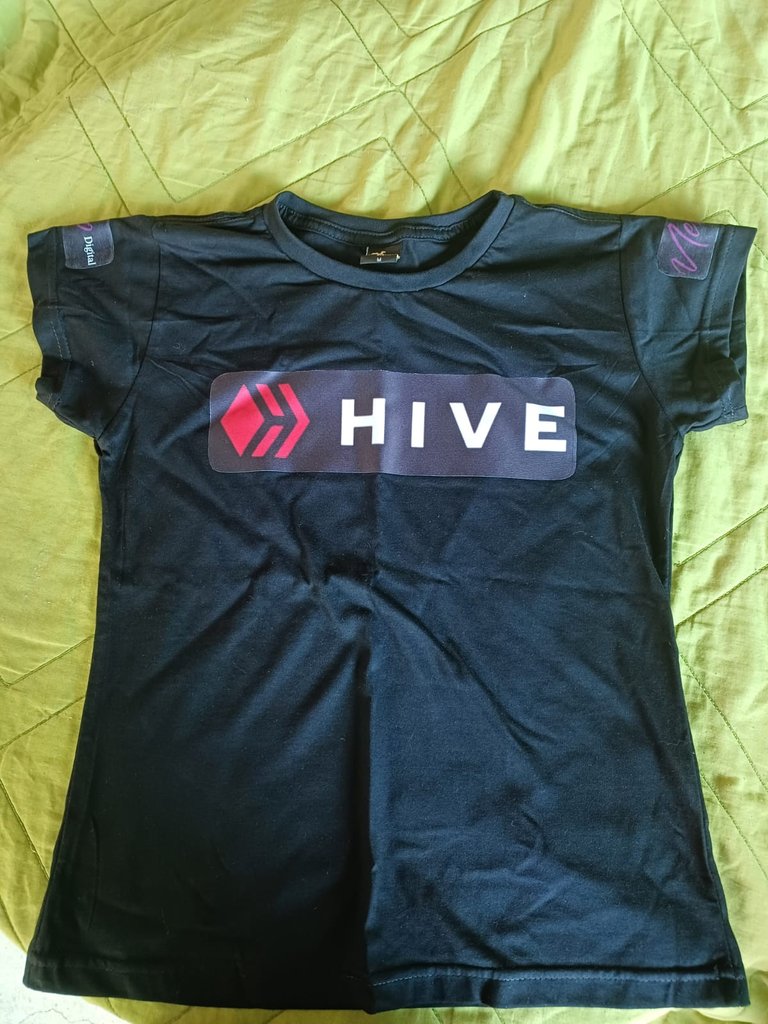 Baby look preta

O encontro
O encontro estava programado para começar as 15h. As 15 em ponto começaram a chegar as pessoas e servimos os lanches e refrigerantes. Enquanto aguardávamos mais pessoas conversamos bastante sobre o que esperavam do evento, finanças e eles já estavam empolgados para saber mais sobre a Hive querendo informações além das que eles já tinham pesquisado antes de vir ao encontro então começamos a falar sobre a hive e seguimos nossa apresentação desde o inicio, parando a cada tópico para que pudessem tirar duvidas e acreditem em todos os tópicos vieram uma enxurrada de duvidas que espero que tenhamos conseguido tirar todas com clareza.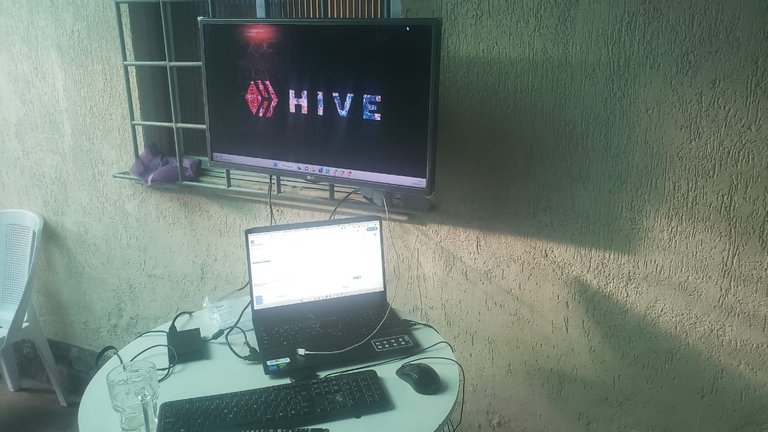 Note e tv preparados para iniciar as apresentações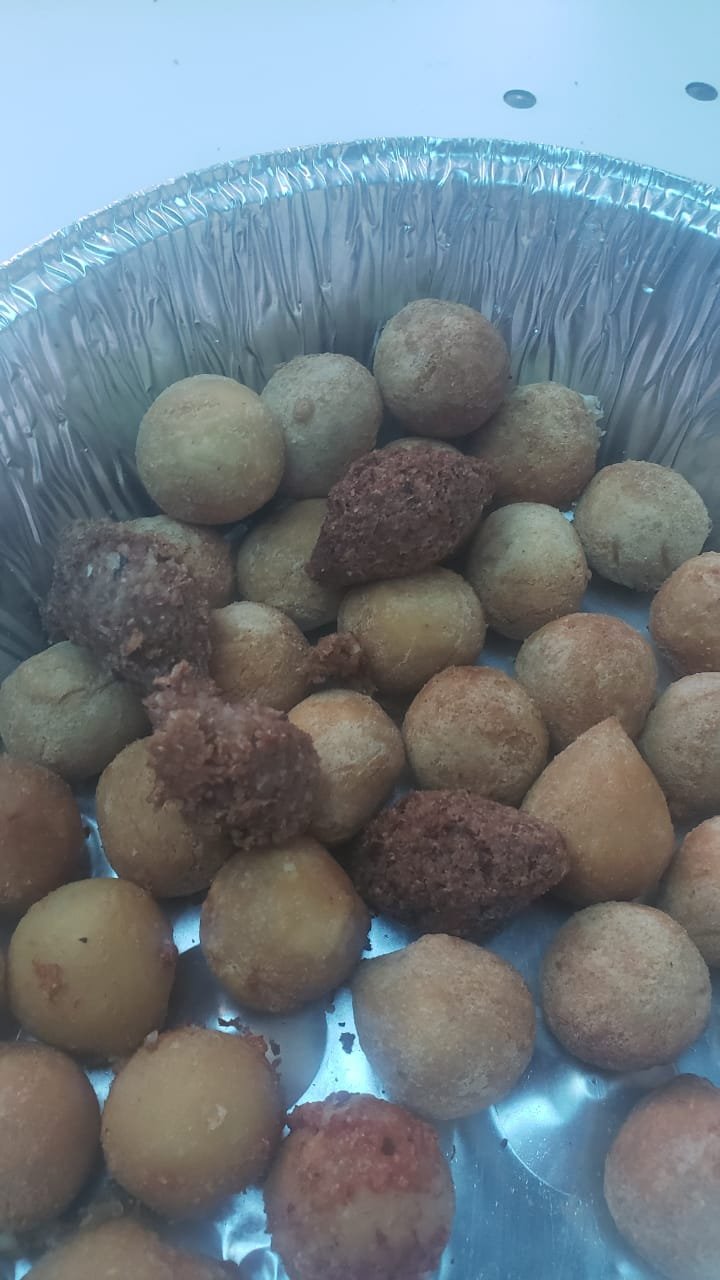 O que sobrou do nosso lanche após todos comermos
Nossa apresentação seguiu com os seguintes topicos:
Introdução a Hive
O que é a Hive, falamos das possibilidades que a blockchain traz mas focando no aspecto de rede social.
Falamos do que a comunidade espera de conteúdos, originais e de alta qualidade
Encontrar sua comunidade é muito importante e falamos do poder da comunidade e das inumeras comunidades dentro da Hive e é claro falamos da Nexo Digital
Porque eu deveria participar da Hive
Falamos sobre o beneficio de uma rede social descentralizada e reforçamos o poder da comunidade
Reforçamos a importância dos conteúdos de qualidade e mostramos os benefícios de ter uma rede social onde você pode aprender sobre, finanças, tecnologia e inúmeros assuntos graças a valorização de conteúdos de qualidade assim fazendo ótimos artigos para estudo e até mesmo entretenimento.
E por fim falamos da possibilidade de renda extra através de remuneração de conteúdos na plataforma e inúmeras possibilidades de investimentos.
Como postar
Falamos e explicamos sobre as front ends focando especificamente em 2, @ecency e @threespeak, sendo o ecency por conta de ser a front end mais amigável aos novos usuários e o 3speak para facilitar a postagem de vídeos.
Explicamos a importância do post ser original e que plagio é uma pratica extremamente combatida e proibida por motivos óbvios.
Falamos sobre as diretrizes de comunidades, tags e a importância de usar as tags certas nas postagens.
Por ultimo simulamos a criação de um post e mostramos alguns exemplos de bons artigos na hive, alem de combinarmos de no final do evento criar as contas e o post de introdução de cada um deles.
Hive Power e como conquistar o seu
Explicamos o que é Hive/HBD/HP e Savings e explicamos um pouco de suas aplicações
Falamos de como ganhar HP e HBD com as postagens e como é dividido o pagamento das postagens
Falamos de como comprar e vender cripto, carteiras digitais e chaves e de algumas dicas de segurança com relação as chaves.
Após o fim da nossa conversa e de muitas duvidas tiradas, já haviam se passado quase 3horas e finalizamos a conversa e iniciamos o processo de criar as contas. Nesse momento começaram os problemas, o link de criação de conta utilizado através da ajuda do programa de onboard da @ocd deu erro na primeira criação gerando um loading infinito o que impediu que conseguíssemos criar as contas e posts de intro já naquele mesmo dia. Mas não foi um grande problema porque no dia seguinte conseguimos criar as contas necessárias e estamos tentando dar o melhor auxilio possível para criação dos primeiros posts.
Seguem abaixo algumas fotos do nosso encontro.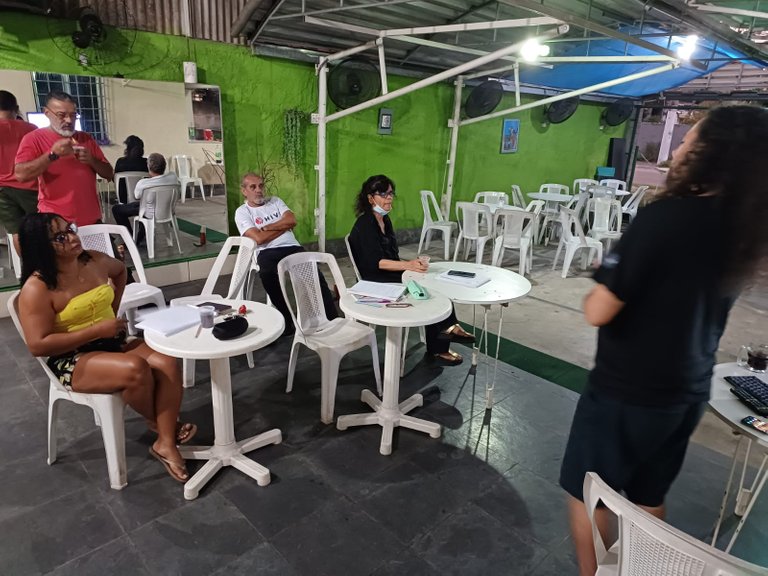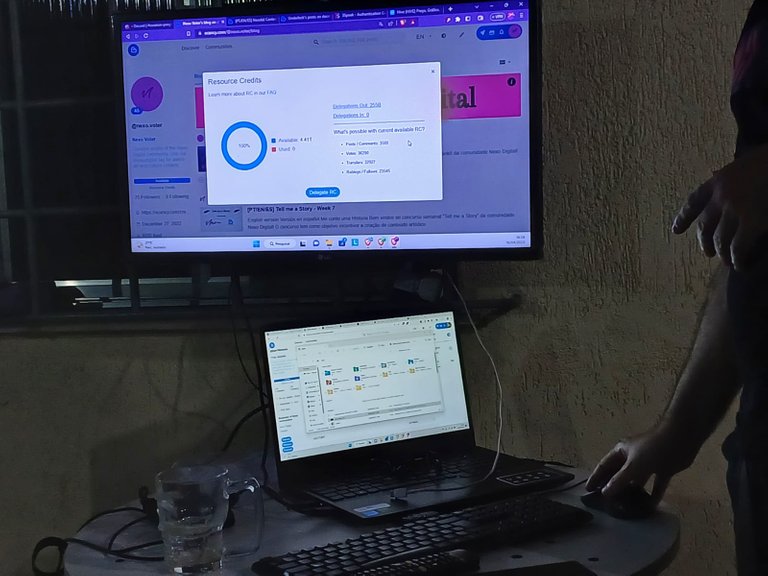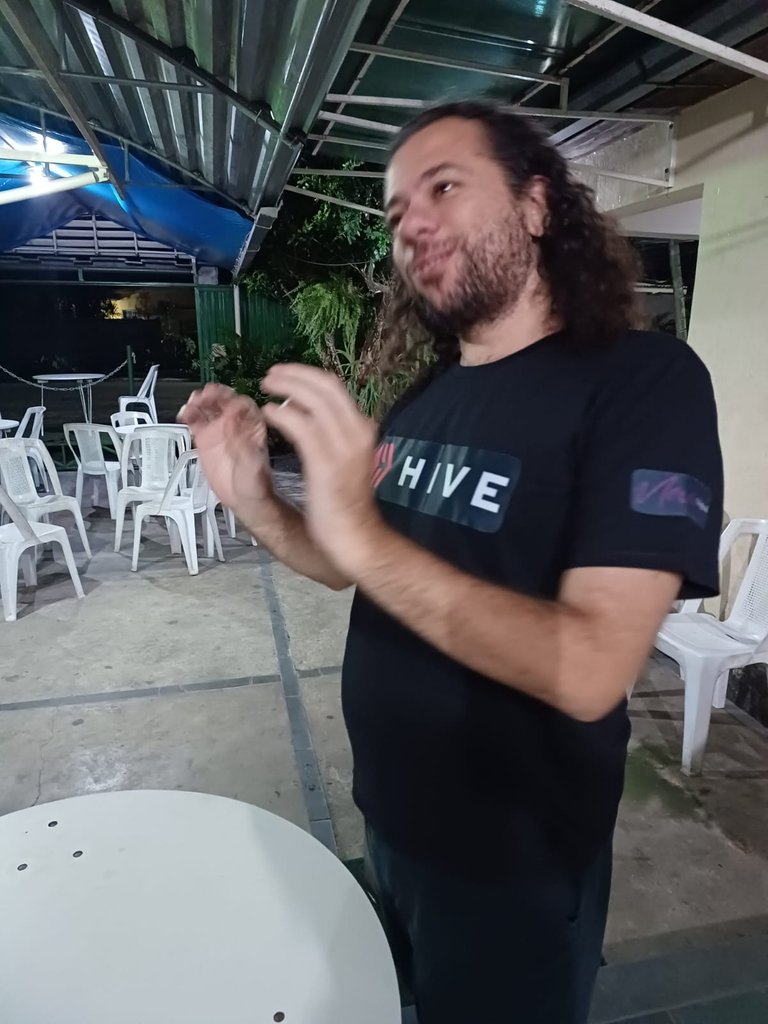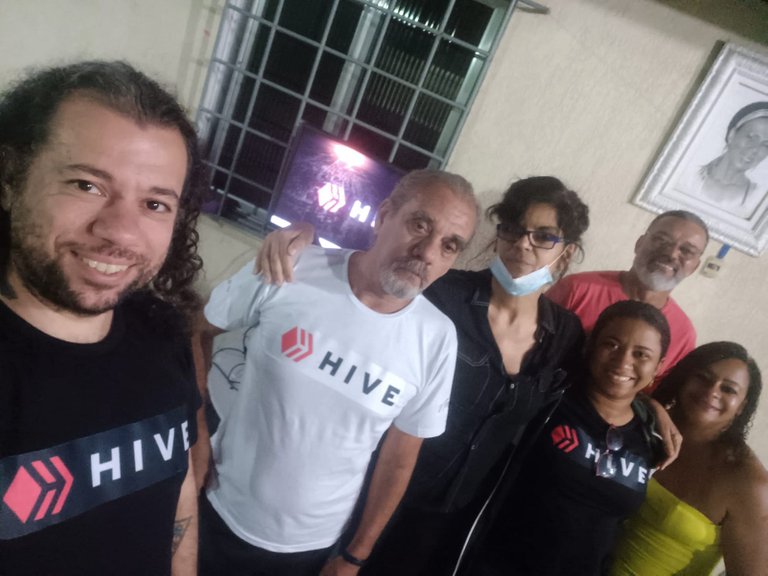 Futuros encontros
Com esse encontro aprendemos muito mais sobre as dificuldades de apresentar a Hive para novas pessoas e como preparar melhor nossos próximos encontros.
Nosso próximo encontro ainda não tem data, mas já está sendo preparado, no próximo também faremos onboarding mas não será o único foco, traremos atrações e um curso para nosso encontro cultural. Então se querem saber mais sobre nossos próximos encontros fiquem ligados aqui no perfil.

Conclusão
Por mais que não tenha sido o encontro que esperávamos e tenha ficado bem mais vazio e com poucos registros, todo o restante foi muito bom e ficamos muito satisfeitos com o resultado, principalmente porque os presentes saíram do evento bem empolgados. Espero que tenham gostado de ver um pouco do que foi nosso evento e se interesse em conhecer um pouco mais da Nexo Digital! Nossa comunidade está aberta para todas as publicações de dança, arte e cultura e temos alguns concursos semanais rolando, além dos nossos programas de recompensas para Holdings do token NEXO e recompensas de quem delega HP para o perfil nexo.voter . Caso queira saber mais entre no nosso discord e fale com a gente.

Junte-se a nosso discord e conheça nosso projeto..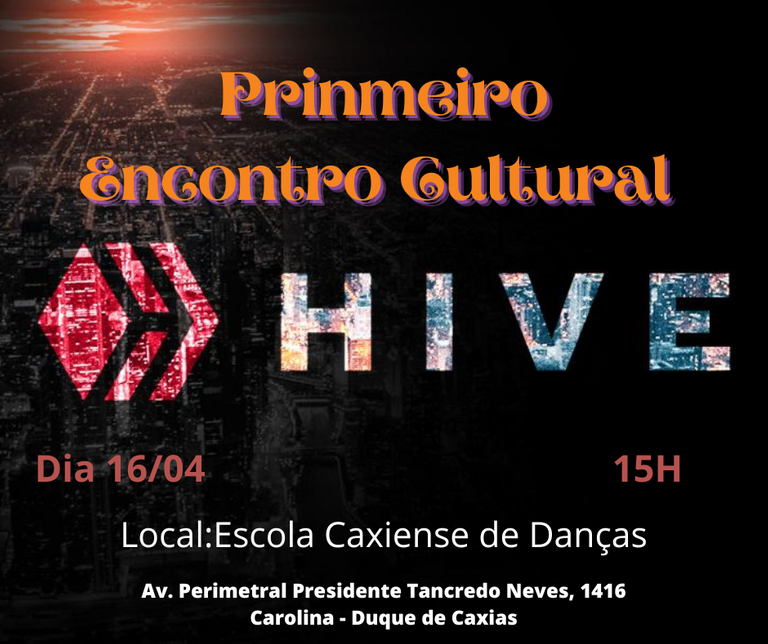 Objectives and disclosure
Last Sunday we had the first "Hive Cultural Meeting" sponsored by Nexo Digital and we had the Escola Caxiense de Danças(@escadas) as the venue for this first meeting.
The meeting was publicized among the ballroom dancing community of the municipality of Duque de Caxias and friends, with the main objective of this meeting being to introduce Hive and create accounts for new hivers, helping them with their first posts.
p>
In addition to going to dances and schools in the region to publicize the meeting, we also promote it in whatsapp groups related to dance and culture, as we seek an audience for the creation of content in the area of art and culture, focusing on dance on behalf of the public that we were inviting.
In the end, the meeting turned out to be much smaller than we expected, having only 5 people in addition to the Nexo Digital team, when the program was to receive between 10 and 15 people, but as far as possible it was very productive and we had a conversation that lasted 3 hours on Hive, which left some of the meeting participants very interested in the posts and some others interested in the investment possibilities.

The preparation
The preparation was much more laborious than the event itself, we closed the agreement for the use of the school, we made Hive blouses, we prepared the coffee break, we prepared the presentation and the topics of subjects to be discussed, we made the flyer and we went to the aforementioned places to publicize our event.
Unfortunately, with a very small team, some functions were not very well completed during the event. We had only 3 people working to make the event happen and some moments were missing, such as the coffee table, for example.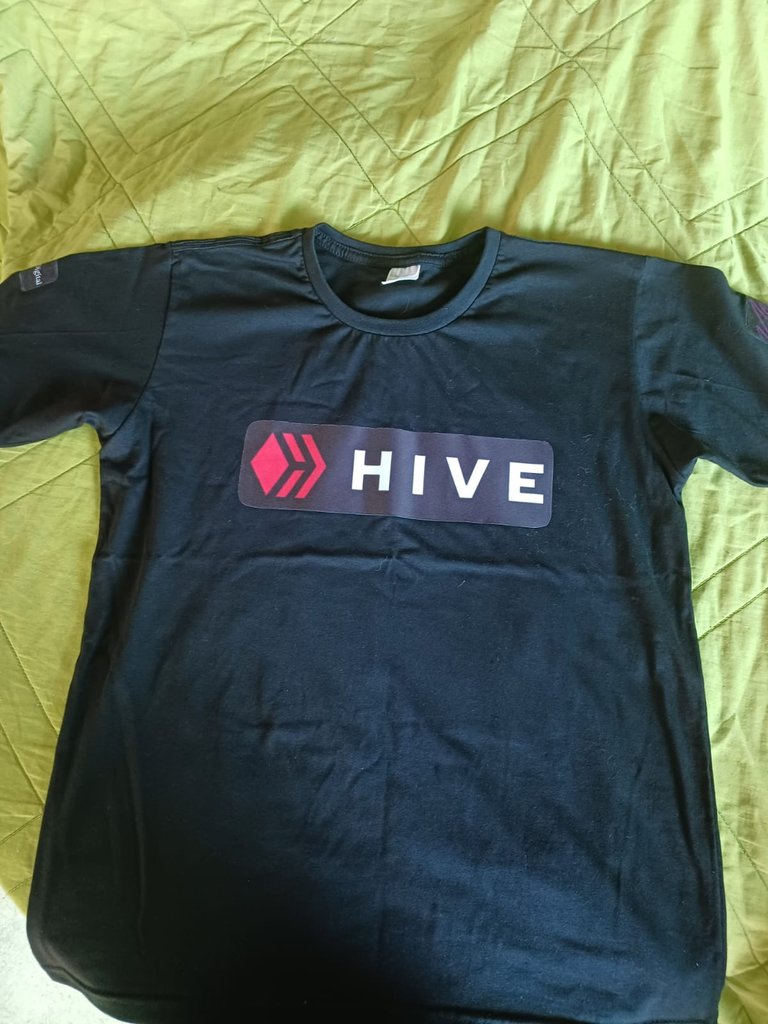 Black shirt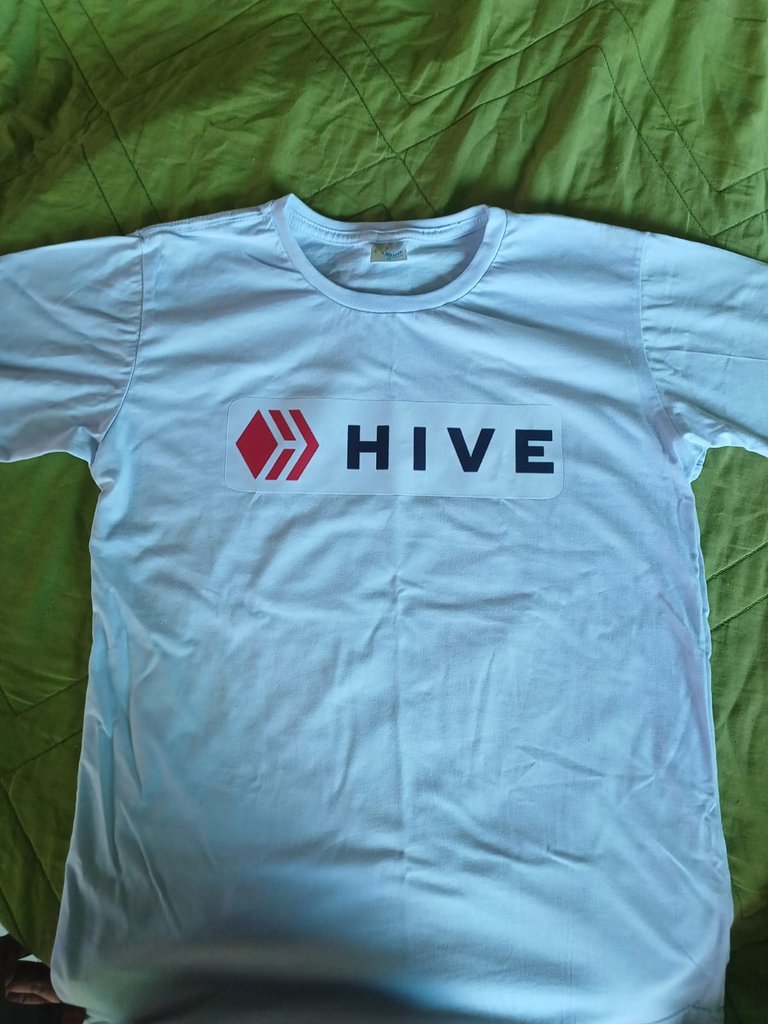 White shirt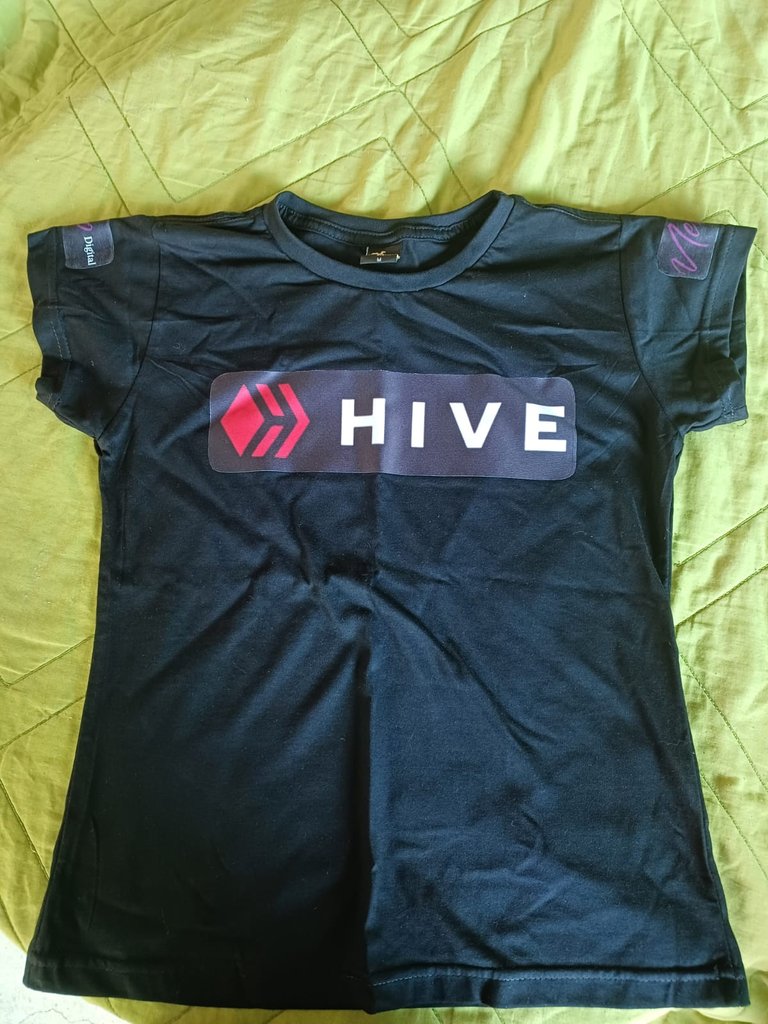 Baby look black

The meeting
The meeting was scheduled to start at 3 pm. At 15 on the dot, people started to arrive and we served snacks and soft drinks. While we were waiting for more people we talked a lot about what they expected from the event, finances and they were already excited to know more about Hive wanting information beyond what they had already researched before coming to the meeting so we started talking about hive and followed our presentation from the beginning, stopping at each topic so that they could clear doubts and believe me in all the topics came a flood of doubts that I hope we managed to clear all of them.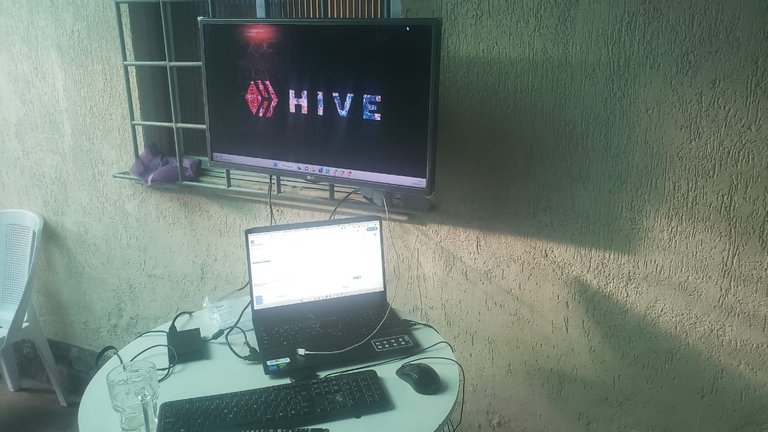 Note and tv prepared to start the presentations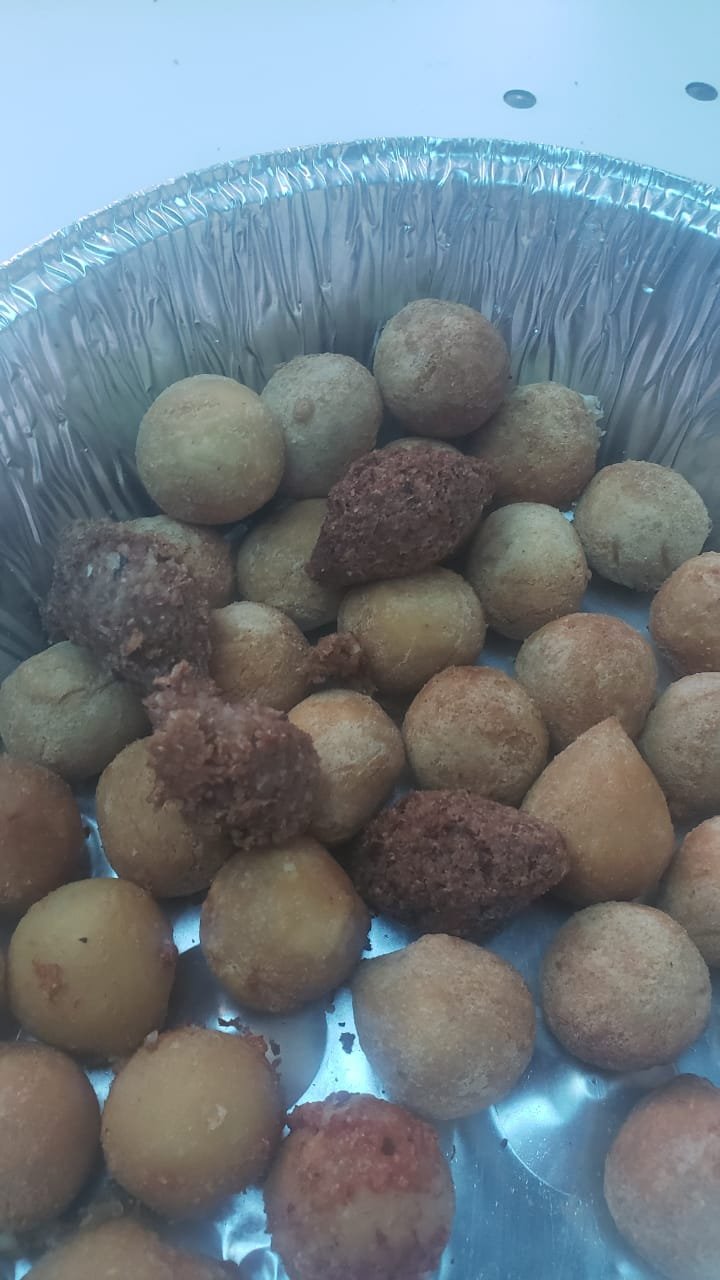 What's left of our lunch after we all ate
Our presentation continued with the following topics:
Introduction to Hive
What is Hive, we talk about the possibilities that blockchain brings but focusing on the social network aspect.
We talk about what the community expects from original, high-quality content
Finding your community is very important and we are talking about the power of community and the countless communities within Hive and of course we are talking about Nexo Digital
Why I should join Hive
We talk about the benefit of a decentralized social network and reinforce the power of the community
We reinforce the importance of quality content and show the benefits of having a social network where you can learn about finance, technology and countless subjects thanks to the appreciation of quality content thus making great articles for study and even entertainment.
And finally, we talk about the possibility of extra income through remuneration of content on the platform and numerous investment possibilities.
How to post
We talked and explained about front ends focusing specifically on 2, @ecency and @threespeak, being ecency for being the friendliest front end for new users and 3speak for facilitating the posting of videos.
We explain the importance of the post being original and that plagiarism is an extremely prohibited practice for obvious reasons.
We talk about community guidelines, tags, and the importance of using the right tags in your posts.
Lastly, we simulated the creation of a post and showed some examples of good articles on hive, in addition to agreeing to create the accounts and the introduction post for each one of them at the end of the event.
Hive Power and how to conquer yours
We explain what Hive/HBD/HP and Savings are and explain a little of their applications
We talk about how to earn HP and HBD with posts and how the payment for posts is divided
We talk about how to buy and sell crypto, digital wallets and keys, and some key security tips.
After the end of our conversation and many doubts cleared, almost 3 hours had passed and we ended the conversation and started the process of creating accounts. At that moment the problems began, the account creation link used through the help of the @ocd onboard program failed in the first creation, generating an infinite loading which prevented us from being able to create the accounts and intro posts that same day. But it wasn't a big problem because the next day we managed to create the necessary accounts and we are trying to give the best possible help to create the first posts.
Below are some photos of our meeting.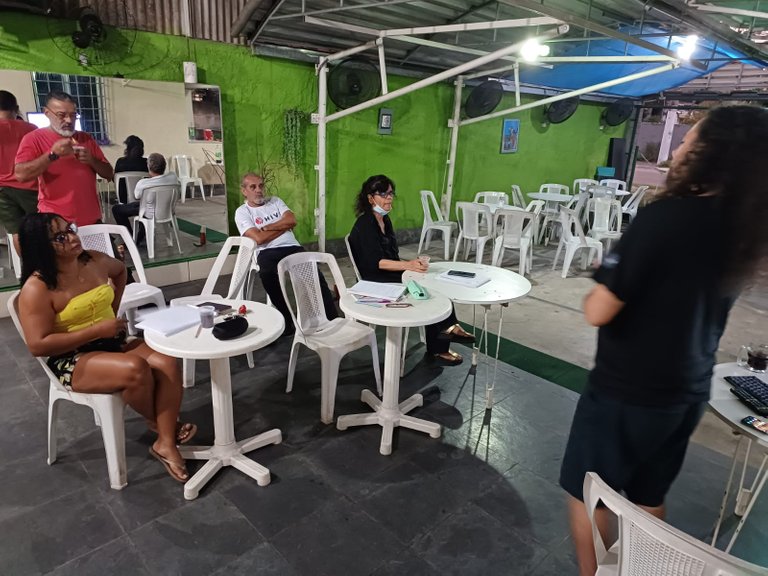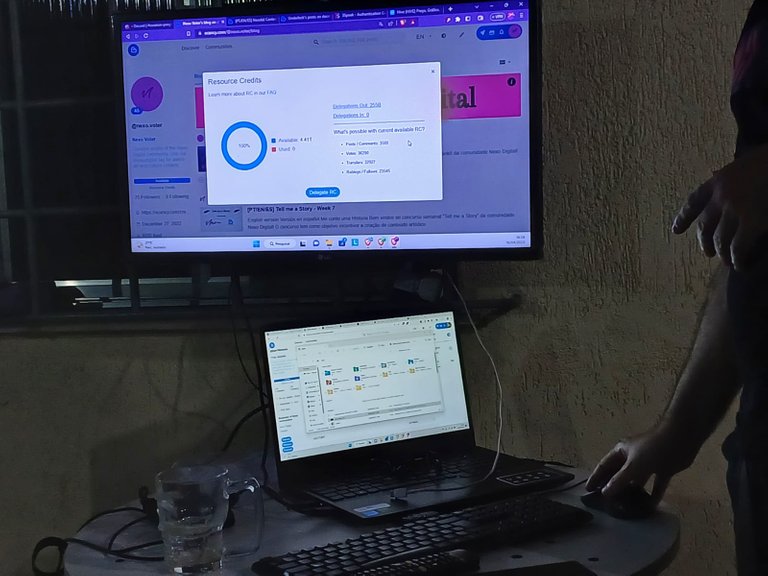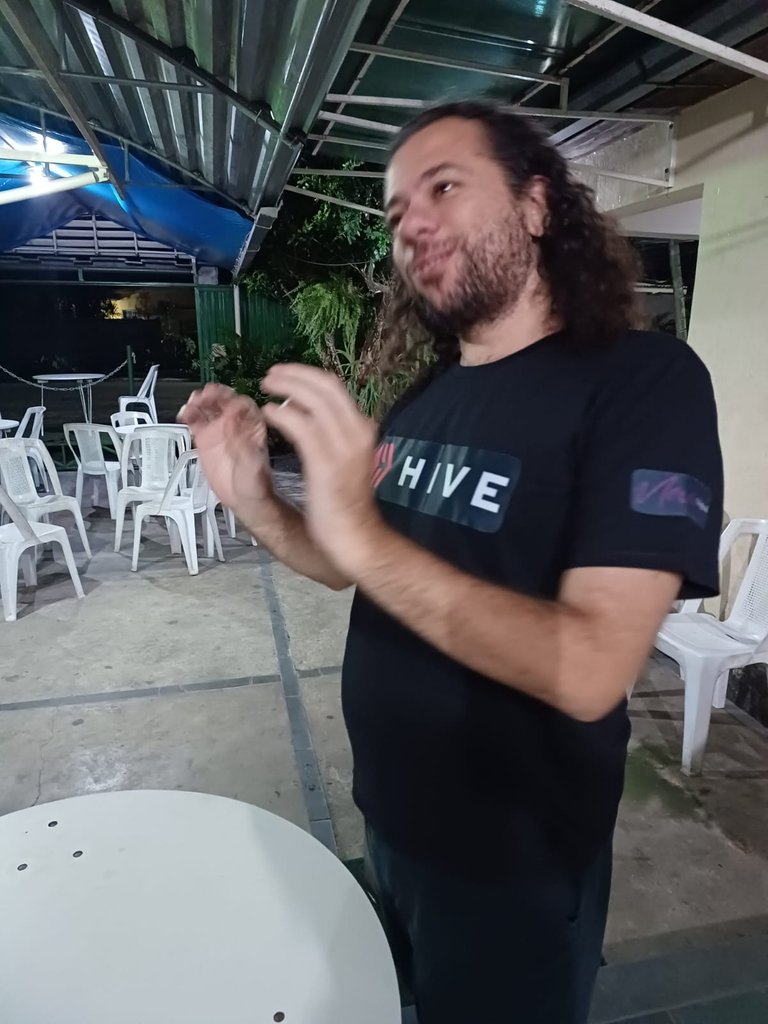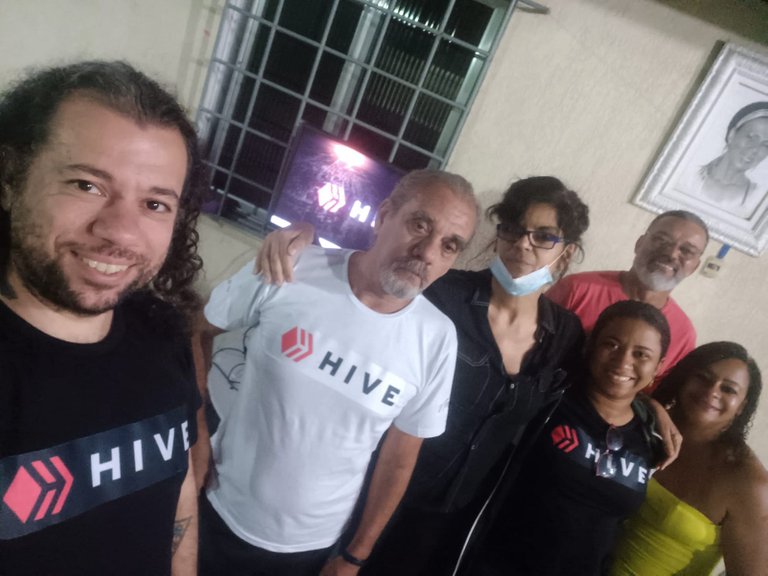 Future Encounters
With this meeting we learned a lot more about the difficulties of introducing Hive to new people and how to better prepare our next meetings.
Our next meeting does not yet have a date, but it is already being prepared, in the next one we will also do onboarding but it will not be the only focus, we will bring attractions and a course for our cultural meeting. So if you want to know more about our upcoming meetings stay tuned here on the profile.

Conclusion
Although it was not the meeting we expected and it was much more empty and with few registrations, everything else was very good and we were very satisfied with the result, mainly because those present left the event very excited. I hope you enjoyed seeing a little of our event and are interested in knowing a little more about Nexo Digital! Our community is open to all dance, art and culture publications and we have some weekly contests going on, in addition to our rewards programs for NEXO token Holdings and rewards for those who delegate HP to the nexo.voter profile. If you want to know more, join our
discord
and talk to us.

Junte-se a nosso discord e conheça nosso projeto..
---
---