ChiFiBots HIVE Pre-Sale: Funding Reached & Stretchgoals Announced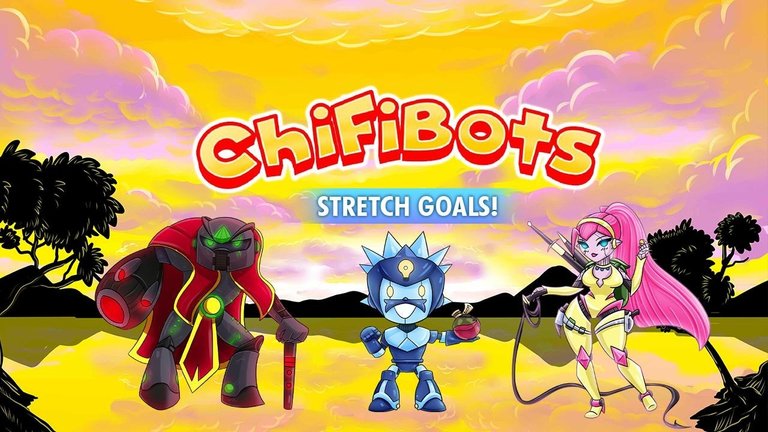 On January 1st, we launched the ChiFiBots trading card game pre-sale, announcing our plans for a robot battle game on the Aspire blockchain. The result was more than mind blowing for us!

Pre-Sale Status: Funding Goal Reached
We sold over $70,000 USD worth of pre-sale Tiers so far, with two thirds of the month still ahead of us.
Our financing goal for our campaign was aimed at 50,000 USD. We achieved that after 3 hours and 26 minutes, when we sold a Tier 8 to @abrockman, the founder of Polypixels. The response to ChiFiBots was amazing and our Pre-Sale launch post earned the Peakd Daily Top Award, with tons of positive, interested comments from the HIVE community.
The excitement about ChiFiBots continues on our 1UP Discord server, where we share more details about the game and our ideas, especially in the Alpha Alliance channel, dedicated to all Tier 5 and higher.

Stretch Goals
We are not stopping yet. Our HIVE pre-sale is running for the whole of January. Since we have already reached out initial goal, it is now time for stretch goals.
In our consideration as for what we could offer our investors, without further inflating any of our regular NFT economy, we decided for NFT skins for our major characters. This is a cool way of showing that you were part of the original pre-sale, but without giving you any in-game advantage.
These skins will be extremely rare and only investors of Tier 4 or higher will receive exactly ONE copy. Even larger investors will not receive more than one skin for each stretch goal. If you are an investor in Tier 1-3, you will be able to upgrade your Tier, by sending us the remaining amount to Tier 4 or higher.
---
$75K

- Jaw Lock (Hive) NFT Skin

With over $70k investment already, this goal is not far anymore! At $75,000 USD we will unlock the Jaw Lock NFT skin in Hive colors for all Tier 4 investors or higher.
---
$85K

- Twinkle Dust (Hive) NFT Skin & Physical Sticker Set

When we reach $85,000 USD investment in our pre-sale, you will unlock the Twinkle Dust NFT skin in Hive colors for all Tier 4 investors or higher.

Further, you'll get a special physical Sticker Pack with all 21 ChiFiBots for Tier 4 or higher.

We will send you this exclusive set of stickers with all initial 21 ChiFiBots to a physical address you provide us with.
---
$100K

- Queen Athena (Hive) NFT Skin & Physical T-Shirt

At the $100k investment marker you will eventually unlock the Queen Athena NFT skin in Hive colors for Tier 4 investors or higher.

This stretch goal also includes an exclusive physical ChiFiBots Pre-Sale T-Shirt, beginning at Tier 5 and higher.

This is an actual physical goodie, just like the stickers and will be send to an address you you provide us with.

Hall of Fame
We are having a special thank you in mind, for our earliest and largest supporters: We will integrate a Hall of Fame on our website, with the top ten investors. The titles on that list are:
Voyager
Explorer
Astronaut
Globetrotter
Moonwalker
Star Orbiter
Infinity Seeker
Dimension Dancer
Planet Conqueror
Galaxy Overlord

1UP-Cartel Escrow Pools
Some of you might have been playing with the idea of creating an investment pool, to reach one of the higher and more attractive Tiers of our pre-sale. This is a common method nowadays, to access more and better rewards by combining your purchasing power.
However, executing such pools is time consuming and requires a lot of trust from all investors of a pool in its operator.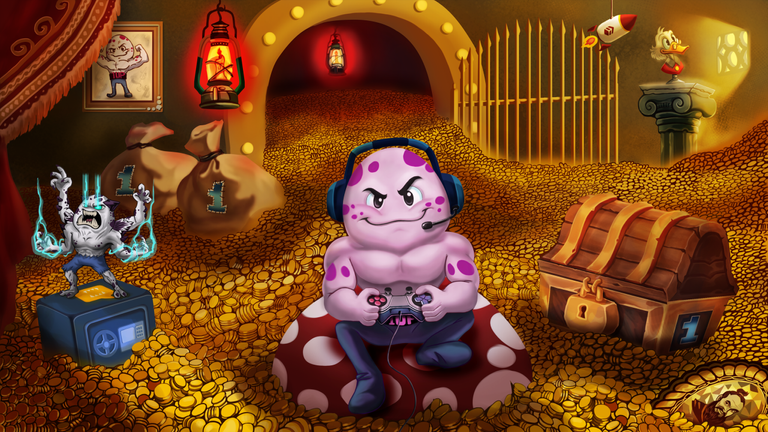 This is were the @oneup-cartell comes in. Our meta gaming guild is specialized on managing assets for the CARTEL token holders. The 1Up Escrow Pools is an offering to operate such pools for you. You will not have to trust a single user, instead you would entrust your investment to the Cartel, who will distribute all rewards in any method you agree upon beforehand.
For this service, the Cartel will take a small operator fee, that will go into the Cartel's treasury. How exactly this fee will be enforced will be defined with and by you.
If you are interested to let the Cartel run your pool for you, please get in contact with us on Discord.

Hurry Up
Only 20 more days to go, to get access to all our super exclusive perks and goodies. In the meantime, we are already busy, creating the infrastructure for the game we have been envisioning and building for the past year.
---
---