Buy to rent splinterlands series. Part 5.
The plan.
The plan is simple. Using my alt account I will rent out the full deck constantly. It takes up less time than trying to play the game. Using that rental income I will keep buying up cards multiple times a week. From this I will try to build a rental income of 10,000 DEC daily which is a living wage at these prices.


My starting point on the 01/11/21:
Cards listed - 1863 DEC
Cards rented - 1670 DEC
Return on rentals - 37.08%
My current point is:
Cards listed - 2141 DEC
Cards rented - 1709 DEC
Return on rentals - 37.39%
Going forward, I will keep adding to my collection.
A few times a week I will be buying rare cards from the rental market.
I will be doing this every time that my DEC adds up enough to purchase a card that i want.
I am also using monstermarket.io for the purchases to get that extra 5% DEC rewards which add up over time and will allow for a few extra cards over the year.
I did forget one important point since i have been using peakmonsters and that is why i didn't take SPS into consideration. My cards have been accumulating SPS since i started this task and it's only right that i turn that into more income so I traded for DEC to give myself a little extra ammunition for this post.
Since this is the case I moved up a rank for my purchases and bought 4 legendaries and a rare gold.
Today's purchase.


Djinn Oshannus x 4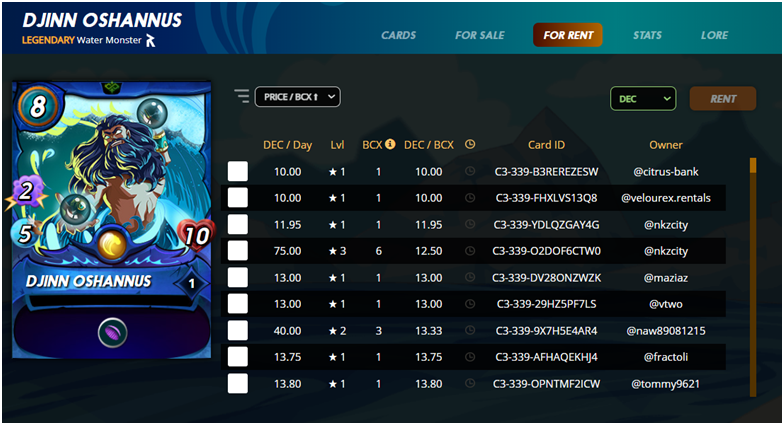 Chaos reward.
Legendary - Water monster.
Price - $39
Rental price - 12.99 DEC or 52 Total per day
Returns at 131%


Venari Wavesmith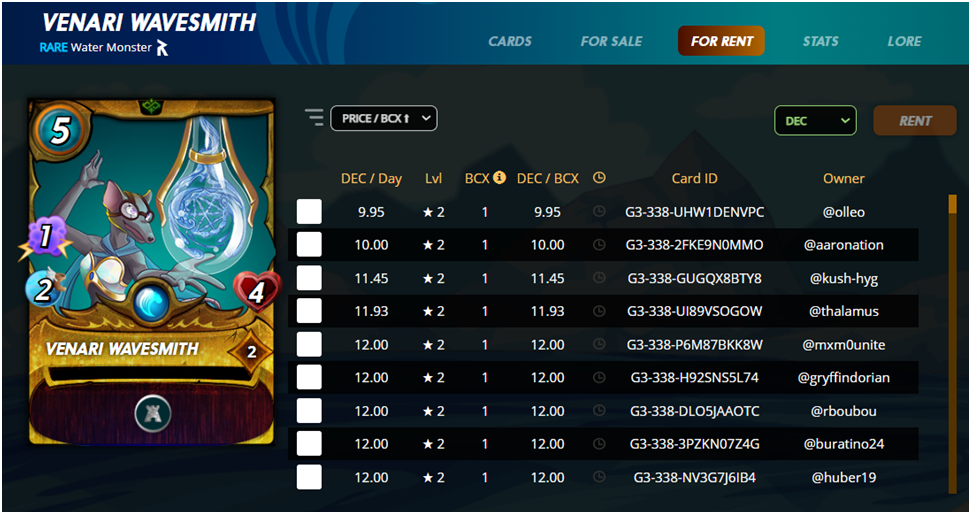 Chaos reward.
Gold - Rare - Water monster.
Price - $38.
Rental price - 9 DEC per day
Returns at 91%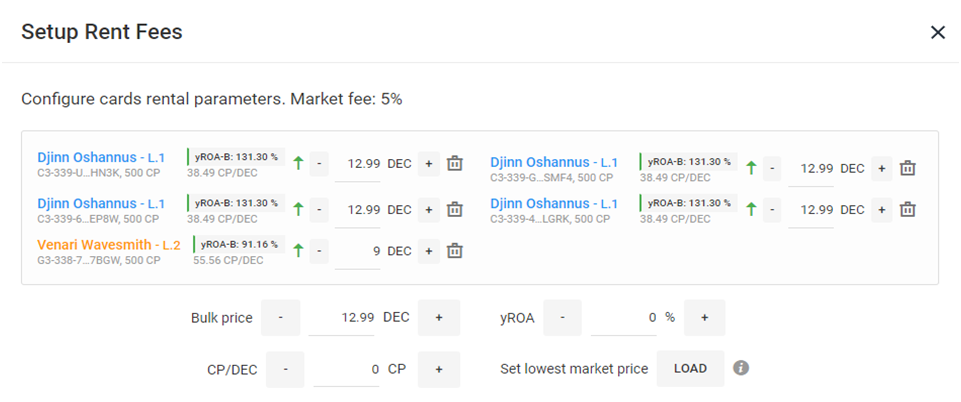 Rental status.
The numbers are sneaking up week on week. This is the early part of the season so there will always be less demand but i'm happy to keep my rentals up over 30% APR and then be able to keep adding to the collection. Four legendaries in one purchase is not a small but and it was for a total of $180 for the five rare cards.
I know that this week was inflated by selling a couple of hundred SPS but the plan is working. I'm able to keep buying new cards every week and rent for profit. Everything that i do on hive is with along term vision as we keep growing. THis project is with the aim of buying up lots of valuable cards that will increase over time and be able to rent them for profit. If you look at the untamed series, the cheapest legendary monster is 3x to 4x more expensive than the chaos series. When these cards run out next year i would expect the same price appreciation while having earned 100% of the price back from renting.
All it takes is time and i will have a free deck. The benefits of crypto and play to earn.
There is still room to get more out of my current rentals and i will play around a bit before end of season to get a better return and sell a few of poorly performing ones to buy better rental cards. There is a difference between good cards to buy for playing and good cards to rent for profit.
Posted Using LeoFinance Beta
---
---