Buy to rent splinterlands series. Part 6.
The plan.
The plan is simple. Using my alt account I will rent out the full deck constantly. It takes up less time than trying to play the game. Using that rental income I will keep buying up cards multiple times a week. From this I will try to build a rental income of 10,000 DEC daily which is a living wage at these prices.


My starting point on the 01/11/21:
Cards listed - 1863 DEC
Cards rented - 1670 DEC
Return on rentals - 37.08%
My last update was:
Cards listed - 2141 DEC
Cards rented - 1709 DEC
Return on rentals - 37.39%
My current point is:
Cards listed - 2323 DEC
Cards rented - 2021 DEC
Return on rentals - 46.05%
Rental status.
I was wondering why my rentals took such a jump as i hadn't adjusted the prices much over the past couple of weeks. Then i realized that we are almost at the end of season and it all made sense to me.
I will try to keep my prices fair and thing that 30% to 40% APR is a great return on these cards. By continuously buying more cards for the rental market i will be able to increase rental income rather than trying to hike the prices for the last couple of days.
I want to build long term passive income which is best served by being fair and open about the process. If there is a huge gap i will obviously change to the price to reflect the markets but not to scalp new users on the last day of the season.
It's great to have over 2k DEC coming in per day for the moment as that just gives me more ammo to fire at the market and more SPS for holding DEC.
Money makes money in this game.
Today's purchase.


Robo-Dragon Knight x2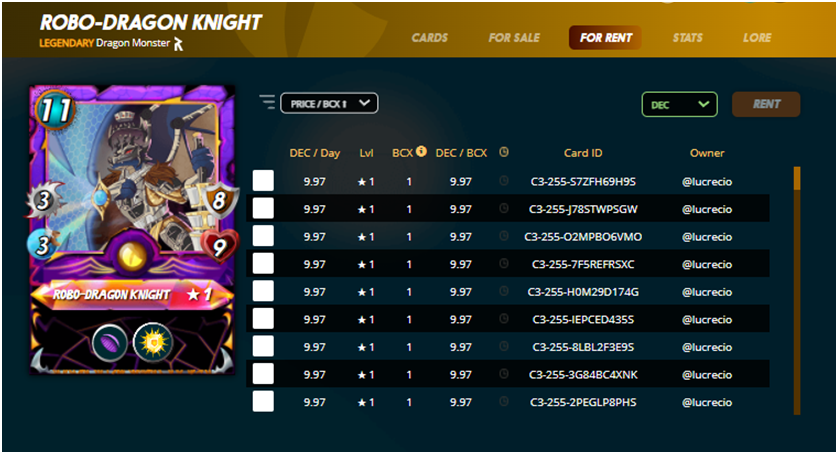 Untamed reward.
Legendary - Dragon monster.
Price - $69
Rental price - 10 DEC or 20 Total per day
Returns at 54%

I know that the returns here are slightly lower than i can get with the chaos legendary cards but the prices were fairly low for an out of print card and i felt that they would go up in value a lot more over time as well as earn more SPS rewards than the newer cards.
I like to mix it up a bit and will aim for the cards with most long term value as well as best returns.
The numbers overall are very solid and moving in the right direction. Any week that you can add two free legendary cards to the deck is a good week. In time they will be hard to get as well and prices will go upwards.
Posted Using LeoFinance Beta
---
---