Looking forward to the next few days.
There are a few good things on the cards.
Saturday is going to be a busy one for us.
First time back in Croke park since 2018 for the all-ireland semi-final match.
CLARE v KILKENNY.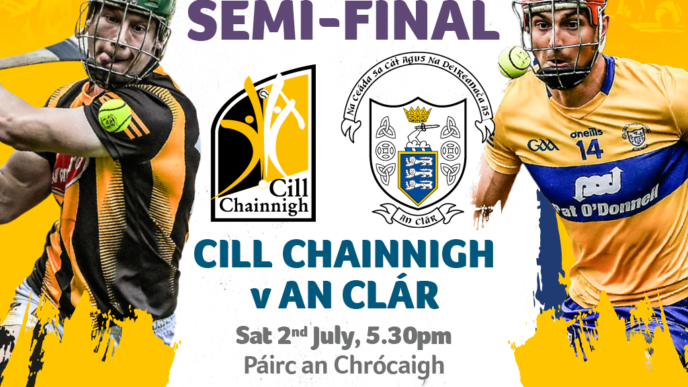 REF: Kilkenny GAA
And anybody who has followed me over the past few years will know how much I love the hurling and how amazing it is heading to Croke park for a big game. It's one of my favorite things in the world to do.
That's at half five. Luckily or unluckily a friend of our had already booked their engagement party in Dublin for that night at 8pm so it actually works out quite well for us with going up for the night and babysitters and the whole lot. It would have been hard to make two trips up for both.
It will be a long day though since we'll have to get into the city early and get up for the match with a few drinks in the traditional match day pubs.
One of the main pubs "The big Tree", has closed down since that last match so we will have to try and find the crowd somewhere else.
Straight from the match for a bit of food and try to straighten ourselves before the fancier evening arrangements. Hopefully we will be in decent shape by that time since we're definitely going to be a bit late because of the match.
Tat's Saturday. Then back home Sunday before heading to Limerick for two days to watch the JP mc Manus golf tournament. Myself and two of my oldest mates.
We bought tickets two years ago before the pandemic and it's only getting the go ahead now. The line up is crazy for the Pro-Am with the majority of the worlds top golfers turning up for it.
Scottie Scheffler
Rory McIlroy
Jon Rahm
Collin Morikawa
Justin Thomas
Patrick Cantlay
Cameron Smith
Sam Burns
Matt Fitzpatrick
Jordan Spieth
Xander Schauffele
Dustin Johnson
Leona Maguire
Brooks Koepka
Shane Lowry
Tyrrell Hatton
Paul Casey
Bryson DeChambeau
Jason Kokrak
Seamus Power
Adam Scott
With Padraig Harrington and Tiger Woods thrown in for good measure. Then a few celebrities to play with them as well for a serious mix of talent.
Mark Wahlberg
Bill Murray
Jamie Dornan
Kenny Dalglish
Matt Dawson
Shane Filan
Alan Hansen
Niall Horan
Harry Redknapp
Jamie Redknapp
That's Monday + Tuesday covered before heading for home on the Wednesday for some pure carnage as our long lasting traditional music festival comes back in real life for all of that week.
This would be about 1 in the day and it only goes downhill from there as the night carries on with music, crowds, live bands, street sessions, late bars and every sort of a musician, local, hippie that you could think of turning up over the course of the week.
It's the strangest place that i have ever spend a week and we are very lucky to call it home.
I won't be able to go down for the full week this time around like i usually do but should still get a couple of nights out of it.
Like I said. Looking forward to the next few days.
---
---