SHARE YOUR BATTLE Weekly Challenge! SOUL STRANGLER
Soul Strangler.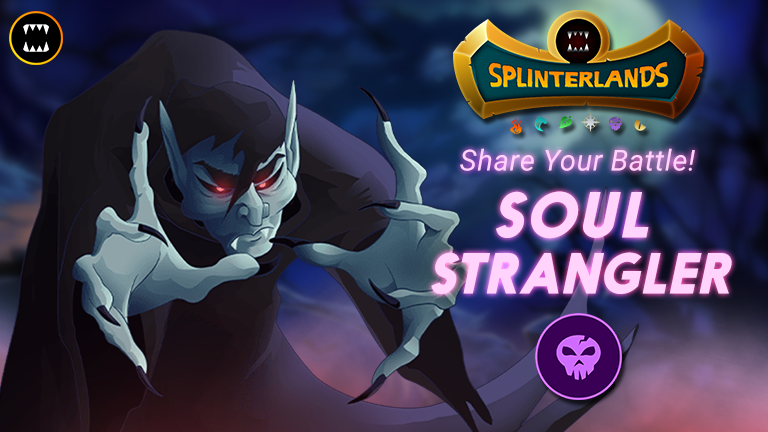 The Battle.
The ruleset for this battle was:
Opportunity + No magic.
40 Mana.
Link to the battle:
https://splinterlands.com/?p=battle&id=sl_f31a1e719fa0571765a9852c1b33d7fd
I do use Soul Strangler a lot on battles at it packs a lot of power for a 3 mana card with a four ranged attack and poison at max level. I'm still in gold at the moment and struggling to get out of it but it is still a very useful card to have in the deck.
Starting line-up
Since there was no magic allowed I went with a restrictive lineup. Contessa to reduce ranged attacks. Harclaw to reduce melee and take less damage and octopider for the same reason.
This takes a lot of the power out of my opponents attack which is good for opportunity battles where the first few kills are everything.
Power and speed make all of the difference here.
First kill..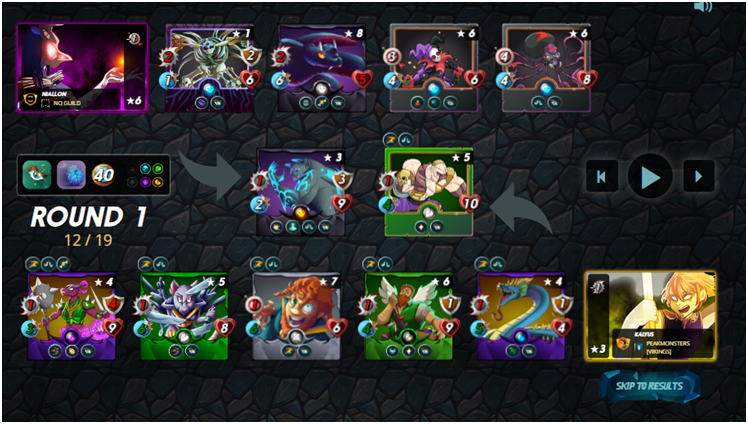 Unfortunately my opponent went for speed which gave them the first kill. Soul Strangler didn't last very long in this match with it's biggest weakness being a low health bar. Fatal in opportunity matches.
At this stage it is looking like advantage to my opponent.
Round three.
Round three is more of the same with speed beating strength. My main advantage at this point is their reduced stats which is slowing down the killing and my Harklaw which has shield and is not taking any damage from most of their monsters.
With the reduced stats on the field at the moment there are no cards that can hurt it at the moment.
They have two kills to my one after three rounds.
Finishing line-up.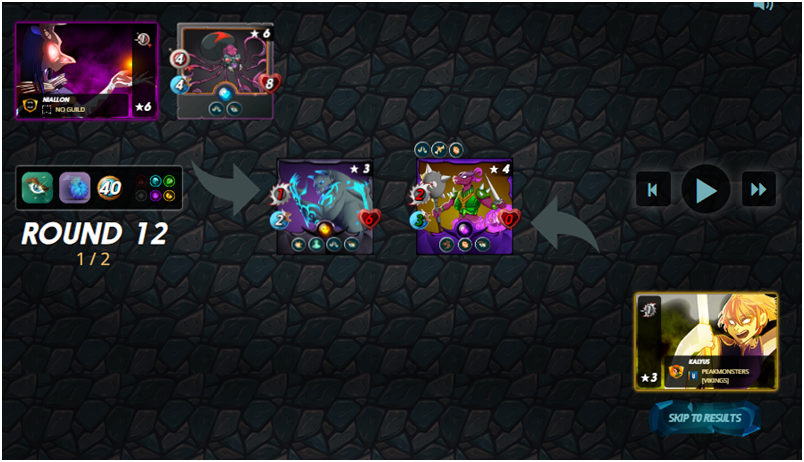 The two ranged monsters in my backline stated to come into play after round three. With 7 damage between them it started to take a toll on the defense. Once the flesh golem tank was taken out it changed the shape of the battle.
They couldn't inflict any damage on my tank and form there it was just a matter of killing off their team one monster at a time.
It was a slow grind to round 12 before I got the win but at that stage it was inevitable.
Try for yourself.
If you haven't played the game before then now is the best time to join. Today is much better than tomorrow and a lot better than later.
Link to the game here,
Posted Using LeoFinance Beta
---
---