Splinterlands is getting there, one step at a time.
The latest Splinterlands roadmap.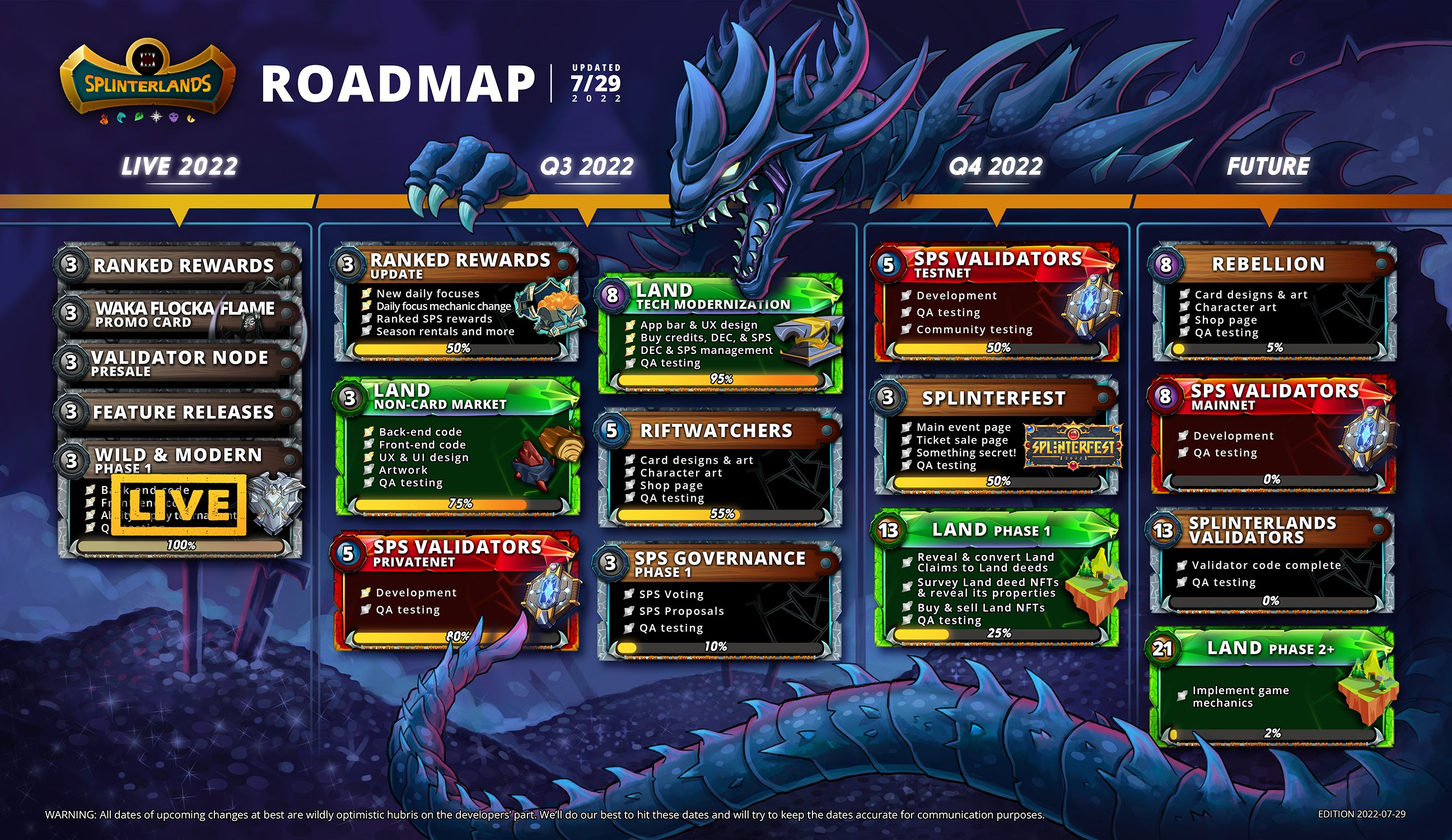 Every week we are seeing more and more developments rolling out from the splinterlands team.
Unfortunately there will be no more free $SPS handed out daily but we have just been given a new set of liquidity pools to make up for it with a nice layout on the main site.
If you have read the latest Town hall summary then you will see that there is so much happening right now that the team is non stop working.
Huobi listing.
Partnership with Alliestrasza, big name streamer.
New splinterlands tv website.
All in the past week or so.
Then you have all the bits coming up soon.
New tournaments.
LP rewards going live.
Riftwatchers set.
Non card market.
Splinterfest.
And this is every week. The team itself is on a roll right now and things are moving along nicely. It can be hard to see progress sometimes from inside the circle but if you compare what the team are rolling out here compared to any other blockchain game that i have come across then there is no comparison.
The splinterlands team is killing it and that is only the bits that we know about.
If you look at the roadmap then you will see a stacked Q3 is on the books with a lot of exciting stuff.
The ranked rewards update is 50% there.
Non card market is 75% there.
Riftwatchers is 55% there.
All of these are huge developments and take time to deliver properly.
I know that we all get sick of waiting sometimes but in reality this is all happening very fast.
Even look at where we were twelve months ago with the game and you can see how much has been built in the meantime.
All in all, I'm very happy with where we are right now and will be looking forward to the next twelve months when we will see even more big change.
Try for yourself.
If you haven't played the game before then now is the best time to join. Today is much better than tomorrow and a lot better than later.
Cards worth a few cents now will have a much higher value in the future as the print runs out. We have a strong community and seen this happen every time as it grows with the game.
Link to the game here,
Posted Using LeoFinance Beta
---
---