The Little House in Funchal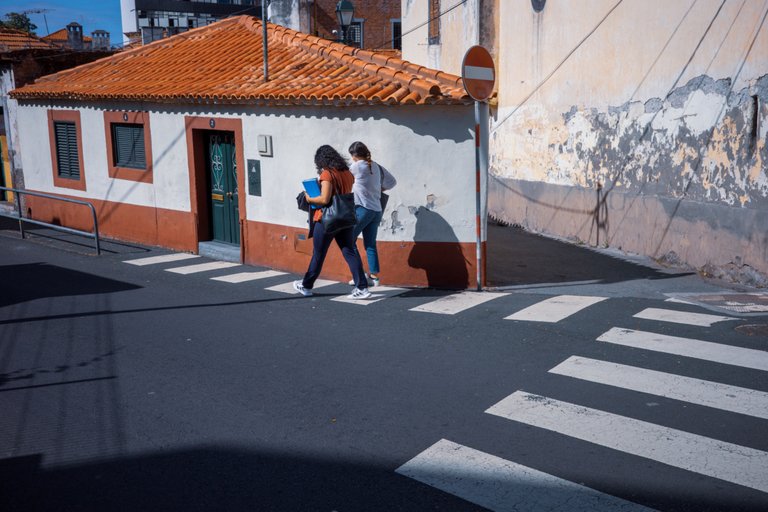 We are back in the Zona Velho of Funchal again and this is the frame I captured just before my 4/365 Tap image, see previous post in this series, as the tap is just ahead of these women, you can't see it!
We spotted this tiny house, that is of course an assumption, it may have served or still serves a different purpose. It struck us as being one of the oldest buildings on this particular spot, as behind it is a very modern building, that may have gone up in the recent few years. There was a building just opposite the "house" that was just a shell, roof collapsed inwards and all of the glass removed from it's windows (I may have taken a picture of it, will come back to that).
A lot of buildings in this area were destroyed in the horrific floods of 2010 in which just over 50 people lost their lives and a lot of redevelopment has been underway ever since but in some cases older buildings have been spared the wrecking ball, thankfully.
The composition here was one I spent a little time with, because I wanted to make use of the subject, some geometry, people (mainly for scale if nothing else) and shadows. I was looking at the image just a few minutes ago and like the way the zebra crossing markings not only provide a little geometry, they also reveal the contours of the road. Funchal's roads are not entirely flat, they are wonderfully contoured! Flat Madeira is not!
I waited for some people to pass by and I wanted to incorporate their shadows, I took a few frames with different people and the two women going about their daily business worked the best. It was funny though, since I was standing by a crossing, many drivers stopped to wave me across and I waved back, saying, "No you carry on! I am trying to take a photo!". I had a lot of bemused people shrugging at me in that way Europeans do!
Lead-in lines and flow are something that Henri Cartier-Bresson (no I am not alluding to be the great man) very much invented in photographic art, some might argue other photographers did and sure enough these techniques stick because we all want to take better photos. Anyway I stole it here you could say. The crossing leads the eye in and helps generate some form of movement and flow through the photo, it leads the eye in and just make for a more engaging image.
Thanks as ever for stopping by!
---
---