Weekly update - 26th May 2023 - Give me a wave!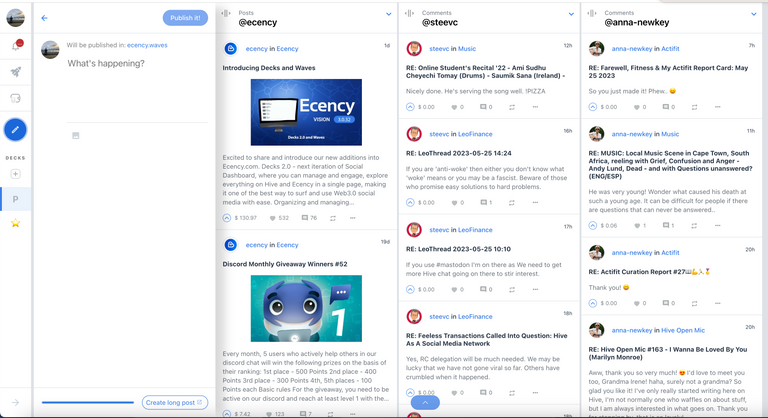 The Ecency team have been busy working on two key new features this week, that I've been playing with this morning; Waves and Decks they are called. So far I've tried these out on the browser version and there may be some updates around the corner for the mobile version.
To access these new features, you will need to click on "Decks" which you can find under the top navigation and it will take you to a new UI that looks like the screenshot above. It's very reminiscent of Tweetdeck for the birdsite but better because it's on Hive!
Here I have tested it by following conversations two of my main followers (@steevc and @anna-newkey) on Hive are having with other people on the chain, which is a great way of discovering new people here, as I think the discovery mechanisms for Hive could be improved a great deal in order to open it up to the masses more.
This is where I think Decks will come in very well, as Waves can lead you to new people and new content.
So, now you can write a short form post or click on a button to switch to the normal long-form post page. The short form posts go out as Waves, which I believe tie in with DBuzz and Leo Threads? Or these are fed into Waves? I am not sure, can someone clarify that?
Podcasts
I was listening to the brilliant "The Gareth and BillCast" podcast the other day, formerly Digital Planet and BBC Click. They mentioned our one and only @steevc who had commented on one of their topics. It's a great cast that one and worth looking up on your pod players.
Many years ago, I was mentioned on Digital Planet, I had messaged Gareth on Twitter - I can't remember what it was but was great to be mentioned on the radio!
Logic Pro for the iPad
This release took me by surprise, I had no idea they were even working on a tablet version, suffice to say, I really like it and it will feature in my posts for the Music community coming up.
NFT Storage
I have been uploading files to this platform for awhile now and have been reading up on how to turn the assets into actual NFTs and the answer lies in the metadata and writing some NodeJS code, something I am familiar with as a software engineer, worth documenting here on Hive.
There are other options though - I've always wanted to steer away from using Soundcloud all of the time and embedding links in posts, so the method I've been using for my Hive Sound Library posts as involved sharing the IPFS URL links which work ok but I'd love to be able to embed them properly.
I'm currently weighing up NFT Storage versus highlight.xyz which again means redirecting people to a new tab..... but the important thing is, that does work, the sound or track files are going out on the chain, it's that permanence I strive for, to move away from fickle storage services that may be hear today and gone tomorrow.
Have a nice weekend folks!
P.S. I have been powering up daily for the last few days, 2 HIVE a day and getting ready for the HPUD in a few days time.
---
---